If your little superhero is looking for a superhero party we have all the tips and ideas for decor, activities and games. We can't wait to see how you turn these awesome ideas into a party all your own! My boys love everything about superheroes and would jump at the chance to enjoy a party with all of these fantastic ideas. Fun and creative without being costly or time-consuming. Throw the best Superhero Party ever! Looking for more party ideas? Check out our Movie Party, Batman Party and Star Wars Party Ideas for more fun!
How to Throw the Ultimate Superhero Party

Superhero Invitations and Gift Wrapping DIY | DIY Inspired
DIY Superhero Backdrop | A Night Owl
Free Printable Superhero Bingo Game | Fireflies & Mud Pies
DIY Superhero Cuffs | Kate's Creative Space
DIY Superhero Shield | An Art School Dropout's Life
Superhero Popcorn Party Cups | Spaceships and Laser Beams
DIY Superhero Birthday Card | DIY Inspired
Superhero Party – Games/Activities | On My Side of the Room
Comic Book Decoupage Letter | Eclectic Momsense
DIY Superhero Party Photo Booth Idea | Spaceships and Laser Beams
Spiderman and Ironman Cakes Tutorial | Twin Dragonfly Designs
Superhero Birthday Cake Tutorial | Viva Veltoro
Superhero Cereal Birthday Treats | 3 Little Greenwoods
Superhero Jello | The Scrap Shoppe Blog
DIY a Captain America Birthday Party in 5 Days | It Happens in a Blink
DIY Superhero Capes, Baby Capes and Masks | View From the Fridge

DIY Superhero Shirts | Hello Creative Family
DIY Superhero Shield | Spaceships and Laser Beams
Felt Superhero Banner | Eclectic Momsense
Free Superhero Word Bubble Printable | Meaningful Mama
Captain America Ice Cream | Mom vs The Boys
How to Make a Superman Cake | The Joys of Boys
Felt Superhero Mask Templates for a Superhero Party | Cutesy Crafts
DIY Lightning Bolt Sugar Cookies | Twin Dragonfly Designs
Superhero Comic Book Printable Banner | My Paper Craze
Superhero Birthday Memory Board Craft | Rural Mom
Superhero Cape with Chest Plate | Make It & Love It
Superhero Popcorn Cake | Moms and Munchkins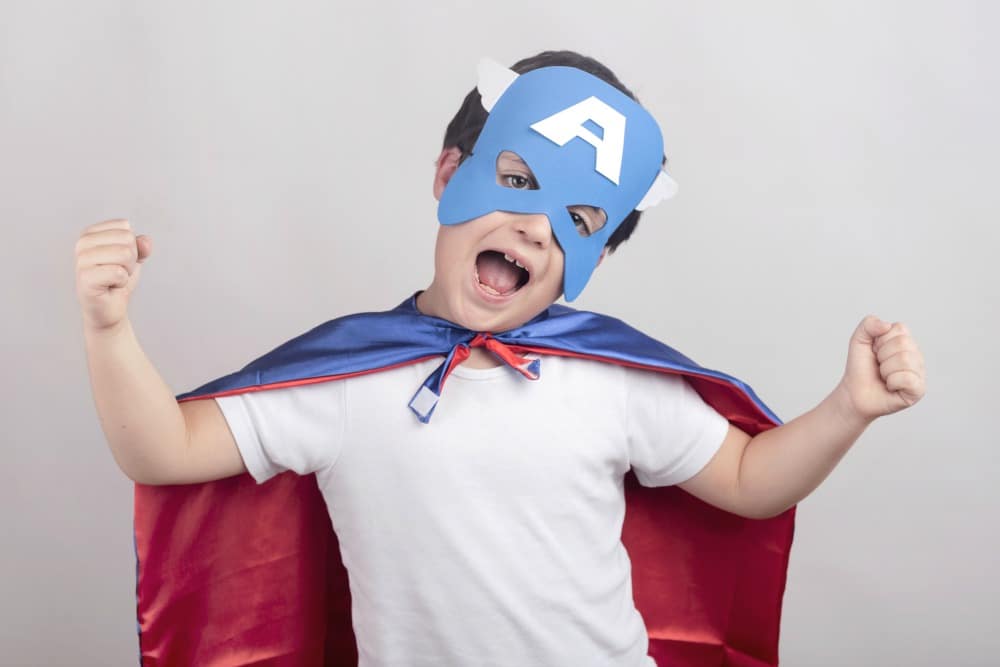 SuperHero Mask | Pink Stripey Socks
Happy partying superheroes!
Check out some of our favourite superhero party decorations: