The average human diet is full of sugars and refined carbohydrates. It lacks important vitamins and antioxidants which leaves you deficient in so many essential nutrients. As a result, the body experiences chronic diseases and your body may not operate as it should.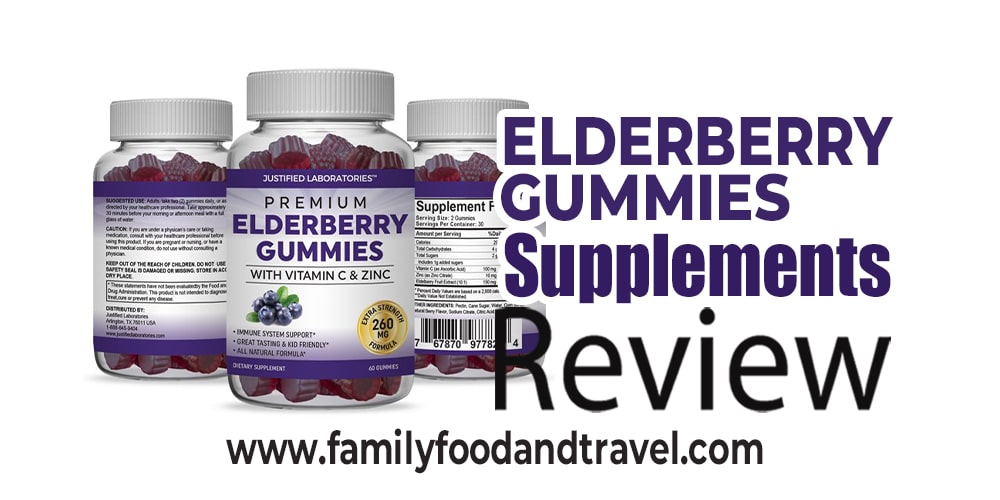 Although a healthy diet is a powerful source of vitamins and minerals, it sometimes is not enough. Using dietary supplements alongside a healthy diet is more beneficial in giving your body every nutrient it needs. 
Supplementation will help your body meet the higher nutritional demands required especially if you have a very demanding lifestyle. Supplementation also reduces the risk of developing a chronic disease and ends up reducing your long-term medical costs.
The Elderberry Gummies by essential element is a supplement made out of elderberries – an ancient medicinal plant used both as natural food and as medicine. It is packed with powerful antioxidants called anthocyanins. These antioxidants can help in boosting immunity, treating constipation, respiratory infections, as well as other health conditions. 
In recent times, elderberry is now been produced as gummies, teas, tonics, capsules, tinctures, etc to boost your health. In this article, we will be looking into elderberry gummies by essential elements. 
We will check if it really works. You will find out how safe it is, how to take it, scientific findings backing the product, where to purchase it, how much it costs, the pros, the cons, positive and negative reviews from verified users, etc. Let's get into it!
What is Elderberry gummies?
Elderberry Gummies by Essential Elements is a dietary supplement that promises to strengthen your immune system. It is formulated with some safe and natural ingredients that have immune-boosting capacity. With little or no side effects, all ingredients work hand in hand to help you get the most result.
What are the ingredients of Elderberry gummies?
The effectiveness of a product is largely dependent on the kind of ingredients used. It is important to know the ingredients used in a product, just in case you have an allergy. 
Elderberry gummies Essential Elements have a total of four ingredients – Sambucus nigra Extract, Ascorbic Acid (Vitamin C), Echinacea purpurea Extract, and Propolis Extract. Each of the four components is what makes up the 4-in-1 immune-boosting formula.
Let's look critically at each ingredient and its functions. 
Elderberry is also known as Sambucus nigra. It is a dark purple berry gotten from the European elder tree. It has been used for centuries for treating cold and flu.
It is also believed that it improves the immune system. This is because of its activity against viruses.
Apart from the common cold and flu, Elderberry is also used for treating high cholesterol, as well as several other conditions. 
Elderberry is sometimes confused with Elderflower, American Elder, or Dwarf Elder. But they aren't the same. In fact, they have different uses.
Scientists are still working hard to back up the claims with proven results.
Ascorbic Acid (Vitamin C)
Vitamin C is a vital vitamin that the body needs. You can get it from fresh vegetables, and fruits most especially citrus fruits.
This vitamin isn't just important for immunity boosting,  it helps your body function properly. In the past, people used vitamin C for treating and also preventing scurvy. In recent times, people use vitamin C for treating and preventing cold. It is also used in the treatment of heart diseases, breast cancer, autism, and so much more. 
Echinacea purpurea Extract
Echinacea is another ingredient used in the Essential Elements Elderberry gummies. It has been in use for a long time for curing the common cold and flu. It can also be used for strengthening the immune system and is useful for treating vaginal fungal infections.  
Bees produce honey but that's not all. They also produce propolis. They combine sap from needle-leaved trees with their discharges and beeswax to create a greenish-brown, sticky substance called propolis. 
For centuries, ancient people from different tribes used it to cure illnesses. While greeks used it for treating abscesses, Assyrians applied it on wounds and tumors to prevent infection and assist with the healing process. The Egyptians are not also left out. They use it for embalming mummies. 
The chemical makeup of Propolis differs from place to place. It depends on the trees the bees have access to as well as their location. This simply means that propolis from the US may differ from the propolis in Africa. As such, researchers have had a hard time finding out details about the compound.
There are over 300 different kinds of propolis with different chemical makeups. Most of the compounds present in propolis are types of polyphenols. Polyphenols contain antioxidants which are helpful in fighting diseases in the body.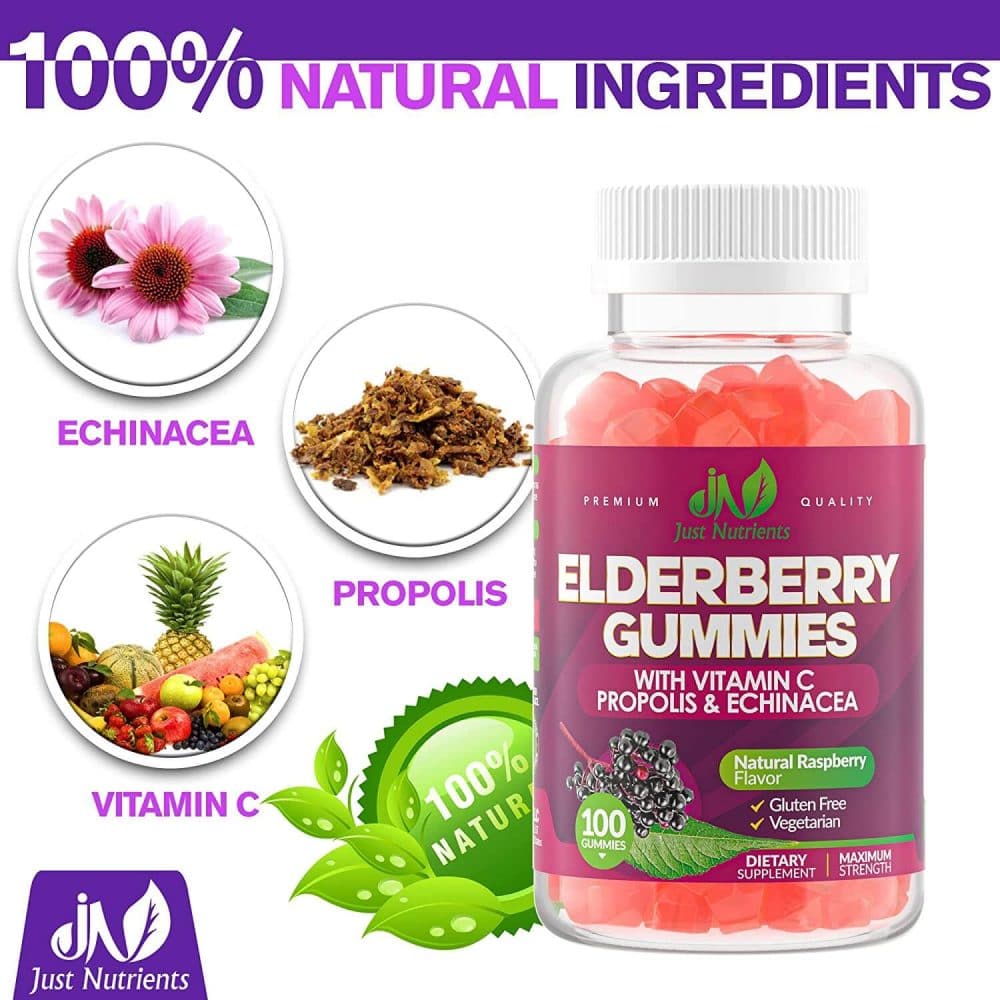 How does Elderberry gummies work? How good is the effect of Elderberry gummies?
Elderberries are heavily loaded with antioxidants.
They include cyanidin-3-o-sambubioside (C3S), anthocyanins C3G, isoquercetin, hyperoside, and quercetin.
Most times, there are free radicals in the body which results in oxidative damage. Antioxidants from Essential Elements Elderberry gummies is helpful in reducing oxidative damage.
The product comes with 4 ingredients – each one has antioxidants. 
Elderberry gummies clinical studies evaluation & results 2023: Is Elderberry gummies safe to use?
Before purchasing any product, the first question you probably ask is this – Is it safe to use? Are there any clinical studies to back up the claims on the product? It's okay to be concerned. 
The Essential Elements Elderberry gummies is safe to consume when used according to prescription. This means if you use the right dosage, you shouldn't have any problems. The Gummies are expertly formulated with 4 powerful immune-boosting ingredients. With the strong effect of Sambucus nigra (Black Elderberries), Ascorbic Acid (Vitamin C), Propolis, and Echinacea purpurea. The gummies are then flavored using raspberry flavors.
The four ingredients used in Essential elements® Elderberry Gummies can help you keep your immune system strong. Elderberries have been proven to be rich in antioxidants, vitamin C is also a powerful nutrient, Propolis and Echinacea also stimulate immune function.
However, you may not have the best experience if you overuse it.
Some of its ingredients may result in some non-beneficial effects when they are not used well. There may also be a problem of contraindication. So if you are presently on medication, consult with your doctor before taking this supplement. Otherwise, there may be interference between both drugs.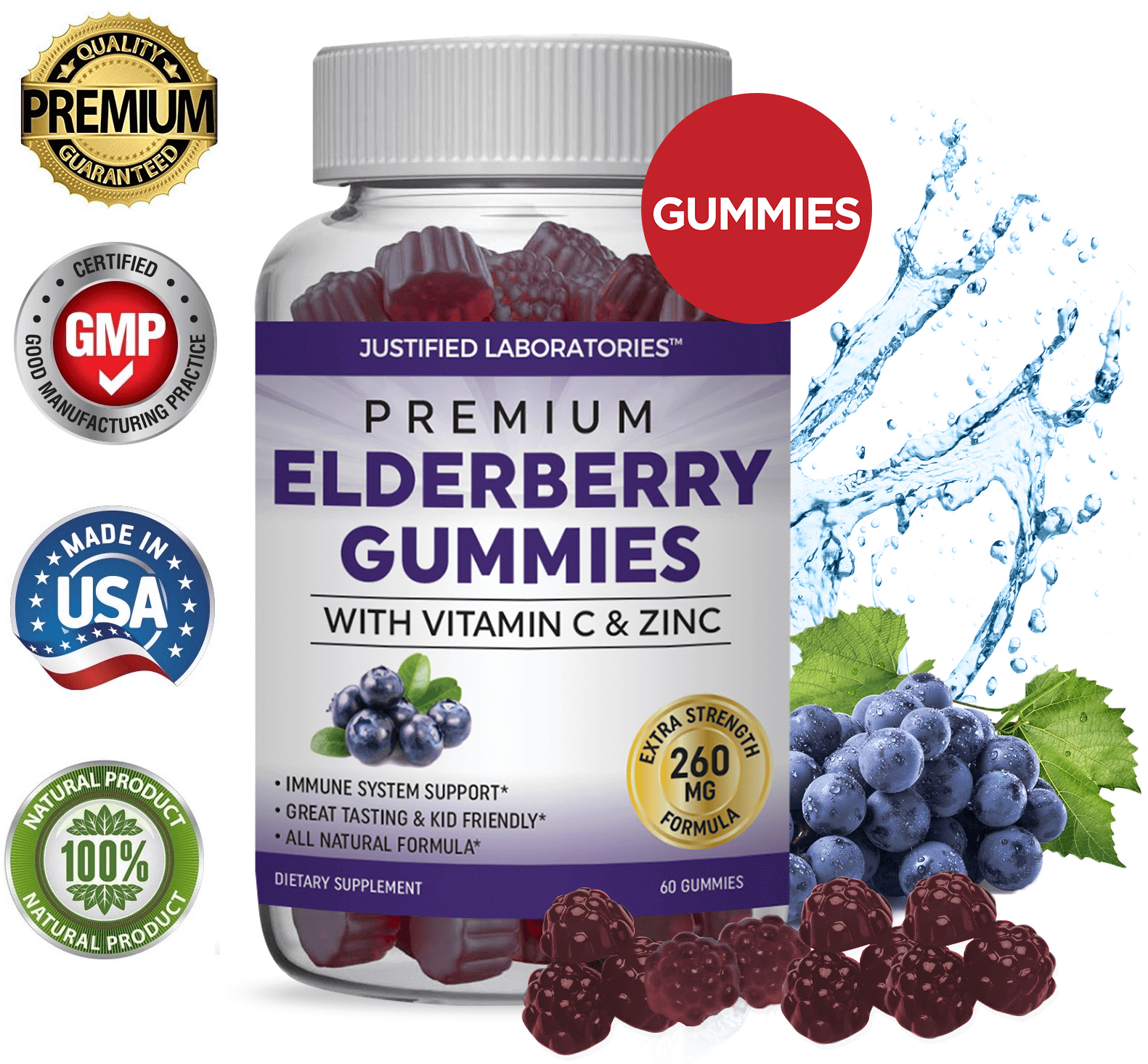 How do you use Elderberry gummies? Our dosage recommendation
The Elderberry gummies bottle contains 60 capsules. Taking 2 capsules a day is the recommended dosage. An Elderberry gummies bottle can take you exactly 30 days if you have taken the drugs as prescribed. 
If you experience any discomfort like cramping, feel free to reduce its usage. When you feel better, revert to the normal prescribed dosage.  
Recommended Daily Dosage, Servings, and Associated Risks:

Servings

60 capsules

Dosage

2 capsules in a Day

Associated Risks

There is no associated risk to using this supplement

Benefits of essential Elements Elderberry gummies
Here are a few benefits of taking the elderberry gummies:
Improves your Immune Response
The Essential Elements Elderberry Gummies have loads of antioxidants that can help your immune system fight inflammation and free radicals. This helps you release a strong response against any infection including cold or flu virus. 
The product also has propolis, which is a compound made by bees. They use it as glue for their hives. The compound can also be found in honey. This compound has its own natural antibacterial and antifungal properties which not only protect hives and bees but can protect your health as well. 
Only consists of safe, all-natural, but effective Ingredients
We already listed the ingredients used for formulating this product. They are all proven to be safe and good for human health. Vegetarians are also safe using this product because it is soy-free, gluten-free, non-GMO, and preservative-free.
The elderberries used in this product have been used for centuries for their immune-boosting properties. Scientists have also noted how important they are in preventing and treating infections. The elderberries work hand in hand with the other components which include vitamin C and echinacea, which are popular for their infection-fighting properties. 
It is safe for children and is easy to administer to them

 
There are several supplements out there on the market, but they do not taste right. This makes it hard for children to take. 
Essential elements elderberry gummies taste just like candy which makes it easy for children to take it. They'll even love it.
Most reviewers recommended the product because of its taste.
Our Elderberry gummies review and rating: Elderberry gummies advantages and disadvantages
Just like every other product, the Elderberry gummies dietary supplement has its pros and cons.  Here are some of its pros. 
Pros:
It contains only natural and organic ingredients

It strengthens the immune system

Non-GMO

Soy-free

Diary-free

Vegetarian friendly

Free shipping for multiple orders

Has a great taste

It is safe for children

Fights free radicals and reduces inflammation
Cons
Sometimes goes out of stock
Elderberry gummies positive review
Here are reviews from verified users:
Great product. I've had other elderberry gummies, by far this is the best. Great flavor. Easy to chew does not get stuck under your teeth. – Hebs

I really like it, it's the best when you compare to others, but I would love it more if they were less sugar on it and a bit thicker. – Rope

Was worried about the taste when i ordered them but they have a fantastic fruit taste and do not stick to your teeth. – Meme

Flavor is good. Consistency makes it easy to chew – Mininger

The product tastes very good. It is enjoyable to take the two cube dose of this product. – Nanaette

Good quality product. Soft, sweet, and very easy to chew with a mild berry flavor. I have been taking Elderberry for 2 years now and I will NOT live without… – JustMeVB
Elderberry gummies negative review
So far most reviews about this product have been amazing. However, there are a few negative reviews.
Taste awful, didn't do anything. – Mark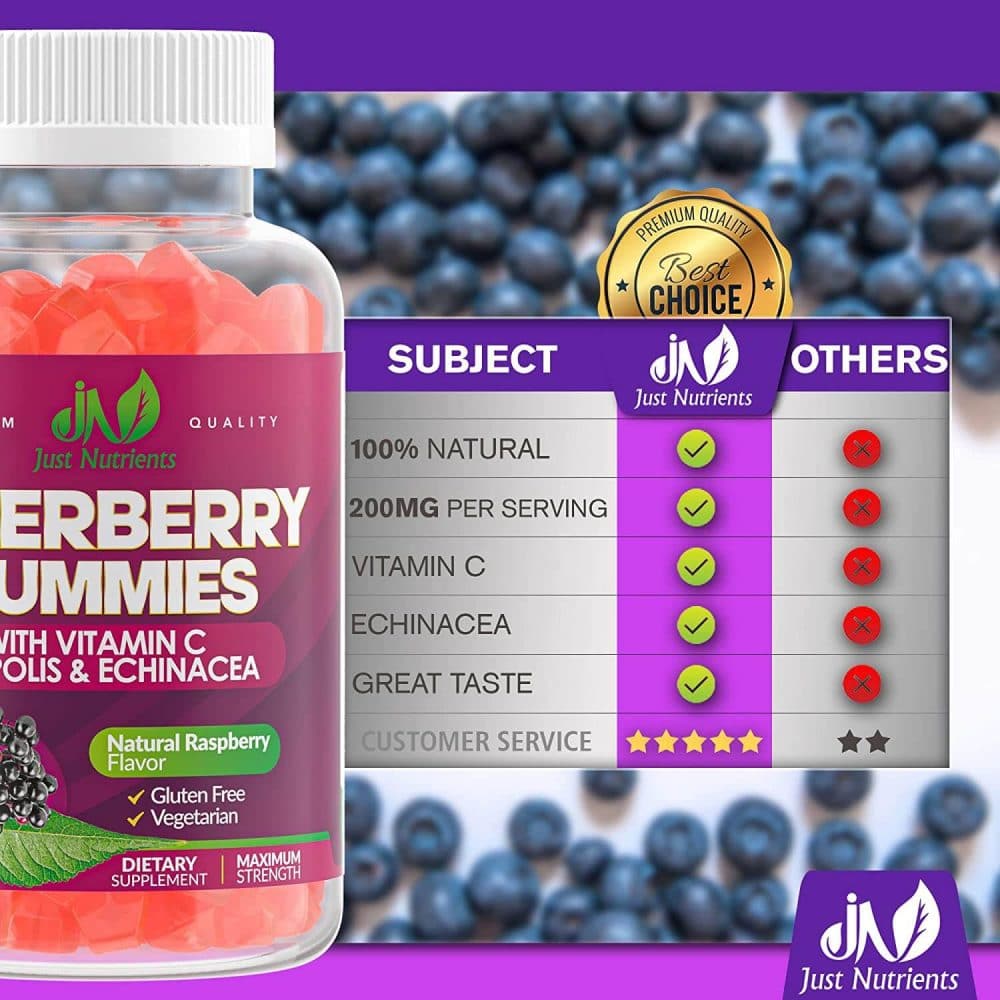 Elderberry gummies Results Before and After: Does Elderberry gummies really work or is it a scam?
Let's have a look at the before and after results of taking the Elderberry gummies dietary supplement:
| | |
| --- | --- |
| Results after 12-48 hours | Fights free radicals from your body. Results may not be visible but intense cleansing work goes on in your body |
| Results after 4 weeks | There is a fresh rush of energy. You feel better. You enjoy the anti-inflammatory properties of the supplement. |
| Results after 6 weeks | You fall sick less often because of your stronger immune system |
Was Elderberry gummies in Shark Tank?
The shark tank is a TV show that displays incredible products. At the time of writing, The Essential Elements Elderberry Gummies have not been featured on the shark tank. However, we believe it will be featured soon. 
Is Elderberry gummies legit or are there any warnings about Elderberry gummies on the Internet?
Elderberry gummies isn't a scam plus it consists of only natural and healthy ingredients. The product also comes loaded with some of the best immune strengthening ingredients. If it is used in moderation, you will get the expected result with no long-term side effects.
Where to buy Elderberry gummies?  
You can get a bottle of Elderberry gummies on the official website for $16.99. You can also get it on Amazon and ebay.
Can you buy Elderberry gummies in the pharmacy? 
Of course, you can. You can get Elderberry gummies in a pharmacy. However, getting it on the official website is the most affordable and the most reliable option. Much better than getting it on eBay, or Amazon.
What do I have to consider if I want to discontinue Elderberry gummies?
Elderberry gummies is a dietary supplement that can be used for a long time. However, if you have any concerns, please speak to a doctor.
Elderberry gummies Review Conclusion – Our experiences and recommendation:
After critically analyzing the ingredients it is made of and the results of users, we believe that the Essential Elements Elderberry gummies is a worthy product. 
We love the fact that this immune booster is capable of strengthening your immune system and keeps you from falling ill. Not so many supplements on the market can meet your needs the way Elderberry gummies does.
 Of course, it is not a wonder drug. You will experience better results if you follow a healthy lifestyle routine.
To keep your immune in good shape, we suggest the following;
Take plenty of water

Add probiotics to your diet, they are good for your guts

Consume foods that are rich in Vitamin C like Fruits and Veggies. You may also take vitamin c supplements.  

Take foods that are rich in fiber.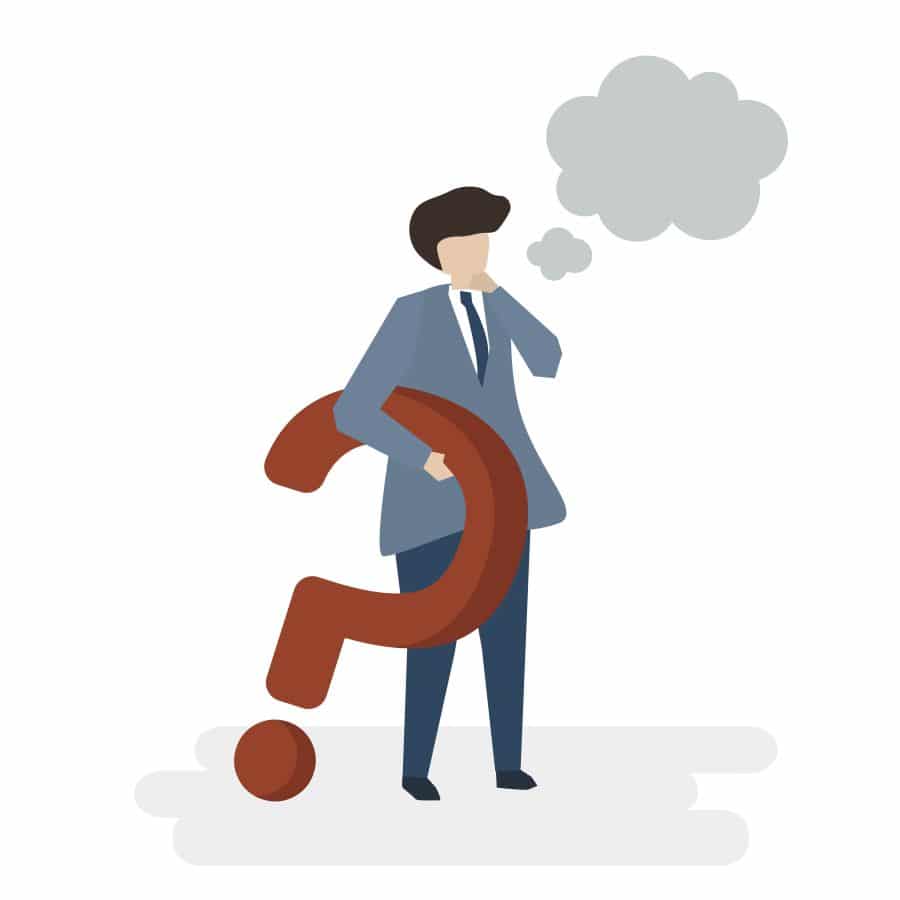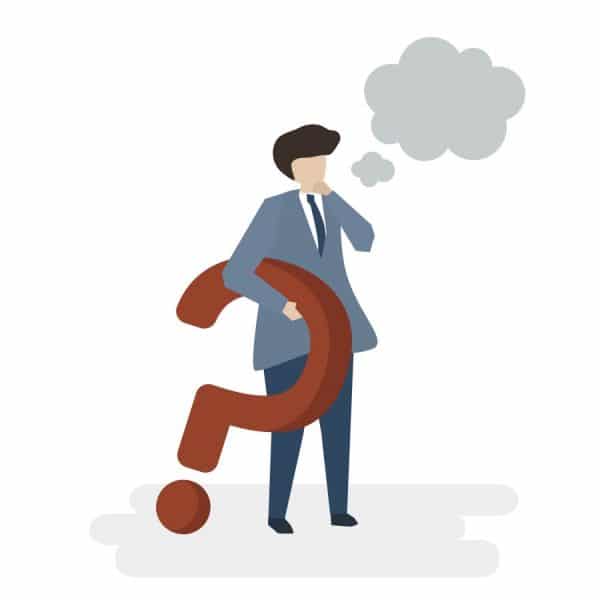 Frequently asked questions about Elderberry gummies:
Before purchasing a product, several questions roam your mind. Here are some questions frequently asked by potential users. Hopefully, you'll find answers to your own questions.
Is Elderberry gummies recommendable or are there any criticisms of Elderberry gummies?
Are there any Elderberry gummies deals or coupon codes?
Who is behind the manufacturer of Elderberry gummies, UMZU LLC?
Does Elderberry gummies have any risks or side effects?
Is the continuous use of Elderberry gummies safe?
Can you buy Elderberry gummies on ebay & Amazon?
Do I need a prescription to buy Elderberry gummies?
How much does Elderberry gummies cost and where can I buy Elderberry gummies at the cheapest price?
What are the best alternatives to Elderberry gummies
Elderberry gummies by Essential Elements has some alternatives. They perform almost the same function. See two of them:
Elder-Mune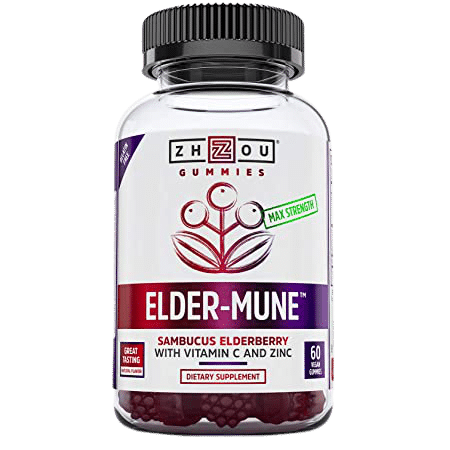 This is another dietary supplement similar to the Essential Elements Elderberry Gummies. It contains Sambucus elderberry, which as we discussed earlier is an effective antioxidant extract that supports the immune system health. It also contains other immunity boosters like vitamin C and zinc which form the 3-in 1 immunity strengthening formula. 

When seeking to fight free radicals from your body keeping it healthy, balanced, and functioning well, this product is worth trying out. It comes with loads of antioxidants for fighting inflammation and free radicals. 

It is also tasty, so it is a great choice for children and adults alike
New Age Immune Support Gummies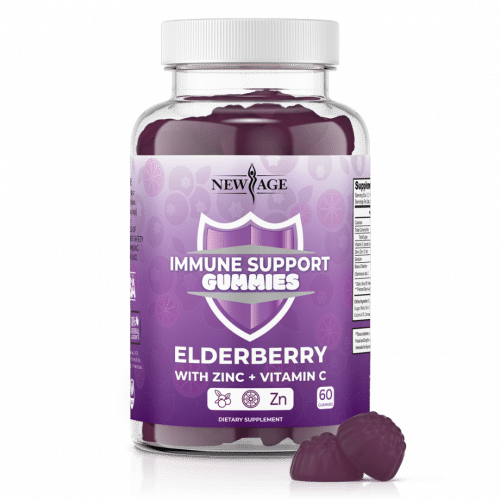 This is another delicious alternative to the Essential elements elderberry gummies. It contains an effective antioxidant extract that supports immune system health. It also contains immunity boosters like vitamin C and zinc to make it a 3-in-1 immunity booster.

This product helps to fight off free radicals and keeps your body in perfect shape. The product is popular for its antioxidant power which supports your immune system year-round.