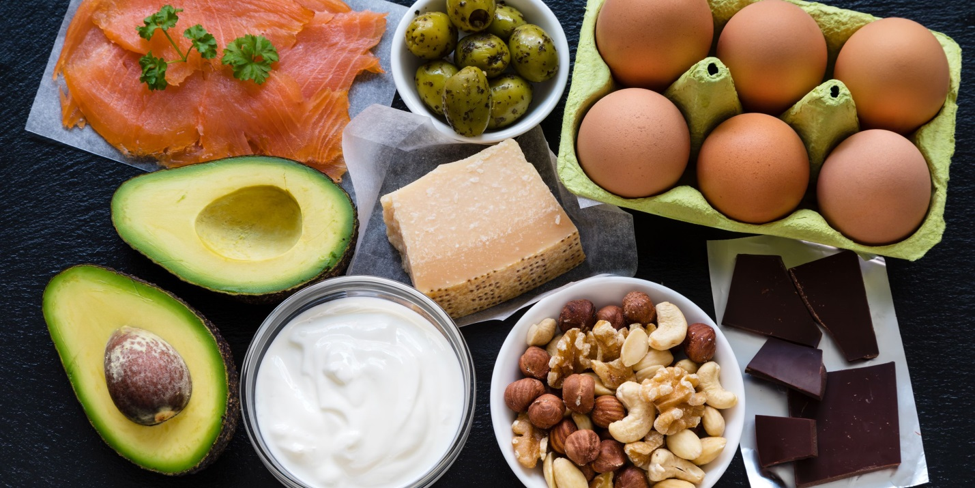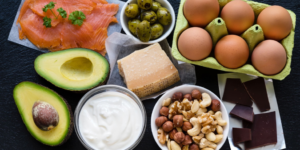 Over the years, weight management has been an uphill task for many people, but not anymore. The popular ketogenic diet currently makes it easier for you to lose weight without the hassle and while enjoying the meal that you love. One common challenge that most people encounter when trying out this type of diet is the simple keto recipes to help them make nutritious low-carb meals at the comfort of their homes. Keto meals sold in most food places are costly, but this need not be the case. We include in this article some of the best easy keto recipes for an array of meals that can be served at various times of the day.
Keto Breakfast Recipes
Breakfast is the most important meal of the day, and it is fundamental for one to get the best keto breakfast recipes to ensure that they get to enjoy a meal that is low in carbohydrates with each wake. The best way to get the ideal keto meal is to identify your meals that are low in carbs, within your budget, and easy to prepare. The keto recipes for breakfast we avail below are among the easiest to make, and you might find all the ingredients you need in your kitchen.
1. Keto Egg wraps recipe
There is never enough time to get breakfast ready, especially for homes with school-going children. Also, it is not easy to get kids on the low-carb diet, and this aspect is a headache for most parents who wish to get the whole family on the ketogenic diet. Luckily, we know one thing that children love to eat; eggs. This keto egg wrap is easy to make and delicious. It is not limited to breakfast only; this keto egg wrap can be taken for lunch as well. The free keto recipe we provide herein is for one wrap if you need to make more than the one you can adjust the ingredients to suit your demands.
Ingredients
Two eggs
One chicken sausage
½ avocado
Salt to taste
½ tablespoon of butter/oil of your choice
Spicy jalapeno cream cheese
Pepper (optional)
Preparation
Break the eggs and whisk together with the salt and pepper until frothy.
Melt a little butter in a non-stick pan for easy flipping of the egg crepe
Pour the egg mixture onto the pan and swirl the contents until evenly spread on the cookware
Keep an eye on the edges and flip the pancake once they turn golden
Once the egg crepe is ready, lay it on a flat surface. Spread the avocado and cream cheese on to it then put the sausage in the middle. Roll it up like a burrito and enjoy with a ketogenic drink of your choice.
Keto egg wraps recipe tips
This keto breakfast recipe can be custom made in various ways to achieve the desired taste. The choice of filling affects the number of carbs in this meal. Confirm that the filling you pick conforms to the keto diet. Some of the other tips that you ought to keep in mind when preparing this egg wrap are;
Fold the sides in to ensure that the fillings remain in place as you enjoy your wrap
The cover can be refrigerated and used each morning. Alter the ingredients accordingly and prepare a whole week or more of breakfast
For lighter egg crepes use one egg instead of two
Use a pan large enough to ensure that the crepe is light as needed 
Nutritional information:
calories: 627kcal, carbohydrates: 14g, Protein: 31g, Fat: 51g, saturated fat: 16g, cholesterol: 524mg, Sodium: 1166mg, potassium: 683mg, Fiber: 6g, Sugar: 3g, vitamin a: 1575 IU, vitamin c: 11.2mg, Calcium: 104mg, iron: 3.4mg
2. Maple pecan keto muffins
Eggs are known to be perfect for breakfast solutions for people on a ketogenic diet, but it is not the only option available. Keto muffins are another option that most people fall back on, and we avail the perfect keto breakfast recipe for a variation that will entice your taste buds and fill your tummy.
Ingredients
1 cup almond flour
½ cup golden flaxseed
¾ cup pecan halves
½ cup of coconut oil
Two large eggs
¼ cup Erythritol
Two teaspoons maple extract
One teaspoon vanilla extract
½ teaspoon baking soda
½ teaspoon apple cider vinegar
¼ teaspoon liquid Stevia
Preparation
Pre-heat the oven to a temperature of 325°f
Using a food processor, chop the pecan halves into a coarse texture
Put the eggs, maple extract, coconut oil, vanilla extract, apple cider vinegar, and liquid stevia. Mix these ingredients until they are well blended.
Combine the wet and dry ingredients and mix until you achieve a smooth batter
Place the batter in the cupcake baking tray
Sprinkle the coarsely chopped pecans on each of the muffins
Place in the oven and allow to bake for at least twenty-five minutes but not more than thirty
Take out from the oven and wait for them to cool, then serve with accompaniments of your choice that are also keto-friendly.
Keto muffins recipe tips
Knowing the importance of each ingredient in the recipe above is essential in helping you understand the differences between these keto muffins and the others which are not friendly to the ketogenic diet.
Using Erythritol instead of sugar helps lower the calories since it is a keto-friendly alternative for sweetness in your muffins
This recipe yields eleven keto muffins
Nutritional information:
Each cupcake you consume out of the eleven prepared has; 231.36 Calories, 21.9g Fats, 1.96g Net Carbs, and 5.03g Protein
Easy Keto Recipes – Keto Lunch & Dinner Ideas
Lunch and dinner keto recipes are numerous. Choosing the right one depends on personal preferences, ingredients available, among many other factors. We have selected three easy keto recipes for you to try out. Try them out and lets us know what you think.
1. Keto chicken and cabbage recipe
This keto recipe requires you to have some leftover chicken in the house to make preparation easier. Alternatively, you can choose to prepare your favorite chicken meal from scratch then jump on to this recipe to make the chicken and cabbage combo. In this chicken keto recipe, we use a rotisserie.
Ingredients
7 oz. fresh cabbage
½ a red onion
1lb rotisserie chicken
Salt to taste
Pepper
½ cup mayonnaise
Preparation
Clean and shred the cabbage to small pieces using a sharp knife
Place the cabbage on a plate and proceed to chop the onion into thin slices
Add the onions and mayonnaise to the plate and place your 1 lb rotisserie chicken on the plate also
Dress the cabbage with olive oil, salt, and pepper according to your preference.
Keto kitchen and cabbage recipe tips
This free keto recipe requires minimal preparation since the significant part of the meal is leftover. The ingredients are natural to put together and you can enjoy your meal in less than five minutes.
 You can use any left-over chicken for this recipe other THAN ROTISSERIE
Other keto-friendly ingredients can be added to the method to elevate both the taste and nutritive value of the meal
You can pan fry one or two pieces of chicken if you have no leftovers. The internal temperature of the chicken must be at 165°f before it is considered ready. Keto recipes chicken are many on the internet; use any of them to make the ideal chicken go with the cabbage and onions.
2. Keto Korean Ground Beef Bowl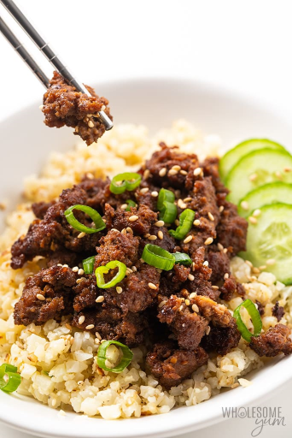 The Korean ground beef bowl contains cauliflower rice alongside the protein. Cauliflower rice is keto-friendly and has low carb levels making it an ideal for inclusion in this recipe. Keto recipes with ground beef are among the easiest to prepare.
Ingredients
Beef:
1 tbsp Olive oil
1 lb Ground beef
1/2 tsp Sea salt
Four cloves Garlic (minced)
1/4 cup Coconut aminos
1/4 cup Beef broth
2 tsp Sesame oil
1/4 tsp ground ginger
1/4 tsp crushed red pepper flakes
Cauliflower rice:
1 tbsp. Olive oil
1 lb. Cauliflower (frozen or fresh riced in a food processor)
1/2 tsp Sea salt
1/8 tsp Black pepper (optional)
Preparation
Place a pan on fire and add 15ml of olive oil d heat under medium heat
Add the cauliflower rice into the olive oil. Remember to defrost if you are using frozen cauliflower rice. Add black pepper (optional) and sea salt to taste.
Sauté the rice for three to five minutes or until well cooked
Remove the cauliflower rice from heat and set aside while covered to keep it warm
Using a small bowl, whisk together the beef broth, sesame oil, ground ginger, red pepper flakes, and coconut aminos. After they are well blended, set this sauce aside.
Heat one tablespoon of olive oil in a pan over medium heat. Add the ground beef and mix it with the oil while adding the sea salt into it
Cook the ground beef for 10 minutes breaking it up, and occasionally stirring with a spatula until well browned
Make a depression in the minced meat and add the crushed garlic. Sauté the garlic for close to a minute and then mix it with the cooked beef
Pour the sauce that you had prepared earlier over the meat and let it simmer for four minutes or until the sauce is thick, and there's not much liquid left.
Serve the cauliflower onto a plate and top up with ground beef. Garnish as desired, and enjoy your dinner.
Korean ground beef bowl recipe tips
Two to three tablespoons can be added to the sauce before its addition to the beef to make it sweet
When using frozen cauliflower rice, follow the instructions on the packet to the letter since most of them take longer than the time stipulated in the recipe above to cook.
Stir-frying over medium heat reduces cauliflower smell and elevates the flavor as compared to steaming.
Nutritional information:
This recipe contains 513 calories, fat 36g, protein 35g, total carbs 12g, net carbs 9g. Fiber 3g, and sugar 3g.
3. Baked keto fish and chips recipe
Fish and chips are a delicacy that most people love, but when on the keto diet, potatoes may not be ideal. In this recipe, substitutions have been made to ensure that the meal is fully ketogenic.
Ingredients
Two eggs
One tablespoon pouring cream
155g (1 1/2 cups) almond meal
40g (1/2 cup) finely grated parmesan cheese
Finely grated rind of 1 large lemon
1/3 cup finely chopped fresh Continental parsley
One teaspoon chili flakes (optional)
Two avocadoes
Two large zucchini, cut into long wedges
4 x 125g skinless firm white fish fillets
80ml (1/3 cup) rice bran oil
Mixed salad leaves, to serve
Lemon wedges, to serve
Preparation
Preheat the oven to 200/220 degrees Celsius and line the baking tray in readiness for use.
In a bowl, whisk the eggs, one tablespoon of water, and cream together.
Combine the almond meal, rind, cheese, parsley, and chili flakes. Add the seasoning as well and mix these ingredients well.
Cut the avocados into half and remove the seed. Peel the skin away and cut each half into six or eight pieces.
Coat the avocado with eggs, letting the excess drip off. Cover with the almond mixture after. Do this for all the avocado, fish and zucchini.
Place the fish in a plate and cover then freeze for ten minutes
Meanwhile, spread the avocado and zucchini on the tray, spray with oil and bake for twenty minutes until the color turns golden and the texture crisp.
Heat oil in a pan and cook the fish for two to three minutes until golden and crisp.
Serve the chips and salad with the salad leaves and lemon wedges.
Baked keto fish and chips recipe tips
Use almond meal instead of breadcrumbs to keep the calories low
Ensure that you have all the necessary ingredients
Nutritional information:
3109 KJ energy, 60g fat total, 11g saturated fat. 9g fiber, 42g protein, 313mg sodium. 6g carbs (total)
Conclusion
A ketogenic diet requires one to be careful not to consume foods that are crammed with carbohydrates and fats. Confirm that all the ingredients you use friendly to the menu. Use easy keto recipes for beginners if it is your first time trying the keto diet.