Looking for a fun treat for Valentine's Day or St. Patrick's Day? Or a rainbow themed event? We have you covered with this cute Skittles Rainbow Jar with free printable. While I am all about creating non-candy Valentines and treating those I love to special desserts and Valentine's crafts Valentine's Day is all about love, friendship, and fun. I'm excited about this Skittles Rainbow Jar and I know you will be too!  Just print off the printables, fill the jars with Skittles and you have a perfect gift for the teacher, doctor, babysitter or friend. Plus each jar is nut-free making it a perfect treat for school and sharing with classmates.
You will need to plan ahead to ensure you have all of the supplies on hand. Once you have those this DIY takes less than half an hour to complete.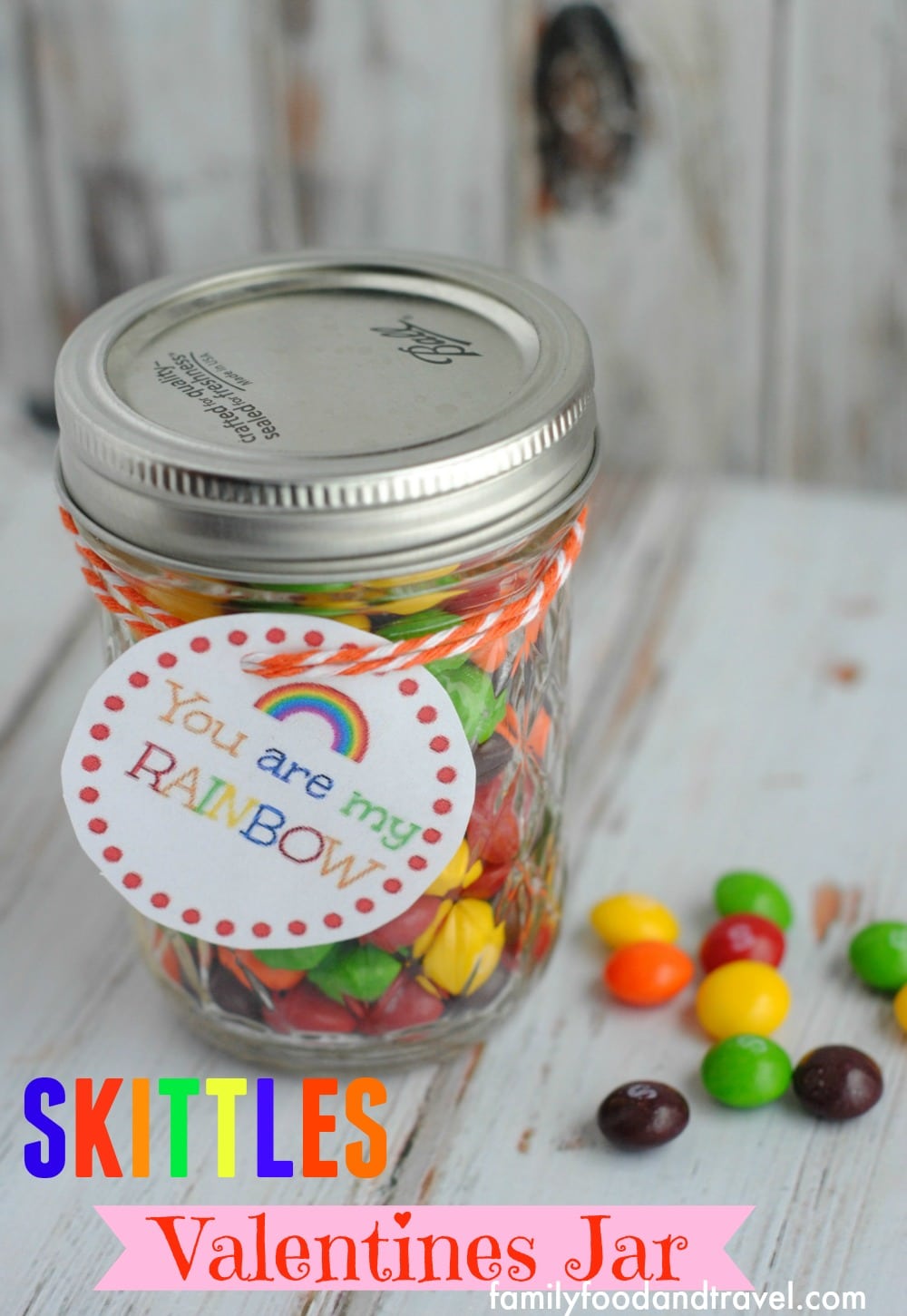 Skittles Rainbow Jar Materials
1 large bag of SKITTLES-Original Candy
Printable gift tags
8oz Mason Jars
Bakers Twine
or ribbon to attach the gift tag to your mason jar 
Single Hole Punch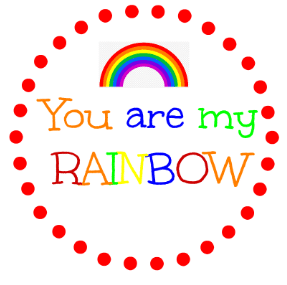 Skittles Rainbow Jar Directions
#1. Wash and dry the pint jars.
#2. Once the jars are completely dry, pour the Skittles into the jar filling all the way to the tap. 
#3. Close and seal with the lid
#4. Print and cut out the gift tag. Use the single hole punch to make a hole in the top of the gift tag. String the twine or ribbon through the hole and attach to the jar.
#5. Voila! A super cute and inexpensive Valentine gift jar idea!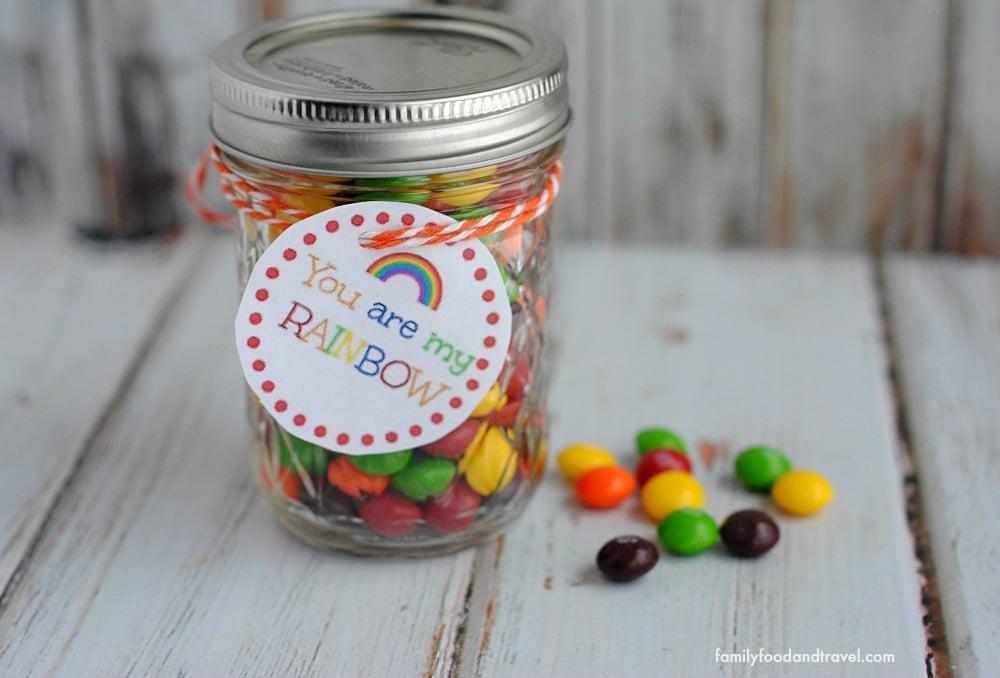 I've attached the printable in PDF format – easy to download and print with only a few steps to creating a unique and fun gift.
If JPG works for you download this image and print it as a picture.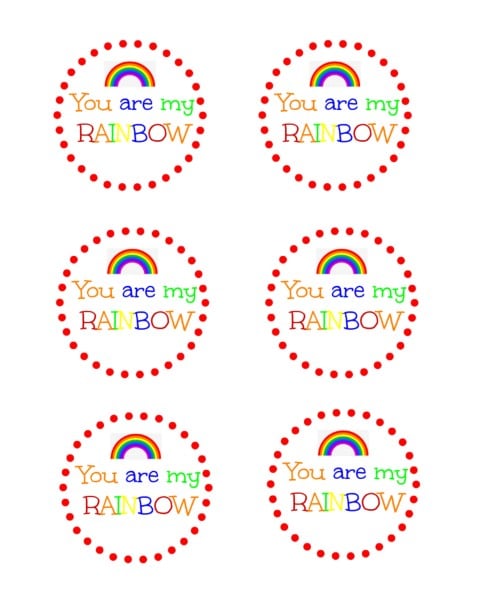 Looking for more great Valentines ideas? Check out our Valentines page or head over to recipes to find the perfect appetizer, main dish, and dessert for the people you love. Looking for a non-food DIY gift? Why not a cute DIY Succulent Terrarium it is a perfect gift for friends, teachers and more!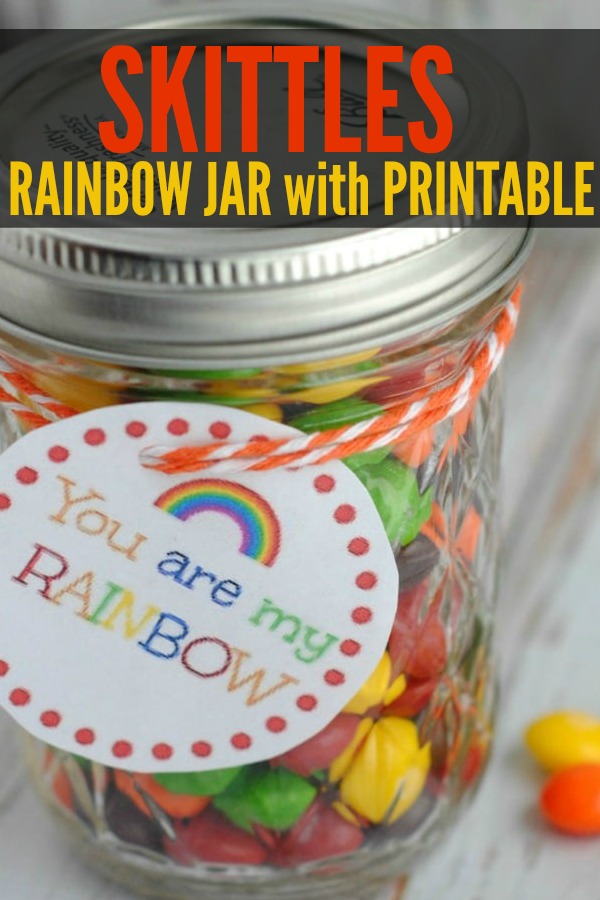 *This post contains affiliate links. I may receive compensation for you clicking through and making a purchase.