June is a month full of anticipation for me.  School's almost done, the weather is getting warmer, the BBQ is well used and the flip-flops are out.  Our traveling family loves the anticipation of summer for trips to the beach, new adventures and lots of road trips!
However, the state of our car right now is NOT Road Trip ready.
Between stashed away hats, mitts, snack wrappers, sweatshirts, crumbs and coffee cups it looks like we've been living in our car all Winter.  It's definitely time for a Spring clean up.  Luckily Armor All sent me this fantastic assortment of car cleaning supplies that make cleaning more fun than a chore and something the whole family can get involved in.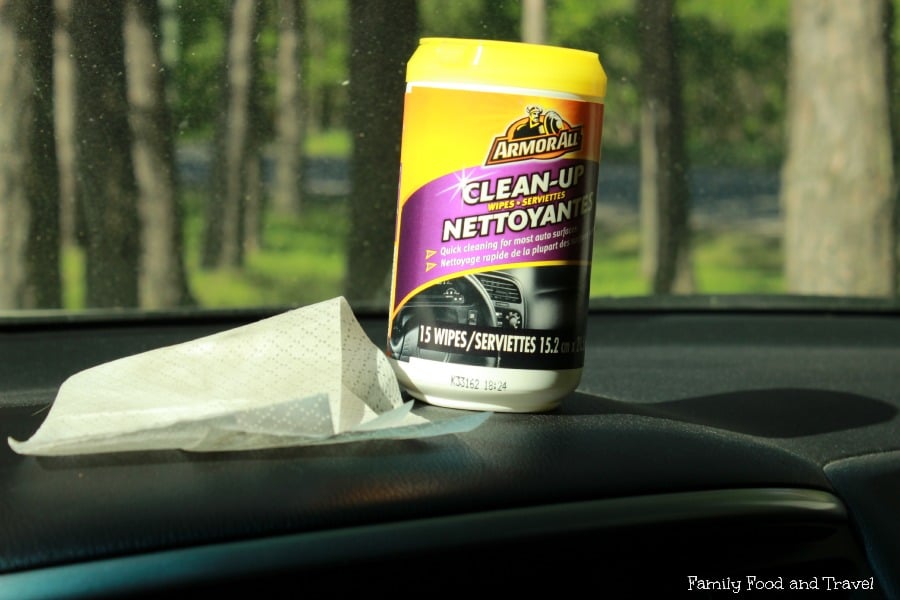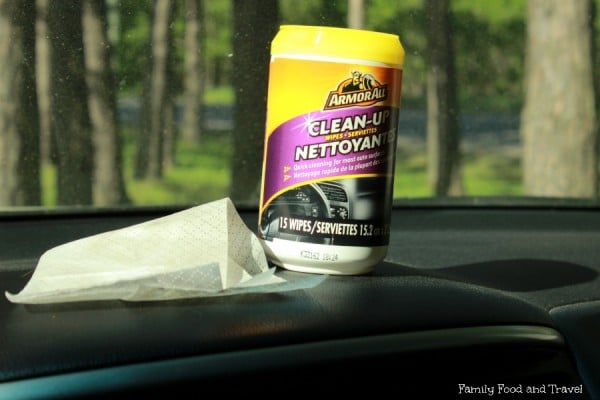 Making your car Road Trip Ready in four easy steps:
1) Wash Exterior with Armor All® Wash and Wax + Protect 
Gently lifts away dirt that can cause scratches and swirls while protecting paint surfaces from damaging water spots by minimizing water left on your vehicle when rinsing. Specially formulated to reduce beading and sheeting.
2) Clean the Interior 
Efficiently remove built-up bacteria and germs on hard, nonporous surfaces with new Armor All Disinfecting wipes while not damaging delicate car surfaces. Clean away the winter's dirt and grime on carpet and upholstery. Try
the Armor All® Carpet and Upholstery cleaner with a built-in bristled cap.
3) Protect the interior with a protectant spray or convenient protectant wipes 
Protect the vehicle's vinyl from the damaging effects of UV rays and restore the vehicle's interior shine. Try a scented air freshening protectant wipes such as Pure Linen to really bring spring to life.
4) Clean and Protect Tires 
Remove unsightly brake dust and protect tires from harmful elements using a rim cleaner like Armor All® Extreme Rim Cleaner. Restore tire shine and protect the rubber from cracking using a gel or tire foam.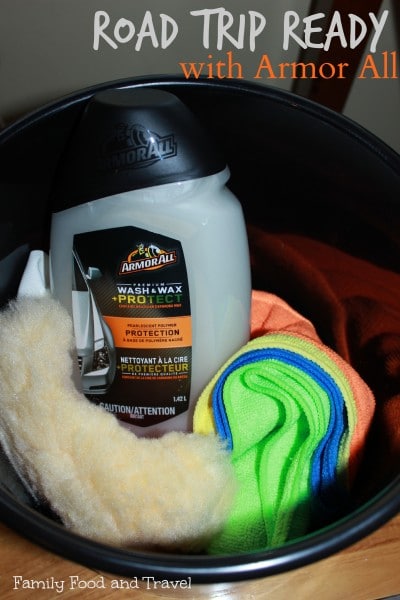 Road Trip Ready Armor All Cleaning Kit
Your kit includes:
Armor All® Air Fresheners
Armor All® Premium Wash & Wax + Protect
Armor All® LONGLAST Trim & Plastic Restorer
Armor All® Carpet and Upholstery Cleaner
Armor All® Disinfecting Wipes
Armor All® Pure Linen Protectant Wipes
Armor All® Pure Linen Protectant Spray