There is something especially delicious about Mint Chocolate and chocolate cupcakes.  Mint Chocolate reminds me of ice cream, of summer days, or all things beautifully green!  Mint Chocolate is absolutely one of my favourite dessert flavours and these cupcakes were inspired by a friend asking me "What are you making for St. Patrick's Day?"  Hmmm I had no idea!  And, thus these cupcakes were born.  Chocolate cupcakes filled with absolutely divine Mint Chocolate Chip Icing.  Whether you enjoy these Mint Chocolate Chip Cupcakes on St Patty's Day or not, these cupcakes are sure to delight any mint lover in your life! Serve them with these Mint Oreo Cookie Bark for the perfect dessert combination.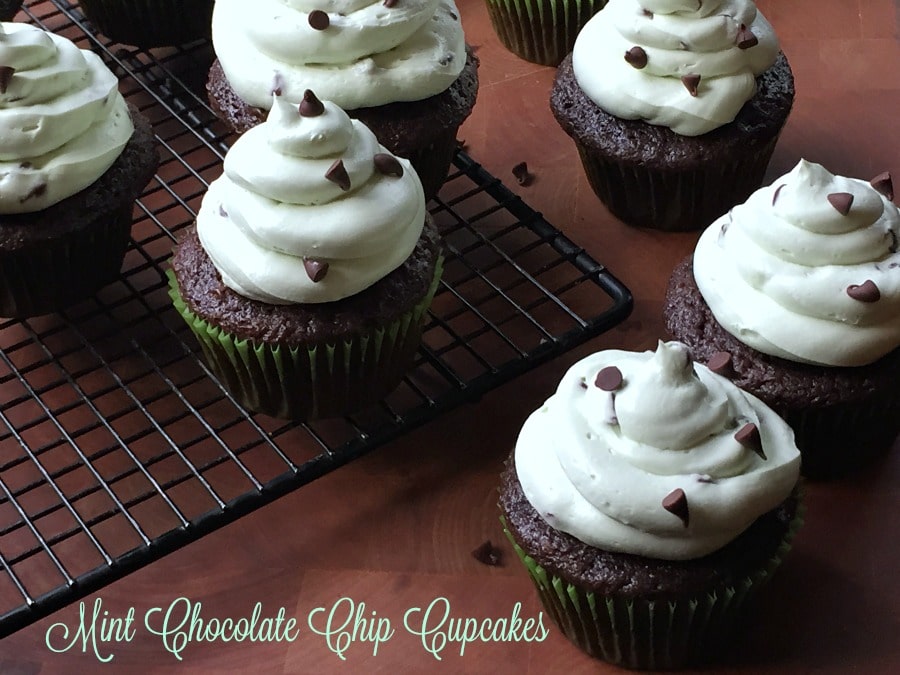 Mint Chocolate Chip Cupcakes
Instructions:
Bake your favourite cake mix into cupcakes adding 1 cup of mini chocolate chips just before baking.
Once baked, allow to cool and remove the centre using a cupcake corer or scooping out with a knife.
Make Mint Chocolate Chip Buttercream Icing add it to a piping bag or large ziploc bag.
Pipe icing into core of cupcakes and topping.
Decorate with your favourite sprinkles, mini chocolate chips or chocolate shavings.

Mint Chocolate Chip Buttercream Icing
Ingredients
1.5 cups butter
2 tbsp vanilla
3 cups icing sugar (powdered sugar)
1 tbsp peppermint extract
6-9 drops of green food colouring (to desired colour)
1 cup mini chocolate chips.
Instructions
In a stand mixer with the paddle attachment cream butter until creamy.
Add vanilla and mix till combined.
Add icing sugar cup by cup until combined.
Add peppermint extract and food colouring.
Mix until colour is even and frosting is light and creamy.
Add mini chocolate chips and stir to combine.
These cupcakes are truly remarkable.  The creaminess of the frosting and the refreshing mint flavour are delicious with chocolate cupcakes but could be added to any chocolate dessert.  If you love mint – these are your cupcakes!
Looking for more cupcake inspiration? Check out some of our favourite cupcake recipes: our salty and sweet Chocolate Covered Bacon Cupcakes  or the light and fluffy Rootbeer Cupcakes or festive Leprechaun's Treasure Cupcakes with a special treat inside!