My earliest memories of my grandmother was her baking in the kitchen.  I would sit at her kitchen table and watch her intently as she moved methodically from one cupboard, bowl and ingredient to the next.  She never wore an apron, choosing instead to wear a housedress and pink fuzzy slippers.  She made the best pumpkin and apple pies, delicious tarts, Christmas shortbread and my childhood favourite, peanut butter squares (the ones with the multicoloured marshmallows).
When I was young I watched, but as I grew older I was allowed to measure, pour, stir and bake.  I learned about the importance of order in cooking and the chemistry of certain ingredients.  I loved every minute.
While I still make some of those recipes, I have modified them and changed them to add more variety and greater appeal.  This recipe is one of those modifications, Lime Shortbread Cookies with Cream Cheese Glaze.  A simple base, with some delicious additions.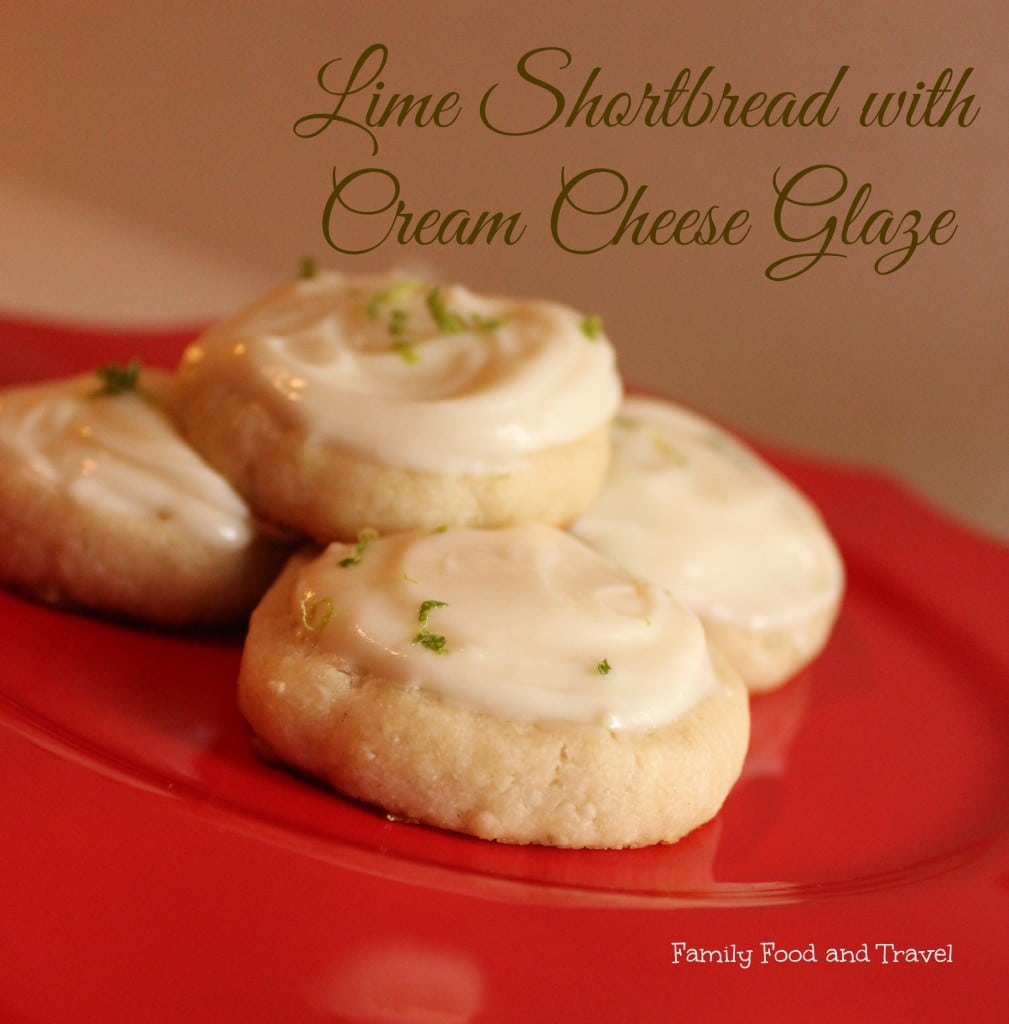 Lime Shortbread Cookies
Ingredients
1 cup Gay Lea Butter softened
½ cup sugar
2 tbsp finely shredded lime peel
¼ cup lime juice (1 large lime juiced)
1 tsp vanilla
2¼ all purpose flour
½ cup finely ground almonds
Instructions
Preheat oven to 325
In a stand mixer beat butter on medium until its beginning to fluff
Beat in sugar, lime peel, lime juice and vanilla until combined (scraping down sides often)
Add flour cup by cup until the mixer can no longer stir
Add remaining flour to bowl and mix with a large wooden spoon
Add ground almonds and mix until combined
Lightly flour a piece of parchment paper and roll dough until flat
Cut with cookie cutters OR Roll doll into a long round cylinder and slice into ½ inch thick rounds
Place on parchment lined cookie sheet (ungreased)
Bake 7-8 minutes until edges begin to brown
Transfer to a wire rack and cool
Spread icing/glaze after cooled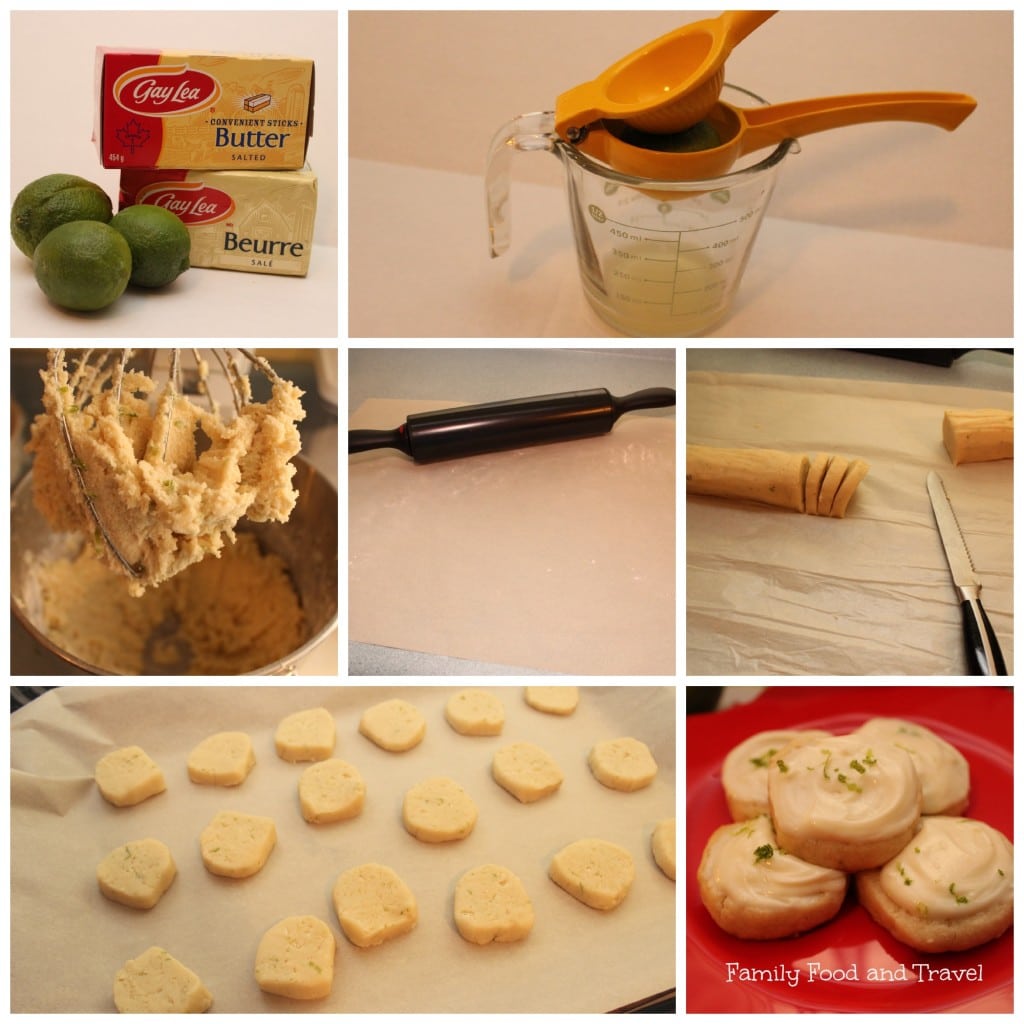 Lime Cream Cheese Glaze
Deliciously tart cream cheese icing
Ingredients
1 pkg light cream cheese (250 g)
1.5 cups icing sugar
1 tsp vanilla
Juice of two limes
Grated lime peel (optional)
Instructions
Beat cream cheese in a stand mixer until whipped
Add icing sugar ½ cup at at time and mix thoroughly
Add vanilla and juice of 1-2 limes until desired thickness/consistency
Add lime peel to the icing and/or garnish cookies with extra peel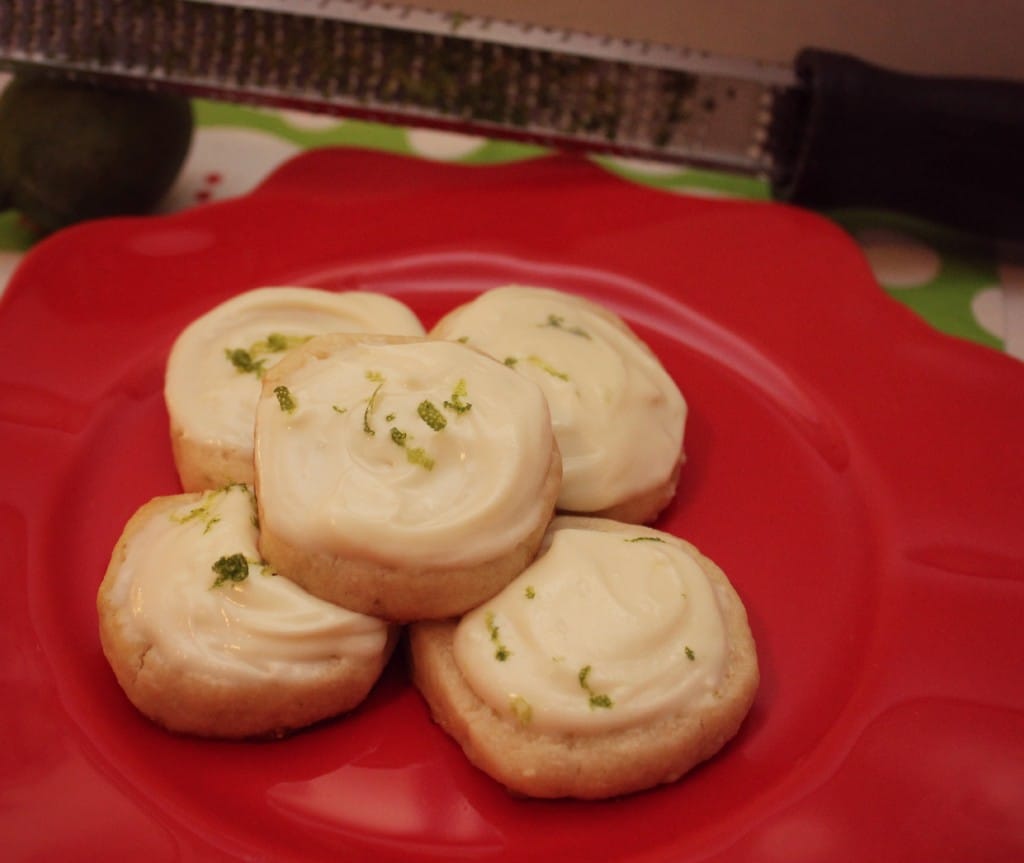 Disclosure: I am part of the Gay Lea Blogger Campaign with Mom Central Canada and I receive special perks as part of my affiliation with this group. The opinions on this blog are my own.