When I first started blogging I joined the SITS girls and immediately found a great community that was supportive, informative, engaging and fun!
Today is my SITS Day.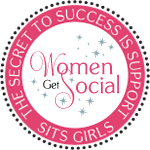 What is that you might ask?
It's the day when my blog is the featured blog on their website. Every SITS girls gets their day as a way to celebrate your part in the community.
Welcome SITS sisters!  Family Food and Travel was born out of my passion for writing and a feeling that my story needed to be told.  A feeling that my story was unique, and different and helpful to others.  My blog centers around my three passions – my family, food and travel.
My family includes my husband (a Mexican chef), my twin boys (born March 2010), a large red Standard Poodle and an aging arthritic orange tabby.  We live in a small town in Ontario, Canada.  While we love living far outside a big city we love to travel to any destination.  I have traveled to over 28 countries and hope to take my boys to every continent in the world.
I have learned so much about myself through my blogging, but the best part is all of the amazing online friends I have made and the remarkable readers!
My blog features a great weekly link up called Wonderful Food Wednesday, lots of travel tips, my sleep training story, some great recipes and family-friendly product reviews and contests.
Thank you for stopping by.  Grab a coffee and tell me, what three things are you most passionate about?