If you're looking for some kid-friendly packing hacks that even they can do, you won't want to miss out on these tips! It's time to let your kids take charge of their own packing for family trips.
Being a parent has a lot of responsibilities. What's the part of family travel we all dislike? Making certain that every member of the family and packed and ready to go. Depending on the size of your crew, that can be a ton of different shoes, outfits and overnight needs to try and remember. And of course, it never fails…when you arrive somewhere and you forgot to pack something for them, it's always entirely your fault. Time for that to change.
With these kid-friendly packing hacks, your little ones can take charge of their own suitcases and pack them with ease. Love these tips? Check out more travel tips, road trip tips and some of our favorite destinations for family travel.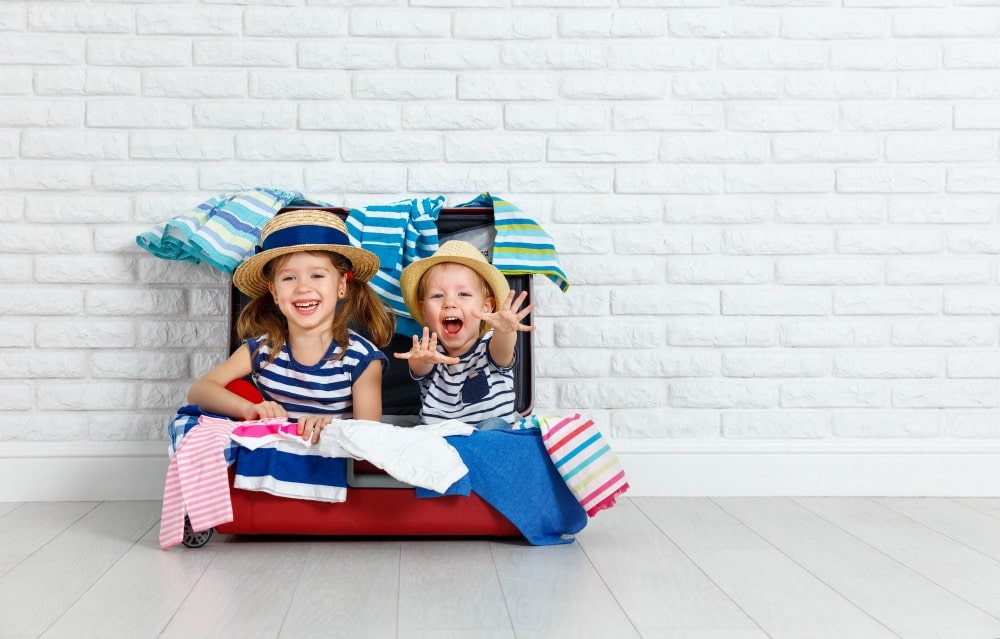 Kid-Friendly Packing Hacks that Even They Can Do
While some of your kids may be too young to pack their own bags, that has to be something that you decide on your own. For the ones that are old enough, these packing hacks are perfect for them to be able to take charge and do!
Assign each child a certain colored suitcase
Let's be real for a moment. Kids fight about everything. It doesn't matter what it is if one child has it and the other one wants it….it's game on. The good news? You can help in the packing realm by assigning each child a color suitcase that is theirs, and theirs alone. That way, when it's time to get ready for a trip, they know exactly the suitcase that they need to get, without issues.
There's no fighting over certain colors or everyone trying to use the same one. Color-coded suitcases are one packing hack that literally takes the stress and worry out of having to manage and tame down any type of arguments or disagreements.
Give each child their own lunchbox to pack as well
To kids, food is life. When you're traveling down the road, you can bet that within 2 minutes of leaving your driveway, somebody is going to be hungry. Rather than fight it, embrace it!
Give every child their own lunchbox and let them fill it full of whatever snacks that they want for the trip. That way, when that hunger strikes, all they literally have to do is grab their own lunch box and pull out something to eat that they packed. Plus, since they packed it you can rest easy knowing that it's something that they are actually going to want to eat!
See how simple this is? Packing hacks are great for the kids, but they're also great for helping you out as well.
Show them how to roll their clothes properly to fit into their suitcase
Rolling the clothes for your suitcase isn't hard, but if you never touch your children how to do it, they're never going to be able to do it properly. Start by telling them about why it's important to roll the clothes (creates more space and fewer wrinkles) and then give them an example of how to get it done.
Once you've shown them once, it's their turn to practice rolling their clothes so that they have room for all those "extra" toys that they're going to sneak in there.
[mv_video key="pngarh1hgtwaqhoggjwg" volume="30″ aspectRatio="true" title="Teaching Kids to Pack A Suitcase" thumbnail="https://mediavine-res.cloudinary.com/video/upload/pngarh1hgtwaqhoggjwg.jpg" doNotOptimizePlacement="false" doNotAutoplayNorOptimizePlacement="false"]
Make them aware of finding the nooks and crannies to pack extra items
Kids are so good about hiding stuff that this part should be a totally simple packing hack for them! Talk to them about how space is precious and as many needed items as possible need to fit into the suitcase. Then, show them what you mean.
Add socks into the middle of the shoes (that's a ton of extra space) and different ideas like that. The whole point of being able to use a suitcase is so that you don't have any wasted space and you can bring along all the items that you need and want.
And if you really want to motivate your kids to pack well, make a fun incentive out of it, too. Challenge them to see how many outfits, underwear, pairs of socks and shoes that they can fit into their own suitcases. You may be surprised at how quickly they'll adjust their packing habits when there's a competition on the line just waiting to be won.
I told you these kid-friendly packing hacks were crazy simple! And if you're wanting one more tip or hack, remember this.
Your child is more than capable of packing their suitcase on their own!
Even if they tell you they can't…they can. One way to motivate them quickly to get their own suitcase packed and ready for travels? Let them know that if they fail to pack their own suitcase, they'll be going on the trip without any of their needed clothes or items.
That's a packing hack that will get them motivated every single time!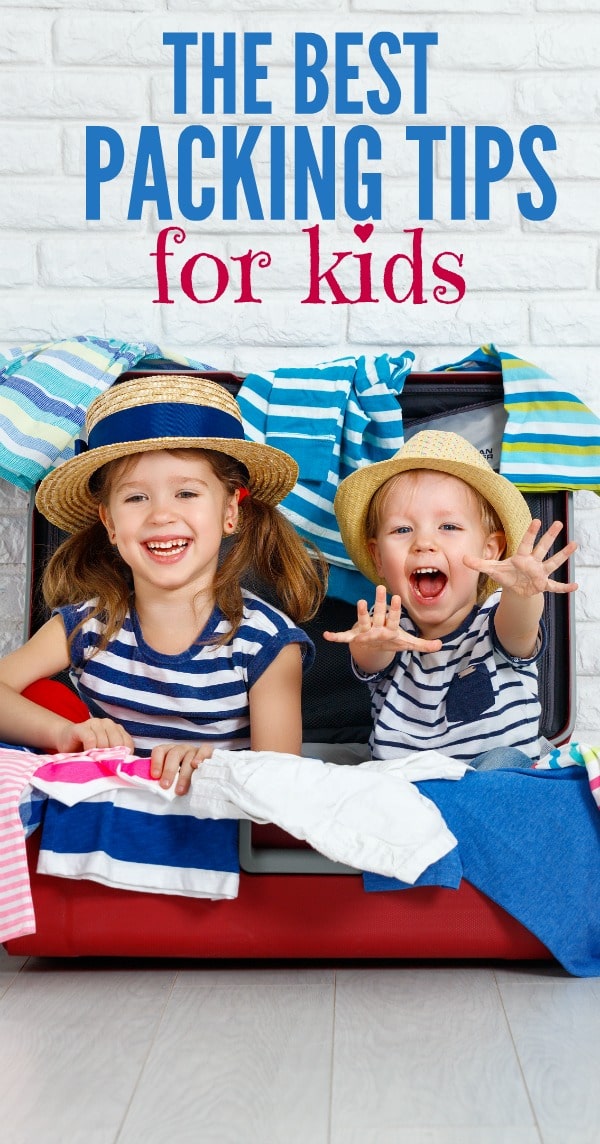 Do you have a kid-friendly packing hack to share?
Looking for fun travel ideas? Check out these great ocean facts for kids, the best tips for buying summer airfare, and tips for intergenerational travel.