Road trips are a favorite way to travel. Get the whole family in the car and get ready for laughter, new sites and quality family time.
Whether you are looking for your next great
family road trip
 or are new to the idea of taking a road trip longer than an hour, we have the best road trip tips for traveling with teens from Paula Schuck who writes about family travel, health, and wellness at
Thrifty Mommas Tips
.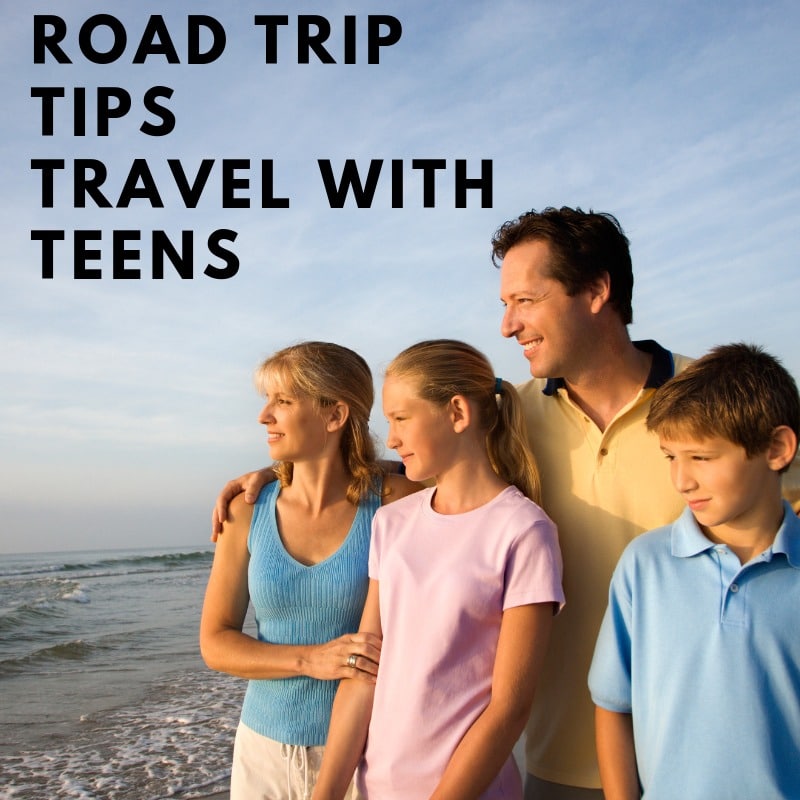 Road Trip Tips For Travel With Teens 
As I write this we are packing for an epic two-week road trip with teens on board. Maybe you've seen those vans and cars with stickers declaring "baby-on-board" as they plod down the highway beside you on their daily drives to and from school or daycare? We can assure you that the "teens onboard" version of road tripping looks a little different.
Hit the Road But First…
Road trip tips for travel with teens can help make your journey enjoyable, educational and fun. Involve them in the process and plan ahead for successful road trips with teens that make memories that last and build your relationship with your teenager.
When our kids were little we started preparing them for years of family travel ahead. Travel was important to my husband Jim and I. We traveled by plane often before we adopted our girls and although we didn't have the funds to travel before they started school, we knew we'd build travel into our lives as a family. After I launched my marketing business, we had funds for family travel again.
We began with road trips. Three hours to Niagara Falls, three and a half to Sauble Beach, and then eventually on to Detroit, and Ohio before graduating to longer road trips and flights. We have explored a variety of places and spaces including a family resort with wolves!
With each trip we realized our kids thrived on our family adventures so we continued, making road trips with teens a vacation that happened multiple times a year.
Every year for the past five years we've piled into the van, loaded up with skis, poles and warm clothing and we've driven to Vermont or Quebec. Our family ski vacations are our favorite thing about the winter.
This week, we embark on a two-week vacation through New England and Quebec. We will be together in the car for a minimum of 32 hours of driving broken up in several chunks. That first drive was a good nine hours.
How do we all survive road trips with teens? Here are a few of our road trip tips for enjoying the journey.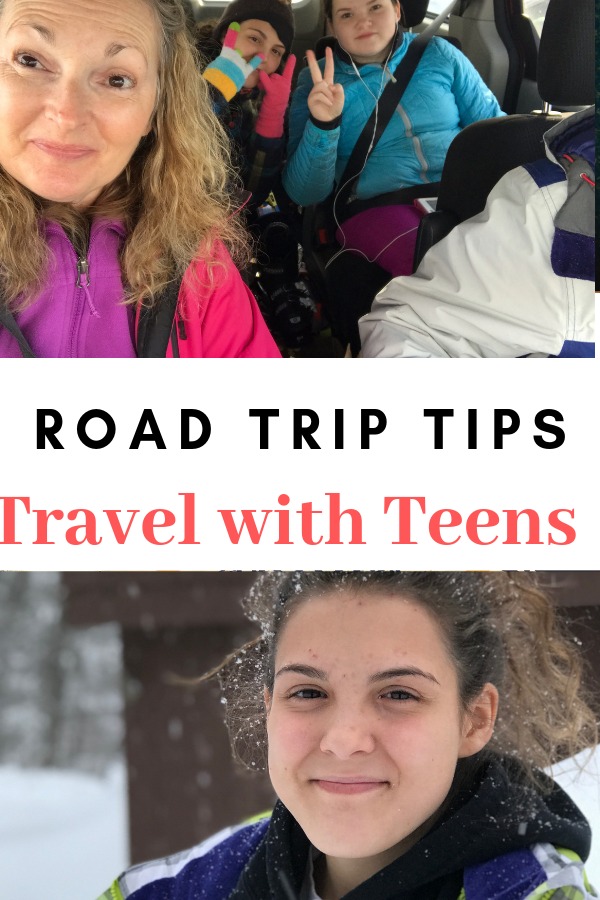 Road Trip Tips For Success
Road trip snacks – Teens are always hungry. A sure recipe for disaster is forgetting road trip snacks. Teenagers are guided by their stomachs often so don't risk moodiness or surly outbursts. Feed them. Bring loads of easy car foods.
Sleep – Simply put let them sleep. If they are exhausted, let them rest in the car. Teens need more sleep than adults do, so when they nod off, let them sleep.
Water – We stock the car with full reusable water bottles for every road trip. "There's water in the car," is a simple answer to "can I get some Sprite?" Much healthier too.
Headphones – Make sure they have their headphones or AirPods handy. Everyone gets to listen to their own music if they hate what's on the radio.
Games – Have a couple of easy games handy to entertain everyone. I still bring out some printed road trip word searches and word games. Nine hours in a car is a long time. At some point someone will declare: I'm bored. Road trip bingo is just fun and easy. Younger teens will enjoy the distraction.
Take breaks – You may want to go straight for nine hours just to get there but every kid, no matter the age, needs to get out and stretch once in a while. Schedule breaks in so everyone can take a breather and stretch their legs. My teens always want to connect to wifi quickly at the highway service stops.
Make Memories on the Road
These road trip tips can help make your time on the road with teens extremely rewarding. By this age, there are so many benefits to traveling together. Teens are engaged in the process and they love exploring new destinations.
Whether you are taking a family road trip to Montreal, planning travel games or getting ready to travel with toddlers check out our road trip tips, suggestions, and favorite destinations.
You'll also love Margarita's tips to enjoy an intergenerational travel road trip.
Have a road trip suggestion? Leave it in the comments below.
Happy traveling!