IKEA hacks are a great way to change already functional and inexpensive furniture and make it into something unique to you and your home. We love IKEA hacks and have had so much fun creating the perfect space for LEGO storage and transforming play and living spaces to suit our needs. If you have lots of toys around we know you will love the ultimate IKEA Hack for Lego and Playmobil –  Ikea Hack Table Lego / Playmobil it's easy to do and keeps all of those small pieces organized and off your floor.
Love DIY projects? Check out some of our favorite DIY projects — > our favorite is this easy to make DIY Necklace Organizer. So fun and makes your necklaces look great.
IKEA Hacks – Easy DIY Ideas To Transform And Organize Your Home
1. Kitchen Furniture Makeover | Frugal Mom 'Eh
2. Prettifying Billy Bookcases | Source: A House Full of Sunshine
3. White Washed FJell Wardrobe with Pallet Shelves | Source: Thinking Closet
4. Ikea Hack – Magazine Holder Makeover | Source: View from the Fridge
5. DIY: Faux Marble IKEA Tray | Source: Horses and Heels
6. Ikea Hack – Modern Indoor Planter | Source: Tell, Love, and Party
7. Chalkboard Labeled Planters | Ikea Hack | Source: Domestically Creative
8. Laundry Ikea Hack | Source: See Saw
9. Ikea Hack – Garage Workbench | Source: Polished Habitat
10. Ikea Rast Hack | Source: Dandelion Patina
11. IKEA Kura Bed Hack | Source: Our Potluck Family
12. Billy-To-Built-Ins Ikea Hack | Source: Home. Made. Interest.
13. IKEA Bedside Table Hack | Source: The Lovely Drawer
14. Ikea Bygel Cart Makeover | Source: See Food Play
15. IKEA Monogrammed Lazy Susan Hack | Source: Southern Revivals
16. DIY Gold Mini Greenhouse | Source: Run to Radiance
17. Ikea Hack – DIY Train Table | Source: Grace and Good Eats
18. DIY Ikea Hack "Hicks" Pendant Light | Source: The Gathered Home
19. Ikea Hack Play Kitchen – Fridge and Microwave | Source: Little Red Window
20. Ikea Hack Bulletin Board | Source: Christina Williams
21. Ikea Hack – Toddler Learning Tower Stool | Source: Happy Grey Lucky
22. DIY IKEA Hack – Copper End Table | Source: Poppy Talk
23. An Ikea Hack Train & Activity Table | Source:
24. IKEA Stool Makeover | Source: The Artful Nest
25. IKEA Expedit Bookcase Turned Seating and Storage | Source: Life a Little Brighter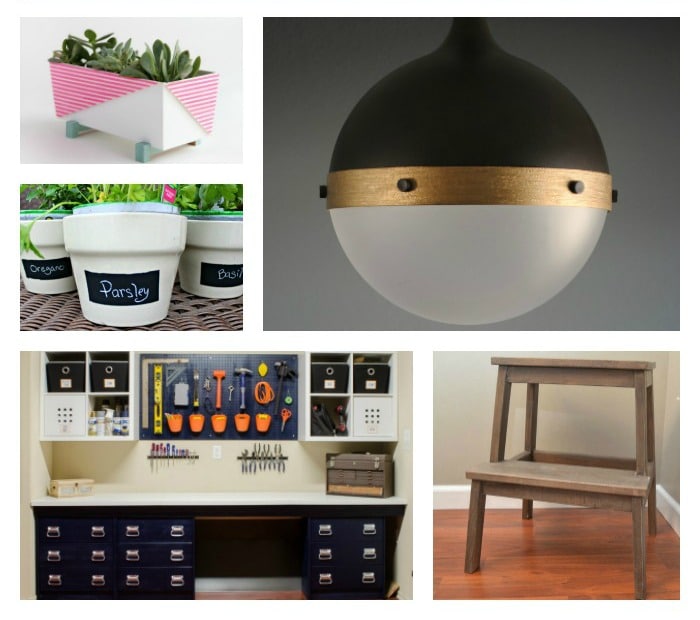 Looking for a specific IKEA Hack? Check out this collection of IKEA Billy Bookshelf Hacks or find out how we organized our office with simple items.
No matter what part of your house needs some attention, decor, or organization you will find lots of options with these IKEA Hacks. We can't wait to hear which one you made first!