Visiting Seattle should be on any traveler's list of trips to take. It's a beautiful city filled with culture, art, fine dining, and more, and everything is easily accessible. One of the best parts of the city is that visiting Seattle with the kids is a great way to get in some family bonding time. The city is incredibly family-friendly, making it easy to stock up on those memories that the kids will not ever forget. Seattle with kids is a fun trip for all ages. Whether you are visiting Seattle before boarding a cruise ship or planning a family trip to visit Seattle it is a city with a lot to explore, great restaurants and plenty of open space to run and play. From an expansive waterfront to live sports and music, there is truly something to keep everyone entertained and enjoying their time in Seattle.
Things to Do In Seattle with Kids
If you're planning a family trip to Seattle, these four stops should be tops on your list of things to do in Seattle with kids. They're educational, exploratory, and fun all at the same time, which makes them the trifecta for parents. Visiting Seattle with kids was filled with fun and learning. You won't regret taking your kids to Seattle. The only thing we regretted is that we didn't have nearly enough time to do everything we wanted to see. Make sure you grab a Seattle CityPASS to get you into the most popular attractions.
The Space Needle is 50% view, 50% adventure, and 100% fun. Stepping out on to the observation deck immediately fills you with a sense of wonder and excitement. Now that renovations are almost complete, visitors will soon have a chance to see Seattle in a different way with tilting glass walls on the 0pen-air deck and "float" over the city. Make sure that you reserve a time that works for you. It's a busy attraction and one that needs to be accessed at different times to allow people to visit the observation decks.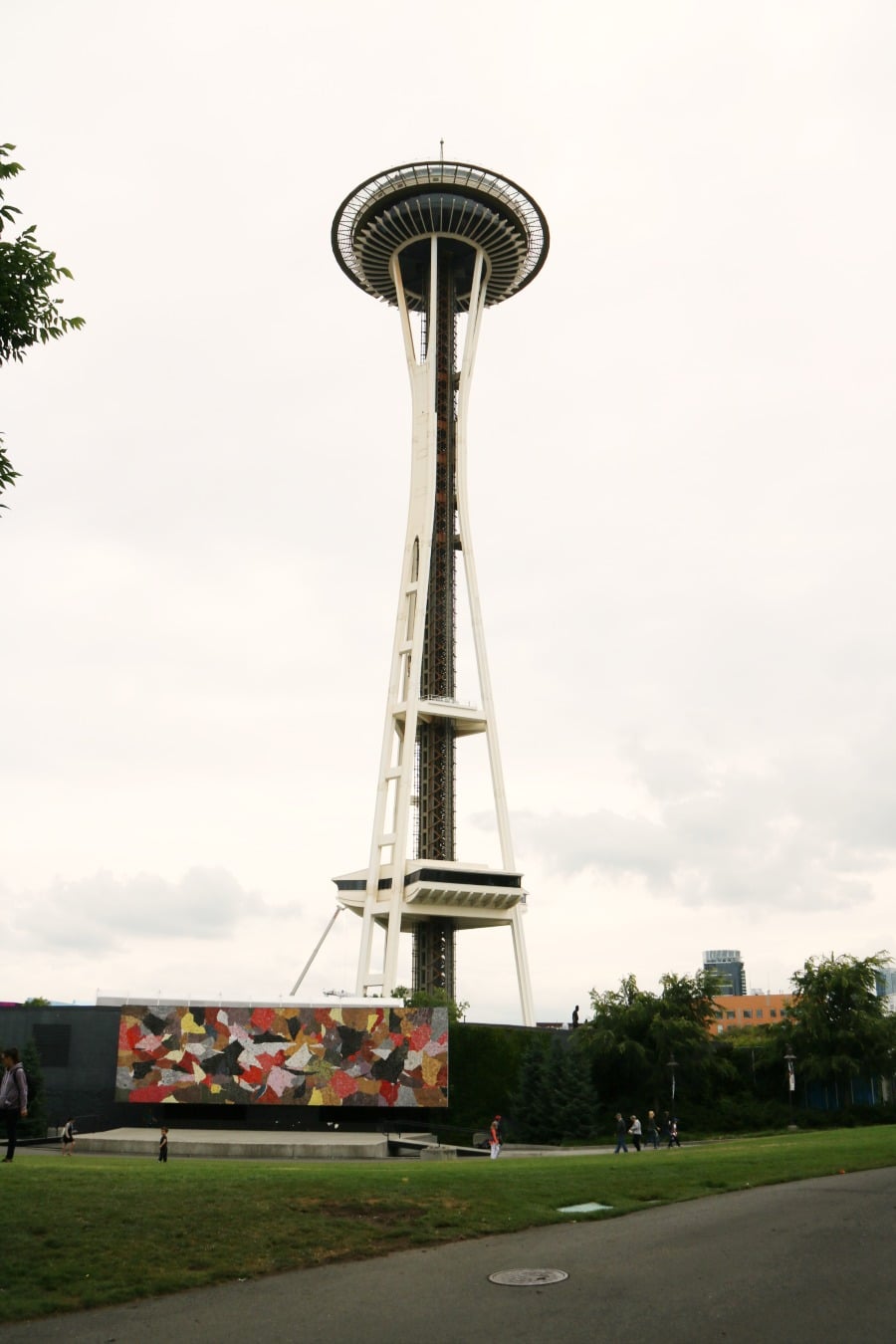 If you're planning a family trip, visiting Seattle should always include the Pacific Science Center. More than just a museum, the Pacific Science Center features exhibits on everything from Pandas to video games, and the ability to interact with so much of the facility keeps it fun for the kids. If you happen to live in the area, you can even take advantage of their learning events and summer programs for kids.
With lots of hands-on activities and exhibitions for all of their interests and questions. My boys absolutely loved the animals, the pylon checkers, and a topographical sand map. All were truly incredible and so unique from other science museums we've seen.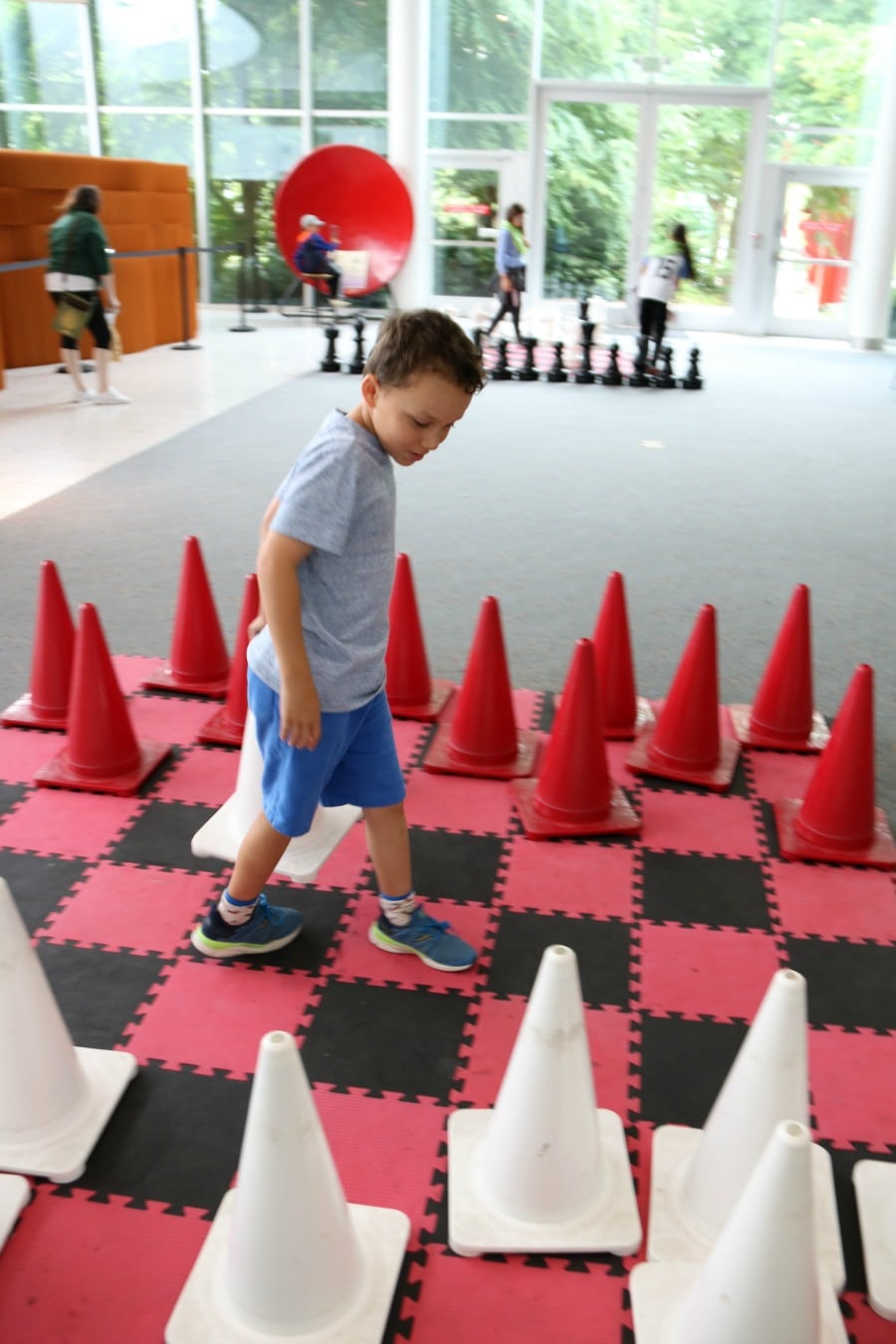 Whether you're visiting Seattle with kids, as a couple, or solo, MoPOP – the Museum of Pop Culture – is not to be missed. MoPOP covers virtually all aspects of pop culture, from music to gaming to horror. Now, Marvel fans can sink their teeth into one of the meatiest exhibits MoPOP has ever hosted – Marvel Universe of Super Heroes. We were amazed by the musical equipment and this fantastic tower of guitars and other musical pieces.
The boys absolutely loved recording their own music, playing guitar, drums, piano and more. Hands-on fun and experimentation. Such a fun experience for kids and parents alike.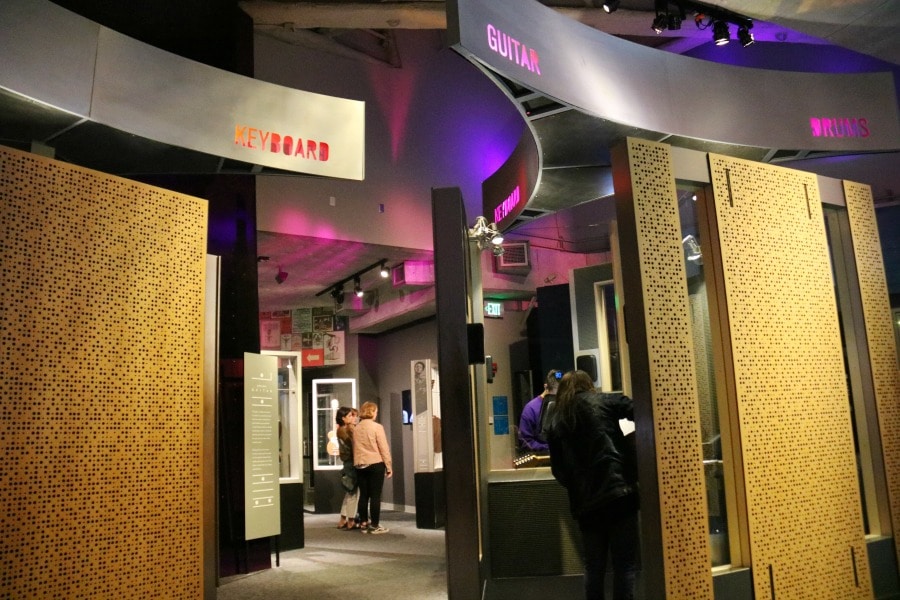 To learn more about the SoundLab check out all the options and activities. Which one will you try first?
Take the kids on an undersea adventure at the Seattle Aquarium. This huge facility features all the undersea wildlife you can think of as well as programs focused on education, conservation, and an overall greater understanding of the importance of our oceans and why they need our protection.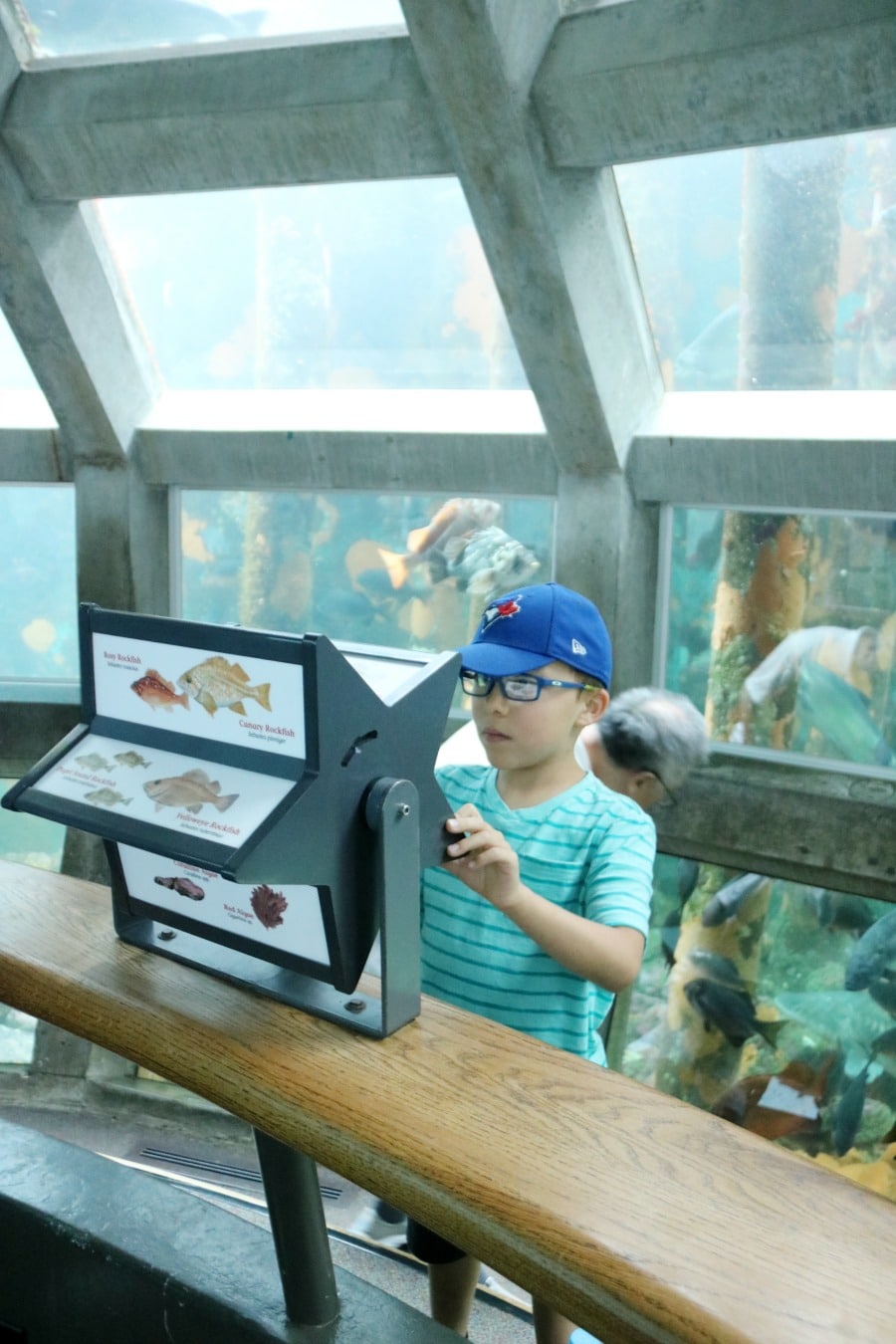 We enjoyed an octopus feeding, watched the Sea Otters play and leaned all about the fish and aquatic animals of Puget Sound. A fun place to explore and a great location to go and see the Pike Place Market or grab a bite to eat at one of the Waterfront restaurants.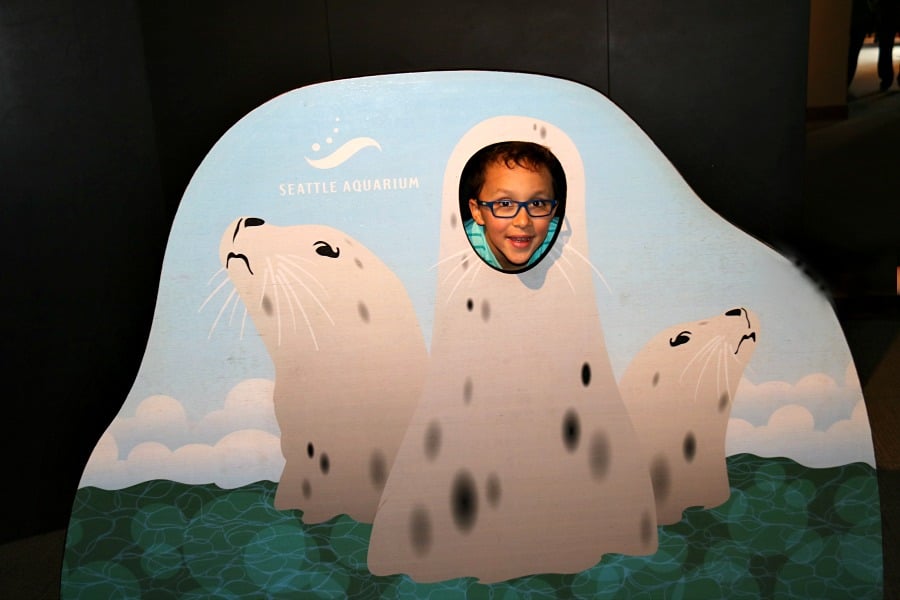 Make Visiting Seattle a Grand Adventure
Visiting Seattle with the kids can absolutely be the trip of a lifetime if you take them to the best spots the city has to offer. The Space Needle, Pacific Science Center, MoPOP, and Seattle Aquarium are all spots that any family with kids must see on their trip. These attractions offer up adventure, excitement, education, and lifelong memories for everyone in the family. Don't forget to take advantage of Seattle CityPass on your travel, as well. Using their service, you can get access to all these places and more at a deep discount and with less wait time. It's the perfect compliment to your trip.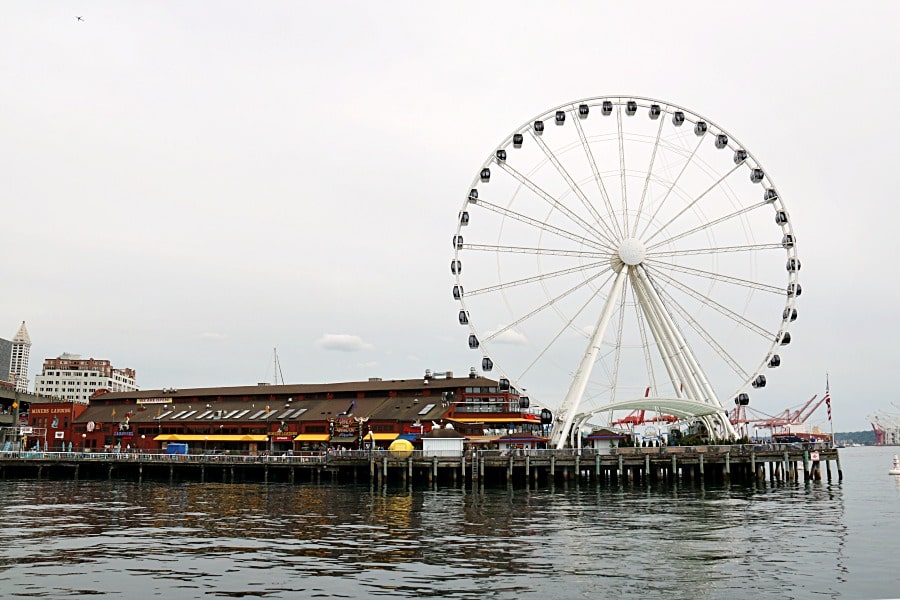 Love to explore nature while traveling? Seattle has so many outdoor activities and sights to explore. We did not have a chance this trip but hoping to return and do some whale watching and hiking. The Emerald City has so much natural beauty to see.
Check out or Instagram highlights from our visit to Seattle for a few of our highlights. Seattle tourism has great tips and suggestions too. Head over to their site for more ideas you'll love to explore in Seattle.