Subscription boxes are a gift you will love giving to yourself, your friends and family. We have gathered the best subscription boxes Canada can order. Some originate from Canada and others are US boxes that ship to Canada. When looking for the right one for you make sure you check the currency and be prepared for additional charges for boxes originating out of the U.S. Luckily there are some fantastic Canadian ones that help you avoid any extra charges. Don't forget to take into account the exchange rate on any boxes listed in U.S. dollars. Converting the price to Canadian dollars can make these subscription boxes Canada can order pricer than you anticipated.
Subscription Boxes Canada Loves
We have some great options for men, women, readers, cats, fishing enthusiasts, date night boxes and even a chance to explore the world! The best part of a subscription box is that it shows up at your door filled with an experience and in most cases a surprise element by not seeing the box ahead of time. We have the best options for subscription boxes Canada loves to give and receive.
Sweet Reads Box
Sweet Reads Box is a  Canadian book subscription box that promises a paperback novel, a sweet treat, a drink and 3-4 items related to the book's theme/content/setting. With its tagline "Me Time. Delivered." you know Sweet Reads Box is about the experience and their carefully curated selection of items is sure to please. Most of the items are consumable so you don't have to worry about it become a subscription box that adds additional "stuff" to your house that you never wanted. Instead, enjoy your sweet and your drink while reading the selected novel. Classy packaging and well packed it's a great gift to give and receive. Check out our Sweet Reads Box reviews and find out why we think it's awesome! Enter code SWEETREADS for 10% of your order.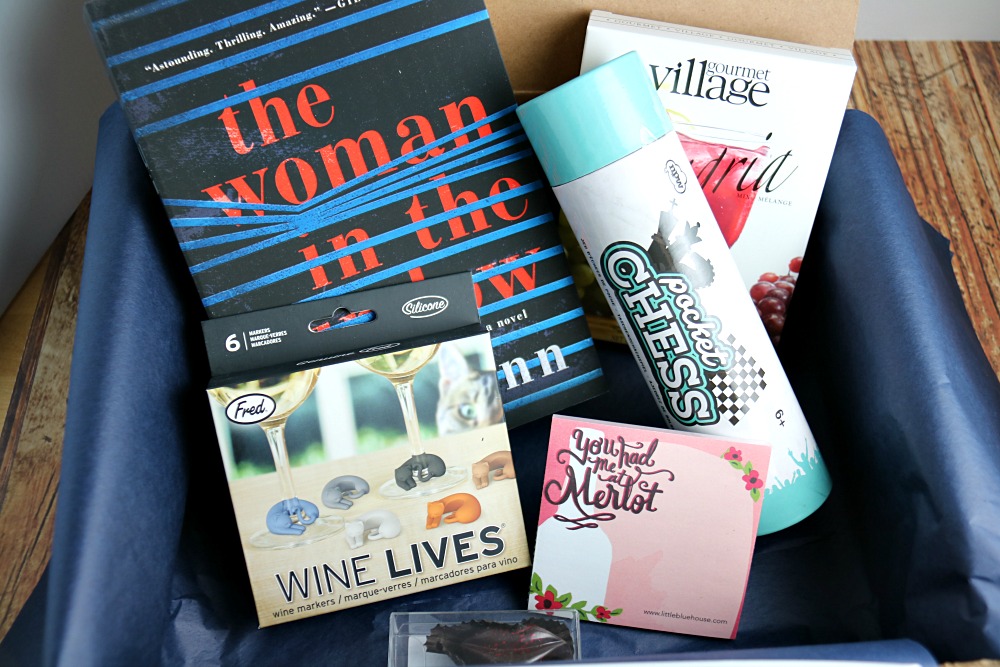 Sprezza Box
If you have a man in your life that loves to dress sharp, Sprezza Box is the perfect subscription box. Regardless of age, the classic and trendy styling of Sprezza Box is always on point. We love the variety, the style, the unique accessories and the fact that even after subscribing for 6 months there have been no repeats and we are not tired of the choices. Plus, Mark always looks so sharp and with everything coordinated and style notes it's easy to put your outfits together.
From the Delta box:
To this Spring box entitled "The Murray" was a great combination of a flower print tie, grey socks and pocket square, leather wrap bracelet, a business card holder and body/face wash. A great value filled with so much style!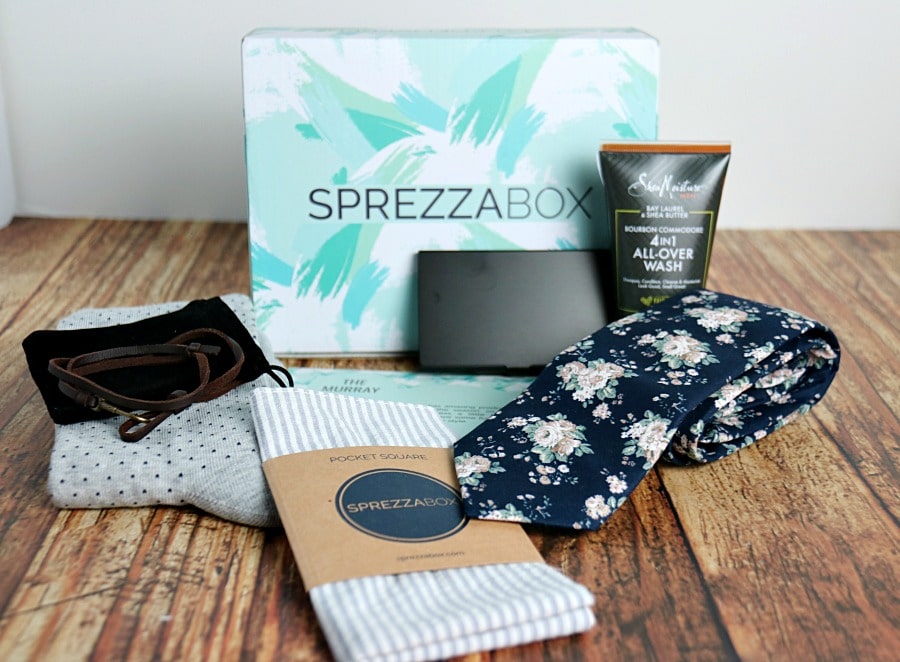 We highly recommend the Sprezza Box. Fun, fashionable and lots of variety.
Fab Fit Fun
Looking for a seasonal box that includes a variety of items? Fab Fit Fun offers a variety of items and special customizations for yearly subscribers. Our Spring box had a value of $347 which is an amazing deal. That said, I do find there are always products I won't use in the box so I try to regift them or give them to a friend who will love them. For Canadians, the price is $49.99 + $8 shipping all in USD.
The Spring box was packed with personal care items, a beautiful spring clutch, eye mask, tassel earrings and my favourite item in the box? The massage roller. My goodness does it feel good on the back!
The box is always brightly coloured, fun to receive, a great gift to give and it comes with a great newspaper with articles connected to the box. The box definitely feels like an experience and there is a real fashion element to it as well. Since Fab Fit Fun has many celebrity endorsements and just celebrated it's 5 year anniversary it is a box with longevity and great value. The only downside I find is that none of the products are a surprise. They hit social media long before your box arrives and since you can choose items for your box the customization doesn't allow for a surprise.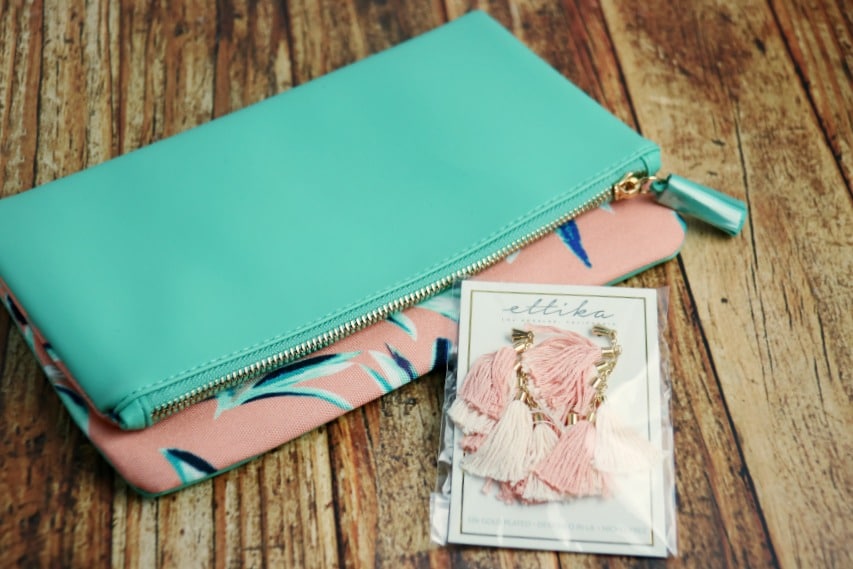 That said – this fantastic reversible clutch and earrings were worth the subscription! Summer boxes ship soon so watch our social media for a reveal.
Little Red Canoe
Little Red Canoe is a book and activity subscription box located in Canada shipping across Canada and the U.S. It is geared towards children from newborn to 12. The books, activities and supplies included connecting little readers with nature in a way that is thoughtful, fun and encourages creativity and exploration. You can tell from the moment the box arrives that care, attention and love is poured into each and every box. It's a pleasure to receive and wonderful to give.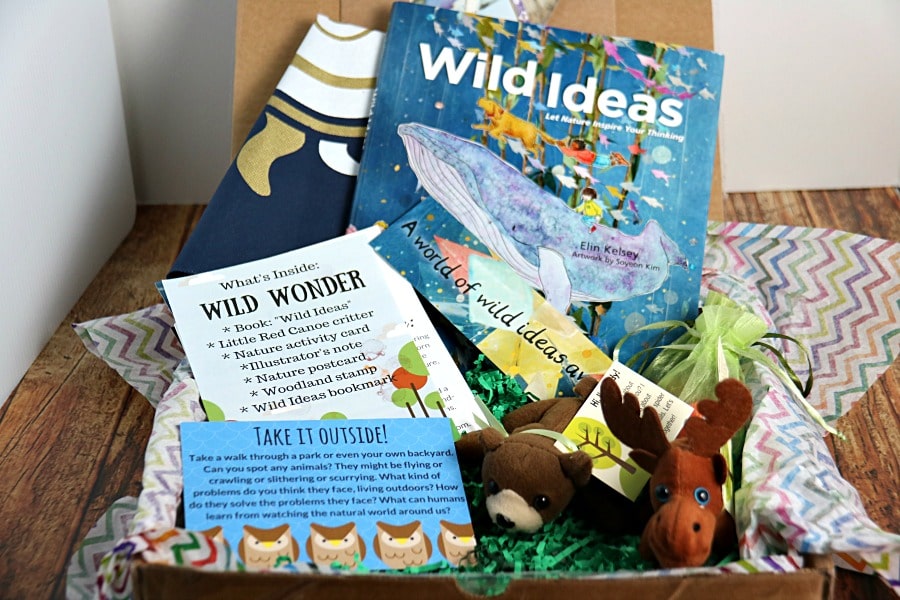 Packed with goodies and well worth the $31.99 + $12 shipping for the box. Your little reader will love it.
MeowBox
Have a cat in your family? Meowbox is the best box out there for your feline friends. With a wide variety of awesome toys and treats your furry friend will love the variety and delicious flavours. The first box we got was this adorable Under the Sea themed box. Winston, our cat, was totally enamoured by it. Even weeks later he's still loving his toys and enjoying his treats.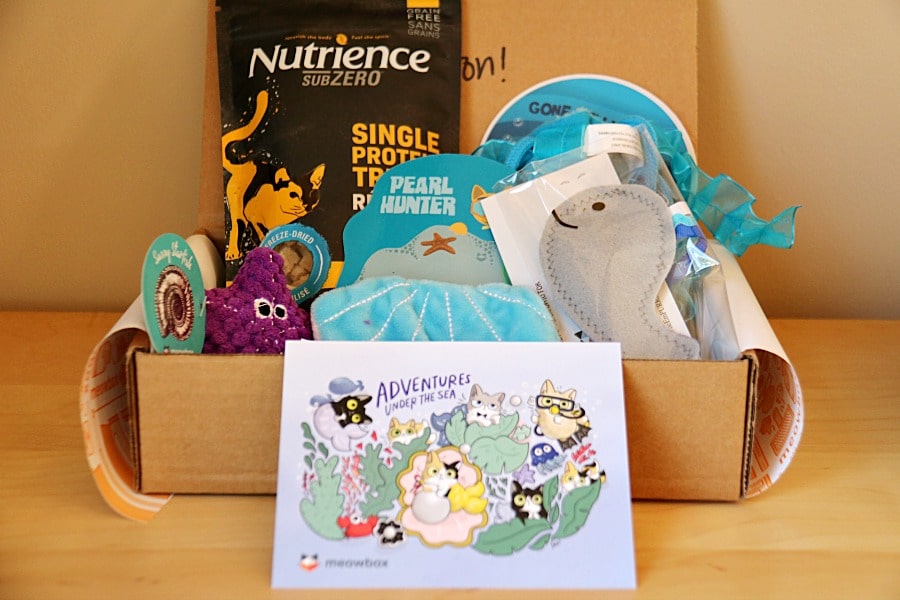 The box comes customized to your cat and offers a variety of Meowbox toys with all different appealing sounds, materials and a catnip toy! Plus, the packaging is just too darn awesome. Can't wait for our next one to arrive.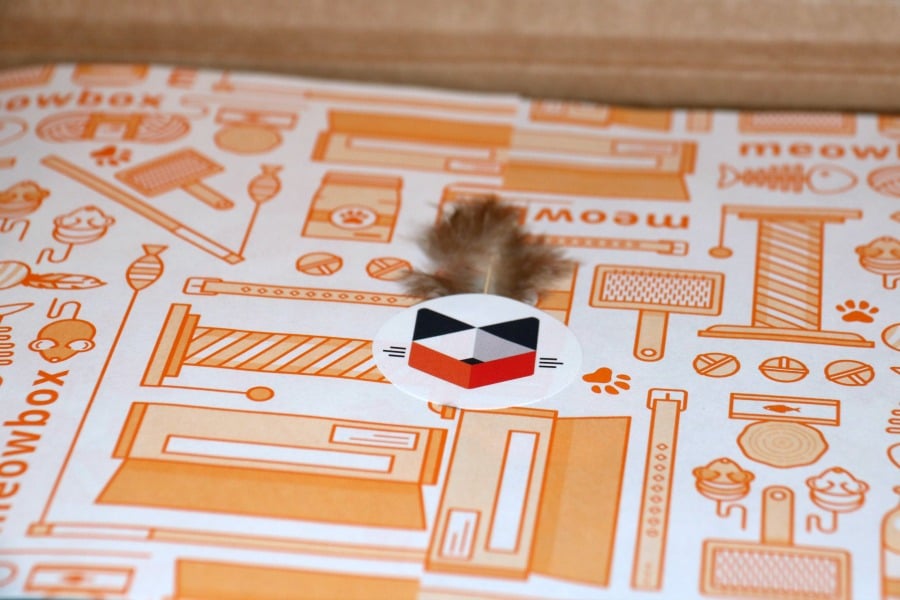 Two paws up from Winston making the Meowbox one of our favourite subscription boxes Canada can order.
Lucky Tackle Box
Have an angler that you'd love to buy a gift for? Lucky Tackle Box is a monthly subscription box delivering bait to your door. You can customize for the area you live and the fish in your waters and choose from Regular ($15.99 USD), X-Large ($25.99 USD) and Tournament ($46.00 USD). Shipping to Canada is a great deal at $5/box and all prices are in USD.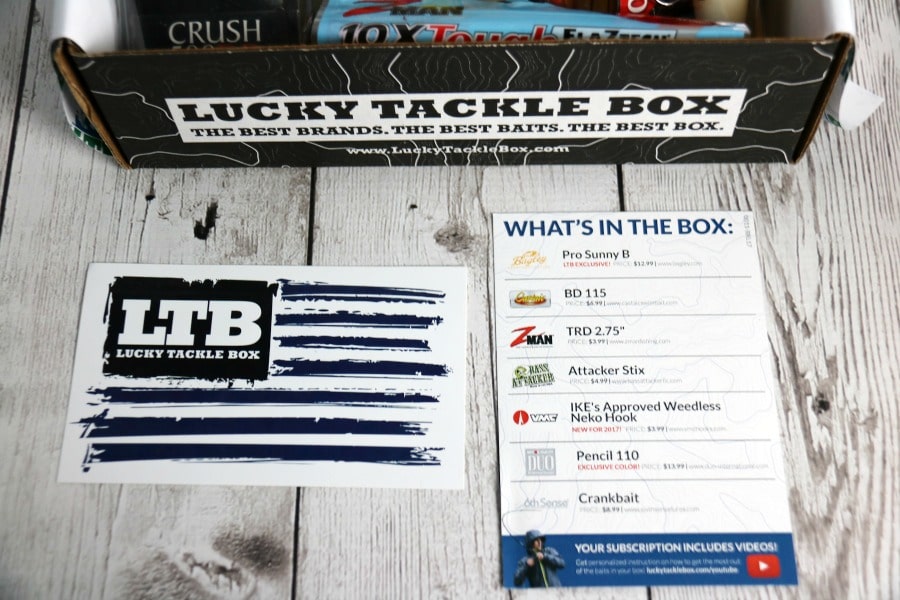 The wide variety of baits included is sure to be the dream collection of anyone who loves fishing. With videos linked on the site to show how to use each lure, you are sure to have a great experience. Plus, as other reviewers mentioned the baits included are tournament tested and high quality.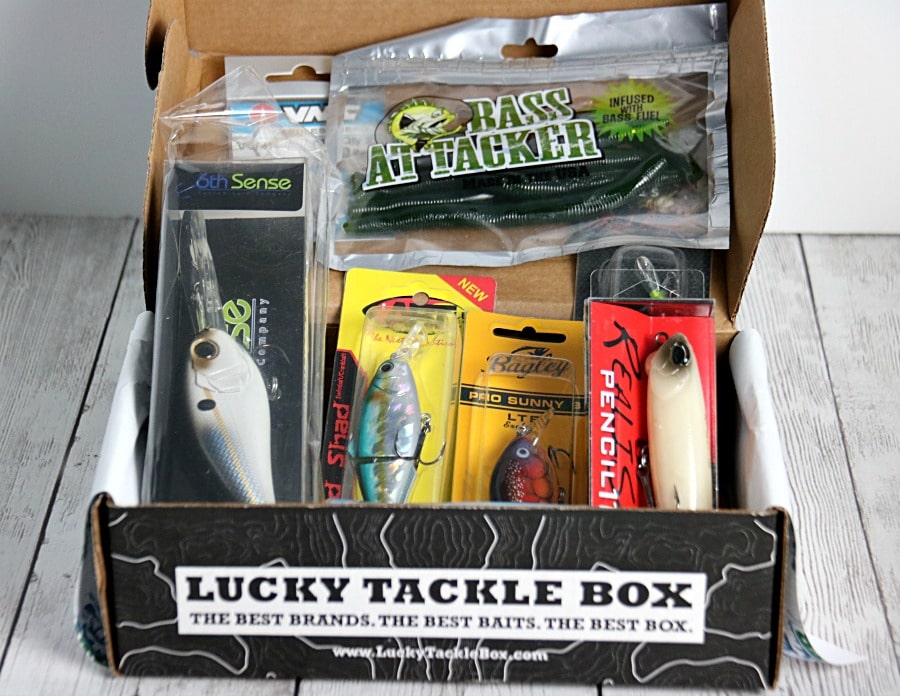 While the box might be small it is packed full of bait you will love to try and use. Just look at that variety! A great gift idea for a subscription box Canada can give and receive.
Crated with Love
Looking for a fun way to shake up your Date Night? Crated with Love provides you with some fun activities and a great way to communicate, laugh and enjoy your time with your partner. We tried three of their boxes and loved the quizzes, fun questions about our relationship and the games and challenges. From puzzle pieces to mad libs it was such a great way to share time together without TV, a movie and/or cell phones. Each box is $28.99 USD + $8.99 USD shipping and tax = $38 USD+ for a box.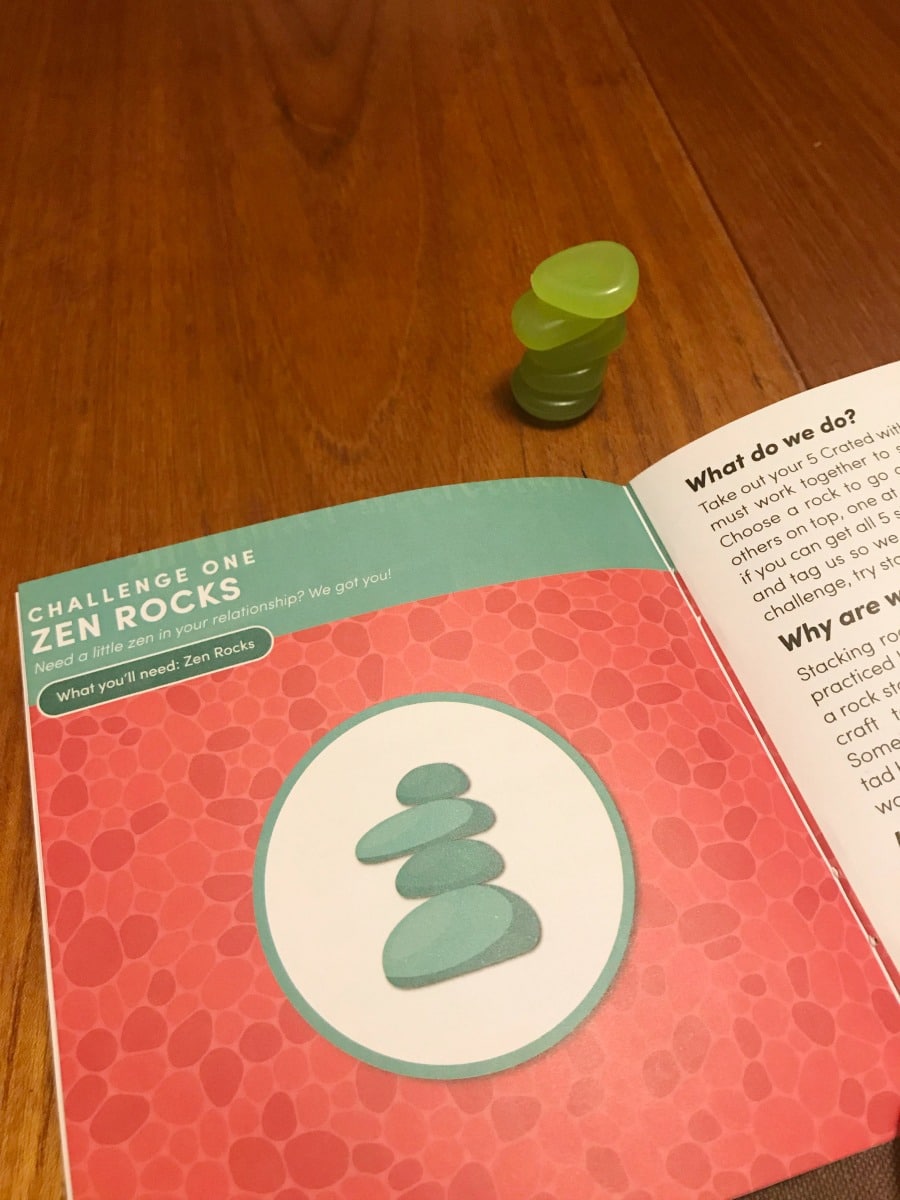 Each box has everything you will need for the activities – a fun way to enjoy date night!
Experience the World by Canadian Traveller
One of the newest subscription boxes on the market. This one, Experience the World from magazine Canadian Traveller is filled with items to help you experience the world. We received the inaugural box that was centred around Italy. The box included pasta, a pasta cookbook, an olive wood spatula, olive oil, a herb trio grow kit and a tasselled scarf. While the value was listed at $160 – the price of $88+ tax for the box was very high for a collection of items I felt were actually worth lower than the values listed.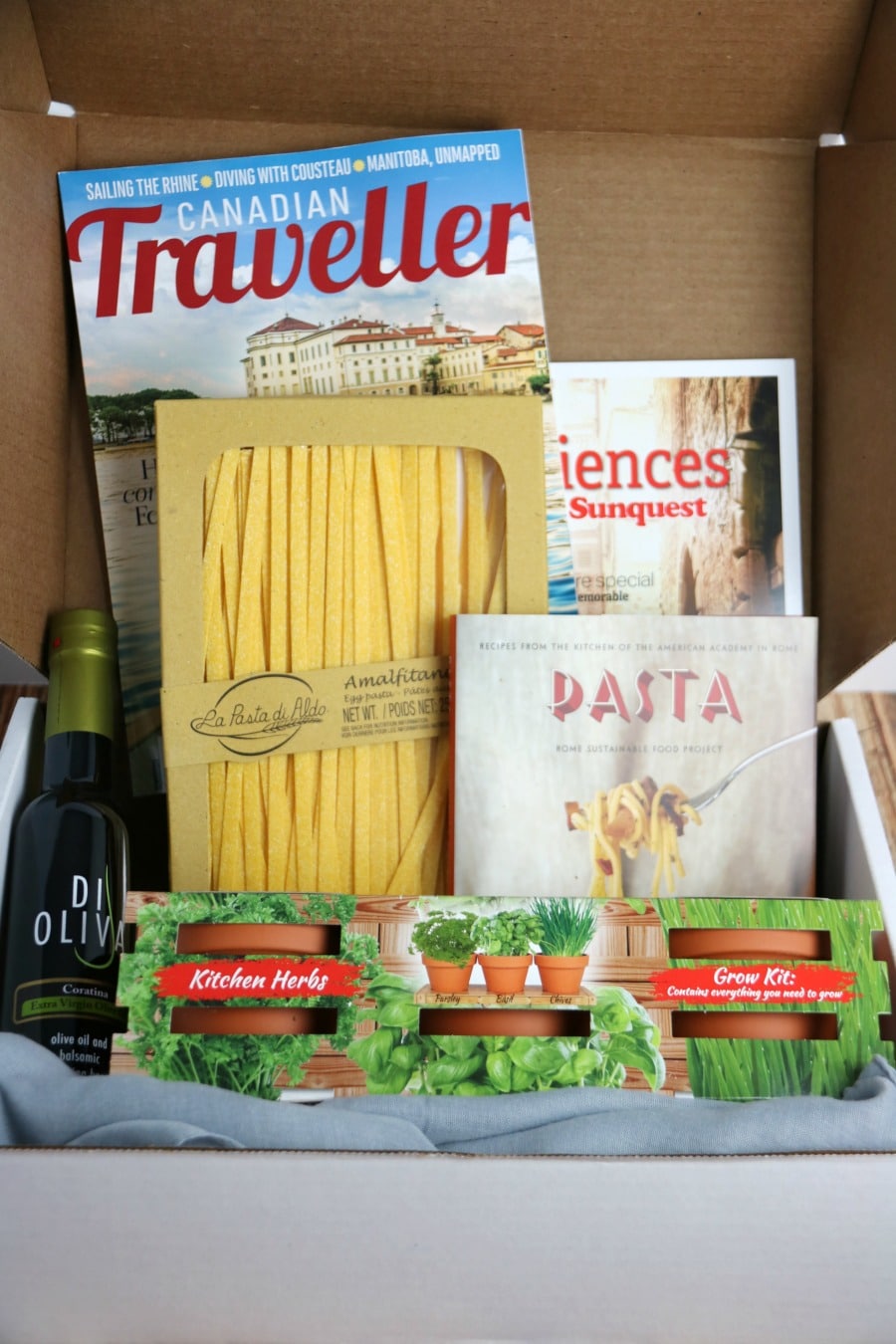 Another odd part of this box is that it was listed as being sponsored by Sunquest and included a large Sunquest catalogue. If it's sponsored by a brand it made us wonder how much we paid for and how much Sunquest paid for?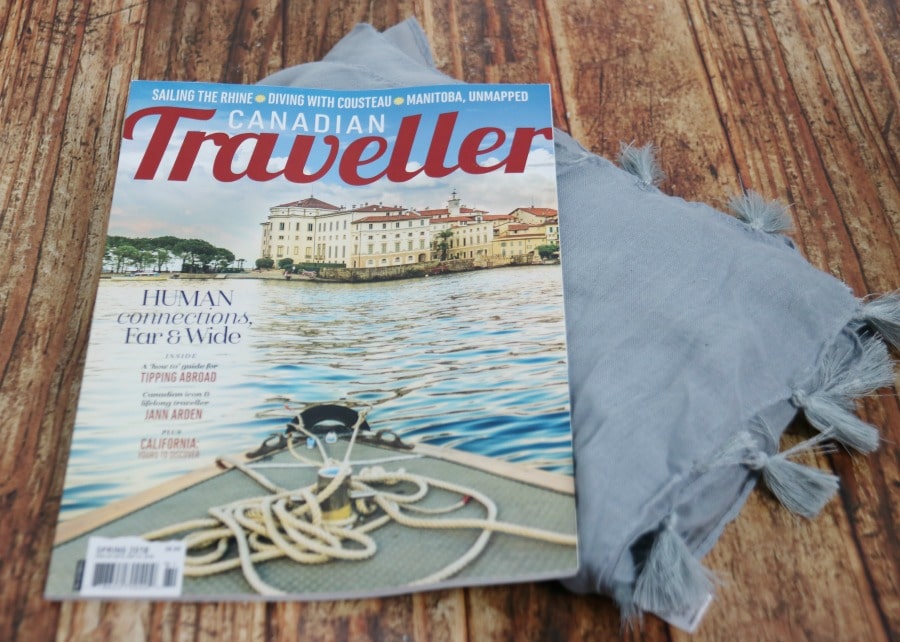 We definitely don't think this simple scarf is a $60 value. Fingers crossed we love the next one! Looking forward to their Summer box (shipping in June) to see what it holds.
Whether you are new to subscription boxes or are looking for a new one to add to your regular deliveries we hope you'll give one of the subscription boxes Canada loves a try! Let us know which ones are your favourites and we will add them to our list.

Which box from our list of Subscription Boxes Canada loves is your favourite?
Disclosure: Some of these boxes are ones we subscribe to, some were given to us to facilitate our review and we participate in the Sprezza Box Affiliate program.