With Mothers Day just around the corner Capital One asked Canadian moms what they really want for Mothers Day. As a mom, the answers were no surprise to me but if you are unsure about what to get your mom or mother-in-law we have some fantastic tips ensure Mom gets the gift she really wants.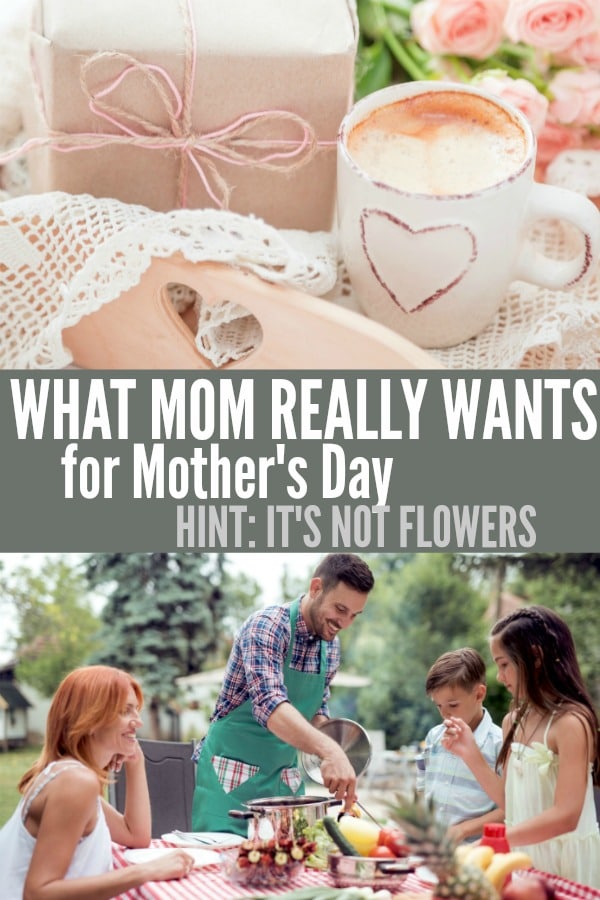 What Mom Really Wants This Mothers Day
Did you know that almost half of Canadians bought their moms flowers for Mother's Day when in fact only 37% of moms actually wanted flowers? We love the data Capital One has collected because it is accurate, timely and comes from their research combined with anonymous cardholder data. Even if your mom won't tell you exactly what she wants – you can't go wrong with these tips and suggestions. I can also confirm that this mom LOVES these ideas!
Save Flowers For Another Occasion
While florists love Mother's Day, it turns out that moms would rather get flowers another time of year. With the data showing that 49% of Canadians purchase flowers for Mother's Day only 2 in 5 moms would like to receive flowers. Don't splurge on flowers this Mother's Day, why not take mom on a scenic walk around a local flower garden?
Bring on the Food
Moms want a night off from cooking and a chance to enjoy a lovely meal with their family. Capital One found that 53 per cent of Canadian moms would like to receive dinner and 36 per cent of moms would like brunch. Choose her favourite restaurant, make a reservation or purchase a gift card and mom will be delighted. Can't afford to take mom out to dine? Make her favourite dish at home instead. You save money and mom will still feel spoiled. Just don't forget to clean up the dishes afterwards!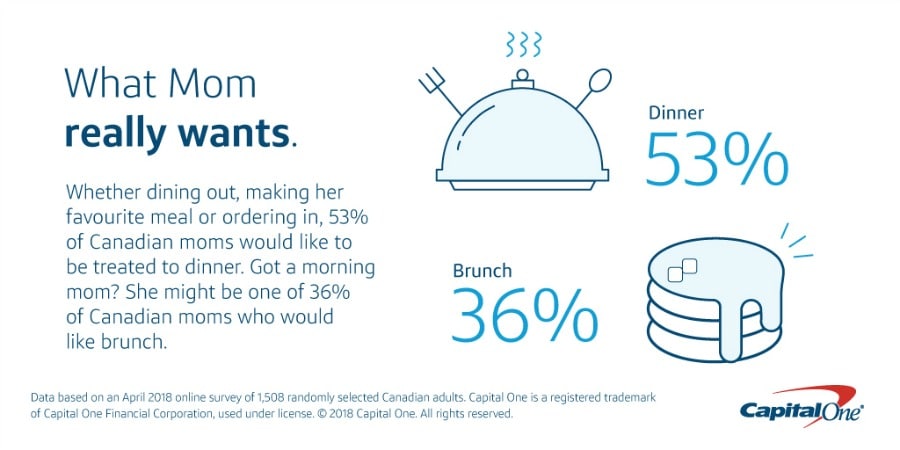 Gift an Experience
Moms, especially millennial moms, love the idea of an experience-based gift. Whether it's a dinner, brunch, a spa day or some much deserved "me-time", moms are all about experiences. The surprising part is that Canadians haven't been following this trend. Only 9% of Canadians gift their moms a spa day and 11% gift "me-time." Even if you have given your mom jewellery for years, try something different and enjoy an experience with mom. You could also try a Canadian subscription box.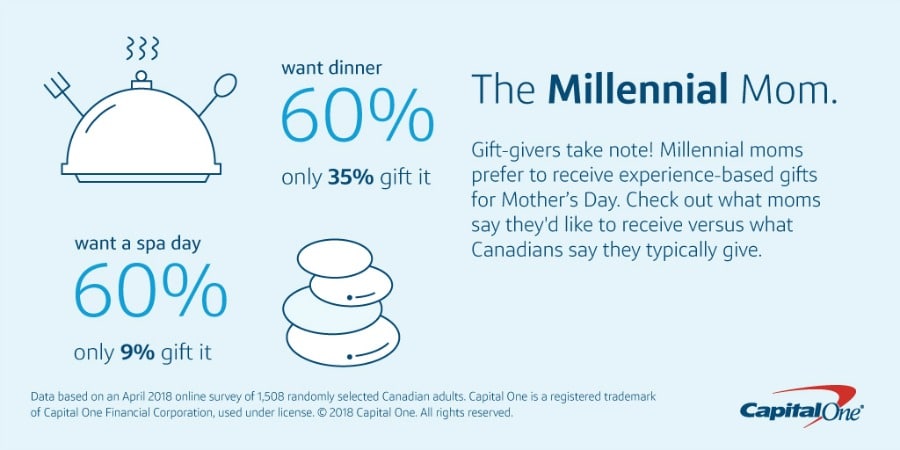 Make Mothers Day part of your Budget
Keeping a budget is really important, especially when it comes to special occasions and gift buying. While moms definitely deserve a lovely gift, it's important that you plan for your spending so you can set aside money to purchase the perfect gift. Did you know that Canadians are spending almost 50% more on Mother's Day brunch than a typical Sunday brunch? That means you could easily blow your budget on Mother's Day if you don't plan for it. Thirty-nine per cent of Canadians are not budgeting for this special occasion. Like birthdays and Christmas, it's easy to blow your budget on gifts. Ensure that your budget is focused and consistent.
Mom deserves to be spoiled on Mothers Day but that doesn't mean you need to break your bank. Cut costs where you can and ensure you have planned ahead for special occasions. Be creative with your gifts. Take mom to a nearby restaurant, make breakfast in bed, have your kids make a homemade card and enjoy spending time with your mom and celebrating her.
For more budgeting tips and Mother's Day shopping advice, check out Capital One's twitter @CapitalOneCA and visit capitalone.ca.
Disclosure: This is a sponsored post by Captial One. As always, all opinions are my own.