My cooking tips have come largely from my mom and my grandmother. Both wonderful cooks they taught me to taste, experiment and enjoy the process and the end product of cooking. I love being able to try new dishes, experience new cultures through food and friends. Whether you are an experienced cook or trying to learn the basics these cooking tips are truly ones everyone can use.
Our favourite of the cooking tips is definitely the fresh ginger tip. We never knew that storing it in the freezer was the best option – not that's the only place we keep it!
Do you have a favourite cooking tip that isn't listed here? Comment below so we can add it in.
Happy cooking!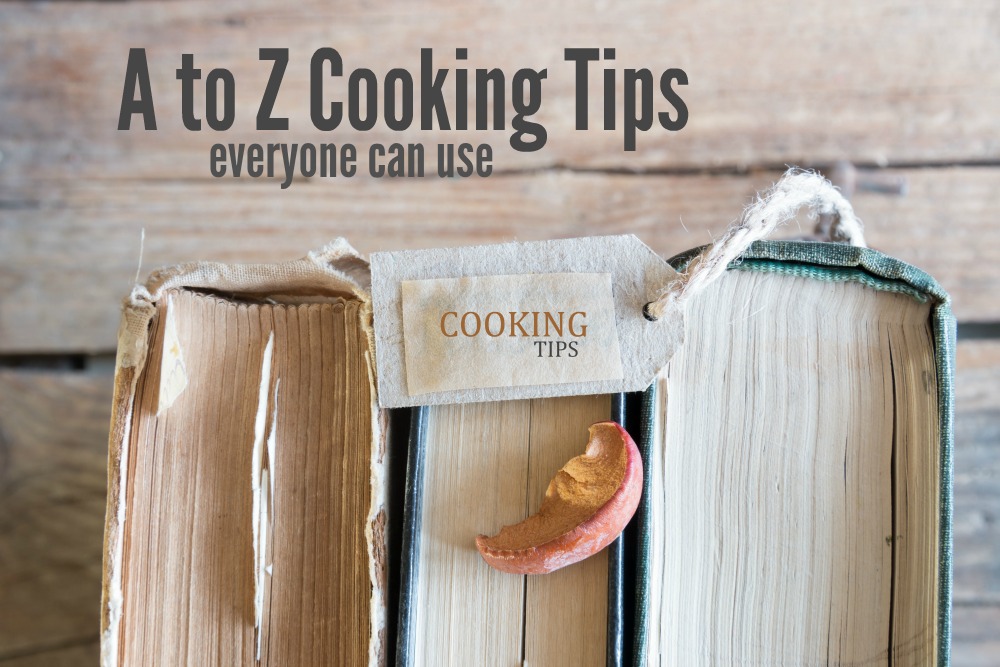 A to Z Cooking Tips Everyone Can Use 
Asparagus.  When using canned asparagus open the can from the bottom and drain so that you don't ruin the tips. Fresh asparagus? Remember you don't need to chop them, just break off the ends and they will split naturally.
Bacon. When bacon is already opened and you need to store it, remove it from the packaging, cover with a few paper towels, and store in a sealed container in the refrigerator. Check out some of our favourite bacon recipes. 
Cheese.  Grated cheese can be stored in the freezer and used anytime without having to defrost it for any recipe.
Donuts. Make sure that you use a recipe with a thick batter – a thin batter.
Eggs. The best way to test eggs to see if they are fresh is to put them in a bowl of water before using. If they are fresh, they will sink to the bottom, but if they float throw them away.
Frying with Butter. Anytime you are frying with just butter, add a little bit of any type of oil so that you can prevent the butter from burning in your pan.  The oil helps to raise the temperature for when butter starts to burn.
Ginger.  Ginger is a flavorful spice to add when cooking with pork, fresh vegetables, or even cooked.  It's also great to add to salad dressing but shake well. We store our ginger in the freezer to ensure that it's always fresh. Just peel or scrape off the outside and easily slice or grate the gingerroot. 
Honey.  Honey makes a great glaze on meats and especially when baking a ham.  It tastes yummy with drizzled over roasted or steamed vegetables. Use it instead of maple syrup for waffles and pancakes.  
Icing. Some call it frosting but we use icing. A delicious creation of icing sugar and butter. Our trick to make it always taste delicious – just a teaspoon of lemon juice makes the flavour pop.
Juicing. Love fruit and veggies and not getting enough. Juice them! Mix two veggies and one fruit and find a combination you like. Our fave? Apple, kale and celery. We absolutely love our Breville Juice Fountain Plus
and find it produces truly exceptional juice.
Knives.  You should never put your good knives in the dishwasher, so always hand wash them.  Every home cook needs a good Paring/Utility Knife
and a Chef's Knife
.
Lemons. Don't forget to use fresh lemon zest on your vegetables with salt and pepper for an even fresher taste.  Squeeze a little juice on them too.
Mushrooms.  Always keep them in a paper bag to prevent them from going bad too quickly.  Keep them in a cool, dry place too.
Nuts.  Keep any nuts you have on hand in the freezer in a zipper bag because they will dry out if left out in the warm house.  They contain a high amount of oil and prefer cold temperatures.
Onions.  When it's time to store leftover onion in the fridge, make sure to seal it up in an airtight container or zipper bag.  It will taint some of your other foods if it is left open.
Pita Bread.  A great tip for using up pita bread is to cut them into wedges, bake with a touch of olive oil and any seasonings you like, then store in an airtight container for snacks later.
Quinoa. A protein and a grain = balanced meal. We love this recipe for Quinoa and Cranberry Muffins.
Rice.  Always remember that 1 cup of uncooked rice will equal about 3 cups of cooked rice.  Try to use it all in the same day because once reheated it will become dry and not very tasty.
Spices. Try toasting your favourite spices in oil or butter before adding them to recipes to enhance their flavour.  Also, replace them about 5-6 months after opening because they will begin to lose their valuable flavour.
Tomatoes.  A mistake so many home cooks make it storing fresh tomatoes in the fridge.  They lose all of their great flavours and become mealy and their texture can become tougher.  
Ugli. Ugli fruit is a crazy combo of a grapefruit and tangerine.
Vanilla.  A good tip when you need vanilla for a recipe is to use all natural vanilla instead of the imitation.  It's a little more pricey but worth it for the full flavour.
Worcheschire Sauce. We love W sauce! It's a staple in our meatballs, meatloaf and many more recipes. Keep a bottle on hand to add flavour to your sauces and meat dishes.
X Couldn't think of an x option – have one? List it in the comments below.
Yams. Yams are truly packed with nutrients and are perfect for a variety of meals. Not sure if you are eating a yam or a sweet potato? Check out this handy guide for the yam vs sweet potato debate.
Zucchini. A perfect substitute for noodles when spiralized. Or, make this amazing Zucchini Bread – leave the skin on for more nutrients. Just be sure to wash it first.
We hope you love these cooking tips. Can't wait to hear about your recipe creations!
*This post contains affiliate links. I may receive compensation for you clicking through and making a purchase.