How to keep kids entertained at the airport is  a Google search that many parents make before a family vacation. Let's face it, traveling with kids can be a source of anxiety- especially if you have never done it before. However, I am here to tell you that not only can you survive the experience (with at least most of your sanity), you can actually turn it into an enjoyable and memorable one for everyone involved. So, turn your trays to the locked position and get ready for liftoff as we discuss 10 ways you can keep kids entertained at the airport. Skipping the airport for a road trip? We have the best tips for road trips with kids.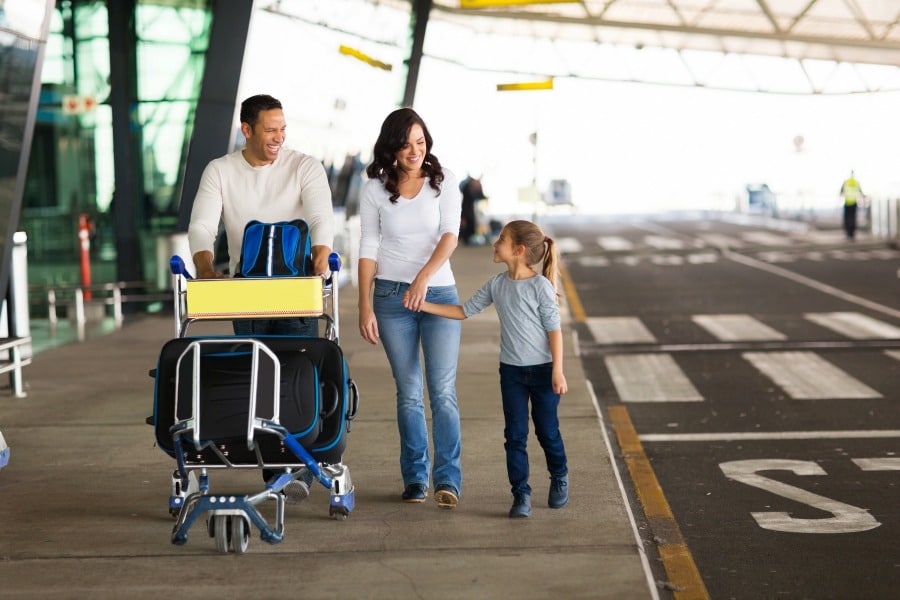 How to Keep Kids Entertained at the Airport
While there may be lots to keep you entertained at the airport it's a different story when you are travelling with your family. Depending on your children's ages it's important to bring along snacks, games and activities to keep everyone entertained – especially in the case of a flight delay! We've got some tips to ensure that you feel comfortable knowing how to keep kids entertained at the airport.
BYOE: Bring Your Own Entertainment
Make full use of your carry-on bags. In addition to the requisite change of clothes, hand sanitizer, and identification, make sure you pack things that are sure to keep your kids entertained. Fill every nook and cranny with fun things you can pull out to grab your kids' attention and keep them occupied for various amounts of times. Keep the tech-lovers happy with tablets, portable video games, and your smartphone.
For the creatives, make sure you have things like colouring books, blank paper and art supplies. For your story lovers, bring a selection of books that they can read quietly or that you can read to them. You can also always pack some fun card games, such as Uno Card Game
, Phase 10 Card Game
, or a plain deck of cards to play classics like Old Maid, Go Fish, Rummy
and Memory.
To make sure you are successful at bringing things they would love, give them a chance to add one or two things each that they want to be able to use while at the airport. I would also be sure to pack plenty of snacks. We love Larabar
and CLIF KID ZBAR
because you can tuck them in your purse or carry-on without having to worry about security or food spoiling. As you know, good food can tame even the wildest of beasts.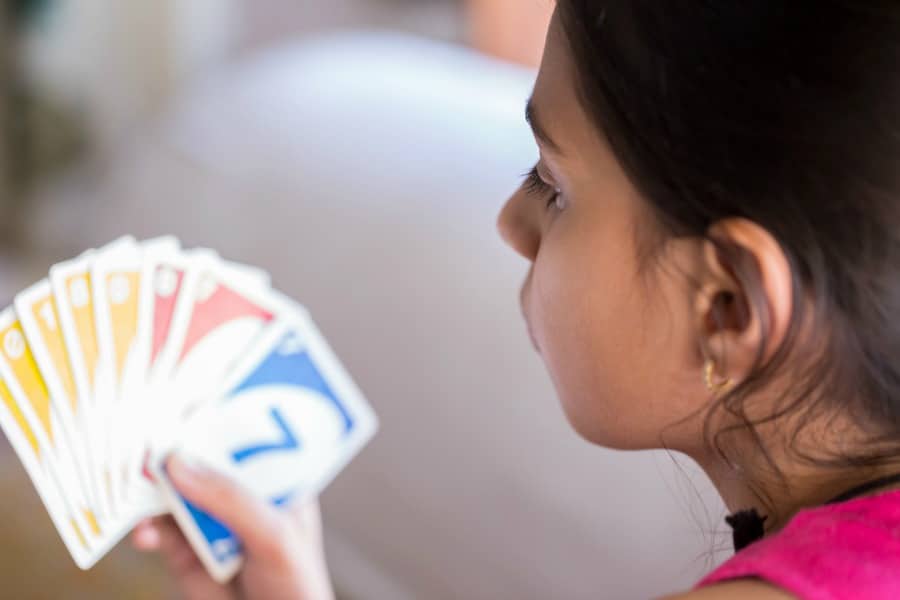 Think Like a Child
As adults, we've likely been on airplanes multiple times. Perhaps dozens or even hundreds of times depending on who you are and what you do for a living. When you get right down to it, traveling by plane might seem boring and even frustrating. The long lines, security checkpoints, and overpriced food can be enough to make anyone dread going.
However, for kids, the airport can seem fun. Magical, even. The moving floors. The people. The food and drinks. The planes taking off outside. It can seem like a wonderland for kids – especially if they've never been before. Try looking at the airport with a fresh set of eyes and talking to your kids about all the cool things that you see. Or asking them to point out things that they find interesting. You might be surprised by how quickly time may fly when you're engaged in a deep conversation with your kids and genuinely trying to see things from their point of view.
Make It Into a Game
Who doesn't love playing a fun game? I think most kids do. So why not have a string of games in mind to play when your kids start getting a little antsy. One fun game that you can get really creative with is a scavenger hunt. You can make a list of crazy, funny, or random things to look for around the airport. For example, you might have to find a woman with a purple hat and glasses. Or a person with a service dog. Make the list as short or as long as you want and then either walk around your section of the airport or play the game from your seat.
You can also play several rounds of "I Spy" while you wait. These are both games that, if you are creative, can last as long as you want them to. If your kids are older, you can also play a game where one person starts off a story by saying one sentence. Then, the next person continues the story by adding on a sentence. Then you go around and around, with each person adding to the story, until the story comes to a conclusion. This game can last a long time, but can also be very entertaining.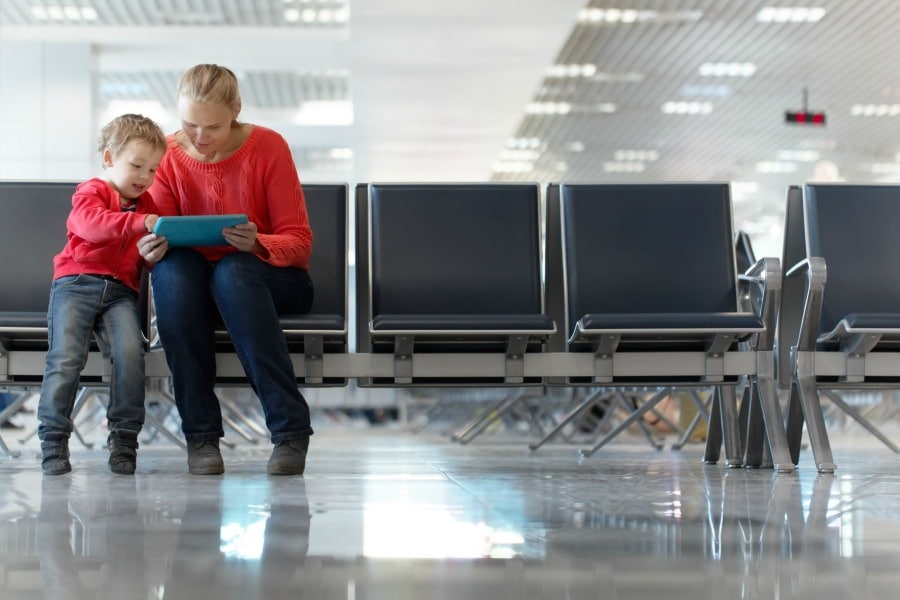 Journaling
If you have kids who are old enough to write, why not give them their own journals to write in during the trip? It can be a fun way for them to document their thoughts and experiences to look back on later. You can even give them writing prompts to stir up the creative juices. For example, you can ask them to write about their dream vacation. Or what they think their favorite TV or movie character does when they are on vacation. Make it into a fun exercise rather than something that feel like school work. Check out this fun Kids' Travel Journal
 that will take the experience to the next level. 
Go Window Shopping
Window shopping is a great way to pass the time when out and about. Hanging out at the airport is no exception. Grab the whole family (or trade off with your travel partner) and hit up the airport shops. Depending on which airport you are at, this could be quite the experience. Don't believe me? Check out this article on the Top 6 Fancy Airports. Just walking around some airports can be enough entertainment.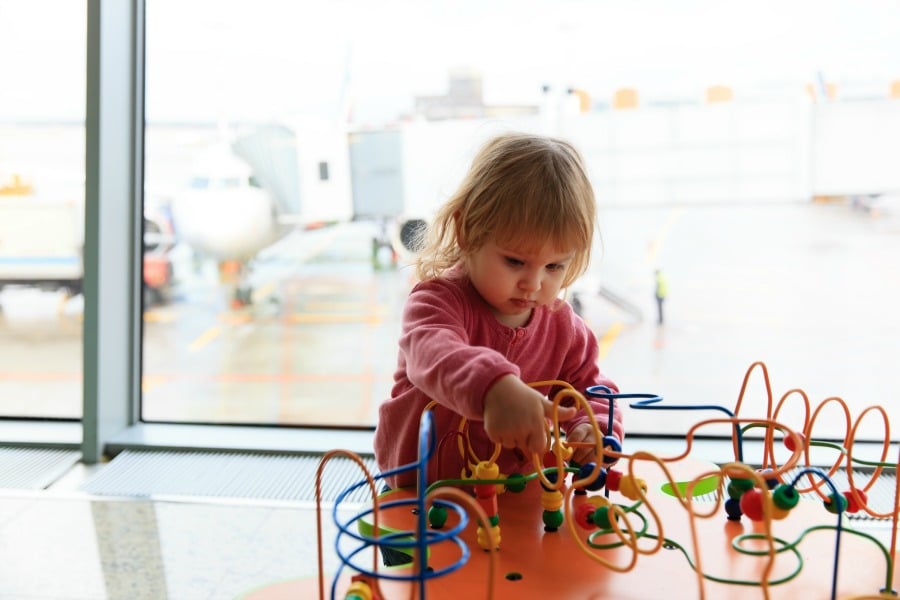 Look for Family-Friendly Amenities
Depending on which airport you're flying out of, you might just find that there are some really cool, family-friendly activities and exhibits available.  Some areas have all sorts of fun things like play areas, lounges, televisions, clubs, museums, and art exhibits. In fact, check out this article called "Fun Things to Do at Major Airports". It lists over 20 U.S. airports and 10 international airports that might be just as fun as anything you'd find while on vacation. If your family travels happen to bring you to one of these, then you should have no problem keeping everyone entertained.
Grab a Bite to Eat
Last, but not least, if you are stilling looking to keep kids entertained at the airport it's time to gather up the kids and head to one of the little restaurants at the airport for a tasty snack or meal. Even if it's something basic like pizza or sandwiches, I can almost guarantee that the fact that you are eating it at an airport will transform it into a whole new experience. However, you might just come across some foods and drinks that are new to you or that you don't get often, which can be a lot of fun.

I hope that these have helped to alleviate some of your anxiety about keeping your kids entertained at the airport. Just remember to breathe, be present, and think like a kid. Here's to a fun and memorable trip for you and your family! Want to share your secret to keep kids entertained at the airport? Id love to hear about it in the comments below!
Disclosure: This post contains affiliate links. When you click on links to products on Amazon we may make a percentage of your order.