The October Sweet Reads Box has been delivered and it's awesome! Like the September Box, the October Sweet Reads Box brings the ultimate reading experience to your door. Filled with a variety of fun treats that any book lover would enjoy and set around Alice Hoffman's novel Faithful. Set in New York City, Faithful is shares the story of one woman's special journey after a horrible accident.
Sweet Reads Box is Canadian subscription box that brings a special box to your door every month with a decadent sweet treat, a delicious beverage and special items curated around the book's theme. It's Me Time. Delivered to your door.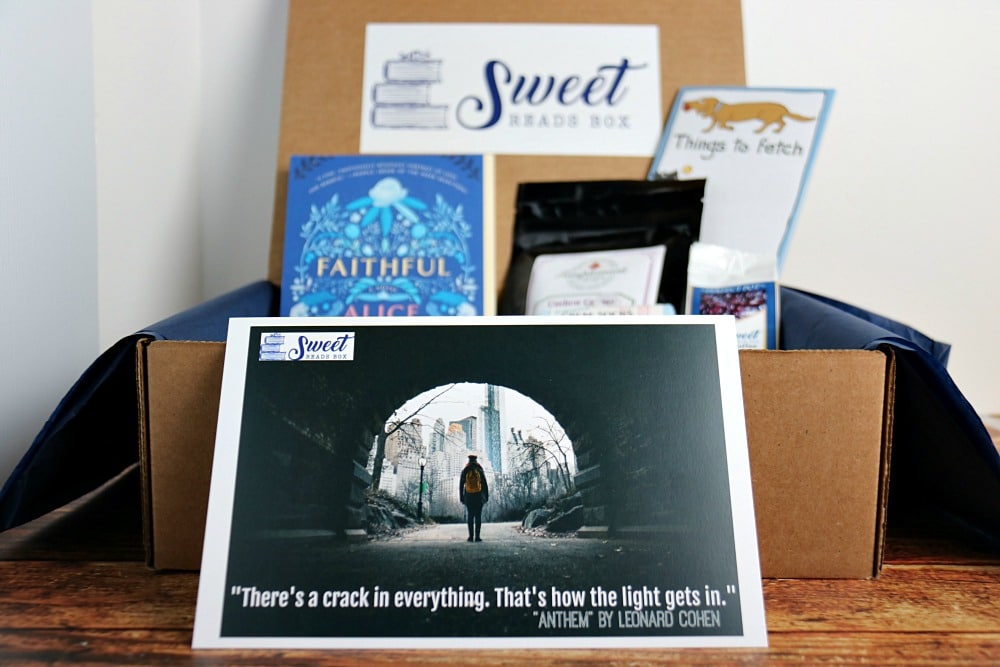 October Sweet Reads Box
As I mentioned, the October book is Alice Hoffman's Faithful – with it's mystical elements it's the perfect choice for October. Details from the publisher:
From the New York Times bestselling author of The Marriage of Opposites and The Dovekeepers comes a soul-searching story about a young woman struggling to redefine herself and the power of love, family, and fate.

Growing up on Long Island, Shelby Richmond is an ordinary girl until one night an extraordinary tragedy changes her fate. Her best friend's future is destroyed in an accident, while Shelby walks away with the burden of guilt.

What happens when a life is turned inside out? When love is something so distant it may as well be a star in the sky? Faithful is the story of a survivor, filled with emotion—from dark suffering to true happiness—a moving portrait of a young woman finding her way in the modern world. A fan of Chinese food, dogs, bookstores, and men she should stay away from, Shelby has to fight her way back to her own future. In New York City she finds a circle of lost and found souls—including an angel who's been watching over her ever since that fateful icy night.

Here is a character you will fall in love with, so believable and real and endearing, that she captures both the ache of loneliness and the joy of finding yourself at last. For anyone who's ever been a hurt teenager, for every mother of a daughter who has lost her way, Faithful is a roadmap.

Alice Hoffman's "trademark alchemy" (USA TODAY) and her ability to write about the "delicate balance between the everyday world and the extraordinary" (WBUR) make this an unforgettable story. With beautifully crafted prose, Alice Hoffman spins hope from heartbreak in this profoundly moving novel.
We found Faithful to be a captivating read filled with love, loss and Shelby's journey to discover herself that while totally unique it is also familiar. Shelby's love of dogs is featured in this month's box including Little Blue House by Hatley Tiny Blue Lab Socks, Magnetic Pad, Fred Original's "Mark My Words," and a magnetic map of NYC.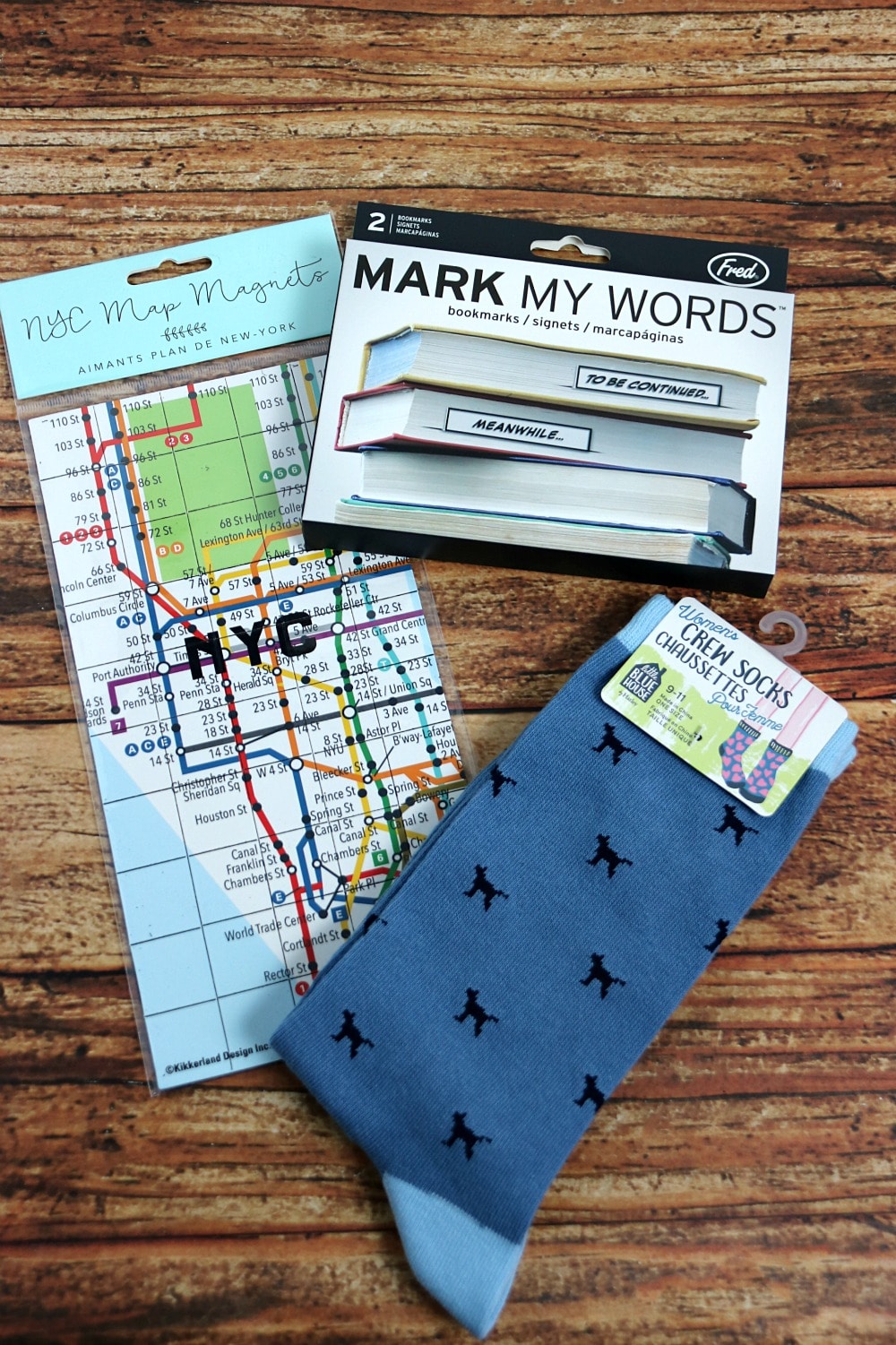 The sweet treat this month is truly decadent Cashew Toffee from Templeman's Toffee  made in Port Perry, Ontario. This month's beverage is custom ground roasted coffee from Kyoto Coffee in Lakefield, Ontario.
We love the items in the October Sweet Reads Box and cannot wait to see what's in store for November. Subscribe now to reserve your box!
Sweet Reads Box Promo Codes
Looking for a promo code on your first order? Sign up for their newsletter on the website (bottom of the page) for 10% off any order or enter FamilyFoodandTravel and get 15% a 3 or 6 month subscription.
Follow Sweet Reads Box on Twitter, Facebook and Instagram. Check out their YouTube for promo videos and unboxing.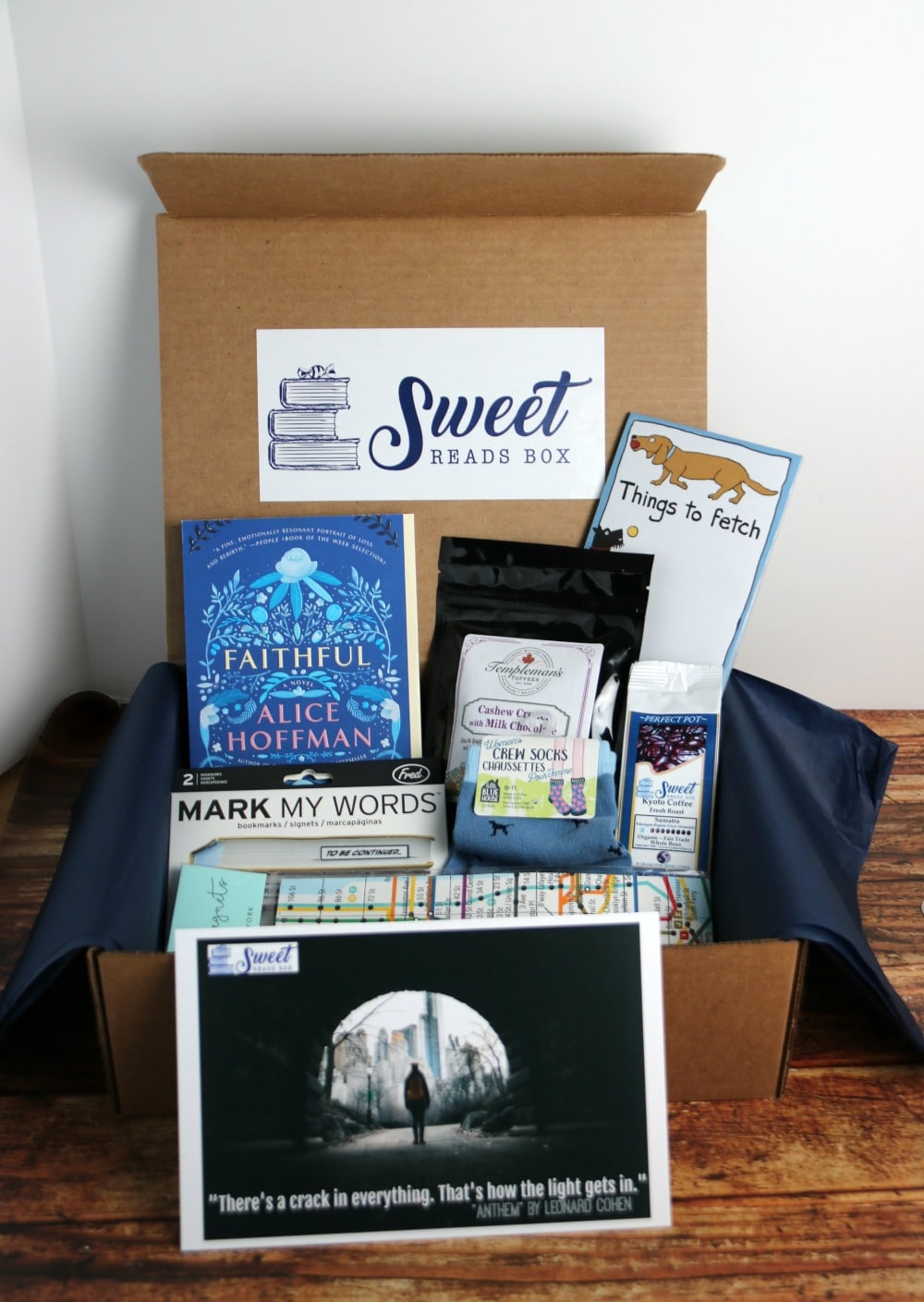 October Sweet Reads Box Giveaway
Sweet Reads Box October Box is sold out but you can win one here!
Contest is open to residents of Canada 18+. See Contest entry form for full details.
Disclosure: Sweet Reads Box is a partner of Family Food and Travel. No compensation was received in exchange for this posting. As always, all opinions are our own.