Raising twin boys on one income is hard. While I am lucky to make a very good salary it's important that I make good financial choices to make sure my boys and I are well taken care of. As a single mom and sole provider for my boys it is important that I choose the best quality clothes, shoes and sports equipment so that I know it will last until they grow out of it. I'm great at shopping sales and looking for deals (hello Buy one get one 50% off) but I have learned that quality is more important than a great deal. My boys are hard on their clothes and shoes because they are active, inquisitive boys. When I purchase pants of low quality the end result is torn knees and frayed bottoms. When I am back to school shopping I choose the best quality gear for my boys because I want to  spend my money wisely and choose the right gear for the boys.
Why I Choose The Best Quality Gear For My Boys
Back to School shopping for our family is all about one-stop shopping. My boys are not a fan of shopping so getting everything we need in one location is imperative for shopping success. I love that at Sport Chek I can find the best quality gear from shoes, to backpacks and clothing that I know my boys will love. Sport Chek offers the brands we know (and want) and the quality you'd expect from brand name gear designed for athletic kids in mind.
Did you know that Sportchek.ca has over 35 000 styles? And that you can pick up in store or ship to your home? How convenient is that! Plus, with their Easy Return policy you have 60 days to make returns of products bought in store or online. Not only do they carry the best quality gear but they make back to school easy at Sport Chek.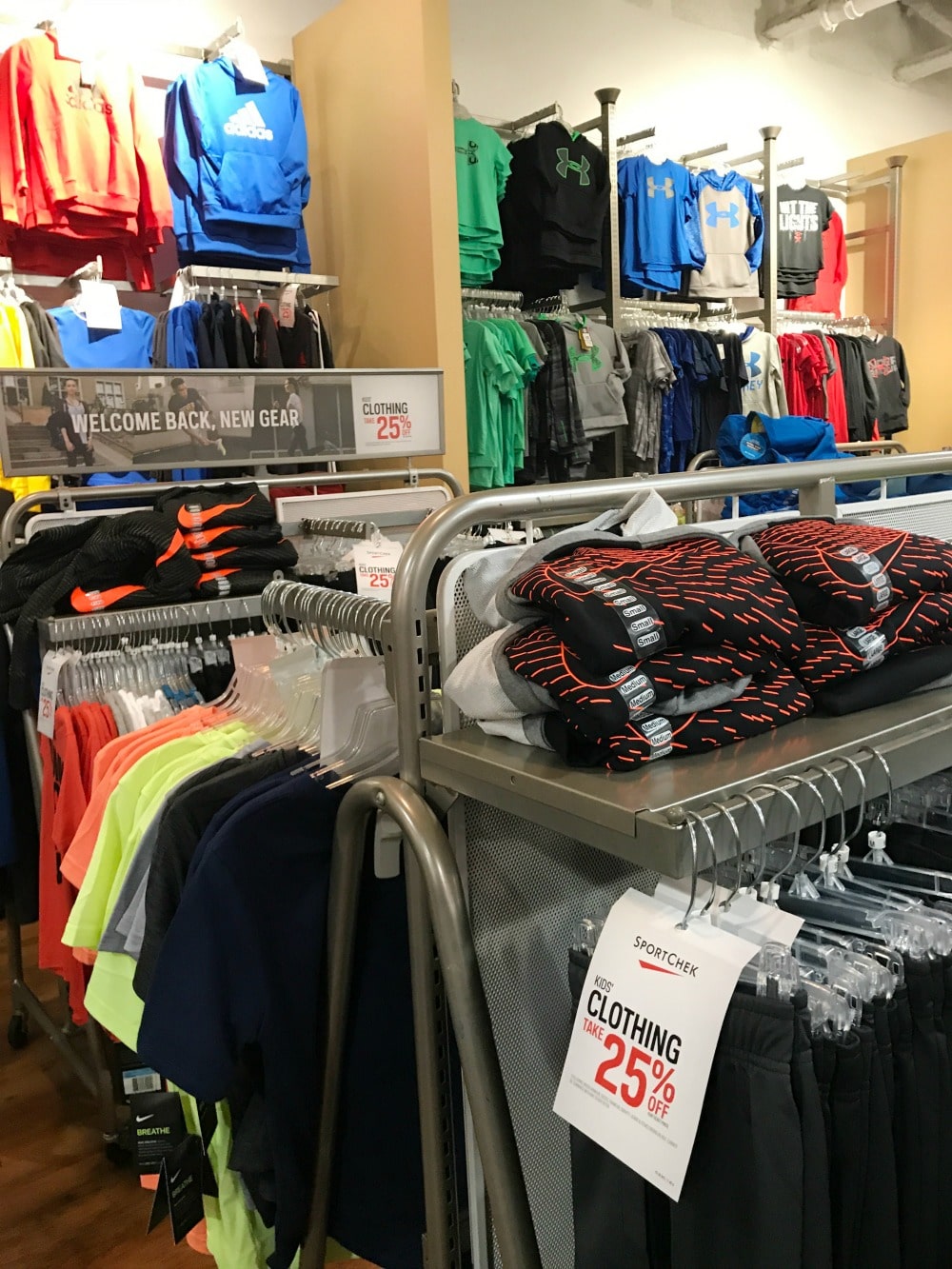 I love to shop online but at the beginning of a season I find it so helpful to go into Sport Chek and get some help from the knowledgable sales associates. Plus look at the amazing selection of brands available. You can get all your favourite brands in one place making shopping easy and I feel confident knowing I've found the best quality gear.
My boys often pick different styles and brands to suit their individual tastes but this time they both picked out the same outfits! Once we had settled on the outfits we headed to the footwear section to find the perfect shoes. Did you know that Sport Chek has guaranteed footwear sizes? That means they stock approximately 30 footwear styles in any size to ensure that kids and adults have selection and choice to find the right shoe for their foot. Check out the shoe wall for kids: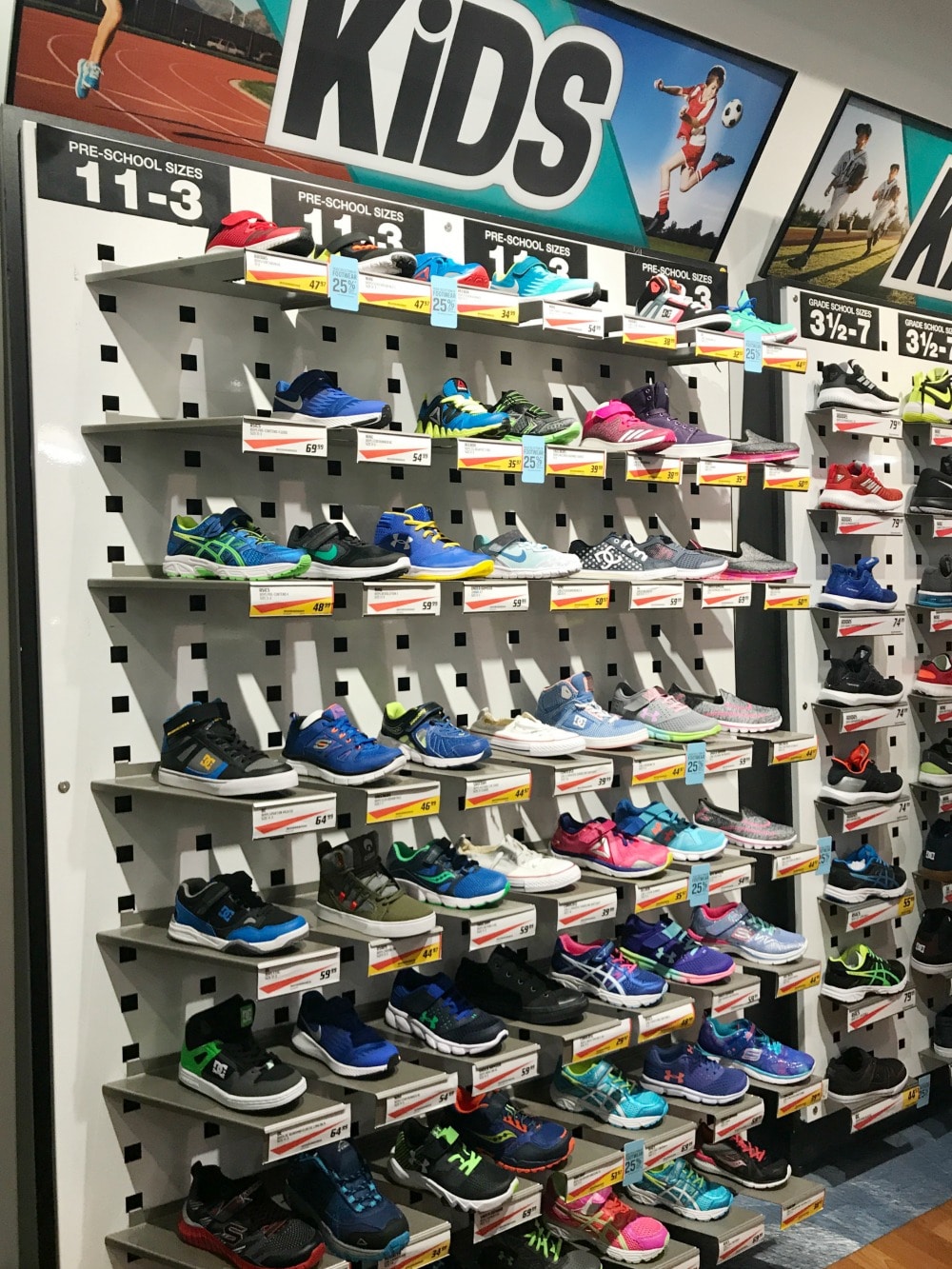 We found so many shoes the boys liked that it was just a matter of size, colour and fit. While blue has been a fan favourite for years here I was thrilled to see the boys liked these stylish red Adidas sneakers.
With a hoodie, sweatpants and sneakers the boys deemed they were back to school ready and I couldn't agree more. Love that we got the best quality gear that will last beyond the first few months of school.
We love this O'Neill hoodie, Firefly track pants and Adidas shoes. The perfect outfit for cool mornings, busy afternoons and fun in the playground!
Choose quality shoes and clothing this back to school season with Sport Chek. Visit sportchek.ca or visit in store for all your shopping needs. For more great finds visit Sport Chek on Facebook, Instagram and Twitter 
Disclosure: I have partnered with YMC and Sport Chek and have received compensation for this post. All opinions in the post are my own.