Looking for a great new show? We are loving this Judd Apatow comedy HBO's Crashing. While the premise might feel familiar, the dialogue and experiences are not. Pete Holmes is truly excellent in this great new series and aptly describes as "TV's Most Honest New Sitcom"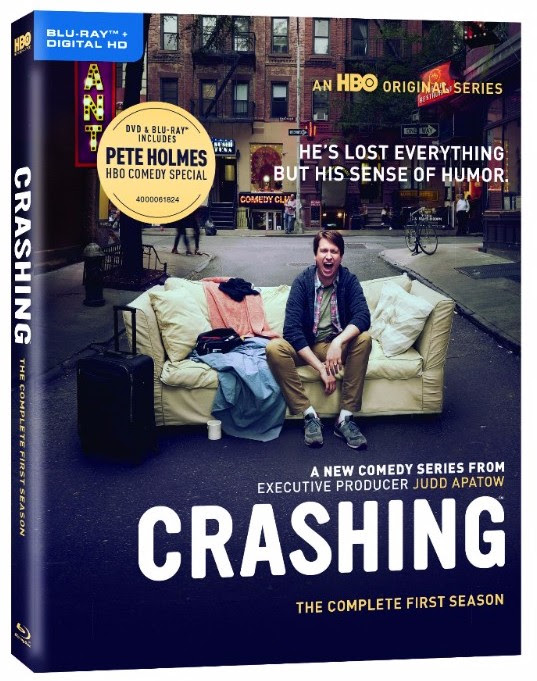 HBO's Crashing
This summer, the irreverently funny, new HBO® hit series that "hits all the right notes" (Vanity Fair) and "delights at every turn" (TIME) will be available to take home on Blu-rayTM and DVD. Starring and created by Pete Holmes, one of today's most popular stand-up comedians,Crashing: The Complete First Season is the semi-autobiographical comedy that follows a stand-up comic whose suburban life unravels, causing him to lose everything, but his sense of humor. Achieving universal critical acclaim and already renewed for a second season, Crashing: The Complete First Season will be available on Blu-rayTM and DVD on August 1, 2017 featuring all eight season 1 episodes and Pete Holmes' first ever HBO stand-up comedy special Pete Holmes: Faces and Sounds.
Crashing

: The Complete First Season
 includes even more exciting bonus content, including:
Guest Star Fan Club – Pete Holmes talks about his experience working with comedians Artie Lange, T.J. Miller, Hannibal Buress, and Sarah Silverman, all of whom guest starred in Season 1 of 

Crashing

.
Comedy Extras – Enjoy the comedy stylings of T.J. Miller, Aparna Nancherla, and Pete Holmes as they perform their hysterical scenes from Season 1.
About 

Crashing

 – Get the hilarious lowdown on 

Crashing

 with star Pete Holmes and executive producer Judd Apatow.
The Art of 

Crashing

 – Hear what it takes to make it in the comedy business from Pete Holmes and his comic cohorts in this behind-the-scenes featurette.
Executive produced by Judd Apatow and Pete Holmes, and loosely inspired by Holmes' personal experiences in stand-up comedy, Crashing follows an aspiring comic named Pete (Holmes), who finds out his wife Jessica (Lauren Lapkus) is cheating on him, forcing a move to New York to pursue his dream of being a comedian. Thrown into the deep end in a city that's not for the faint of heart, the formerly sheltered Pete learns some hard lessons about life and comedy, encountering all sorts of stand-up talents along the way, from cynical guru Artie Lange, to outrageous provocateur T.J. Miller, to benevolent motivator Sarah Silverman, and many more. While trying to make ends meet by crashing on other people's couches (hence the series name), Pete finds goodness in unlikely places, evolving into someone who's a little more okay with the messiness of life. A love letter to stand-up, Crashing is a series about discovering humor, beauty and grace in the crazy den of thieves that is the NYC comedy scene.
Other comedy heavyweights and who also guest star in season 1 include Jim Norton (Louie), Hannibal Burress (Broad City) and George Basil (Flaked).
Crashing: The Complete First Season
Blu-ray with Digital Download & DVD with Digital DownloadStreet Date:   August 1, 2017
Rating:           14A
Runtime:       Approx. 240 minutes (Episode Run Time)
Love this show? Check out our other HBO favourites.
Disclosure: I was provided with a copy of HBO's Crashing to help facilitate this review. As always, all opinions are my own.