Pregnancy myths are everywhere. Stand on your head when you're trying to get pregnant. It's a boy or a girl, depending on how you carry. There's no end to the pregnancy myths out there because there's no end to the couples out there trying to get pregnant. These myths are so strongly ingrained in our society, which is why First Response is working to improve knowledge of the truth on your pregnancy journey. Whether you have heard advice and suggestions from friends, family members or online articles, it's important to take the real facts into consideration rather than other people's stories.
I know for me, the biggest surprise was that pregnancy wouldn't happen right away. After all those years of trying not to get pregnant, I was sad and frustrated that it wasn't happening as quickly as I thought it would. That said, I was glad that I had the time to plan and take a prenatal vitamin months before I became pregnant to help best prepare my body for growing a baby.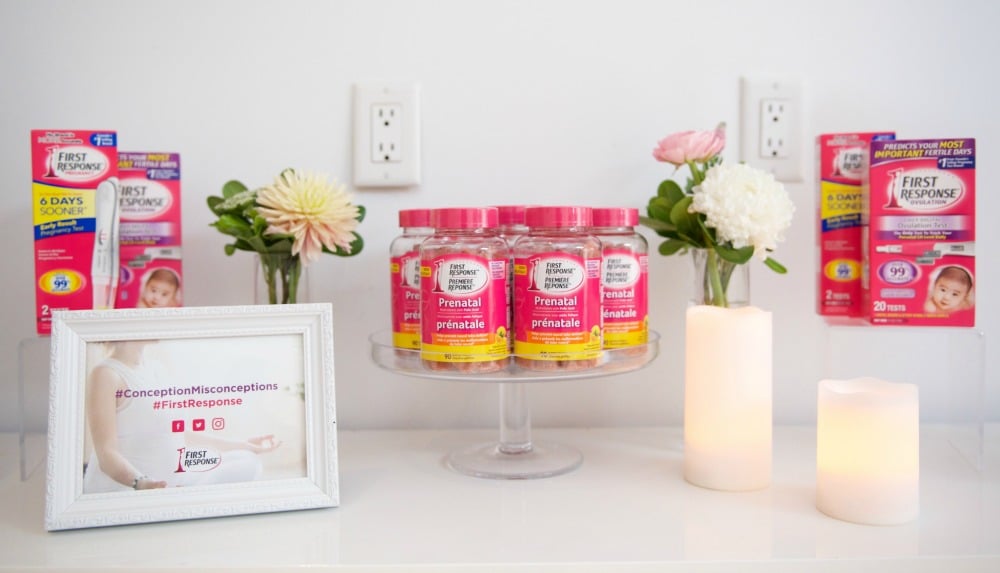 A few weeks ago I had the opportunity to take a relaxing yoga class and learn more from Dr. Sony Sierra, Reproductive Endocrinologist and Infertility Specialist (REI), from Trio Fertility about pregnancy myths and information that I believe can help many women better understand the process and what products can help a woman along her conception journey.
During the informative discussion with Dr. Sierra, I learned that 25% of Canadian women are not taking 1mg of Folic Acid before or during pregnancy which is proven to help decrease the risk of neural tube defects, and I was surprised to learn from Dr. Sierra that you only have a 1 and 5 chance of conceiving each month. Statistics tell us that over 85% of couples can conceive in 12 months .Dr. Sierra recommends that if you are under 35 you should seek assistance if you have been trying for 12 months without conception. If you are older than 35 seek assistance after 6 months.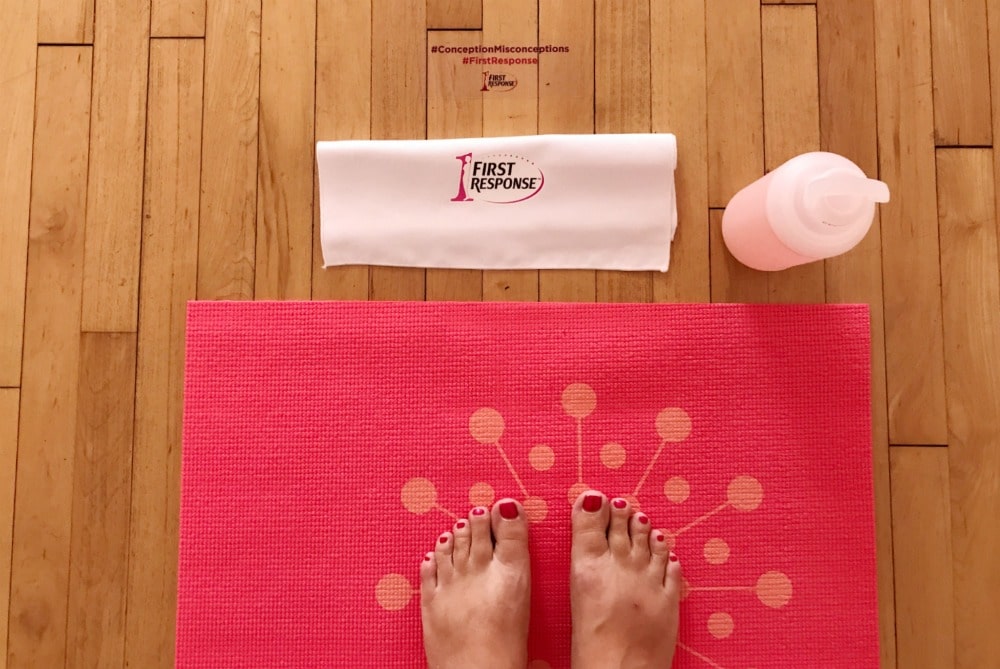 Pregnancy Myths – What's Real and What's Not
With so many myths out there intertwined with fact or stemming from a bit of fact, it's not surprising that many people have misconceptions about the process of conception. Let's take a look at what another expert, Dr. Mary Jane Minkin believes to be real and what's a myth.
Stress Can Prevent Pregnancy
False(ish). There has been no research or clinical findings to support worrying as a hindrance to conception. In rare cases, extreme stress can affect a woman's ability to ovulate, but that's about as far as it goes.
Boxers Can Help Male Fertility
True. While wearing boxers probably won't increase fertility, they can definitely be a tool in helping to prevent a reduction in fertility. Testicles should be able to hang freely and should also stay a couple of degrees below normal body temperature. Avoiding hot tubs and saunas, overly hot showers, tight jeans, and wearing boxers can help male fertility.
More Sex = Better Pregnancy Chance
This is one of those pregnancy myths that is only a partial myth. While women are ovulating, having sex every other day can help increase the chances of conception. This is only true during ovulation. You need an egg to make a baby, and if you're not ovulating, you don't have that. Every other day during this time is plenty. A study in the New England Journal of Medicine found no difference in pregnancy rate among couples who had sex daily during ovulation versus couples who had sex every other day.
Timing for Boys or Girls
False (so far). There is a school of thought that Y chromosome sperm (male) swim faster than X chromosome sperm (female). This would suggest that the male sperm would be able to reach the egg earlier in its journey to the uterus which is right after ovulation. That being said, there has been no conclusive evidence to suggest that.
No Sex in the Morning
False. Some studies suggest that male sperm count is higher in the morning hours. It's suggested that morning sex while in the missionary position could actually help achieve conception due to easier access of the sperm to the egg.
Pregnancy Myth Busting Leads to Knowledge
Now that we've looked at the most common pregnancy myths and their accuracy, it's time to ask what can be done to make the road to conception easier. While nothing is guaranteed, there are some tools from First Response that can help you on your journey to motherhood.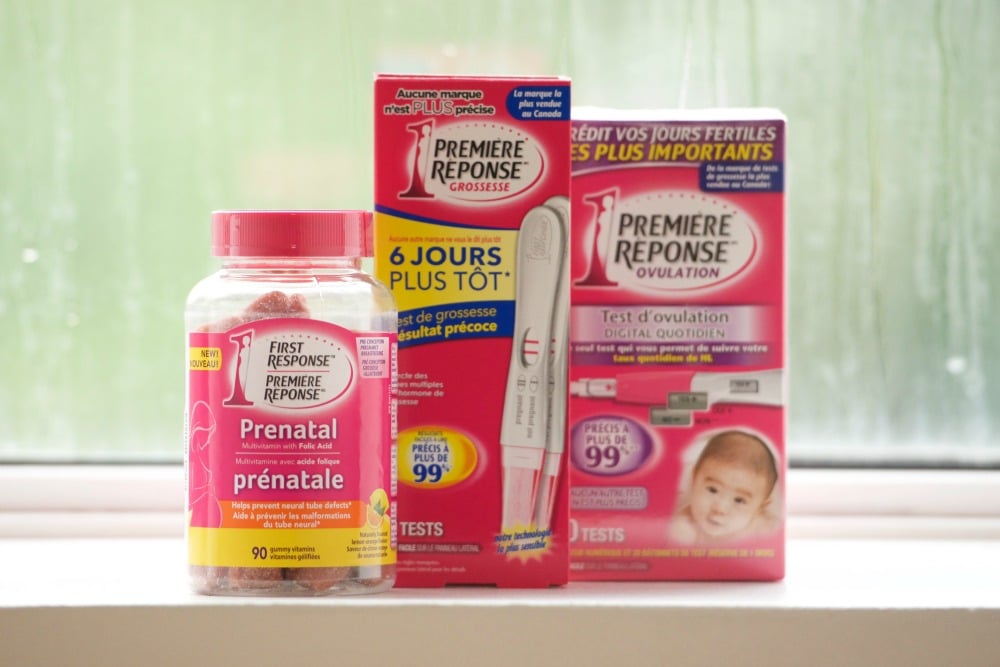 This ovulation test can help you find your two most fertile days, giving you an edge in the conception process. The Advanced Digital Ovulation Test is over 99% accurate with easy to read YES+/NO- results.
Part of trying to get pregnant is figuring out if you actually are pregnant. First Response carries a wide selection of pregnancy tests ranging from early detection to rapid results and more. These are some of the most trusted tests available and are over 99% accurate.
The road to pregnancy doesn't involve only conception. Your body has to be ready to make a baby. First Response Prenatal Multivitamins help prepare your body for making that baby you're trying so hard to have. These gummies are easy to take and help prevent neural tube defects, provide calcium for nursing moms, and use only naturally sourced lemon-orange flavour, so they're safe for both mom and baby. Plus, they are iron-free making them easier for pregnant women to take as iron has been shown to make pregnant women nauseous.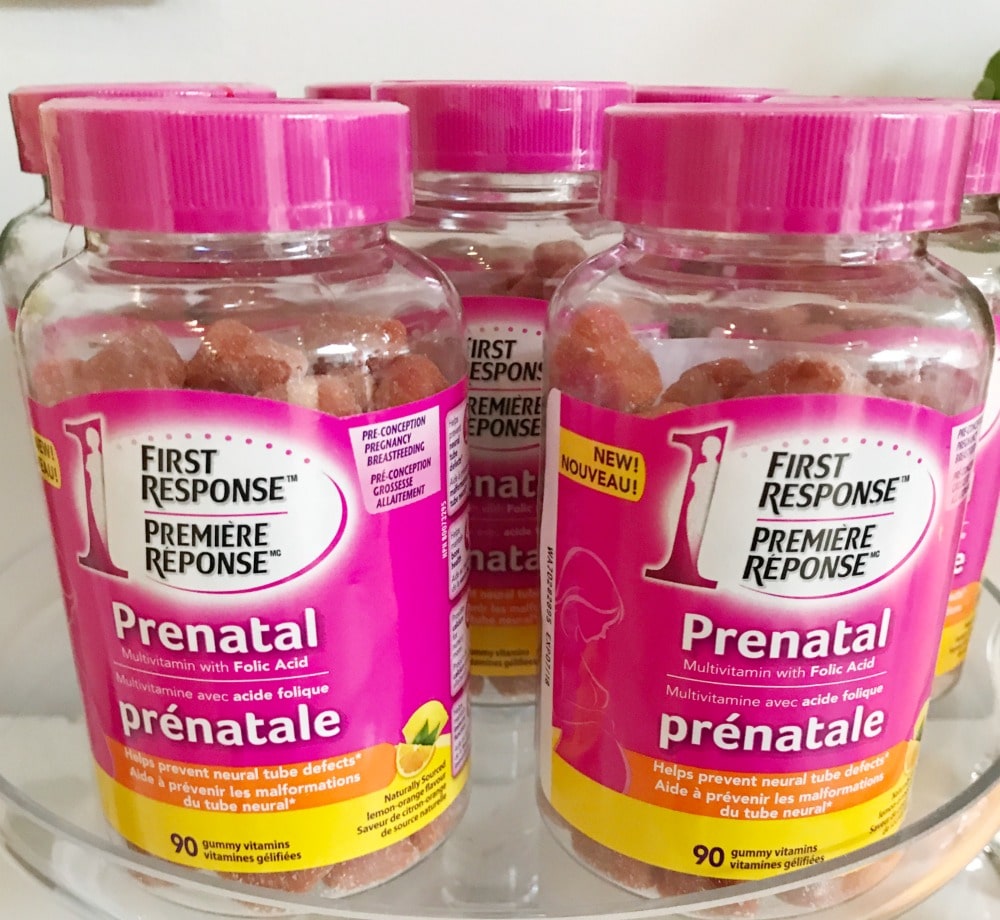 Pregnancy Myths Busted
Pregnancy myths can be incredibly confusing, and it's hard to separate fact from fiction in many cases. That's why I'm glad First Response is there to help us weed out truth from fact when it comes to pregnancy myths and to help expecting moms or moms trying to conceive on their journey. Conception can be stressful in and of itself. Hopefully, busting these pregnancy myths and providing tools to help with conception and pregnancy can help make the journey easier for new moms or moms to be out there.
Disclosure: This post is brought to you by First Response. As always, all opinions are my own.