Have a child heading off to University or College this Fall? We have the best tips about what to put in a University student care package and a giveaway of one too! This package will take care of their personal and laundry needs all you need to do is include a note and some sweet treats!
What To Put In A University Student Care Package
No matter how old your kids get, you'll never stop being their mom. So naturally, when that bittersweet milestone finally becomes a reality (yes, I'm talking about college or university) you'll sleep better at night knowing that you've equipped them with the tools and the learnings they need to succeed.
Who's kidding whom? They likely don't want our advice so keep it short and sweet.
They can't get a date without clean clothing!
Stain removers, sorting and scooping are not for students. Let's face it. They're just looking for an easy solution to the challenge ahead – no clean socks or underwear and they've got a date in a few hours. Send them off to school with a container of the new Arm & Hammer™ Plus OxiClean™ 3-In-1 Power Paks. This all-in-one detergent tackles tough stains, doesn't require any measuring or scooping and is student-budget friendly. If you're lucky, it may also mean you're not greeted with a load of dirty laundry every time your kid comes home to visit.
Tip: Don't be surprised when you receive a call or text saying, "Mom, how do I sort my laundry?" Or "Where do I find the washing instructions?" To help make laundry easier (and prevent shrinking t-shirts and colour bleed disasters at the same time!), educate them on the proper laundry symbols. In fact, you can download a fun laundry symbols postcard from Arm & Hammer Laundry that lists the most common symbols and what they mean.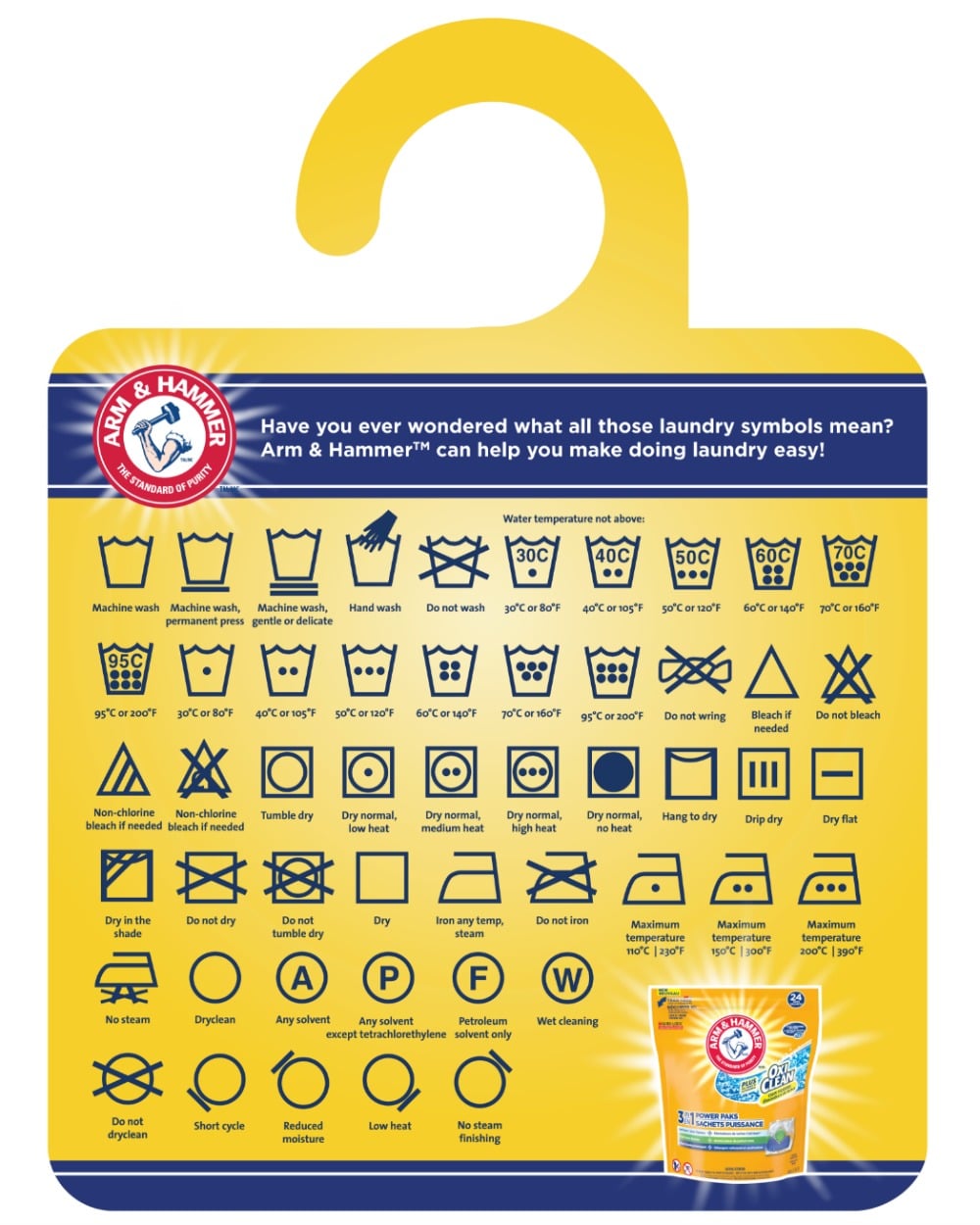 Don't forget to talk about being safe!
One of the biggest challenges as a parent, is how to talk to your kids about safe sex. While it can be uncomfortable, it's a necessary conversation and part of life! The harsh reality is that kids are having sex, yet not properly protecting themselves. [1]In fact, a study found that almost two-thirds (64 per cent) of post-secondary students across the country had a sexual encounter within the past year. Furthermore, 72 per cent of students engaged in intercourse during their last sexual encounter, yet only about half (51 per cent) reported using a condom.
Tip: If you have a child heading off to school, buy condoms for them and pack them in their suitcase.  Trojan™ condoms are the number one condom choice of Canadians for protection.
Sometimes, kids know best! 
Just because you're the one who's prepping the kids for back-to-school, doesn't mean they can't teach you a cool thing or two – beauty hacks are no exception! One must-have item that's as just as popular amongst moms as with students is Batiste Dry Shampoo. It is the world's #1 dry shampoo* for a reason – it instantly refreshes your hair between washes, no water required.  It works by absorbing excess oil from the roots leaving hair looking clean and fresh.  So, whether you're running late or just looking for an instant refresh, new Batiste Dry Shampoo Heavenly Volume is a saving grace as it has the additional benefit of transforming hair with gorgeous, touchable volume and bounce. This is one item you won't forget anytime you're in a pinch and who knows, you might even find yourself sneaking into her bag to borrow some when you're out!
Know of someone heading off to college/university this Fall? Help make sure they're equipped with this student care package giveaway.
*Batiste is sold in over 50 countries
University Student Care Package *GIVEAWAY*
OxiClean Colour Shield Laundry Stain Remover
Arm & Hammer Plus OxiClean Power Paks in Fresh Scent
Trojan XOXO Condoms and Bareskin Lubricated Condoms
Batiste Dry Shampoo Heavenly Volume
Approximate. retail value $75
Disclosure: As a Church and Dwight Ambassador I receive compensation for my participation. As always, all opinions are my own.