Have you ever used a Food Steamer before?  We recently had a chance to review and test out the Breville The Steam Zone Food Steamer and have fallen in love with this new product.  From steaming fresh fish to vegetables and more, you will be amazed at how fun this product is to have on your countertop!  Check out our recipe for Honey Soy Rainbow Trout with Mushrooms and Snap Peas.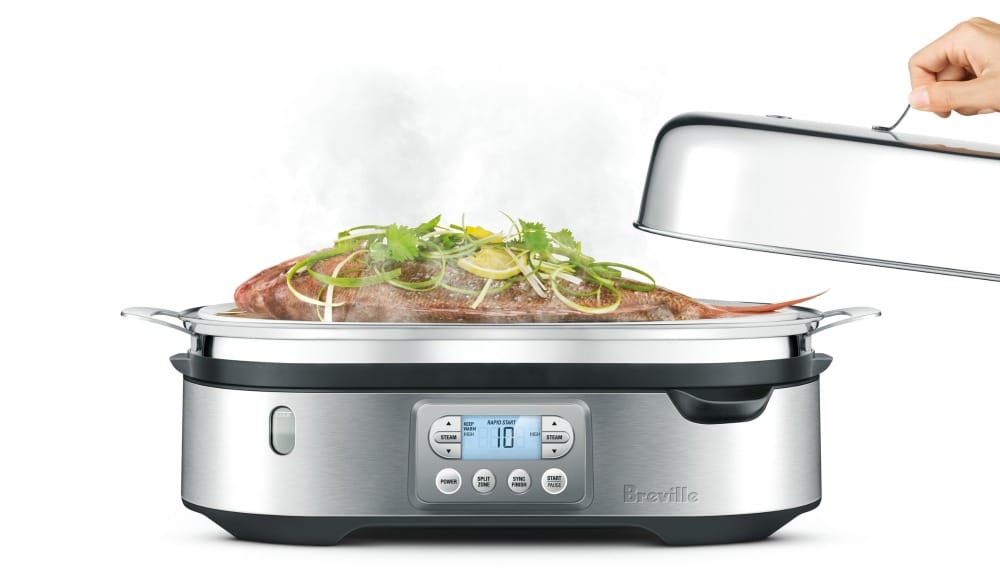 Breville The Steam Zone is the Best Countertop Food Steamer
Steaming your food may be something you aren't familiar with yet.  It is one of the hottest things to do for your health, and for flavor.  If you spend much time in the kitchen, you know that cooking foods for flavor mean you often have to infuse that flavor with oils and fats, and that isn't so great for your body in the long term.  Another option is to steam, but it can be tough to do that with accuracy.  Breville The Steam Zone™ is a wonderful choice to make it easier.
Single Layer Steaming:  
One of the top reasons to use The Steam Zone™ as your food steamer choice is the single layer steaming options.  Efficiency is the name of the game with our beloved Breville products, and of course, this latest unit is the same.  The cooking happens just above the water making it efficient and consistent.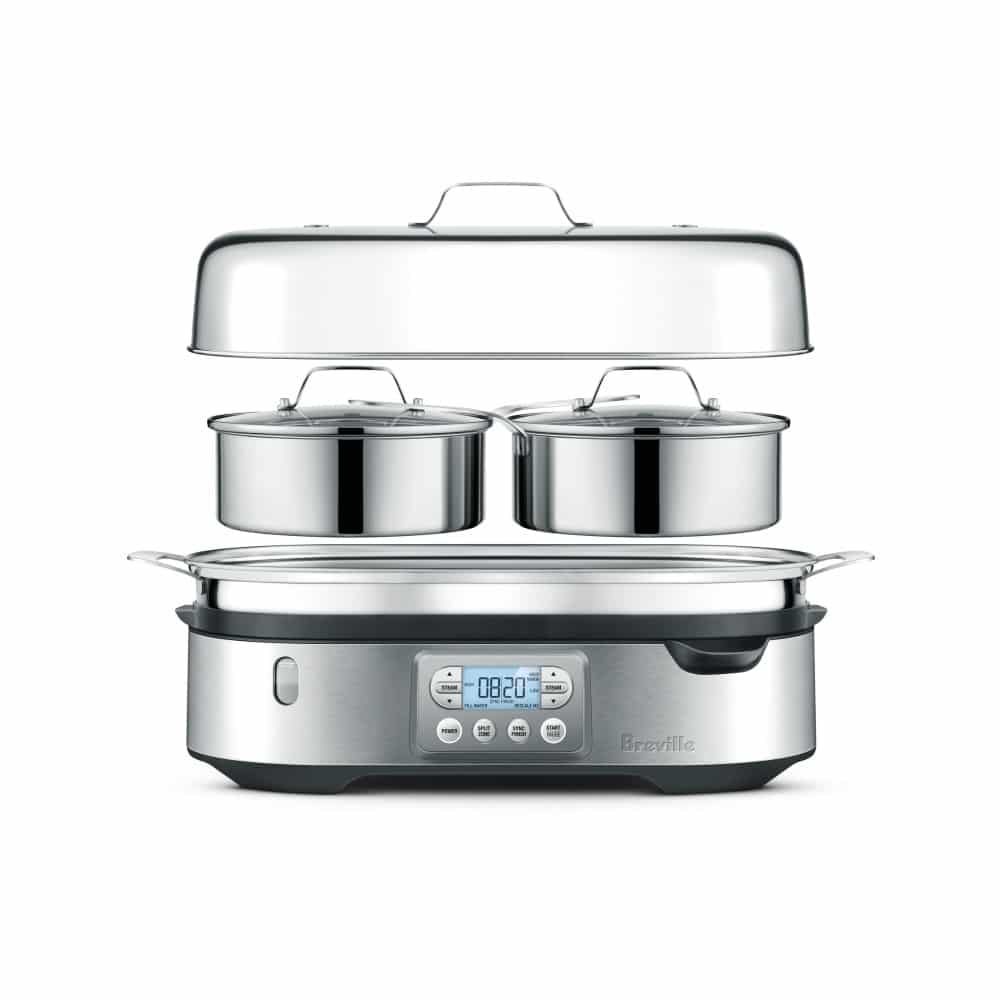 Cook multiple items at once: 
The Steam Zone™ offers you room to cook either an entire fish at once or multiple items in multiple saucepans at once.  You can steam vegetables in one pan, and dumplings in another, and have them finish cooking at the same time.  The synchronized finish setting makes it wonderful for those who want to set it and forget it.  Chicken and vegetables are done at the same time?  This makes it simple to manage!
Bonus:  Separate cooking vessels in this also prevent cross contamination of flavours.  So, while you can have both your meat and vegetable complete at the same time, they won't come out tasting identical!  That's another benefit!
Warming option: 
Not only does it automatically keep warm up to 15 minutes, you can set it up to 45 minutes.  This makes it an ideal option for an at home buffet, or for that night when your spouse is late getting home from work.  We've all been there when dinner ended up being cold.  This helps keep it warm, and there is no more work on your part!
Benefits to using a food steamer: 
Why should you invest in a food steamer like The Steam Zone™ by Breville?  Below are some of our favorite reasons that this is a great kitchen appliance for any family.
Encouraged a healthy diet.
Makes cooking simple and less time consuming
Cleanup is simple and easy.
Cooks food faster and meals finish at the same time (no cold side dishes while entree is burned)
Replaces the oven for many dishes and avoids heating up your kitchen during the summer
If you are looking for a great food steamer for your home, this is a great product choice. Breville The Steam Zone is an ideal counter top food steamer choice that will fit into your daily life easily and will become a much-loved kitchen appliance. Looking for another product by Breville? We love a wide range of Breville appliances.
Disclosure: I was provided with a Breville The Steam Zone™ to facilitate this review. As always, all opinions are my own.