Are you heading out camping with your family soon? Check out our list of Must Have Camping Kitchen Gear as you get started planning! We love working with Coleman Canada, and know that they make the best products for camping. When we plan a camping trip, there are a few things we just can't travel without. When it comes to heading out into the woods or a campsite, these items are a must. Check out our list below!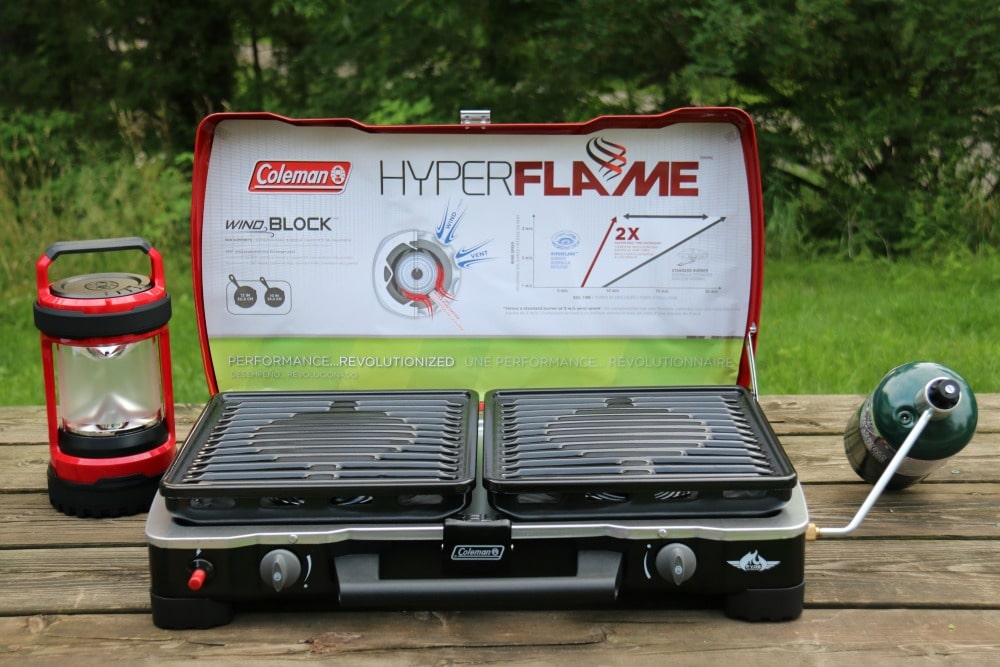 Must Have Camping Kitchen Gear
Coleman Divide & Twist Lantern
Of course, a lantern is a must for any camping trip, but I always add an extra one to our camping kitchen gear. You never know when the kids will fall asleep before you, and those snacks call your name. I never want to leave the kids alone in the tent without a light, so, having an extra one in the kitchen area is a must. These are just simply, the most durable, easiest to handle, and simple to clean design I have found.
Coleman FyreSergeant 2-Burner Grill Stove
You have to cook on something, and frankly, with kids in tow, I don't want to cook over an open flame that much. It's a bit more dangerous than I prefer on mornings before I have had my cup of coffee. So, this is my preferred option. It folds down flat for easy transport, has matchless lighting, and connects easily to my can of fuel. It is much like a larger gas grill I would use at home for grilling steaks. So, I feel comfortable using it and know that it will fit on the picnic table or any smaller surface for cooking our meals. Plus, it has traditionally sized burners, so I don't have to buy extra special camping pots and pans unless I want to do so. The Wind block really makes a difference when lighting and staying lit. Plus it just feels so much safer and easy to use compared to old pump fuel camp stoves I grew up with.
Coleman Antimicrobial Lined 19L Jug
Plenty of water is a must, and carrying along a ton of water bottles don't always work. I much prefer filling this up at home (cheaper) and taking along in the back of the car. It can sit on the picnic table, or even stay in the back of the van for easy access. We can refill our water bottles directly from this. The antimicrobial lining keeps mold from growing, so we know the water is safe for drinking.
If you have a clean water source at your destination, you can refill there easily. If not, you can bring water purification tablets, or you can bring bottled water and refill if you prefer. It's also a great option if you want to have things like sports drinks for rehydration. You can bring along powdered sports drinks and mix in with water to have on hand in this for easy access. Plus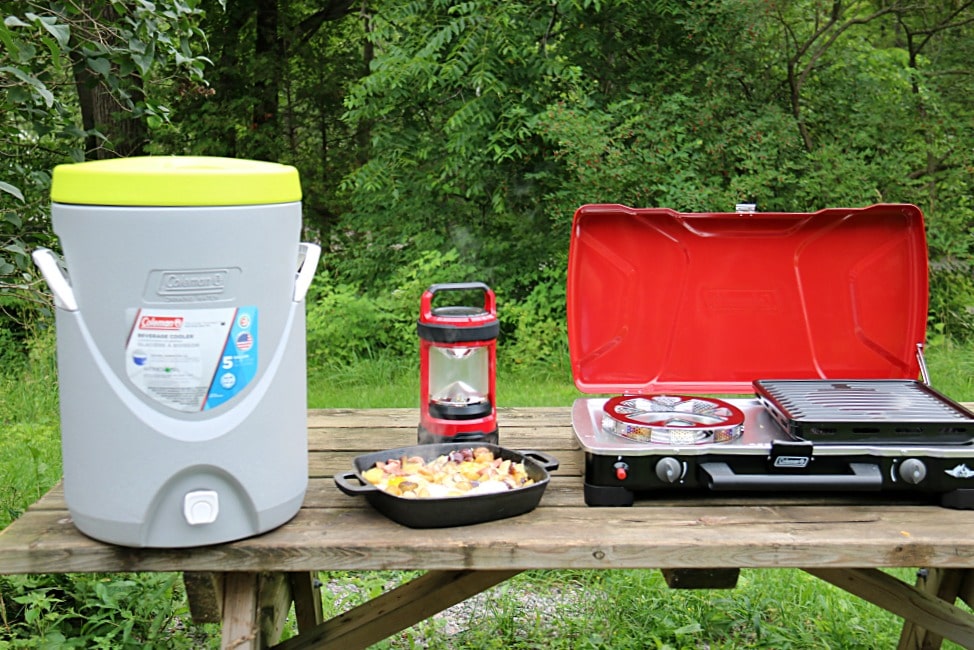 Utensils and cookware
I always bring along utensils and cookware for the very basic needs. When we go camping, I am a minimalist. This means just a few items are needed. I don't even bring a coffee pot. Instant coffee and hot water work just fine for a few days. It isn't preferred, but it works. We love our Coleman Cast Iron Skillet
Spatula, wooden spoon, tongs
Saucepan, kettle, skillet (preferably cast iron for durability)
Cups, plates, and bowls
Many people invest in special camping cookware. This is great if you do a lot of camping, or if you have a camper or large SUV and space for hauling this. If you are a minimalist and don't want to load/unload a lot of stuff each time, then you may prefer to go with a different method. We have options for recycling near a lot of local camping spots, so I pack paper plates that are biodegradable, paper bowls, paper towels, and we use reusable water bottles. No washing dishes, and much less to carry with us. Check out one of our favourite sets Coleman 24-Piece Enamel Dinnerware Set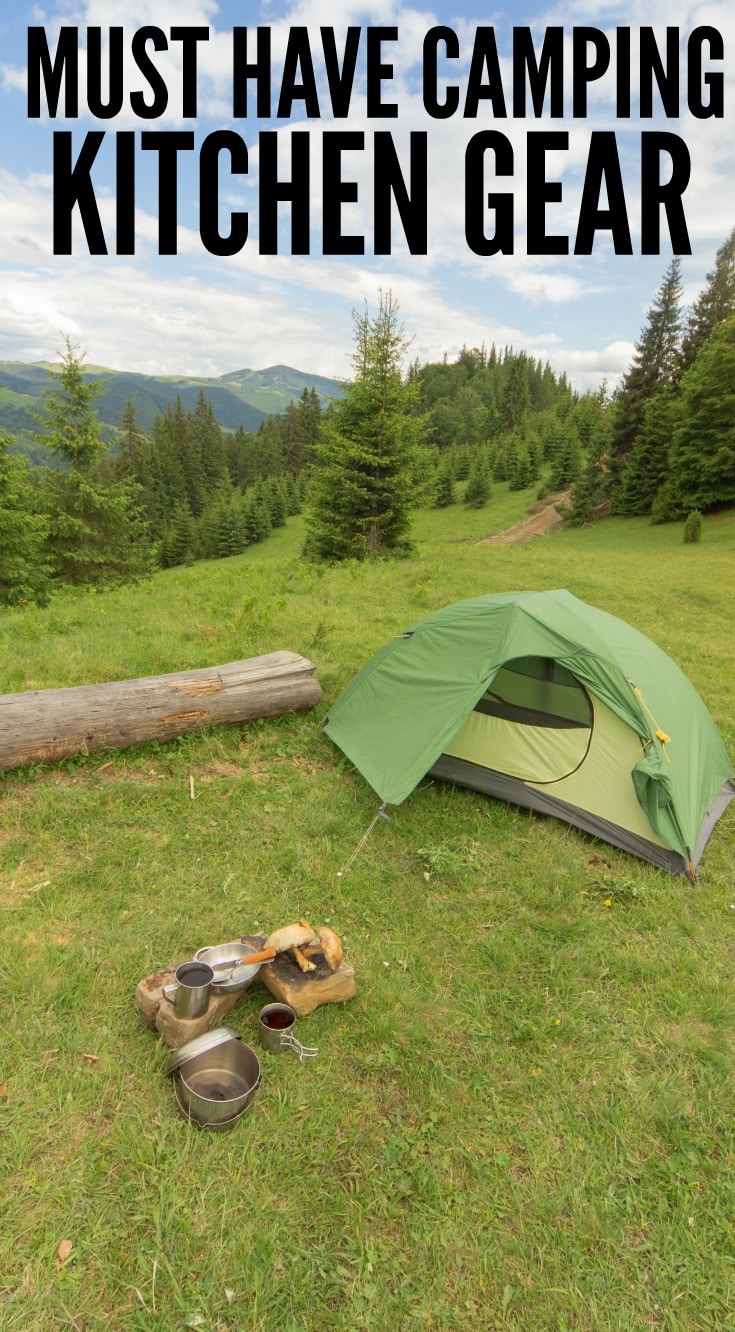 Storage containers
When planning meals for your camping trip, you may want to focus on making sure you don't have leftovers. Ideally, you will have just enough for each meal, so you won't' have to worry about storage. However, should you need to store leftovers, or ingredients to prepare meals, taking along plenty of storage options is a must. I tend to rely on classic large plastic storage bags for most items, but if it needs a container, I will grab inexpensive ones from the local discount store and use them just for the camping trip.
Ingredients for S'Mores
Of course, every camping kitchen needs to have ingredients for the classic treat. Make sure you pack your chocolate, Graham crackers, and marshmallows to make the ultimate camping dessert! Also check out our popular camping recipes for camping food inspiration.
These are the items on our list of must have camping kitchen gear items. What are yours?
*Note: This post contains affiliate links*
Disclosure: Coleman provided us with the Beverage Cooler, FyreSergeant and Lantern to help facilitate our review. As always, all opinions are our own.