There is nothing like the open road to cure what ails you. A great vehicle, great company and a new destination to focus on is my favourite way to escape the everyday. While I do think planning a trip is one of the best parts of travel, having a trip planned for you is the ultimate in vacation excitement.
With an itinerary in hand and a stunning Ford F150 Lariat SuperCrew with 10 speed automatic transmission we set off to explore some unique sights and hunt down a couple of fun landmarks. The boys and their dinosaurs came for the journey as well. As you can see it was a fun time!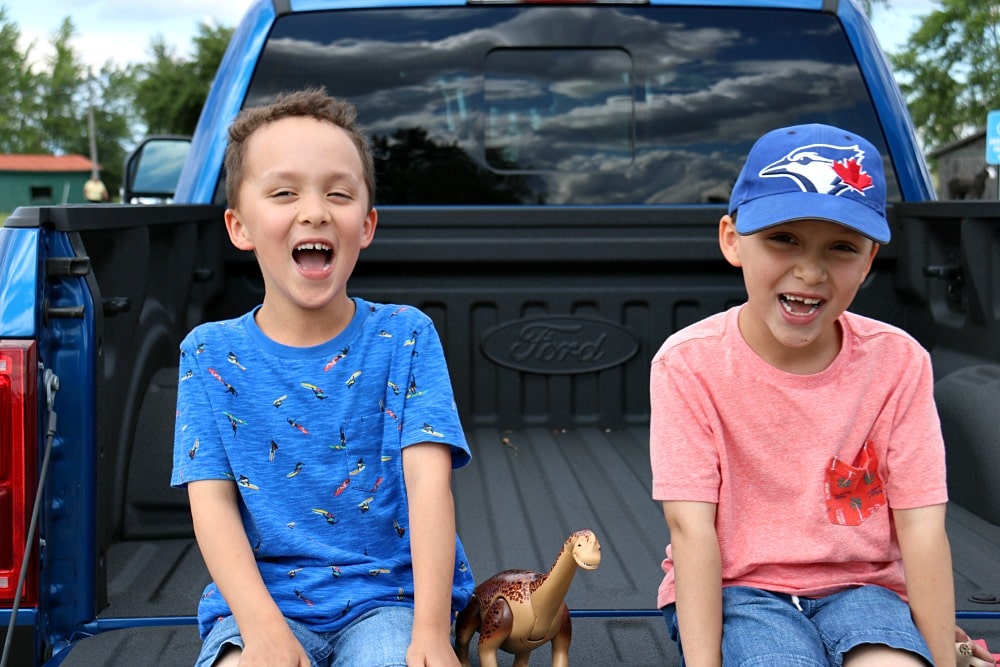 Little did we know that having the Ford F150 was going to be critical to our success. What started off as a perfectly sunny day quickly turned into one of the nastiest storms I've ever seen downing trees, hail storm and massive flooding. All of with our truck handled with ease. As we drove through a flood street where cars and vans were stuck we felt like superheroes. They aren't kidding when they say they are Built Ford Tough.
What We Loved About the F150
We loved driving the 2017 Ford F150 Lariat with the Sport Appearance package on our family trip to Oil Springs, St. Thomas and Niagara Falls, Ontario. Our model was an eye catching blue colour with complimentary accent decals on the cab and box. This 4X4 sitting on the 18 inch aluminum wheels looked spectacular. The real sweet surprises however were under that beautiful paint. The ride and comfort of this vehicle were unbelievable! We loved the leather seats that were heated AND cooled as well – perfect during a hot and humid June. TheSYNC® 3 system that handled our music, our GPS and our cell phone was intuitive and a breeze to set up and use.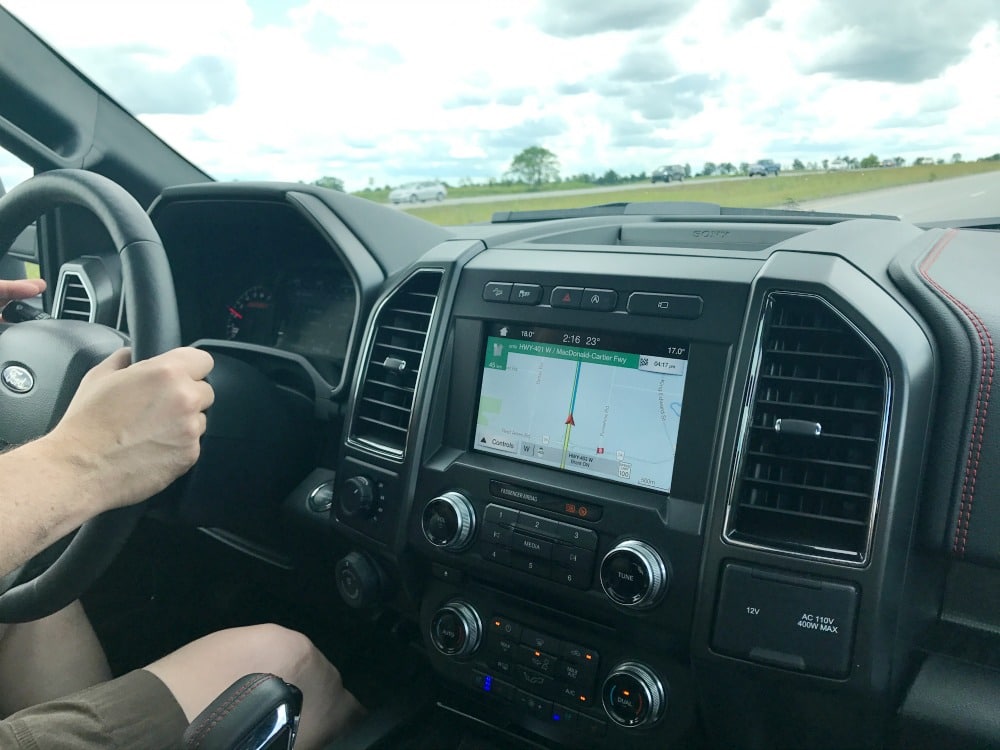 While many think a truck is a workhorse of a vehicle but this stunning vehicle had technology integrated in this truck that we appreciated and wish we had on every vehicle. From the 360 degree camera, rain sensing wipers, adaptive cruise control, the Blind Spot Information system and the Auto Start-Stop made driving the Ford F150 effortless.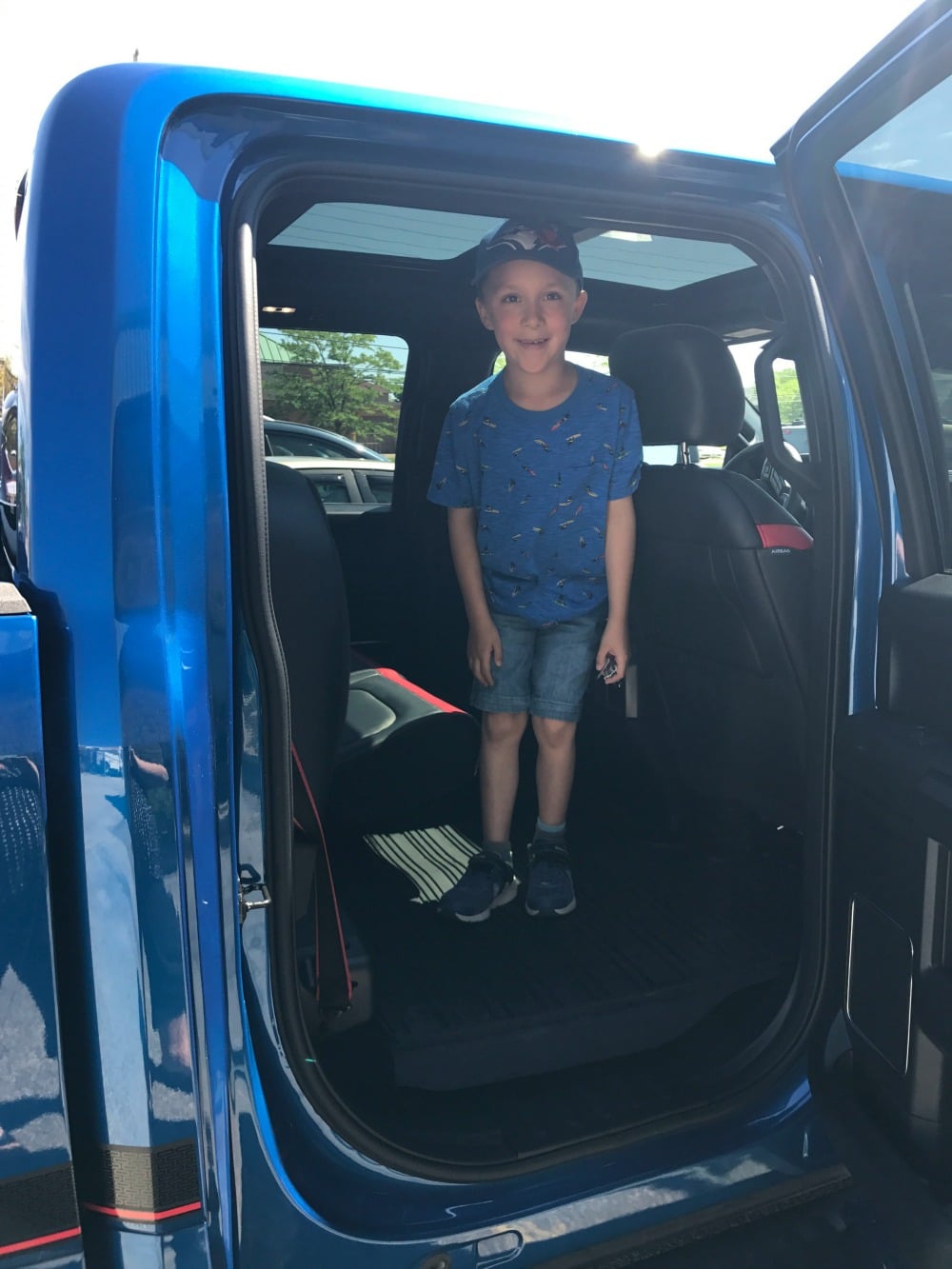 The cab was spacious and the front seats were amazingly comfortable with multiple electric adjustments to get your individual perfect position. With two adults, two boys (in high backed booster seats) and all of our luggage there was still lots of leg room and space for a comfortable ride. We wished the vehicle had a cover on the truck bed but that would be an easy add on.

We were amazed by the fuel economy on the truck and marvelled at it's smooth ride. It handled a flooded road like a truck but it's style and features made it a dream to drive and a fantastic vehicle for family road trips. Exploring SouthWestern Ontario in the Ford F150 was the perfect family getaway.
Oil Museum of Canada
Did you know that the first commercial oil well in North America was in Oil Springs, ON? We definitely didn't but learned so much from our visit to the Oil Museum of Canada in Lambton County, ON. From the moment you first drive into the region the magic of it's history is apparent. Oil wells work throughout the area and the museum has indoor and outdoor exhibits plus a driving tour. All artifacts have been displayed in a way that's easy to follow and there are a variety of activities for kids to complete as they look through the museum. Make sure you check out that Anaconda skin and the amazing artifacts brought back from all of the world as boys from Lambton County taught others to create their own commercial oil wells.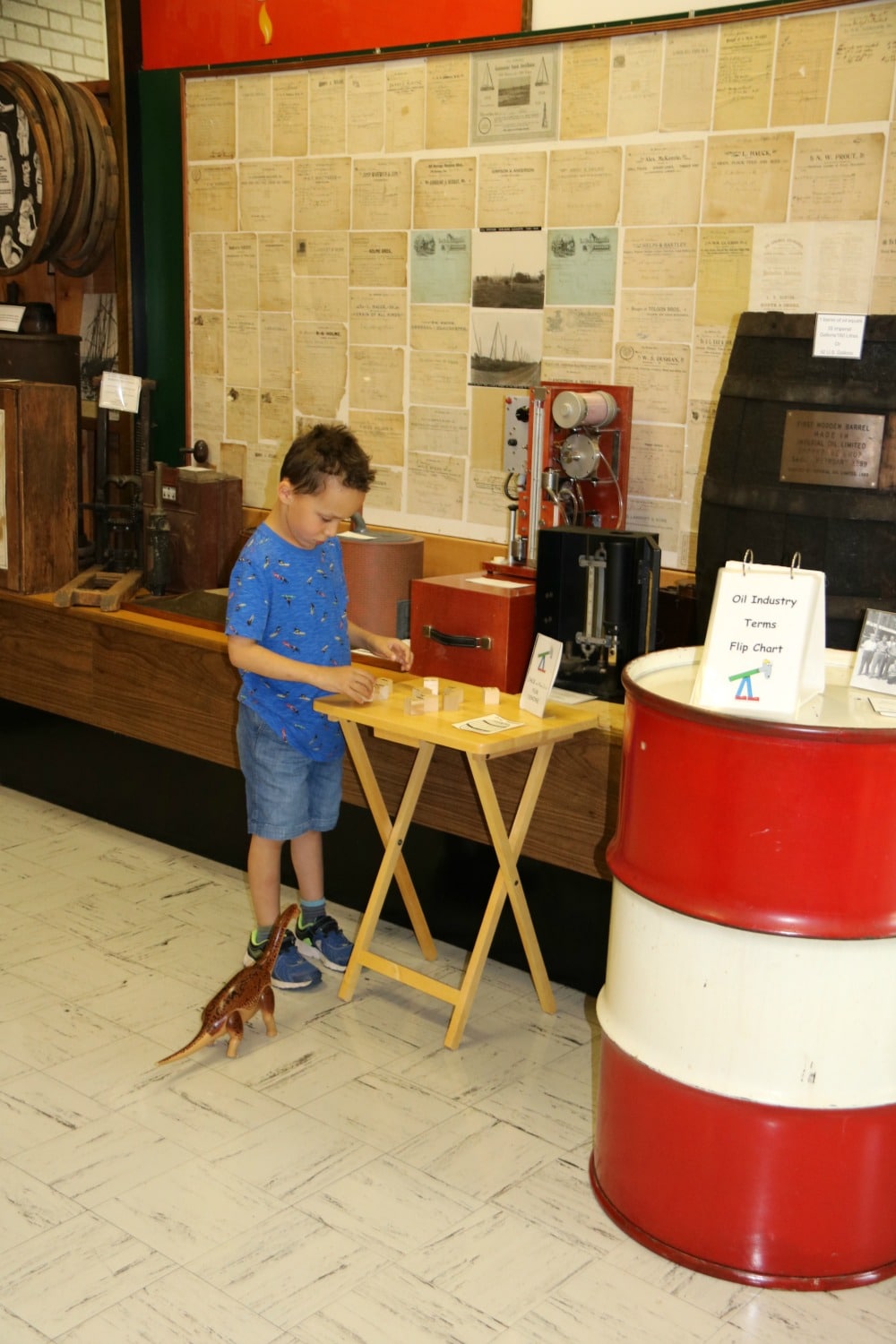 The Ford F150 looked right at home amongst the oil wells and acres of open land. Ready to take on any job that was asked of it proving how versatile the vehicle is. From family truck on a vacation to hard-working vehicle of the oil fields.
Jumbo the Elephant
Knowing little about why St. Thomas, ON would have a life-sized statue of an elephant we made our way through the quiet streets to find Jumbo and learn it's story. There, unmistakably perched on top of the hill was a 38 ton statue of Jumbo who died on September 15, 1885.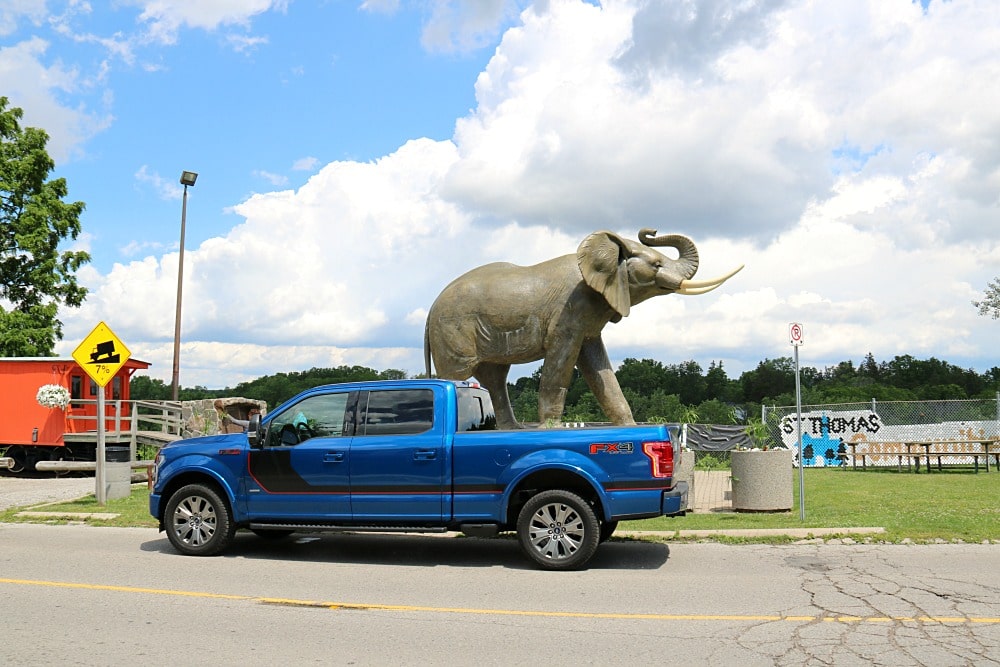 We learned that Jumbo (an elephant that was part of the Barnum & Bailey Circus) was killed by a Grand Trunk locomotive while helping a young elephant to safety. But, that is just one of the stories about Jumbo's death – there is much controversy about the details  but he did indeed die in St. Thomas not far from this statue (which was erected in 1985 on the 100th Anniversary of Jumbo's death).  We loved stopping to visit Jumbo and understanding his history. Such a cool landmark to visit!
Dinos, The Falls and Butterflies
Our next stop on our SouthWestern Ontario tour was in Niagara falls where we enjoyed taking the Ford F150 into 'the city' and finding fun activities. We saw it all – from Dinos to Butterflies it was a fun adventure.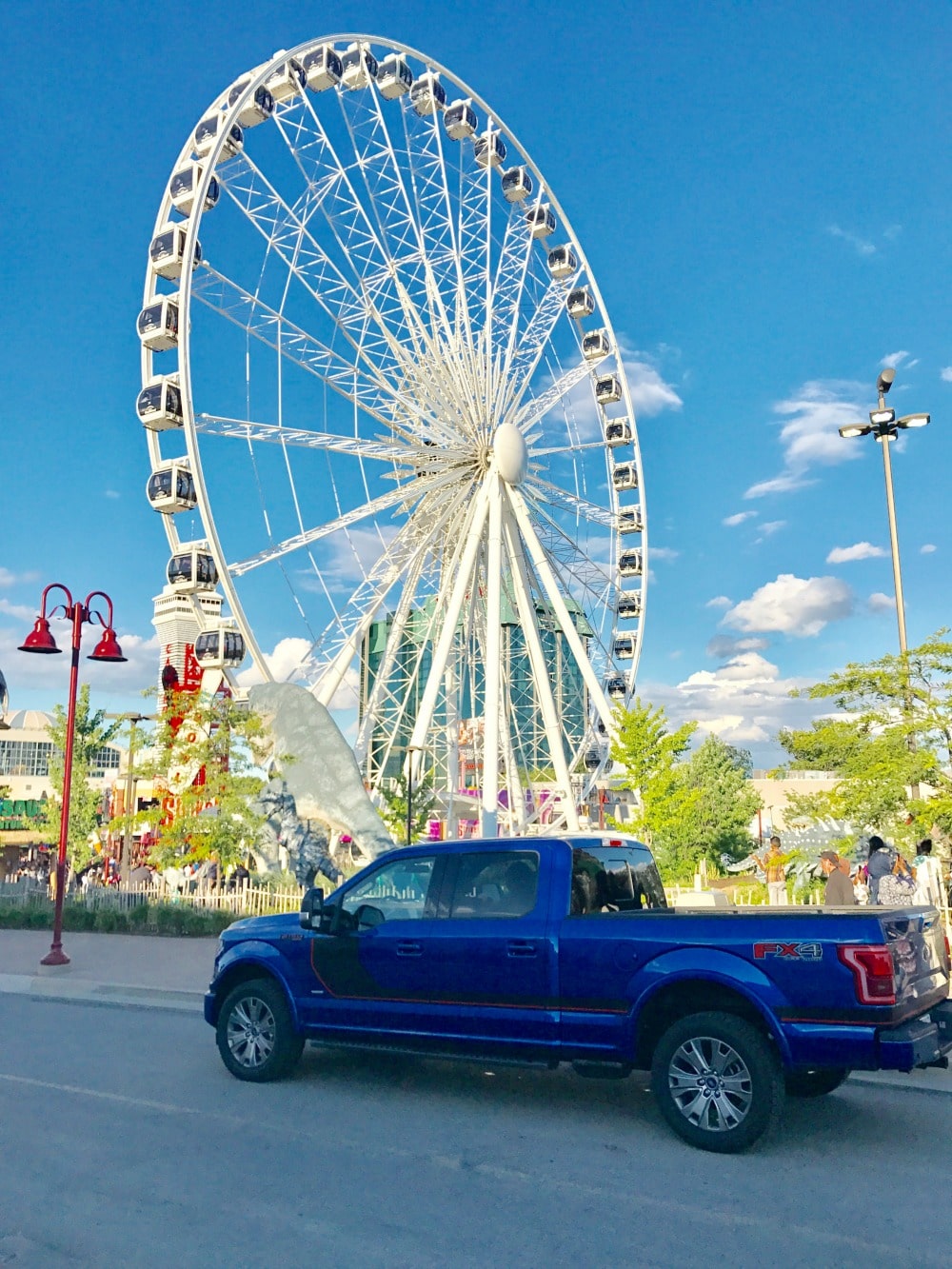 We loved watching the boys' expressions as they saw the Horseshoe Falls for the first time. Pretty amazing to be able to take your children to see the majestic power of Niagara Falls.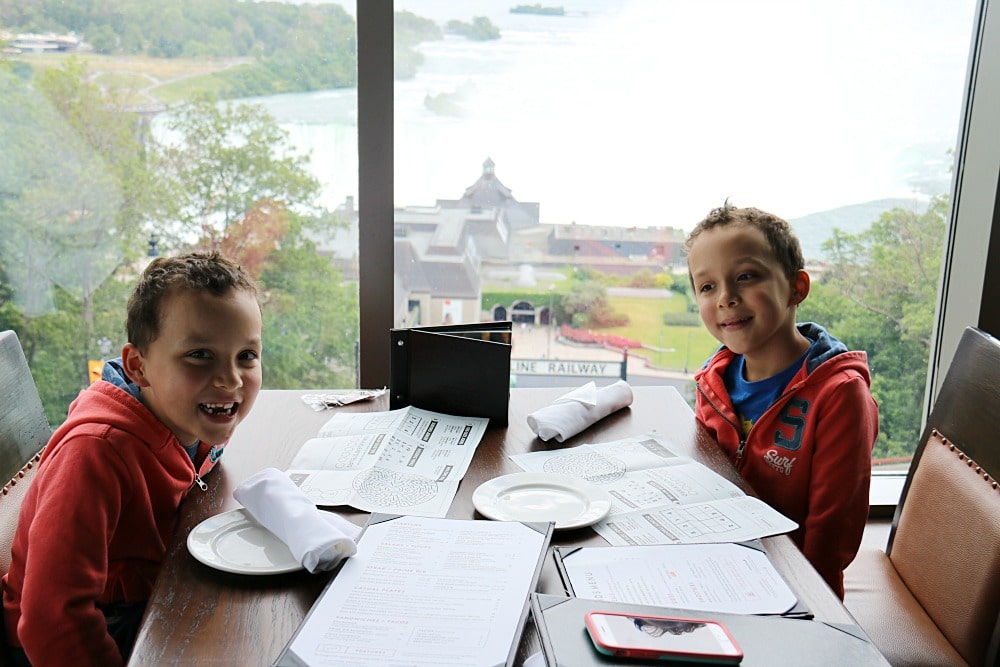 We loved driving the truck in the city and found it easy to park, easy to manoeuvre and great for busy area. It handled Clifton Hill easily and was beautiful to drive along the Niagara Parkway. I believe when many people think of a truck they automatically think of it as a work vehicle. While it absolutely is that, the F150 was so much more – a great family vehicle, luxurious drive and filled with state of the art tech.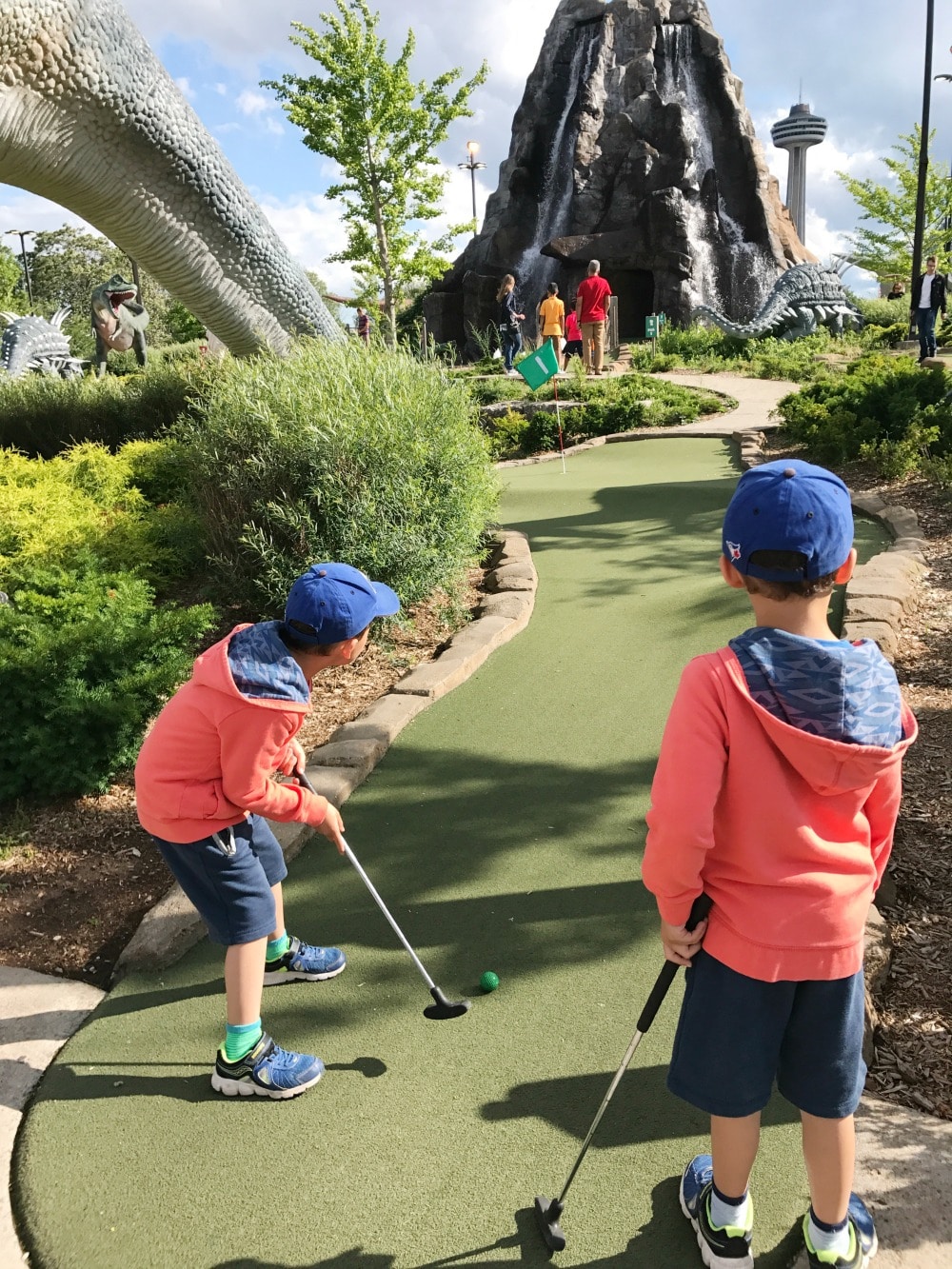 After an evening of mini-golf and CliftonHill we spent our last morning enjoying the spectacular butterflies.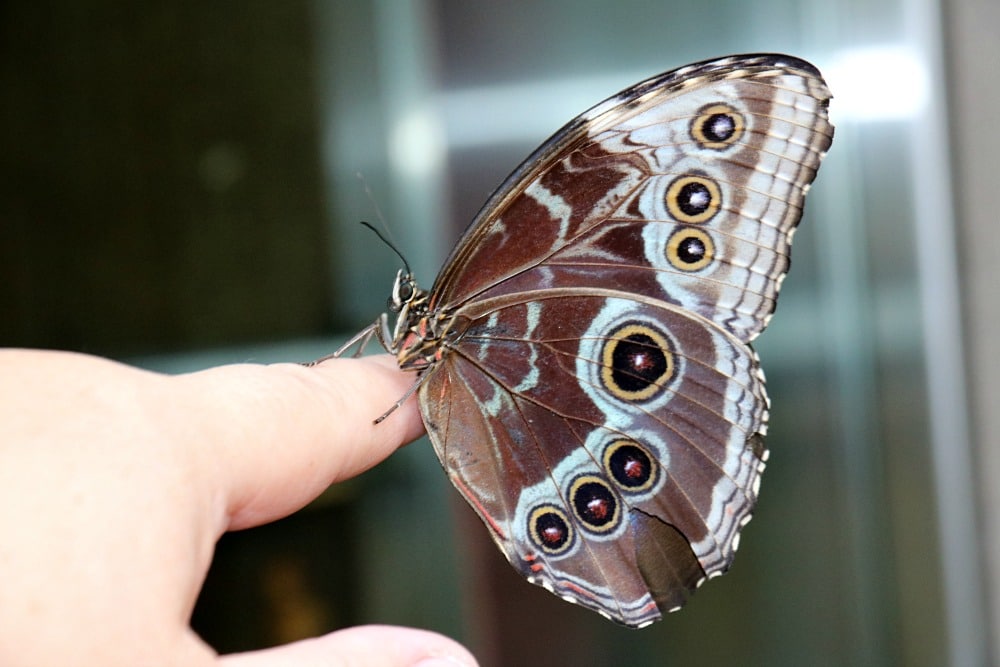 My nature-loving boys were in awe of the beauty of the butterflies and asked at least 1000 questions about their development, growth and lives. It was fun and a learning experience too. The perfect way to end a family vacation.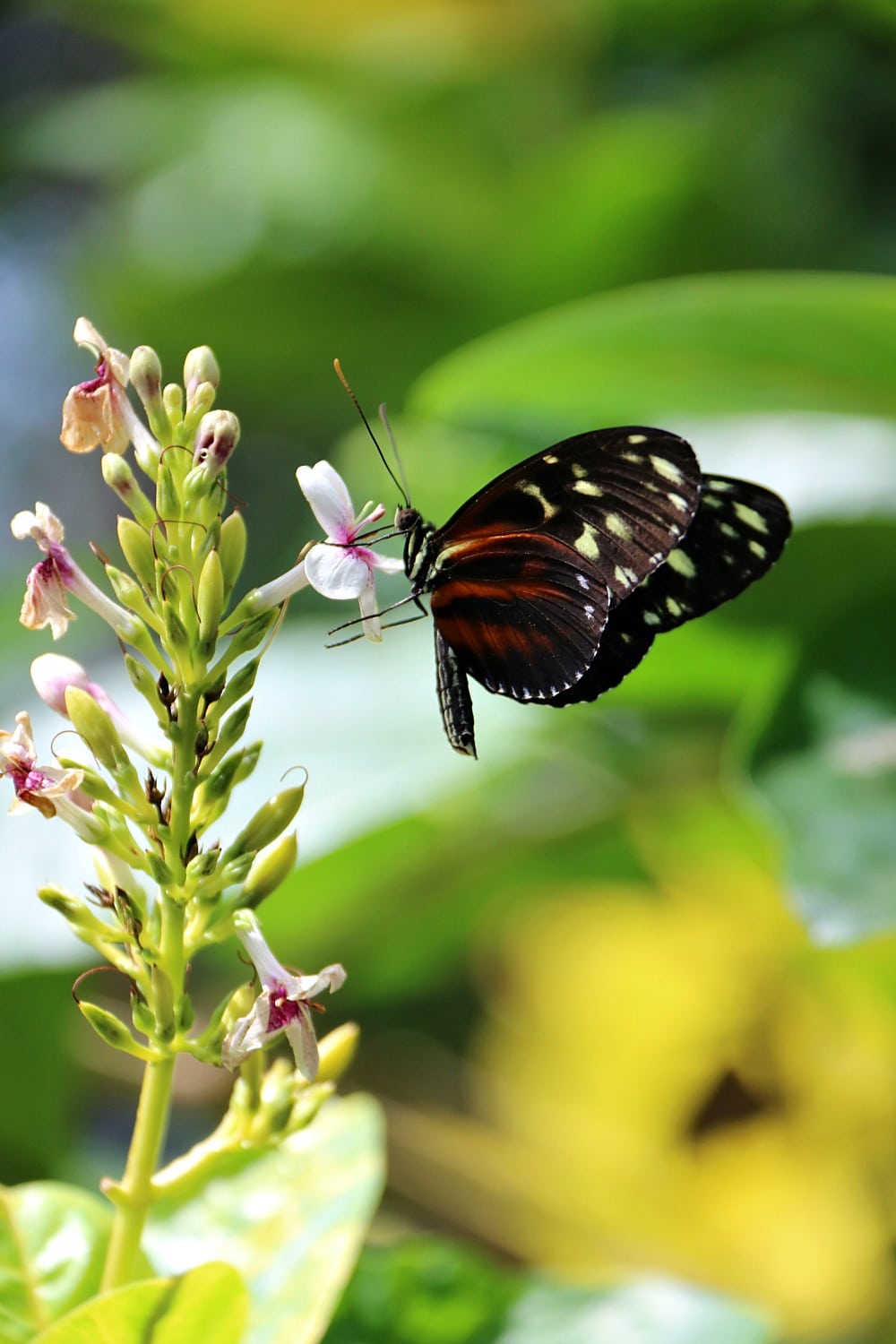 History of Ford in Canada
Many Canadians are not aware of Ford's long history in Canada dating back to 1904. In that year eight men began to build the first Ford automobile in Canada, the Model C. The two-cylinder, 10-horsepower Ford Model C had a cost of $ 1,100. Shortly afterwards Ford vehicles made in Canada were shipped to Australia and by 1916 Ford had an assembly line in Toronto. Ford Canada headquarters were constructed in Oakville in 1953 and the Ford Econoline was used to transport Terry Fox's supplies in his 1980 Marathon of Hope. Today Ford Canada has grown to two engine plants (Windsor and Essex) and one assembly line Oakville, 400 Ford-Lincoln dealerships and a new Ford Research and Engineering Centre in Ottawa investing $500 million in R&D in Canada. When you think about Ford and it's contributions to Canada and Canadians it's amazing to think of a start 113 years ago with eight men to the remarkable company it is today.
It was a true privilege to be part of Ford's celebration of Canada's 150th to honour it's history and future. How will you Go Further?
Disclosure: I was provided with a Ford F150 and special perks to make this review and travel possible. As always, all opinions are 100% my own.