I've tried a variety of carpet and upholstery cleaners. I have kids, pets and have been known to create a spill/stain a time or two myself! What I found is the previous carpet and upholstery cleaner I tried got dirty and gross so quickly. The colour of the water coming out of the machine was not only disgusting but the container stayed that way long term no matter how many times I cleaned it. When I discovered that the Hoover® Spotless Portable Carpet & Upholstery Cleaner I found it had self-clean technology that keeps the machine clean at all times. For this reason alone it is the only carpet and upholstery cleaner you'll need.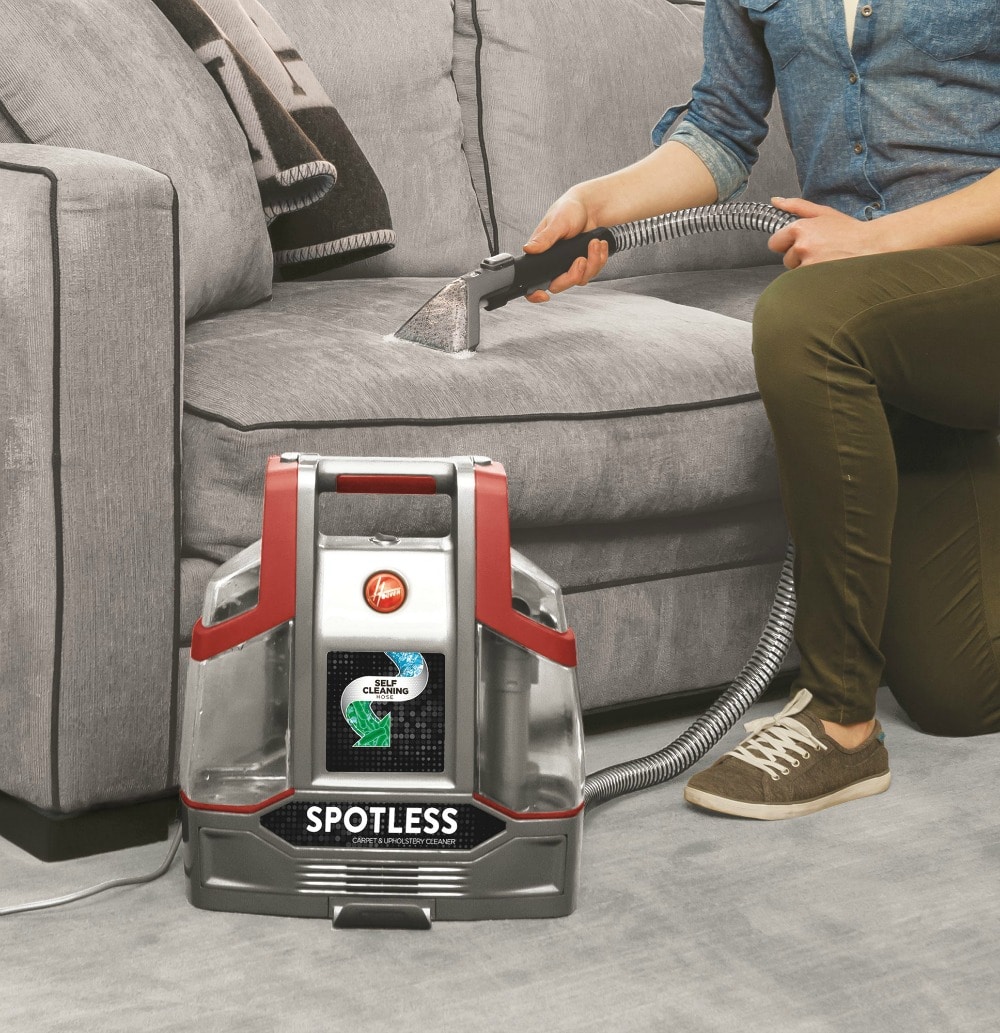 Why is this the Only Carpet and Upholstery Cleaner for You'll Need
Have you ever gotten dressed for a work day, event, or night on the town then sat down on a chair and ended up covered in pet hair or stepped in a mess they left on the carpet? All pet owners have struggled with this issue from time to time. Plus, a stain can ruin the look of otherwise beautiful carpet. That's why having a great carpet and upholstery cleaner on hand is a must. Below are some great reasons to check out the Hoover® Spotless Portable Carpet & Upholstery Cleaner and find out why it's our favourite.
Lightweight enough anyone can use: Having a lightweight upholstery cleaner is a must. Nobody likes carrying a huge contraption around their home that looks and feels like a monster. In fact, most carpet and upholstery cleaning machines you rent are so large and bulky you would rather just buy new furniture! The best part of the Hoover® Spotless Portable Carpet & Upholstery Cleaner is the fact that it truly is lightweight and easy to manage. Weighing in at under 10 pounds means that this is functional for almost anyone to use on a regular basis. I love that it was easy to use on my carpeted stairs as well as the larger carpeted areas of my home.
Bonus: This is also small enough to come together and store easily in almost any location. You can fit this in the bottom of a closet or inside a storage space in your pantry or kitchen! You don't have to dedicate a huge area for this product.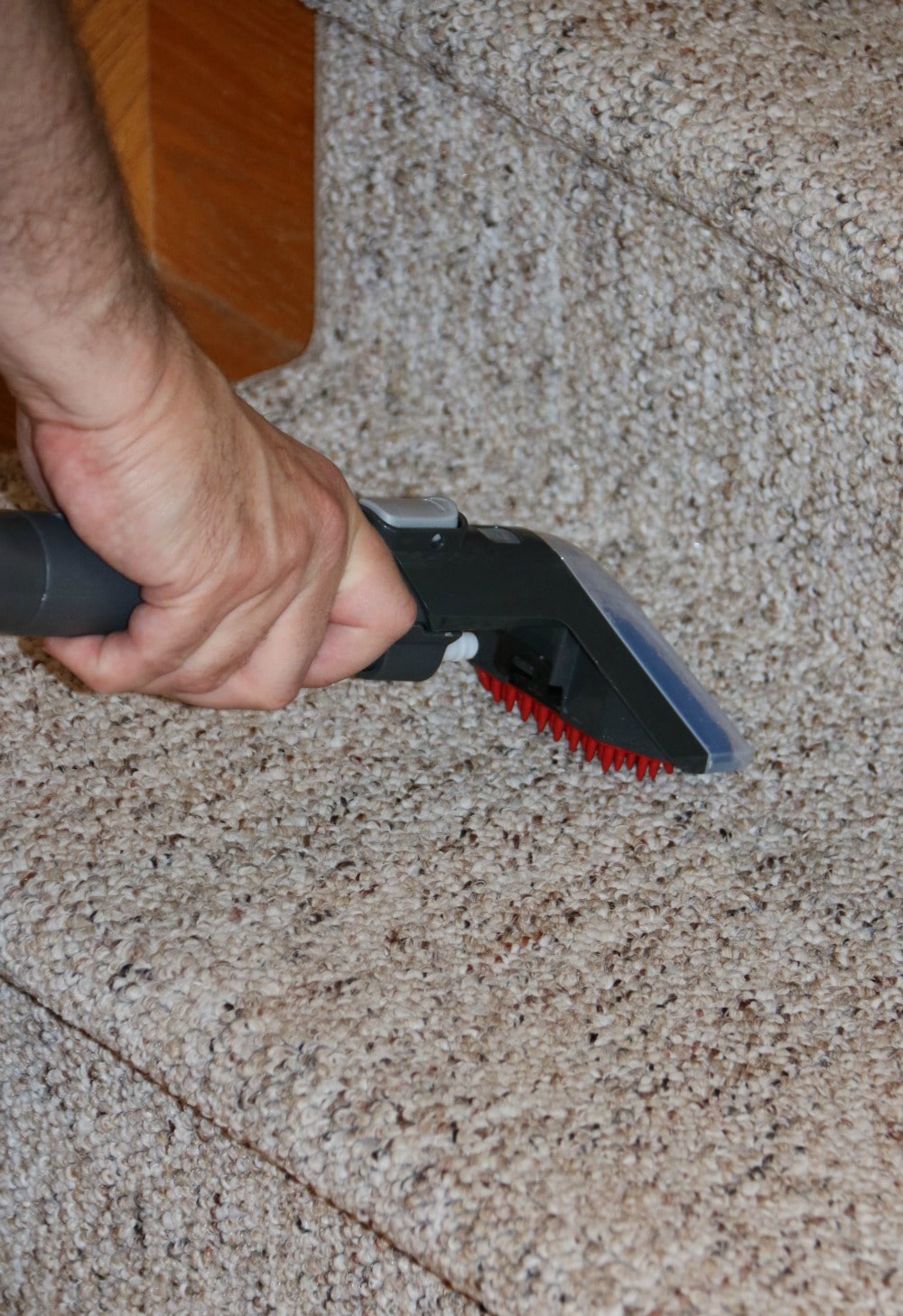 Works on everyday stains too: This isn't just for upholstery. It works wonders on your carpets. The Hoover® Spotless Portable Carpet & Upholstery Cleaner is designed to be a convenient and functional tool to use on a regular basis in your home. Spilled wine? This will handle it for you. Kids made a mess with paints? No worries! This isn't just for pet owners, but it works great to remove the common pet odor and stains along with other common carpet and upholstery stains.
Antimicrobial Multipurpose Tool: Let's face it, our carpets and furniture harbor tons of yucky things. We may not like to think about it, but it is true. The Antimicrobial Multipurpose Tool on this system is a deep cleaning rubber nub that is built with antimicrobial materials that help it protect against bacteria, mold, and mildew. You don't have to stress about this tool. Not only does it have the self-clean technology, but this tool also keeps it free from bacteria that might be a concern in other systems.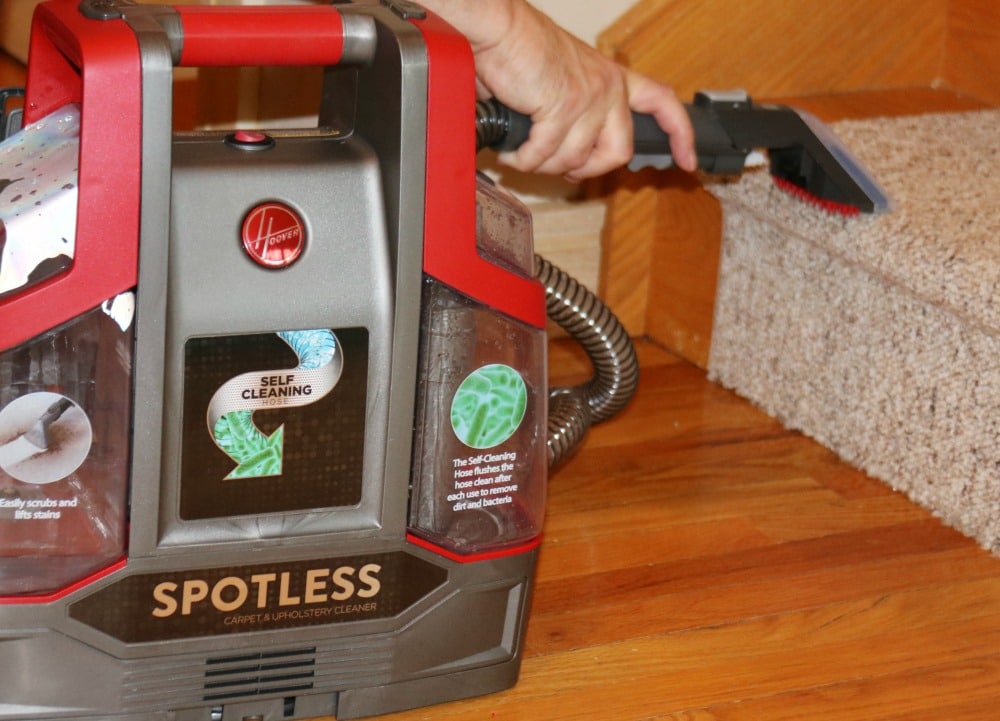 Specs for the Hoover® Spotless Portable Carpet & Upholstery Cleaner:
Affordable price at $99
Dual Tank System
Removable water tank
Water Level Indicator
14ft. cord length
Spot Sprayer (great for smaller stains)
5ft. hose length
2-year warranty
Less than 10 pounds (without solution/water)
As you can see, the
Hoover® Spotless Portable Carpet & Upholstery Cleaner
is really a wonderful tool to keep on hand to ensure the carpet and upholstery stays clean. It is also a great tool to have on hand for parents of small children who are prone to spills. Using a quality carpet and upholstery cleaning tool will save not just your carpets but make your furniture last long!
Find out more: Follow Hoover Canada on Facebook and Twitter. And check out my other favourite products from Hoover that help me keep my home clean and fresh!
Disclosure: I received this Hoover product to help facilitate my review. As always, all opinions are my own.