With the completion of my deck last Fall I didn't have the opportunity to purchase furniture and set it up the way I wanted it. Now the fun part – turning it into an outdoor space for entertaining, relaxing and enjoying the beautiful weather. I am loving the beautiful outdoor space I've created and can't wait to spend my summer there. We love entertaining in the summer. Looking for some great summer recipes? Check out our 60 Summer Sides and our favourite grill recipes or cook up some of our best camping recipes.  But first, check out these seven helpful tips to create your own backyard oasis.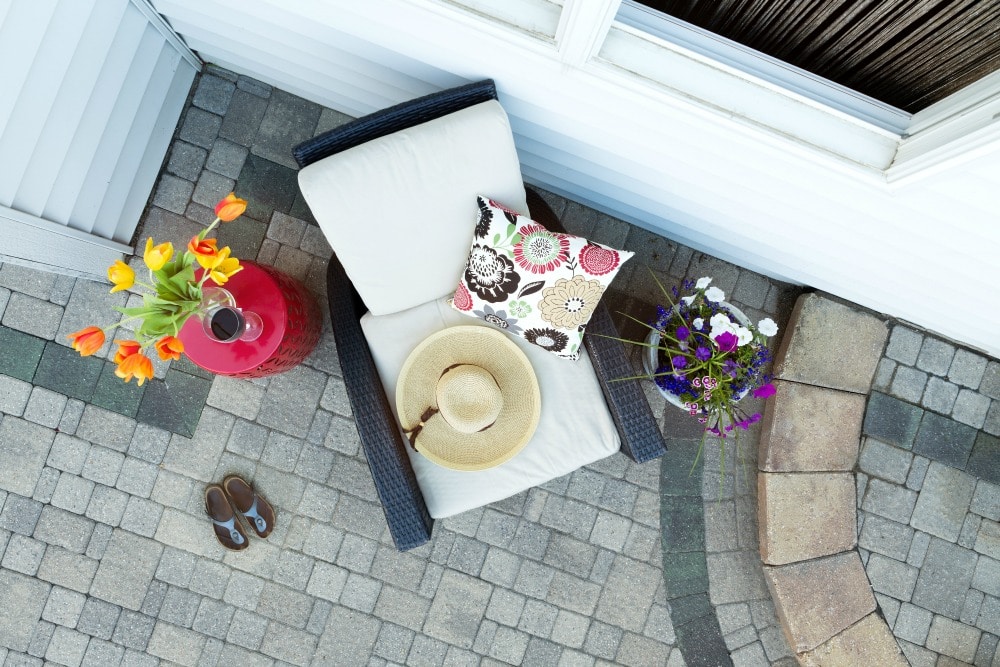 Create Your Own Backyard Oasis 
If you've visited your local home and garden store in the last few weeks, you likely noticed that the seasonal aisle is stocked full of BBQs, patio furniture and oh-so-fabulous backyard lounge chairs. Tempting as it is to toss out the old stuff that's been sitting in your garage all winter – or worse, taking a beating outdoors for the past few months – a few simple, budget-friendly tips and tricks will help to create your own backyard oasis.
Make old, new again. There's nothing worse than removing your patio furniture cushions from storage and realizing they're all stained. Before you think about tossing them, give them a clean. Mix OxiClean Versatile Stain Remover with water and let the cushion covers soak for 1 to 6 hours, depending on the severity of the stain. Wash as normal and your cushions should come out stain-free and looking brand new.
Create multiple spaces. Set up each area for different functions. Whether it's a reading nook, or an entertaining area feature both so you get the most out of your outdoor space.
Save with a little scrubbing. There's a simple solution for removing dirt, grime and stains from patio furniture and even your deck. Mix OxiClean Versatile Stain Remover with water (following the instructions on the package) and apply the solution to almost anywhere. Let stand for a few minutes and scrub as needed. It will leave everything looking neat and clean again.
Wheel your way to wonderful. Re-arranging rather than replacing is also a good way to give new life to your backyard. Consider moving planters and patio furniture to different spots within your space to give it a wonderful new look and feel. Remember, you're not alone when moving heavy items like lounge chairs… there are wheels to help! Wheeling your furniture around doesn't eliminate all the hard work but will put less strain on your back.
Add Colour. Nothing brightens up your space than adding some colour. Whether it's new cushions, a wall hanging, an outdoor rug or new outdoor tableware a pop of colour brings new life and vibrancy to your outdoor space.
Lighting and more. Add practicality and beauty with sting lights, and mosquito netting. You'll love the way this looks and provides safety from bugs while looking beautiful and whimsical.
Choose your plants wisely. Choose plants that are practical and beautiful – fresh herbs, potted flowers that can be cut to make arrangements and more. I love hanging baskets, large potted plants and bright, vibrant colours. Plus a combination of herbs (basil, parsley, cilantro, and rosemary are my favourites) you can garnish and cook with are a great addition too.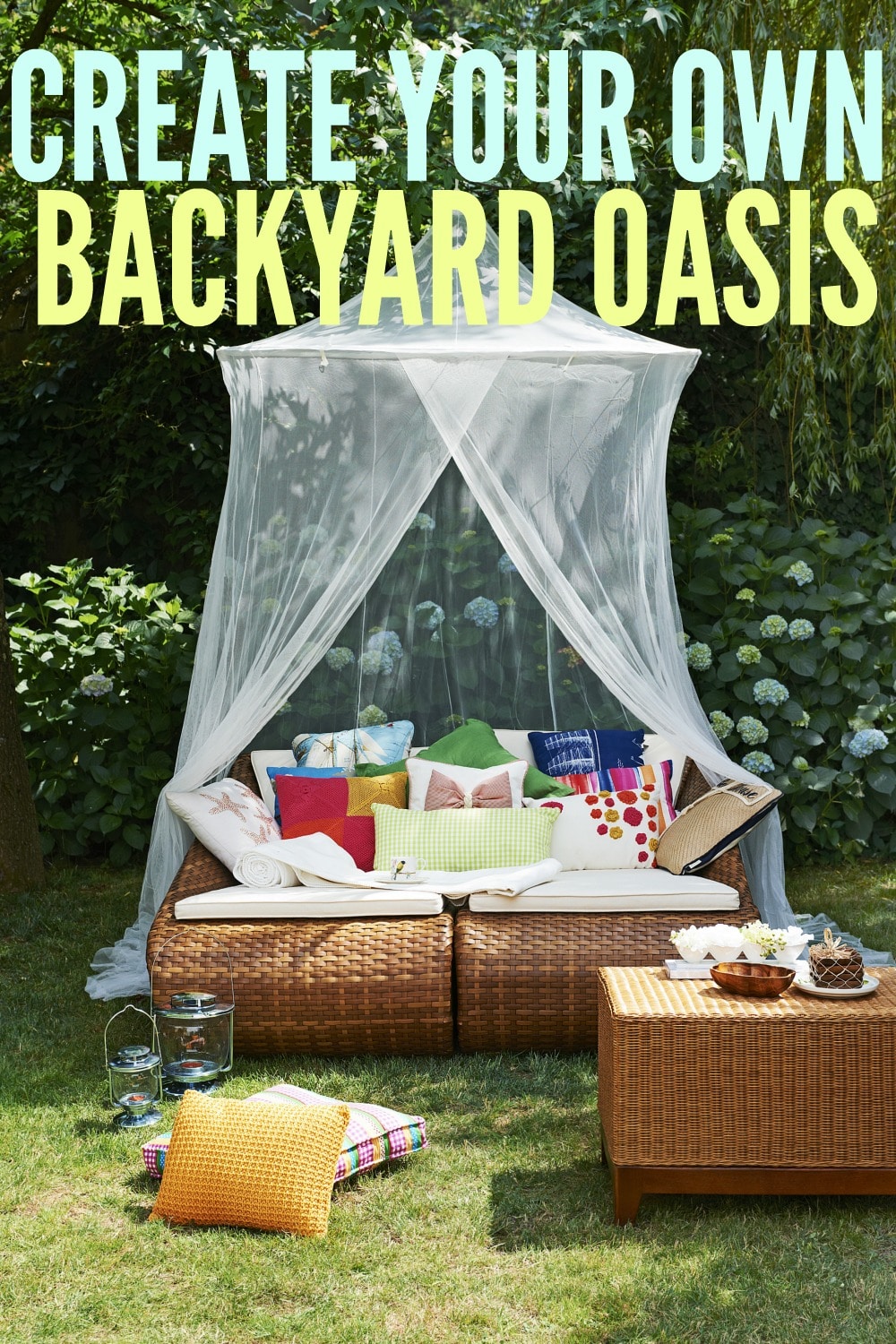 Be prepared that after a weekend of weeding and wheeling, your back, arms, legs – yes, your whole body – may be aching with pain. Make sure you leave yourself enough time on Sunday evening for a warm bath and a few hours curled up with a good book or movie. Before going to bed, rub and soothe your sore muscles (all of them!) with Rub A535 Extra Strength Heating Cream. The best things about this product is that it works fast and is non-greasy so you can put it on right before going to bed and it won't stain your sheets.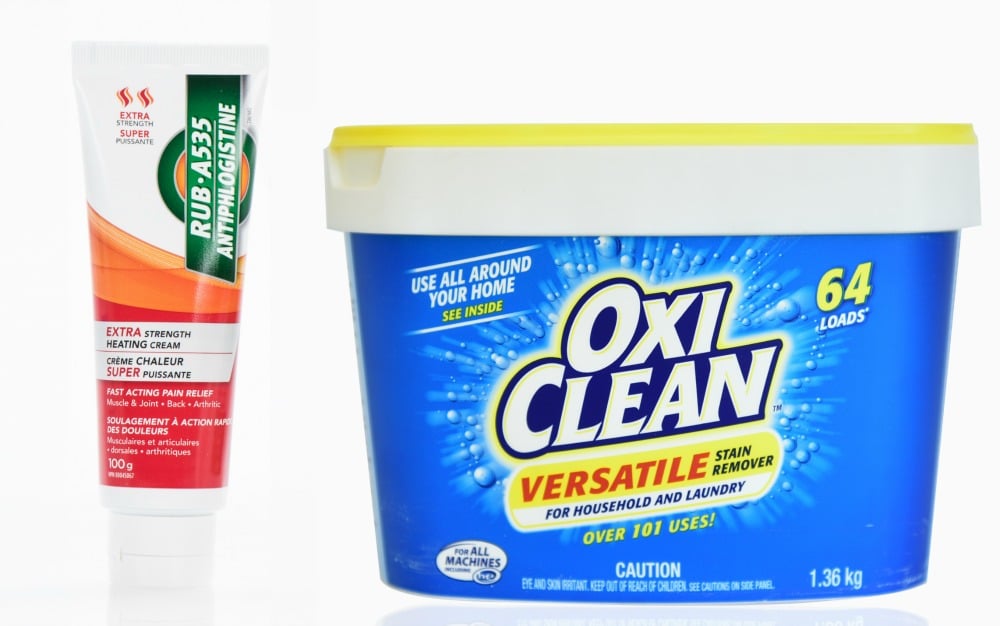 What are your top tips to create your own backyard oasis?
Disclosure: This post was sponsored by Church and Dwight Canada. As always, all opinions are my own.