Long before the Oscar buzz began I saw a preview for
Fences
and was drawn to the characters and storyline. Featuring two of my favourite actors I knew that a film starring Denzel Washington and Viola Davis would be something I would want to see. When I was given the opportunity to review the film I jumped at the chance.
Fences is a complex story with complex characters. From it's outset it was clear that I was not going to connect and identify with Denzel Washington's character, Troy but within moments of meeting Viola Davis's character, Rose I was drawn to her. A woman who sacrificed so much to only be betrayed and excluded by her husband, I felt a connection to her and her story. While the dialogue is fast (and slow) at some times the story is deep and touching. The acting is superb and while Rose, Troy and their children and neighbours' lives are much different from our own there are common threads of humanity that echo throughout. Love, betrayal, parent-child relationships, dreams, loss and many more.
Prior to watching the film I didn't realize it was adapted from a play so was surprised at how small a set was used. Fences is a touching story, and a beautifully made film. I would definitely recommend it to those that love a thoughtful, intelligent drama.
Fences Movie Review
Academy Award® winner* Denzel Washington directs and stars in the powerful and moving drama [easyazon_link identifier="B01N6DRZLO" locale="US" tag="famfooandtr06-20″]FENCES[/easyazon_link], arriving on Blu-ray, DVD and On Demand March 14, 2017 from Paramount Home Media Distribution. The film arrives on Digital HD February 24, two days before the 2017 Academy Awards ceremony.
Hailed by critics and audiences alike,
FENCES
has been nominated for four Academy Awards including Best Picture, Best Actor (Denzel Washington), Best Supporting Actress (Viola Davis) and Best Adapted Screenplay (August Wilson). 
FENCES
also has been named one of the best films of the year by the American Film Institute, Rolling Stone, Entertainment Weekly, the Producers Guild of America and more.  In addition, Washington and Viola Davis both won SAG Awards for their performances and Davis' transcendent performance earned her the 2017 Golden Globe Award for Best Supporting Actress and more than a dozen critics' group awards.
Adapted by legendary writer August Wilson from his own renowned play,
FENCES 
follows former Negro-league baseball player Troy Maxson (Washington) in 1950s Pittsburgh as he fights to provide for those he loves in a world that threatens to push him down. An unforgettable and timeless masterpiece,
FENCES
"connects with people on a deep, emotional level" (Glenn Whipp, Los Angeles Times) and pulses with the universal truths of love and forgiveness, despite what lies beyond your own
fence
.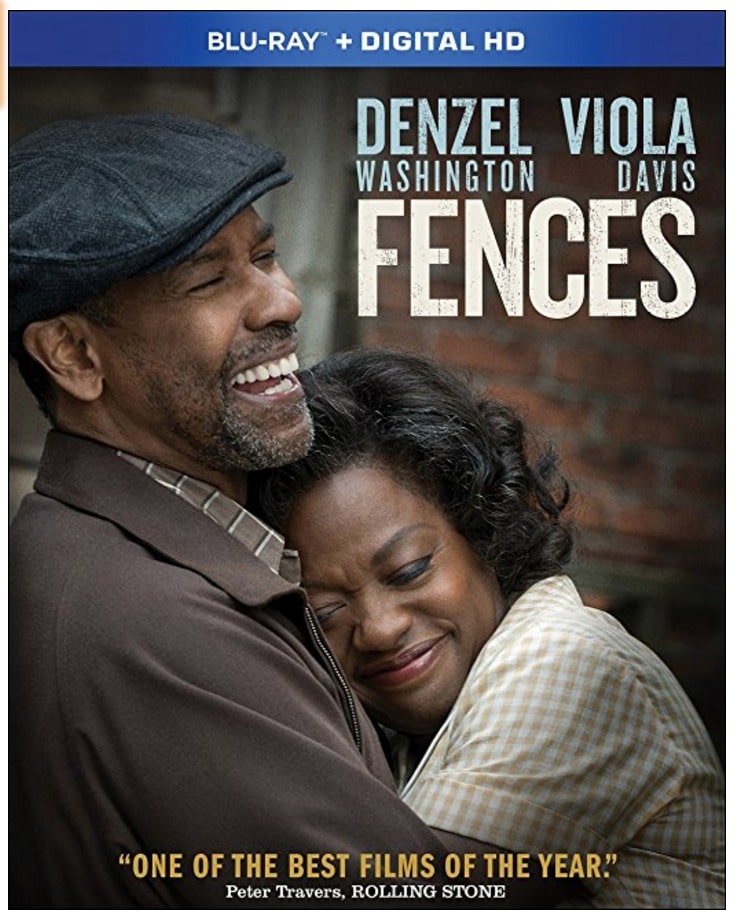 The
FENCES
Blu-ray Combo Pack includes over 30 minutes of fascinating bonus content. With interviews from the cast and crew, including actor/director Denzel Washington and Viola Davis, discover how August Wilson's Pulitzer Prize-winning play was adapted from stage to screen. Plus, visit the movie's Pittsburgh set, learn how Davis prepared for her award-winning performance, and much more. Buy
FENCES
on Blu-ray Combo Pack and get a bonus digital copy of
The Manchurian Candidate
(2004), starring Denzel Washington, for a limited time only.



FENCES

Blu-ray Combo Pack
The

FENCES

Blu-ray is presented in 1080p high definition with English 7.1 DTS-HD Master Audio and English Audio Description and English, English SDH, French, and Spanish subtitles.  The combo pack includes access to a Digital HD copy of the film as well as the following:Blu-ray
Feature film in high definition

Bonus Content:
o   Expanding the Audience: From Stage to Screen
o   The Company of Fences
o   Building Fences: Denzel Washington
o   Playing the Part: Rose Maxson
o   August Wilson's Hill District
*The Blu-ray Combo Pack available for purchase includes a Digital HD Version of the film that can be accessed through UltraViolet™, a way to collect, access and enjoy movies.  With UltraViolet, consumers can add movies to their digital collection in the cloud, and then stream or download them—reliably and securely—to a variety of devices.
FENCES Single-Disc DVD
The single-disc DVD is presented in widescreen enhanced for 16:9 TVs with English 5.1 Dolby Digital and English Audio Description and English, French, and Spanish subtitles.  The disc includes the feature film in standard definition.
Follow on social media for more info. Twitter, Facebook, and Instagram.