Disclosure: This is a sponsored post. As always, all opinions are my own. 
Do you find yourself struggling with your daily list and never having enough energy? I know that I am always looking for ways that Busy Moms Can Find More Energy to complete their daily tasks with so much happening in my life on a daily basis, I always feel like I need a few more hours, or at least a boost. That's why I was excited to share these tips and my thoughts about how V8+Energy® fits into my life.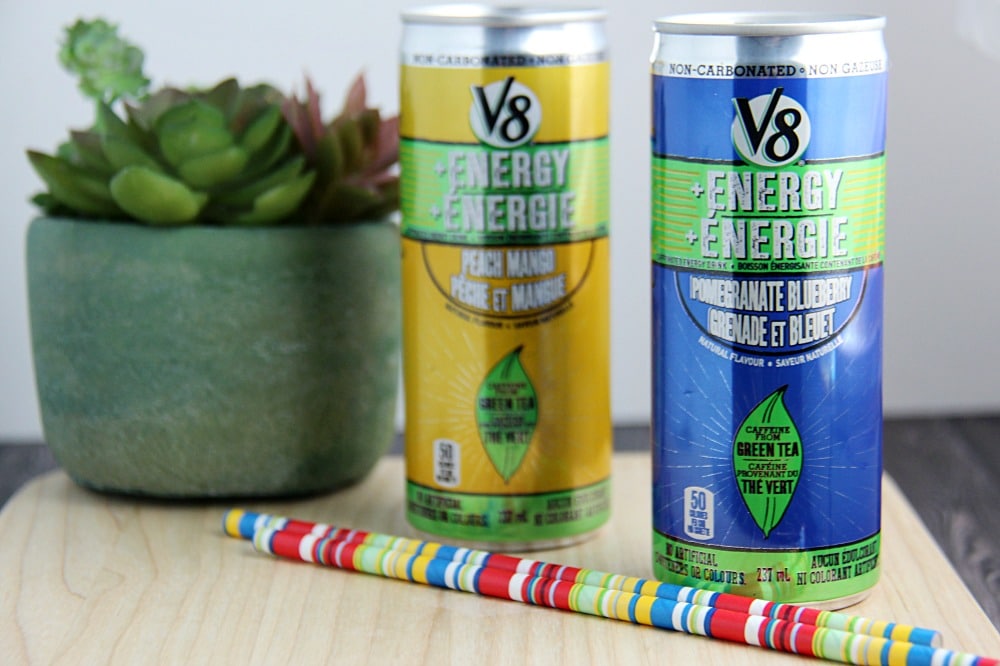 Busy Moms Can Find More Energy
Coffee or other caffeinated drinks have been my go-to when looking for a boost. Not anymore! V8 +Energy® is a new caffeinated energy drink that gives you a boost to add some extra energy into your day. I love that V8 +Energy® gets its caffeine from green tea and it's a non-carbonated energy drink. I like that the V8 +Energy drinks are not carbonated – perfect to enjoy any time of day! Plus, with no artificial sweeteners, flavours or colours and 50 calories per can it fits into my lifestyle perfectly. Grab some V8 +Energy® and follow these tips to make your life so much easier to manage.
Keep snacks on hand. I know that when I am running around trying to get kids to activities, finish up my own work, and simply do the basic things like grab groceries or do laundry I often find myself skipping meals. This isn't good and can lead to a lack of energy. The best option is to keep snacks on hand that I can have to help boost my energy.
V8 +Energy® is a great option to include in my snack stash. It comes in two great flavours, Peach Mango and Pomegranate Blueberry, and has 80 milligrams of caffeine to get me through the day.   I can keep these handy to grab and drink on the go, at my desk, or in the car and not feel any guilt about them. Plus, they are so delicious!
Keep a schedule everyone has access to. One of my best tips for busy moms is to keep a schedule that everyone has access to on a regular basis. If you have things orderly, you'll be surprised at how much more time you'll have. Couple that with the boost of V8 +Energy® that is 50 calories per can, and you can conquer anything on your list.
Working outside the home all day, juggling after school activities, and of course blogging, keep me on the go all the time. Without a good routine and day planner that everyone can check in with, I would never be able to manage. On those busy days, knowing I can grab a bit of extra energy that isn't going to leave me feeling bad afterward is a bonus.
Being a busy mom doesn't mean you have to constantly fight the battle of no energy. These tips are just what you need to conquer the tough days!
Get Your Coupon for V8+Energy® #V8FeelGoodEnergy
Head over to V8 for your $1 off coupon so you can see how V8+Energy® fits into your busy lifestyle.