As someone who cooks for a family it's hard to come up with romantic dinner for two recipes luckily our friends at Green & Black's have  three delicious recipes that your date will love. Whether you are preparing a special meal for Valentine's Day or date night you will love the creations created by renowned foodie and registered dietician Abbey Sharp, Green & Black's has created a delicious, three course chocolate-inspired meal that will ensure your Valentine's Day is unforgettable. Each course features, decadent, romance-inducing ingredients such as chilies, almonds and pomegranate, combined with premium organic chocolate. These delicious recipes will be sure to add sweetness and sparks to your romantic evening.
"Valentine's Day is a great time to stay in and surprise your loved one with a delicious dinner. With the right ingredients, you don't need to be a five star chef to create an impressive meal," says Abbey Sharp. "I believe a meal can be indulgent, but also nutritious, leaving you feeling good – and romance peaks when you feel good about yourself inside and out. That's why recipes that are based on quality ingredients, and are truly delicious are so perfect for a romantic evening!"
I can't wait to surprise my love with these fantastic recipes. As lovers of Green & Black's chocolate it's the perfect combination of food, chocolate and time together. Give these romantic dinner for two recipes a try and let us know which one is your favourite!
Romantic Dinner For Two Recipes
Chocolate Chili Covered Almonds with Hemp Hearts
Chili peppers are the perfect feel-good ingredient known to produce endorphins. Presented on a cheese board, these decadent chocolate chili almonds are dipped in premium organic chocolate and lightly dusted with dash of heat to optimize flavour.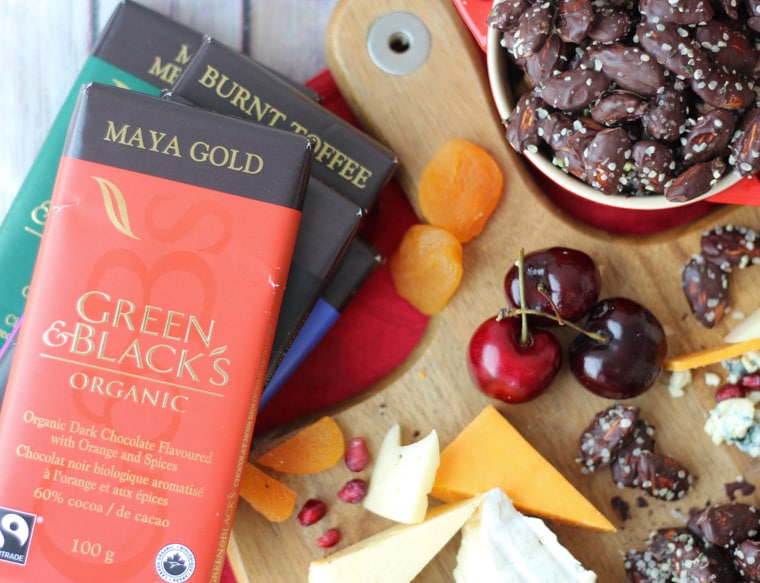 Skirt Steak with Chocolate Almond Pesto
Chocolate is best known for its ability to increase serotonin (the feel good hormone) levels in the brain. This delectable dish combines the best of both worlds: succulent skirt steak with a sweet chocolate almond and savory pesto rub.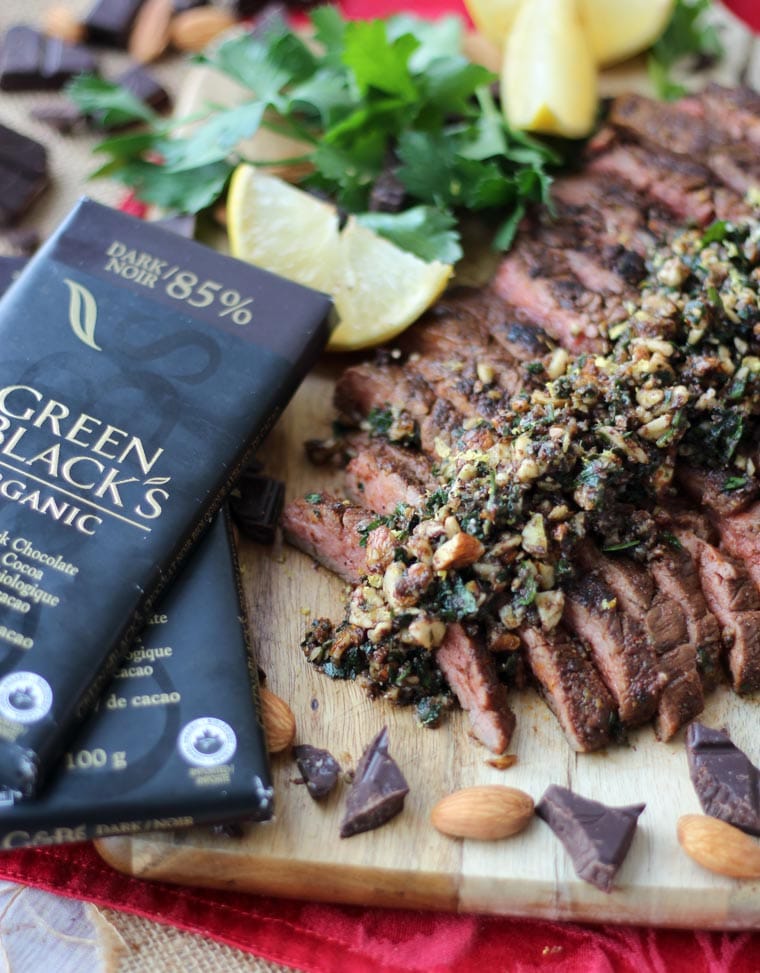 Dark Chocolate Tahini Mousse with Pomegranates & Pistachios
This sweet treat is decadently exotic, paired with antioxidant-rich pomegranates and heart-healthy pistachios for a unique take on a classic chocolate mousse.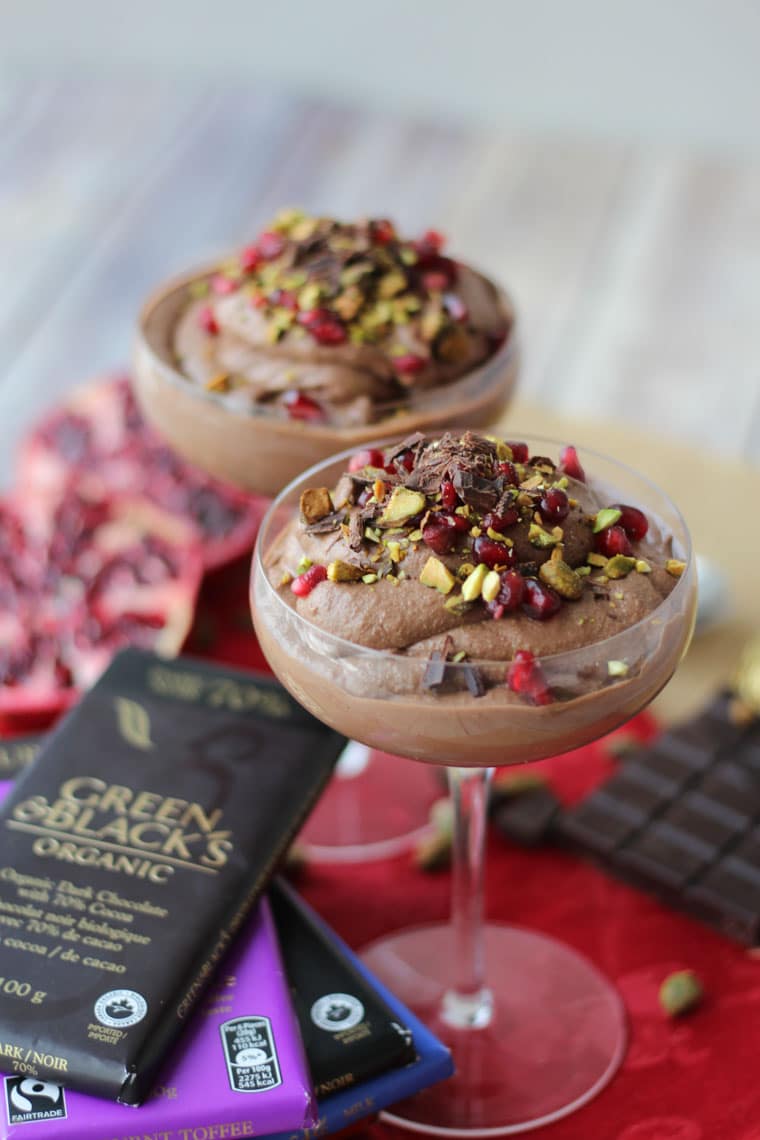 Share Your Love of Premium Chocolate
Green & Black's has something for every palette: smooth, sweet, milk and dark, the perfect premium organic chocolate to sweeten up your loved one. (MSRP: $4.49)
White
Dark
White Chocolate
Burnt Toffee Dark Chocolate
Maya Gold Dark Chocolate
Milk
70% Dark Chocolate
Milk Chocolate
Mint Dark Chocolate
Butterscotch Milk Chocolate
Ginger Dark Chocolate
Almond Milk Chocolate
85% Dark Chocolate
Sea Salt Milk Chocolate
Hazelnut and Currant Dark Chocolate
Green & Black's products are available at natural health and organic food shops, independent specialty food stores and select major retailers such as Whole Foods, Sobey's, Metro, Loblaws and Shoppers Drug Mart.

About Green & Black's
25 years ago, Green & Black's was launched – a high quality, dark, bittersweet chocolate bar, packed with 70% cocoa solids. Founded by husband and wife team Craig Sams and Jo Fairley, Green & Black's was born in their flat in Portobello Road in 1991. The Green & Black's brand has now expanded into different formats from small bars to Easter products whilst maintaining its uncompromised values on ethics and quality. With 12 unique bars in the portfolio, Green & Black's is committed to creating great tasting, innovative and ethically sourced chocolate. For further information on Green & Black's and to learn more about the brand's history and ethical production of premium chocolate, please visit http://www.greenandblacks.co.uk
Disclosure: I was paid in chocolate – lots of delicious Green & Black's Chocolate. As always, all opinions are my own.