From school lunches to on the go snacks it's important to ensure you have allergy free snacking options. Thank goodness for Enjoy Life Foods line of delicious snack products the whole family will enjoy. Whether you have food allergies or are sensitive to certain food products you know it's important to have snacks available that are suitable for your diet. Plus, with many schools focusing on lunches free from peanuts, eggs, dairy etc. these options are idea for your lunchbox. Their new line of mini cookies are our new favourite snacks.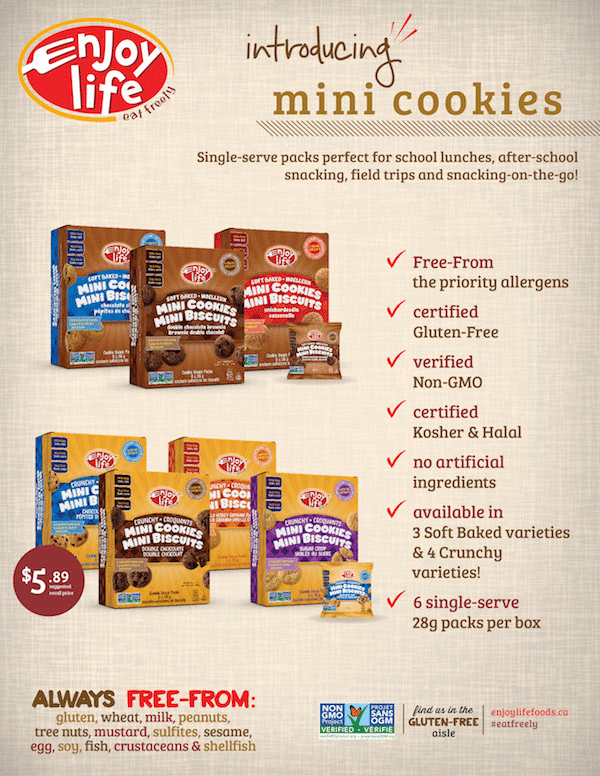 Allergy Free Snacking wit Enjoy Life Foods Mini Cookies
Soft Baked Mini Cookies – Chocolate Chip, Double Chocolate Brownie, Snickerdoodle
Crunchy Mini Cookies– Chocolate Chip, Double Chocolate, Vanilla Honey Graham, Sugar Crisp
We love that Enjoy Life Cookies are school safe and great to have on hand when friends visit that have food allergies/dietary restrictions. Plus, the best part of all is they are delicious! With their single-serve packages you can pop them in your purse, lunch bag or anyplace on the go you might need a snack. Great for travel and road trips. A delicious treat without the most common allergens: gluten, wheat, milk, peanuts, tree nuts, mustard, sulfites, sesame, egg, soy, fish, crustaceans and shellfish.
Looking for a snack other than cookies? Check out Enjoy Life Foods extensive product line including Plentils and other savoury snacks.
Enter to win an Allergy Free Snacking Gift Pack
Enter to win a $50 Allergy Free Snacking gift pack from Enjoy Life Foods filled with all of your favourites. Perfect for school lunches and on the go snacking.
Contest is open to Canadians 18+ and ends on December 15 at 11:59pm.
Happy snacking!