Hiding vegetables in our kids food is an age-old parenting trick. It's the reason that my favourite pasta sauce has hidden veggies and I use my [easyazon_link identifier="B013M4VV94″ locale="US" tag="famfooandtr06-20″]Vitamix[/easyazon_link]to blend up a variety of creations to get more diverse veggies into my boys. When I heard about [easyazon_link identifier="1501130390″ locale="US" tag="famfooandtr06-20″]Sneaky Blends: Supercharge Your Health with More Than 100 Recipes Using the Power of Purees[/easyazon_link] I knew this was the cookbook for me! With 15 base blends used to create 75 delicious recipes I love this cookbook for it's creativity and easy to make recipes.
About Sneaky Blends:
Starting off with signature base blends such as Butternut Squash-Apple and Black Bean-Blueberry-Baby Kale, Missy shows readers how to add these nutrient-packed blends into delicious recipes to kick-start a healthy lifestyle. With recipes such as Seared Salmon with Dill Sauceusing the Broccoli-Pea-Spinach Base Blend, Meaty Mushroom Bolognese using the Carrot-Sweet Potato Base Blend, and the Skinny Chocolate Cake using the Black Bean-Blueberry-Baby Kale Base Blend,SNEAKY BLENDS is packed with delicious, simple recipes whipped up with nutrient-dense purees to create leaner, cleaner yet ridiculously tasty meals. It is the only cookbook readers will need to detox and transform their overall health while still enjoying delicious meals.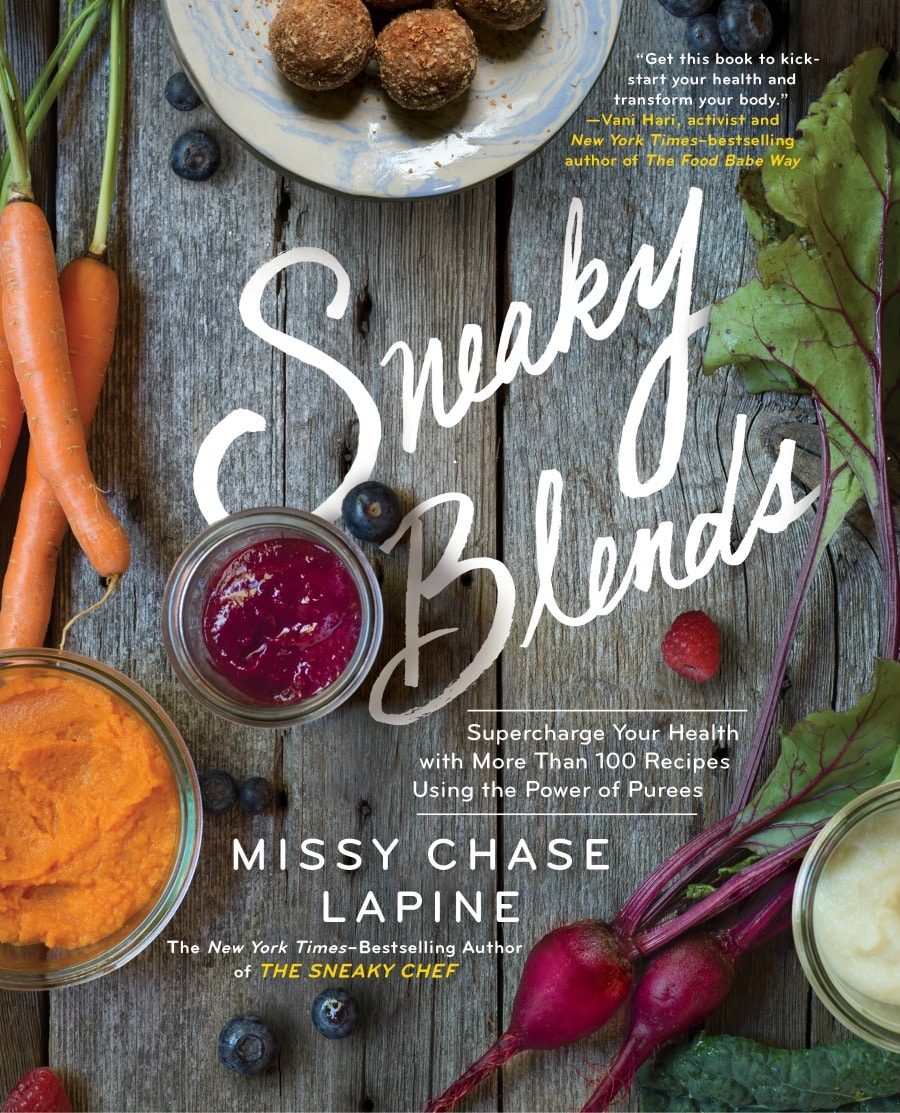 Showcasing one of the recipes in the cookbook we've chosen the Chicken Satay with Coconut Lime Peanut Dipping Sauce featuring one of the delicious base blends – Carrot-Sweet Potato. The combination of the base blend in this recipe makes it not only delicious but the added veggies take the nutrient content to a much higher level than a traditional recipe. You'll love making these combinations and surprising your friends and family with the ingredients!
Chicken Satay with Coconut-Lime Peanut Dipping Sauce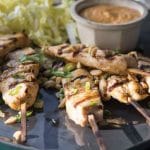 Chicken Satay with Coconut-Lime Peanut Dipping Sauce
Anything on a skewer turns an everyday meal into a party. The coconut and lime in this recipe add a Thai twist to traditional peanut sauce. Ordinarily, this dipping sauce is super-heavy, but the Carrot–Sweet Potato Base Blend and coconut milk lighten it up. Note: If you're allergic to peanuts, you can sub in a peanut butter alternative like my Sneaky Chef No-Nut Butter (thesneakychef.com).
Ingredients
Ingredients for the peanut dipping sauce:

1/4

cup

smooth

natural peanut butter

1/2

cup

light coconut milk

6

tbps

Carrot–Sweet Potato Base Blend

page 86

4

tsp

reduced-sodium soy sauce

or gluten-free tamari

2

tbsp

freshly squeezed lime juice

1/8 to 1/4

tsp

red pepper flakes

2

tbsp

minced garlic

Ingredients for the chicken:

Juice of 1 orange

Juice of 1 lime

12

ounces

boneless

skinless chicken breasts, cut into 12 strips

Peanut dipping sauce

below

12

wooden skewers

2

cups

shredded cabbage

2

tbps

chopped green onions

for garnish

2

tbps

chopped peanuts

for garnish
Instructions
Make the sauce: Whisk together all of the sauce ingredients in a large bowl.

Make the chicken: Pour the orange and lime juice and half of the peanut sauce into a large resealable plastic bag. Add the chicken strips, squeeze out the air, seal the bag tightly, and shake to distribute the marinade. Allow the chicken to marinate in the refrigerator for at least 1 hour and up to 24 hours, turning the bag occasionally. Soak the skewers in water for 30 minutes, to prevent burning. Preheat a grill (or grill pan) to medium-high. Remove the chicken (discard the marinade) and push 1 skewer through the long end of each chicken strip. Grill the chicken for 3 to 5 minutes per side, until cooked through. Place 1Ž2 cup of the cabbage on each plate and top with warm chicken skewers; sprinkle with green onions and peanuts. Serve each with 2 tablespoons of the remaining peanut dipping sauce on the side, for dunking.

SNEAKY BLENDS by Missy Chase Lapine. Copyright © 2016 by Missy Chase Lapine.
Carrot-Sweet Potato Base Blend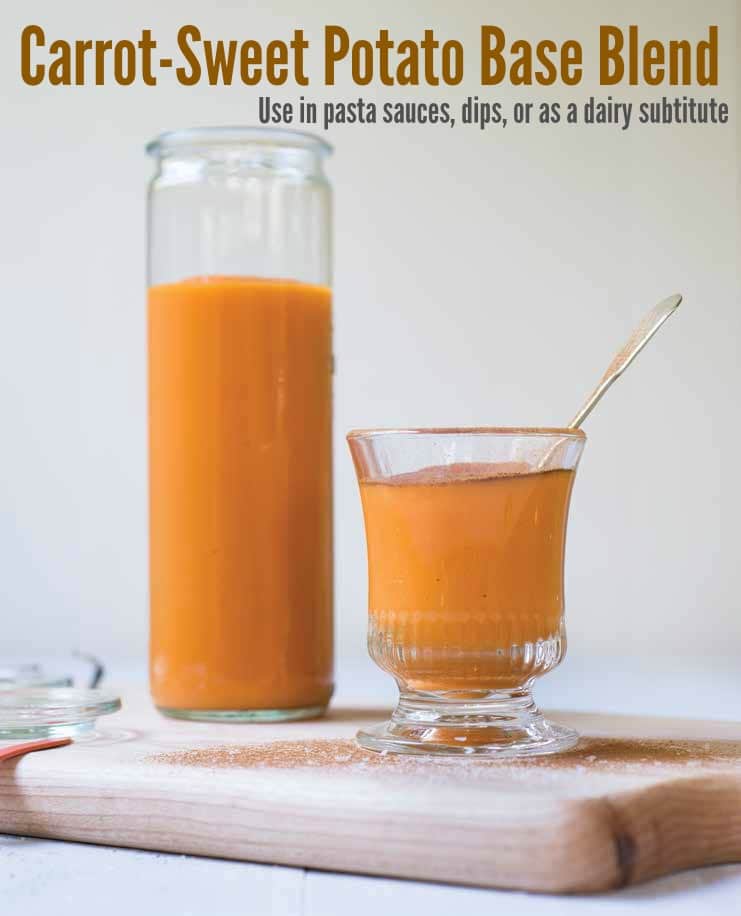 Carrot Sweet Potato Base Blend
This blend takes a bit more time than some of the others, but I have to tell you— it's my favorite child! It works in almost anything thanks to its creamy, deliciously sweet flavor profile. You can use it as a base for pasta sauce to take down the acidity, and it replaces cheese or butter in sweet and savory recipes.
Ingredients
2

medium sweet potatoes or yams

peeled and roughly chopped

6

medium to large carrots

peeled and roughly chopped

Filtered water
Instructions
Place a steamer basket into a large pot, pour in a few inches of tap water (make sure the water is below the bottom of the basket), and set it over high heat. Add the sweet potatoesand carrots and steam, covered, for 15 to 20 minutes, until fork-tender.

Puree the veggies with 2 to 3 tablespoons of filtered water until smooth, adding more water as necessary.

SNEAKY BLENDS by Missy Chase Lapine. Copyright © 2016 by Missy Chase Lapine.
More About Chef Missy Chase Lapine
Missy Chase Lapine is best known for her game changing "Sneaky Chef" series of books including her New York Times bestseller, The Sneaky Chef: Simple Strategies for Hiding Healthy Foods in Kids' Favorite Meals. The Sneaky Chef has transformed the way America feeds its families following her unique method of using "blends" to make every meal more nutritious. In addition to her 7 books, Missy is also the founder of Sneaky Chef Foods LLC, a company committed to developing products that improve children's health including Sneaky Chef No-Nut Butter (a wildly successful peanut butter alternative) and pasta sauces made with 8 hidden veggies. Sneaky Chef Foods are sold nationwide. Missy has appeared on Today and has made hundreds of national TV, radio and print appearances. She is a regular contributor to The Huffington Post and Daily Meal and is also a member of the Children's Advisory Council for NewYork-Presbyterian Morgan Stanley Children's Hospital, where Sneaky Chef meals are served to patients. Missy's fresh, irreverent approach to nutrition can be found on her website, TheSneakyChef.com, and on Facebook, Twitter, Instagram and Pinterest.
Enter to win a copy of Sneaky Blends
Contest is open to CAN/US residents 18+ See Giveaway Tools for all details.
Check out some of our other Cookbook Reviews.
*This post contains affiliate links.