Charlottetown PEI is a great destination for families, business travellers and couples. With tons of beautiful scenery, wonderful hotel options, and resorts nearby, it is definitely a must-see destination in Canada. We loved a few specific things to do in Charlottetown and thought we would share them with you. We believe Charlottetown PEI is the ideal destination.
Top Things To Do In Charlottetown PEI
Prince Edward Island is such a wonderful destination, but Charlottetown PEI is the cream of the crop giving you tons of options for entertainment, culinary treats, and shopping. These places are both fun and family-friendly. They are ideal for any family or couple to enjoy together and create lasting memories of their time on PEI.
Harbour Hippo: To tour the area on land and water, look no further than Harbour Hippo. Whether you choose the double decker Hippopota Bus, or the amphibious Hippo tour that goes in the water, your family will love the up close and personal guided tour of the area. Charlottetown has many hidden gems, and this is one fun and easy way to view everything with a tour guide that loves sharing about your destination. While the tour is pricey it is a fun way to see the harbour and learn more about Charlottetown PEI. Plus, kids love that the bus goes into the water and on the streets – it's very cool to watch and fun to ride on too! We recommend getting there early or you won't necessarily get a spot seated together. Be sure to book in advance as it sells out quickly and when cruise ships are in harbour it has limited availability.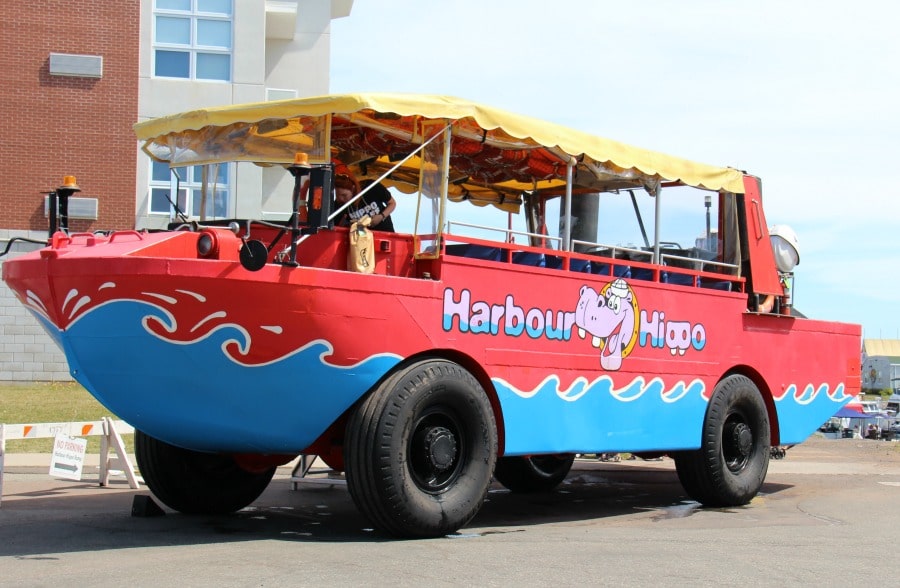 My boys absolutely loved seeing this Canadian Coast Guard ship in the Charlottetown Harbour!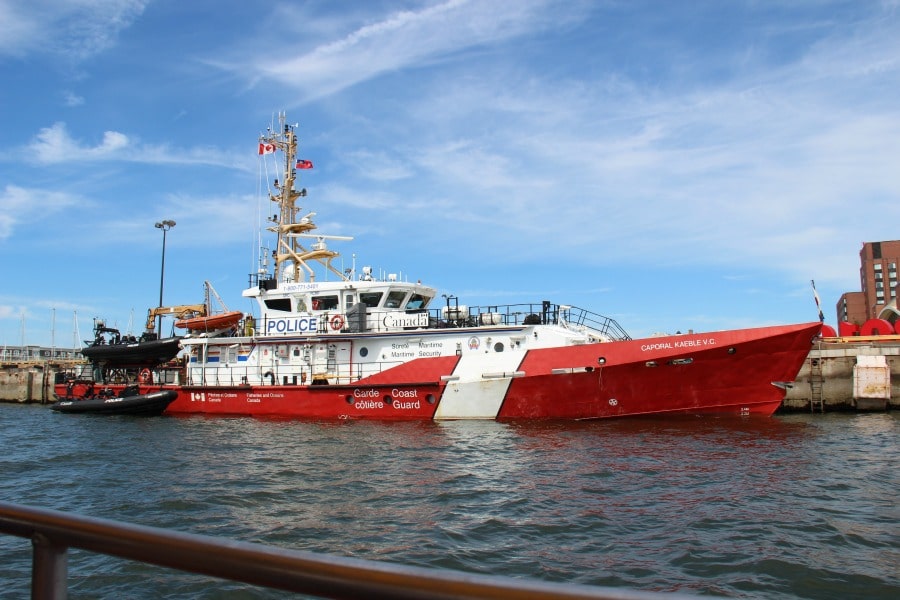 Loved that the Harbour Hippo showed the city by land and sea. A unique and fun way to explore the area and learn more about the city.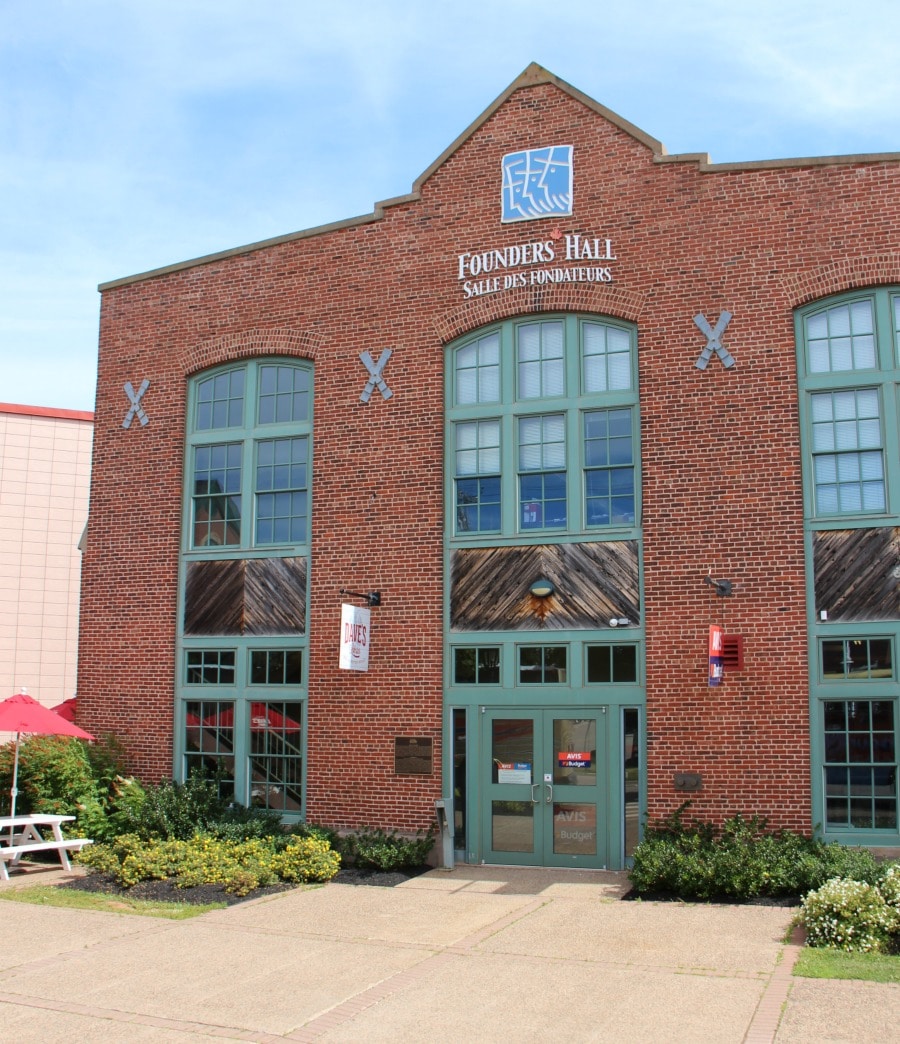 Cows Creamery: Another favorite for everyone in the family is Cows Creamery. If you like fresh butter or the ultimate local made cheese, look no further than this destination. Enjoy a tour of the facility to learn about their process, then stop by to grab a scoop of ice cream, a slice of cheese, or a bit of butter for your toast. This is a fun and casual tour for a foodie or explorer. It's definitely a family-friendly destination, and one that is a great educational resource for a family wanting to teach their kids more about the process behind some of their favorite snacks. While there are a couple of Cows locations in Charlottetown PEI the factory is just a short drive away. Whichever you visit make sure to have a scoop of the PEI Strawberry and some Cows chips for me!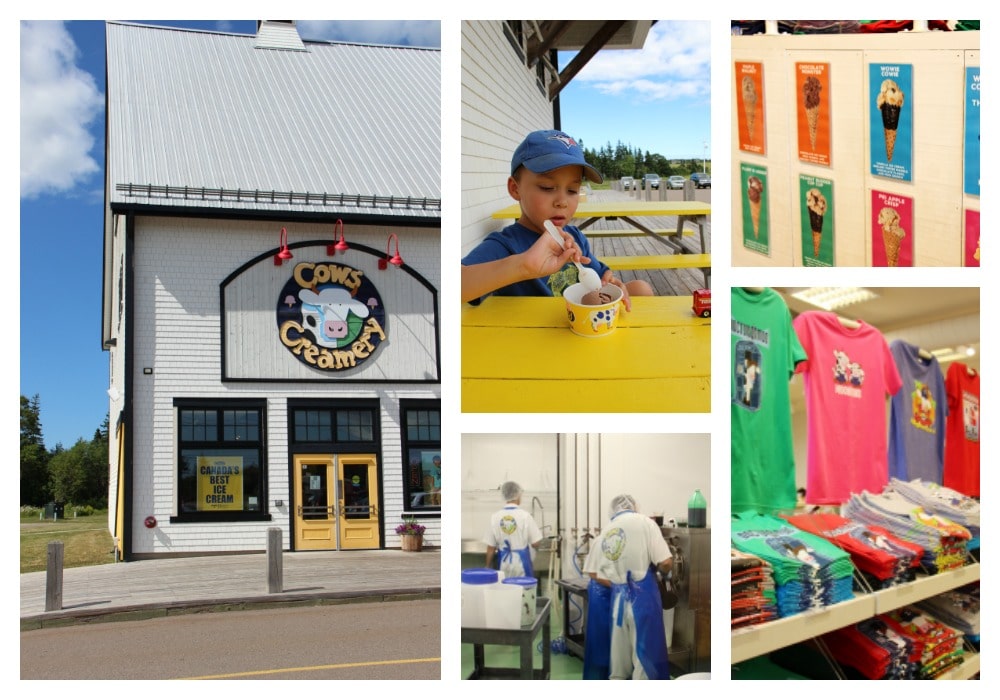 Victoria Row: This area is a great destination for the Anne of Green Gables fan. With the special Anne of Green Gables Store, along with many other amazing shops, restaurants, and venues, it is a favorite for many travellers. Victoria Row features beautifully maintained historic structures reminding you of a bygone era. Alongside the beautiful architecture, you can enjoy culinary delights fresh from the water at some of the local seafood restaurants, a luxurious cup of coffee on the sidewalk, or grab a beautiful hand made piece of jewelry as a memento from your trip.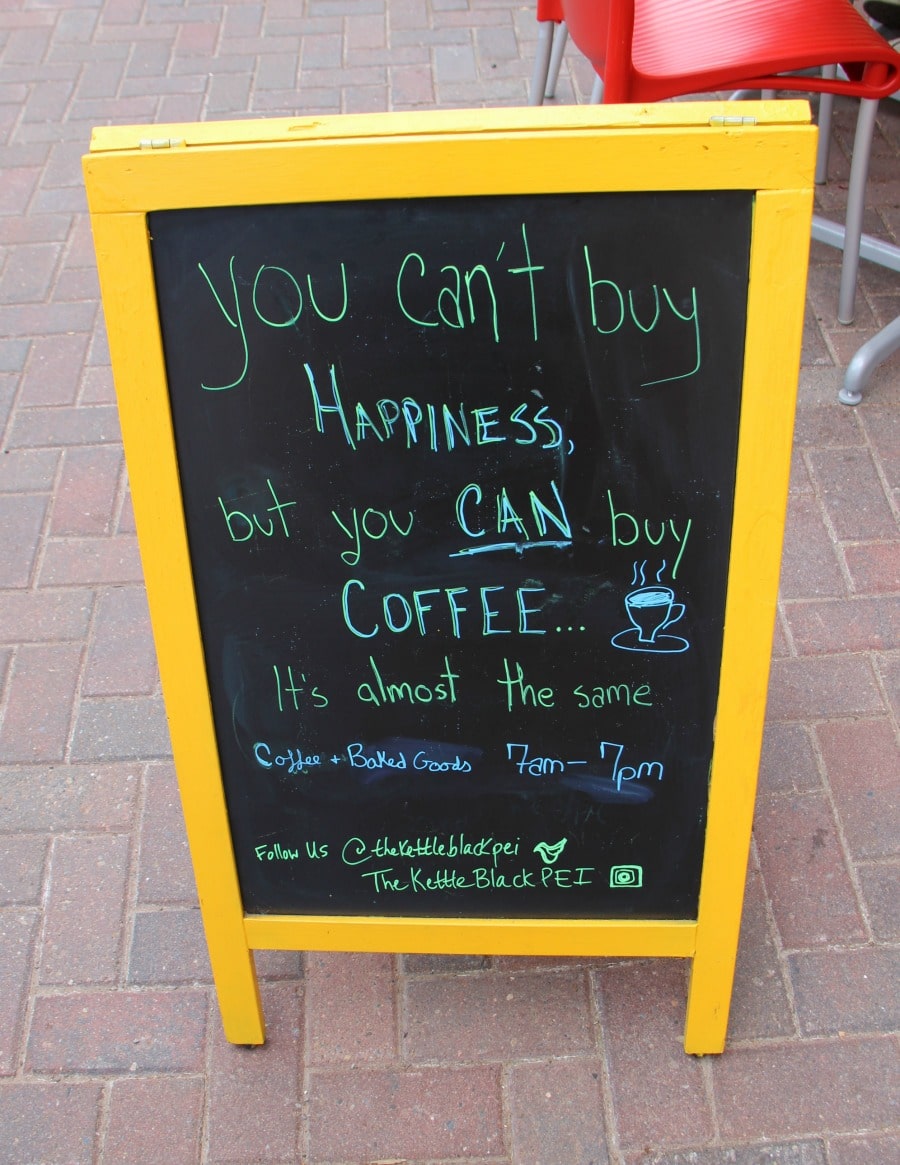 Peakes Wharf: This waterfront destination in Charlottetown PEI is a great place to spend hours walking, exploring, and enjoying the fresh sea air. Whether you want to take a guided boat trip around the island, or you simply want a delightful seafood meal served in a beautiful setting, this is the place to come. Tons of shops line the wharf giving you a chance to browse for trinkets, gift items, jewelry, or that souvenir you can't leave without. This casual and fun destination is perfect for any family or couple wanting to explore the city.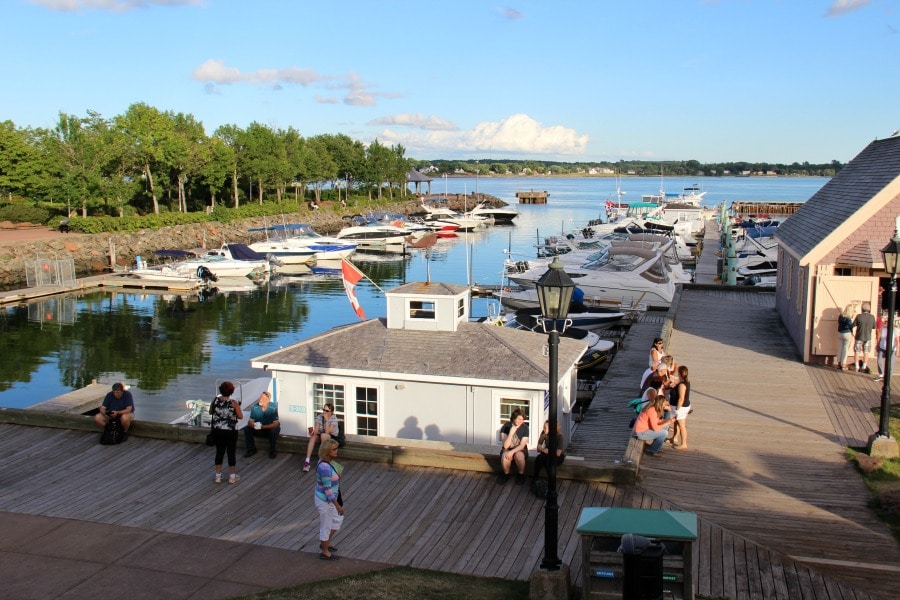 We had a great kid-friendly meal at Peake's Quay Bar and Restaurant that overlooks the Wharf. A great place to listen to the summer concert series and have a great meal.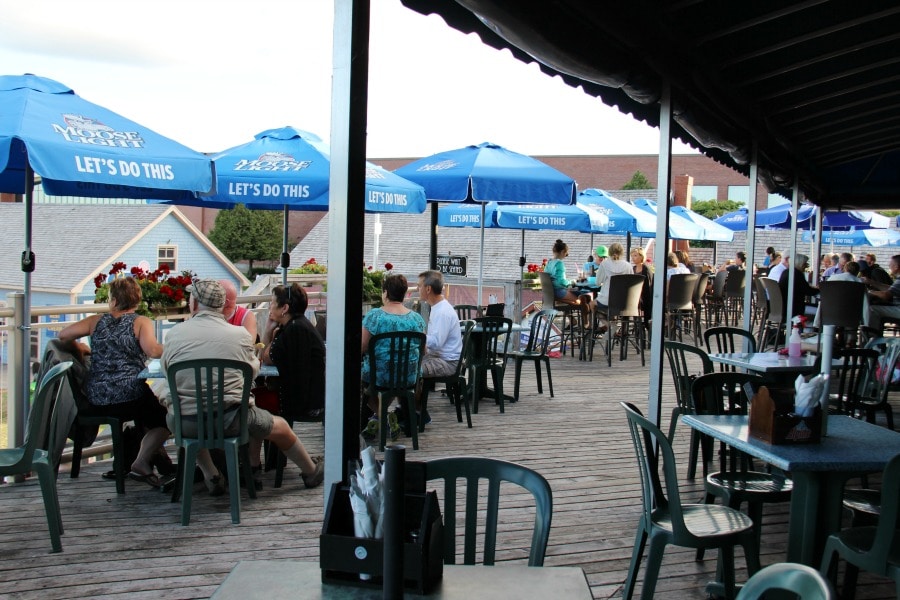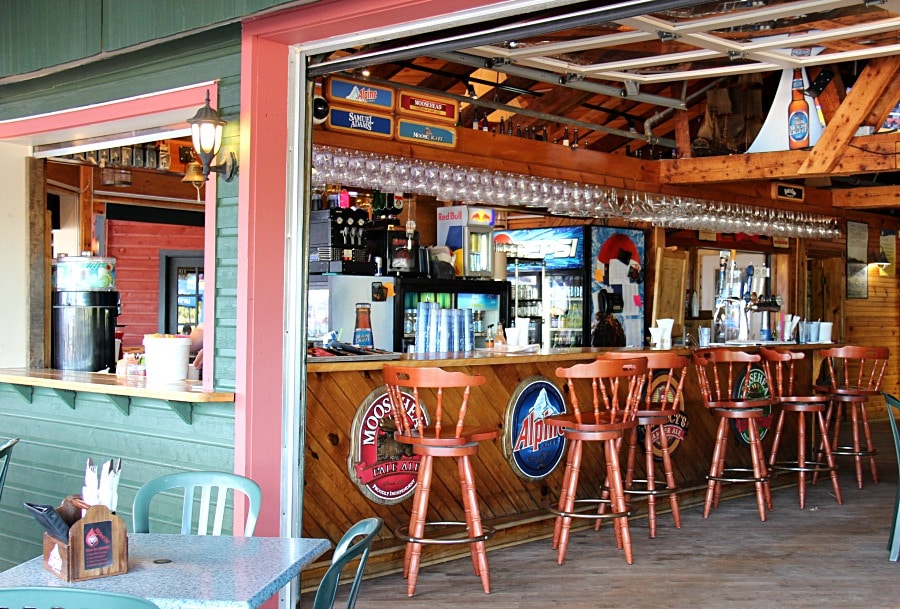 This list is a great place to begin as you look for things to do in Charlottetown PEI. Whether you are taking a last minute family vacation, or going for a fun-filled romantic weekend, Charlottetown is an ideal destination. Staying in Prince Edward Island for longer? Check out some of our favourite things to do in Brackley Beach, and why we think you should definitely stay at Shaw's Hotel.