Interactive learning is the best learning. Experts and moms all agree on this. But how do we make learning a more engaging and interactive experience? The key is to make it fun and use today's technology to our advantage. When I look around these days, it's hard for me to imagine that there was a time when rotary phones were the norm, and call waiting was a big deal.
Yes, technology has come a long way. I mean, I have a phone that's twice as powerful as my first computer! Some people are down on tech, but I love it. It has made interactive learning so much more accessible to the kids. These days, children have tablet skills by age 6, and Osmo is taking advantage of this with their interactive learning dock for the iPad. It's pretty amazing.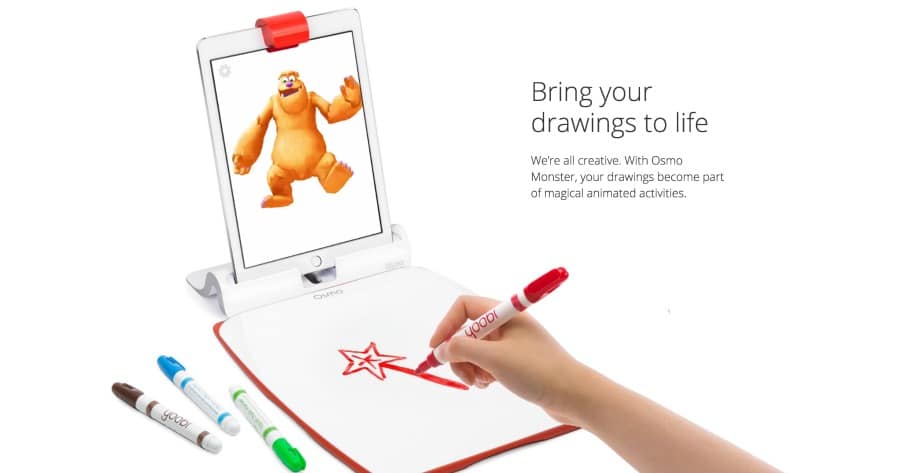 What is Osmo
Osmos is a unique way to get kids incredibly involved in their learning process. Osmo is a system that allows children to play educational games on the iPad with their hands, not their fingers. The Osmos consists of a dock for the iPad and a senors that detects what's in front of the iPad. Using this system, children can play educational games in a completely new way – a combination of app and physical manipulation. It helps make concepts easier for children to grasp and FAR more fun for them to learn. It's SUPER cool.
Osmo Monster
One of my favorite interactive games from Osmo is Monster. Osmo Monster is a fully interactive experience which allows children to draw shapes and see them brought to life by the Osmo Monster through magical animated activities. The main character is MO, an adorable monster friend who loves to take your children on all kinds of adventures.
Currently, Mo helps with interactive learning through The Magic Show game. Using their Osmo Pad and markers, children draw a magic wand, which Mo then uses to bring their other creations to life, taking them on an interactive, creative adventure that's full of fun and mental stimulation.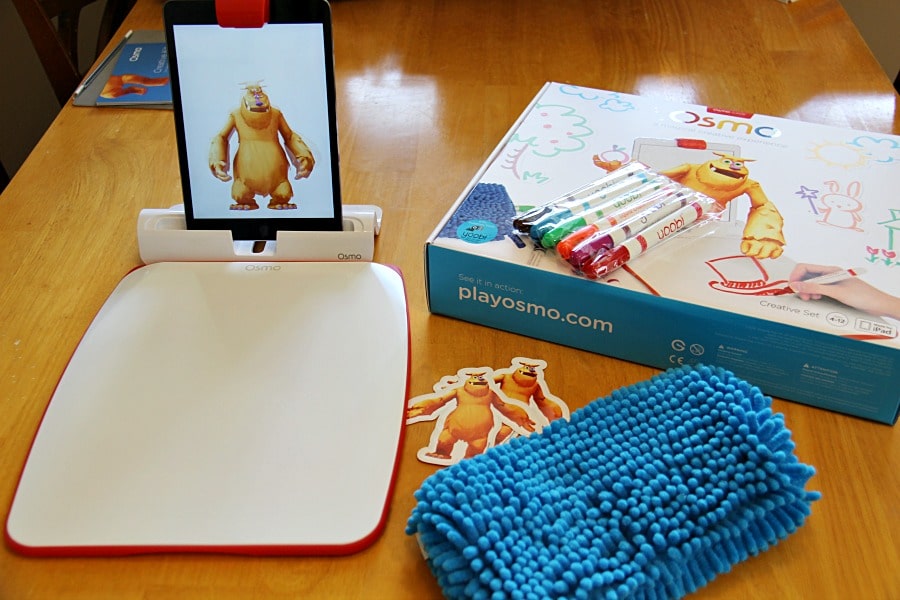 Although this is currently the only game available to Osmo Monster, two more interactive activities are coming which will be absolutely free updates to all Osmo Monster owners. And with a wide variety of options, the replay value for all of these is high, so you're not looking at a one hit wonder.
Oh, and did I mention that each complete activity can be recorded, so your child can share their amazing artistic adventure with the family? We had so much fun laughing at the creations the boys drew. Love that they are working on the fine motor skills while also having fun and seeing their pictures come to life!
Osmo and Osmo Monster
Osmo makes interactive learning more fun and unique than ever before. With their one-of-a-kind interactive hardware, children can experience learning in a way they can't with anything else. Games like Osmo Monster help make interactive learning fun by encouraging an unprecedented level of interactivity which helps keeps kids excited about what they're doing and learning. Check it out!
Follow Osmo on social media for more details and information:  Twitter, Facebook, Instagram, and YouTube.