One trip to Brackley Beach PEI and you will know why it's a much loved travel destination for visitors from Canada and around the world. Located about 30 minutes from Charlottetown and 20 minutes from Cavendish it's centrally located to other popular destinations.
From the moment we entered the area and explore we fell madly in love with the beautiful scenery, the laid back way of life and a region full of fun activities. Brackley Beach PEI is perfect for every kind of travel – adventure, family, couples, relaxation, foodie and fitness. From beautiful destinations for the amazing views, to the ideal casual dining or fun evening out, Brackley Beach PEI offers something for everyone.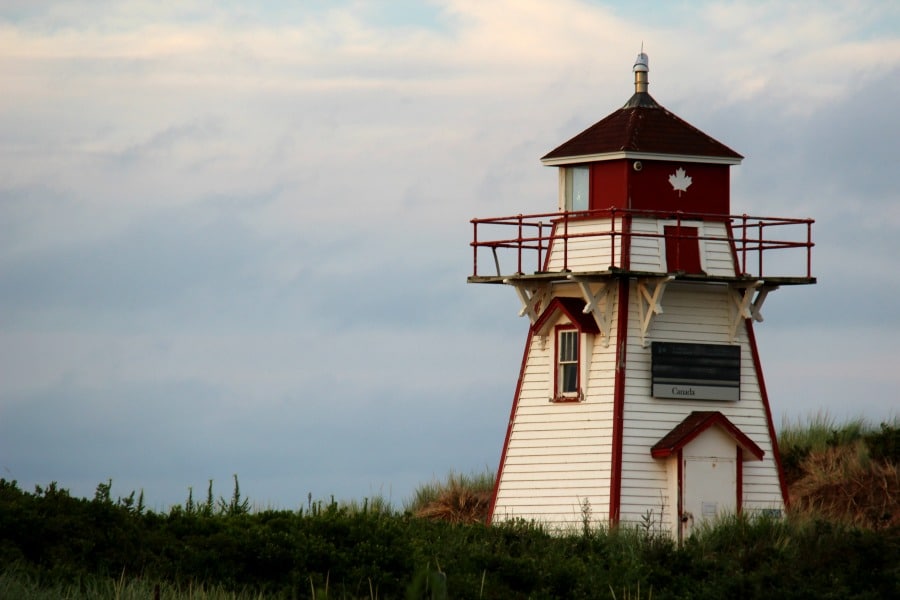 Things To Do In Brackley Beach PEI  
Covehead Lighthouse: Built in 1967 this lighthouse is located in the National Park and at the entrance to Covehead Bay. The lighthouse features a plaque remembering those fishermen who perished in the Yankee Gale of 1851. We loved the pathways up to the lighthouse and the view of the beach from it's location. The boys and I explored the pathways around and loved checking out what the nearby beach had to offer.
Brackley-Dalvay: Walking up the wooden path to one of the many beaches in this beautiful area leaves one breathless at the views of the dunes and beaches. With a large variety of beaches you can choose to be on the main beach with lots of people and surfguards or choose a less populated beach all to yourself. It's truly amazing to me that we could spend all day on a beach and only see a handful of people, then walk or drive 10 minutes further and see hundreds. One of the reasons that this region is so wonderful to visit because you can choose the type of experience you want to have.
My boys loved looking for seashells, running in and out of the waves and digging in the sand. They were mesmerized by how red the sand became when wet and how soft it was when dry. The dunes are also magnificent in this area. They appear to touch the sky with their tall grasses and soft sand structures. While you cannot climb the dunes (for environmental and erosion reasons) walking along the beach they are a unique backdrop to the majesty and power of the ocean. What better way to spend vacation then exploring the ocean, beach and seaside with your kids? Nothing in my opinion!
If you are planning a beach day make sure you bring the food, snacks and drinks that you will need. While Brackley Beach does have an area with surfguards there isn't a location to buy food or snacks. Would highly recommend beach chairs too! 
Richard's Fresh Seafood: Richard's is a well know PEI foodie hotspot. With lineups lasting more than an hour long you need to plan your meal around the wait times. If you think an hour is too long to wait then you are sadly mistaken. I'm pretty sure I would have waited all day for the remarkable lobster roll I had at Richard's. It was a life-changing lobster roll. What made it life-changing? The amount of remarkable fresh and succulent lobster combined with a very light dressing, lemon, celery and chives. It's big on flavour but not too much dressing. It's truly remarkably fresh and delicious. Unless you have a giant appetite share this with a friend. It's BIG!
The views of the bay and fishing boats are great to wait with the kids – definitely make sure there are two of you so one can wait for the food and one can entertain the kiddos.  Richard's has seating upstairs and down but it's also great to get as take out and eat at the beach (just a short walk away). If you'd rather make your own, Richard's has it's own Fishmart which offers a variety of fresh seafood for purchase. I will be dreaming about my lobster roll until I can return and get another!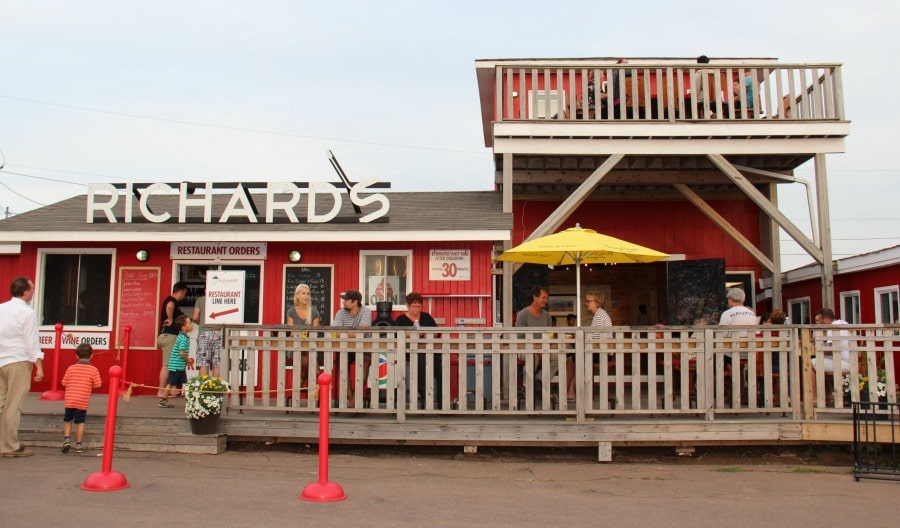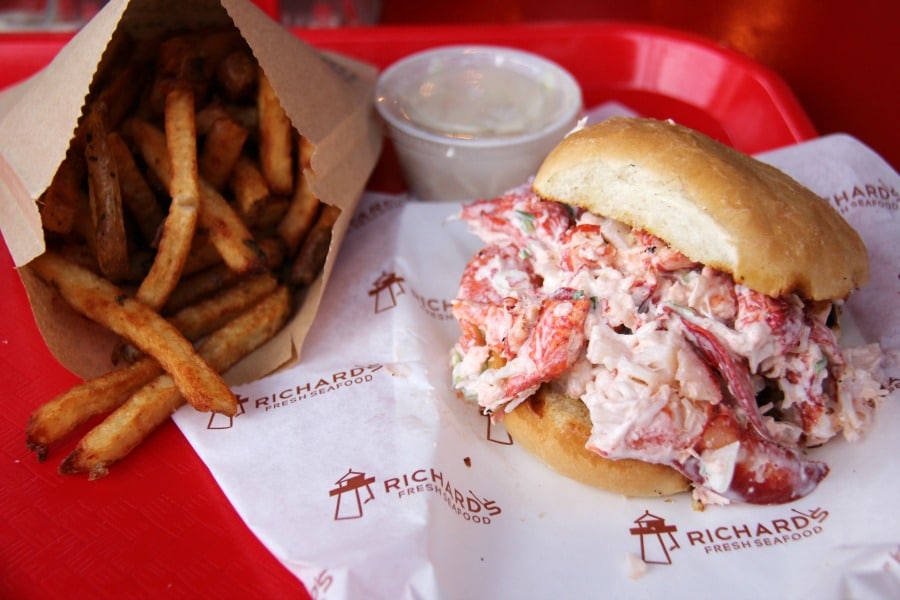 Dunes Gallery and Cafe: Not just for the art lover in your group, Dunes Gallery and Cafe is ideal for visiting and sharing your love of pottery and food. Their cafe is open daily with a great menu featuring fresh fish, salads, and classic dishes you expect. Renowned chefs bring food to your table that leaves your mouth watering and your appetite sated. After lunch, stroll over to take a tour of the pottery studio and watch design in action, or simply visit the gallery to see Canadian pieces from well-known and local artisans. Don't miss the stunning gardens behind the Dunes Gallery – they are absolutely breathtaking.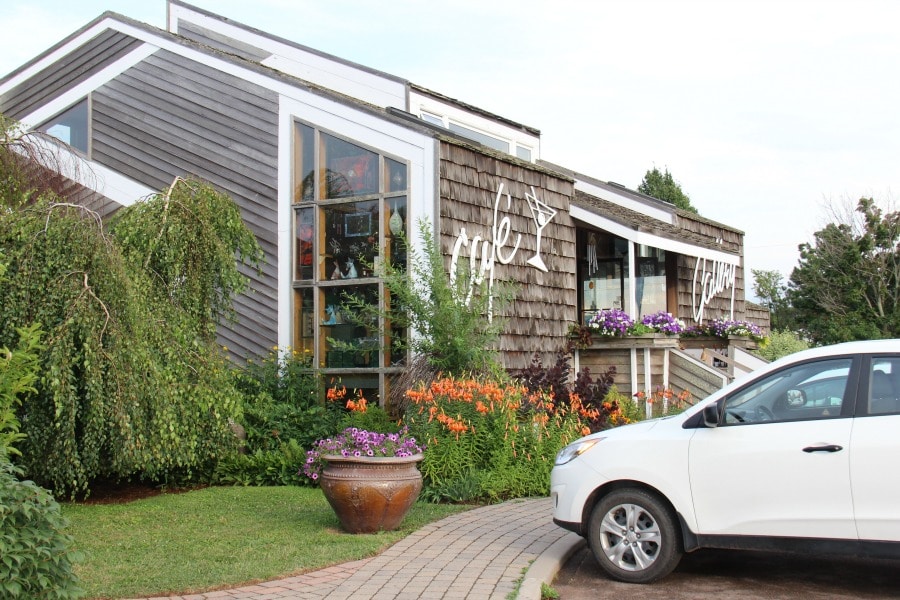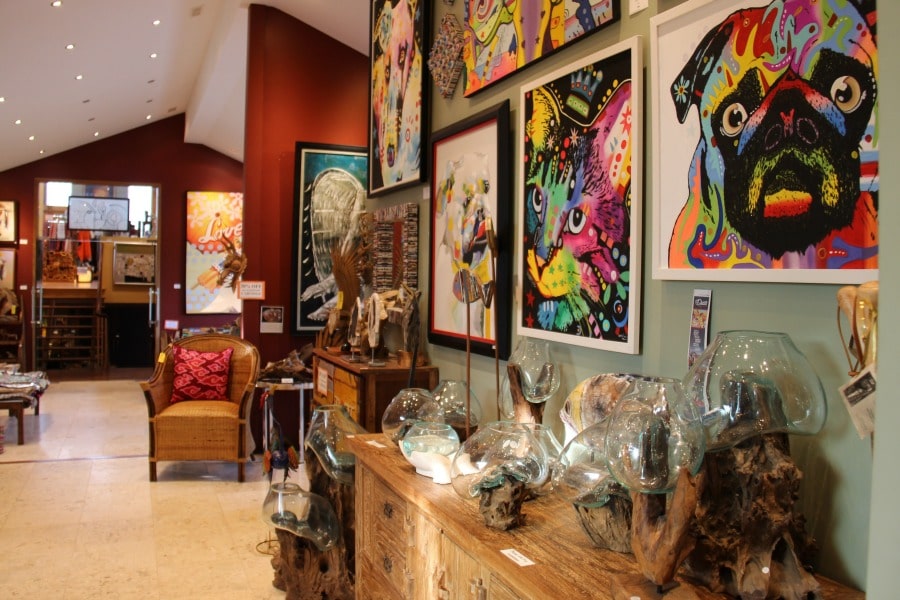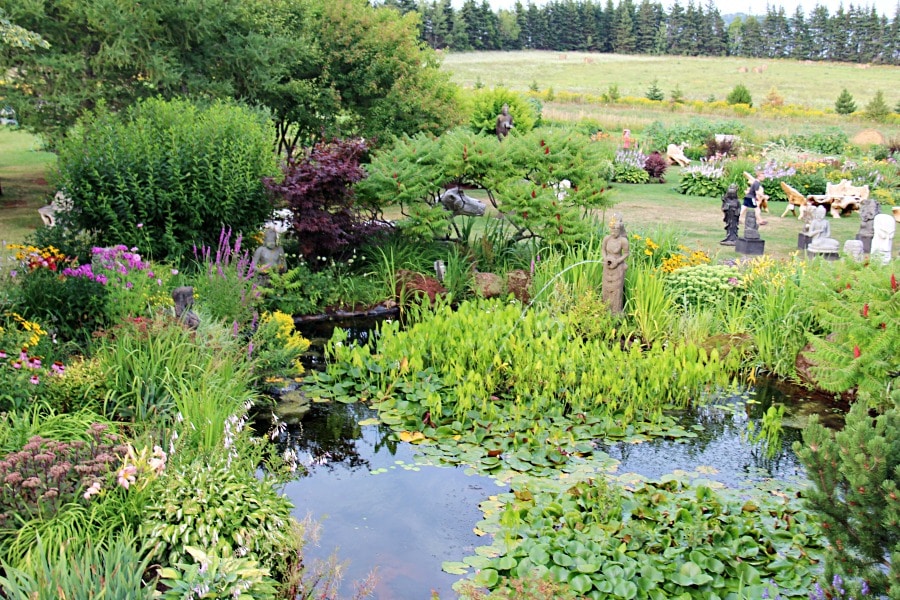 Brackley Drive In Theatre: Every family vacation needs a special night out, and the Brackley Drive In Theatre is a great ending to a perfect day. See the latest releases on the big screen, all from the comfort of your car. A great night at the movies can happen easily here without the confined space of a traditional theater. Watch the latest movie on the expansive screen while surrounded by the beauty of PEI.
With miles of bike trails, stunning beaches, art, adventure and relaxation, planning a vacation to Prince Edward Island must include a trip to Brackley Beach PEI.