It's time for the Nutella Truck Tour! What is the Nutella Truck Tour you might ask? It's a magical truck that appears across Canada creating perfect Nutella recipes and handing out delicious samples, Nutella swag and more! If you are looking to 'Add a Little Joy' find out where the Nutella Truck Tour is visiting near you.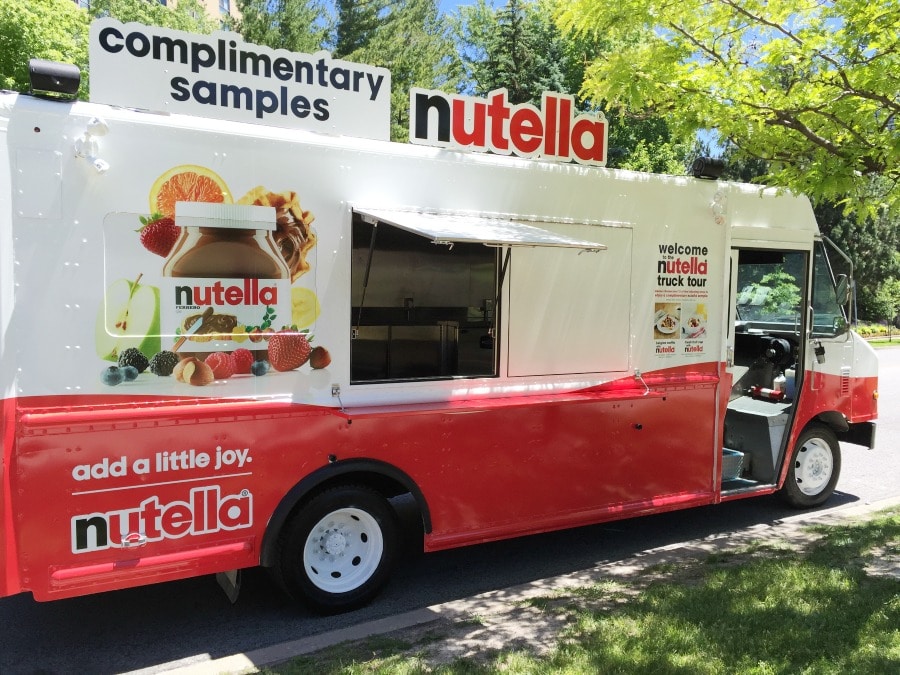 To celebrate the Nutella Truck Tour Canadian celebrity-chef Stefano Faita has teamed up with Nutella to create six mouth-watering new breakfast recipes that show us how to make breakfast truly amazing.
Chef Faita's new Nutella breakfast recipes showcase how easy it is to create a delicious, satisfying breakfast any day of the week. His new recipes include:
Apple and Carrot Latkes with Nutella
Blintzes with Pineapple, Yogurt and Nutella
Chia Banana Strawberry Breakfast Jar with Nutella
Ricotta and Fruit Crostini with Nutella
Greek Yogurt with Homemade Granola and Nutella
And…excited to share one of Chef Faita's recipes with you:
Tortilla Breakfast Cups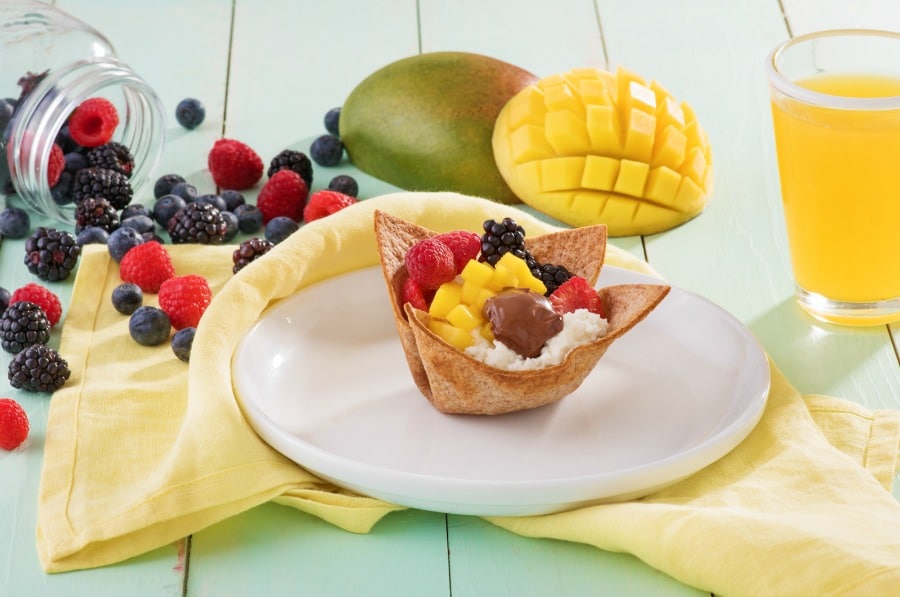 INGREDIENTS
1 WHOLE WHEAT TORTILLA
OLIVE OIL
1/3 CUP RICOTTA
PINCH OF CINNAMON
1 TBSP NUTELLA®
2 TBSP MANGO, DICED
2 TBSP BLACK BERRIES
2 TBSP RASPBERRIES
1 TSP PUMPKIN SEEDS
SERVE THIS RECIPE WITH 1 CUP (250 ML) OF MILK AND 1/2 CUP (125ML) OF ADDITIONAL CHOPPED FRUIT FOR A BALANCED MEAL.
SERVES: 1
DIRECTIONS
PREHEAT OVEN TO 325F.
USING A KNIFE, CUT TORTILLA INTO A 5X5-INCH SQUARE. BRUSH BOTH SIDES WITH OLIVE OIL AND PLACE INTO A LARGE MUFFIN TIN, CREATING A CUP.
PLACE IN THE OVEN AND BAKE FOR 12-15 MINUTES OR UNTIL CRISP AND GOLDEN. REMOVE FROM THE OVEN AND LET COOL.
IN A SMALL BOWL, MIX RICOTTA WITH THE CINNAMON.
FILL THE CUP WITH THE RICOTTA MIXTURE, THEN SPOON NUTELLA® ON TOP.
IN ANOTHER SMALL BOWL, GENTLY MIX THE FRUIT.
GARNISH THE TORTILLA CUP WITH THE MIXED FRUIT, LAYING SOME ON TOP AND AROUND THE DISH. FINISH WITH SOME PUMPKIN SEEDS!
Doesn't the Tortilla cup sound divine? It's on the meal plan for next week for our family. If your family would love to taste Belgian waffles with Nutella or a fresh fruit cup topped with Nutella, play Nutella Plinko for a chance to win great prizes and get a photo taken with a larger-than-life personalized jar of Nutella then the Nutella Truck Tour is for you!
Nutella Truck Tour
The Nutella Truck Tour has already visited Burlington, ON; Quebec City, QC; and is headed your way.  Check out the Nutella Truck Tour in the following locations:
K-Days (Edmonton, AB) – July 22 – 24
Celebration of Light (Vancouver, BC) – July 27 & 30
Pacific National Exhibition (Vancouver, BC) – August 20, 21, 23 & 24
Canadian National Exhibition (Toronto, ON) – September 1– 5
Last year we visited the Nutella Truck Tour at the Toronto Zoo and loved the experience. My boys got to meet Chef Faita, get their pictures taken, win some fun prizes and taste some delicious Nutella. Check out our experience here.
To learn more about Nutella and get more great tips and recipes follow them on the hashtag #AddALittleJoy and on social media at Facebook and YouTube and Nutella Global on Twitter.
How will you #AddA LittleJoy this summer?
This post was brought to you by Nutella®. I received compensation to write this post, however, all opinions expressed are my own.