With the hot weather upon us it is the perfect time to cozy up and watch your favourite Netflix shows. To help you choose what to savour and binge on Netflix we have the data and our choices.
Netflix examined global viewing* of more than 100 serialized TV series across more than 190 countries and found when members are focused on finishing a series, they watch a little over two hours a day to complete a season. When organizing series in relation to this benchmark, interesting patterns emerge, ranging from high energy narratives that are devoured to thought-provoking dramas that are savoured.
"As The Binge Scale indicates, the viewing experience of a series can range from the emotional to the thought-provoking," said Cindy Holland, Vice President of Original Content at Netflix. "Netflix helps you to find a series to binge no matter your mood or occasion, and the freedom to watch that series at your own pace – whether that's to appreciate the drama of Bloodline or power through Orange is the New Black."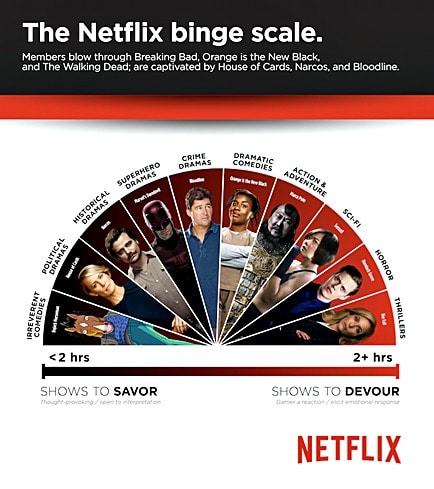 Our favourites to savour and binge on Netflix:
Savour:
Bloodline – loved the characters and storyline set up in Season 1 and currently enjoying Season 2 which helps us better understand the ramifications of Rayburn families choices.
House of Cards – while HOC is one of my favourite shows I need to pace myself when I watch it. I like to watch one episode at a time so I can really understand the complexities of Claire and Frank Underwood's scheming.
Narcos – the story of Pablo Escobar has been one I've known for many years but Narcos brings it to life in a way that I could never have imagined. Absolutely captivating!
Binge:

THE NETFLIX BINGE SCALE (*Based on global viewing data)
SAVOUR
Irreverent Comedies:

Arrested Development, BoJack Horseman, Club de Cuervos, F is for Family, Love, Summer Heights High, Unbreakable Kimmy Schmidt, Wet Hot American Summer

Political Dramas

Homeland, House of Cards, Occupied, The Good Wife

Historical Dramas
Superhero Drama

Gotham, Marvel's Daredevil, Marvel's Jessica Jones

Crime Dramas

Better Call Saul, Bloodline
DEVOUR
Dramatic Comedies

Flaked, Grace & Frankie, Orange is the New Black, Weeds

Action & Adventure

24, Marco Polo, Prison Break, The Last Kingdom, Turn

Sci-Fi

Ascension, Heroes, Sense8, The 100, The 4400

Horror

Hemlock Grove, Scream, The Walking Dead, Z Nation

Thriller

Bates Motel, Breaking Bad, Dexter, The Fall, The Killing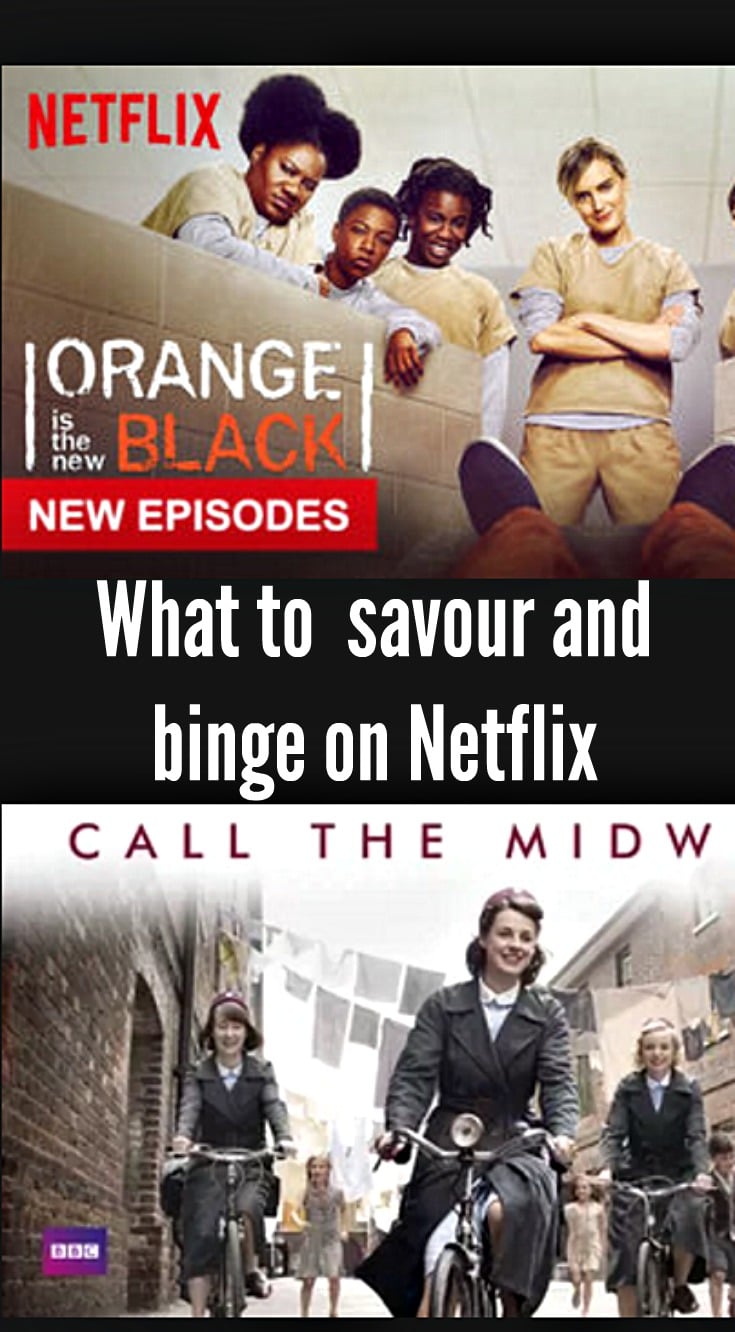 Disclosure: As a member of the Stream Team I receive perks in exchange for my posts.