Summertime is our favourite time to travel. With time off school and beautiful summer weather the world is really your oyster. We've chosen a variety of trips that our family has loved. From a Caribbean cruise to a road trip and dozens of ideas in between you will love these 5 Awesome Family Summer Vacation Ideas. Whether you are the type of family that loves attractions, museums, beaches, zoos, camping or an all-inclusive resort figure out what your family would enjoy most and start planning!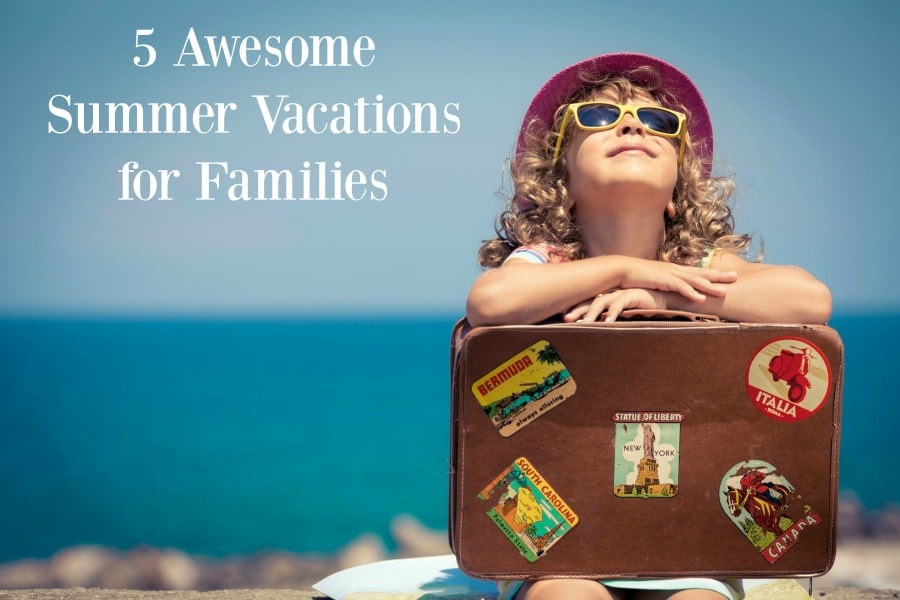 Lucky for you, no matter where you go, Bayer® has got you covered with products that help you keep up with the kids and enjoy the day. Bayer® wants you to #GetSetForSummer with a special summer promotion, giving Canadian families the chance to win 1 of 3 top prizes of $10,000. All you have to do is buy* two or more Bayer® products already on your summer shopping list, snap a picture of your receipt and text or email the picture to [email protected]. For more information and a savings coupon, head to www.getsetforsummer.ca. Looking for the perfect trip? Check out our Family Summer Vacation Ideas.
5 Awesome Family Summer Vacation Ideas
If your family loves to lounge in the sun…
Beach vacations provide relaxation and all the swimming and sandcastles your water babies can handle. Try a beachside hotel in the Caribbean or find a reasonably priced home share in sunny Florida. Not ready for the hassle of border crossing? You might be surprised to learn that Canada is full of outstanding beaches- perfect for weekend trips.
If your family loves shopping, culture and cuisine…
Plan a trip to a big city where you and your family can hit the shops all day and dine on amazing cuisine by night. Cities are also full of museums and other cultural activities. You don't have to go far to feel like you're on vacation – check out Quebec City or Boston. If you happen to live in a big city already, try acting like tourists for the day!
If your family wants maximum vacation with minimum stress…
A cruise or resort vacation means everyone is taken care of with pre-planned activities and dining options built-in. Often there is even a child-care option for younger kids, which means their days are packed with fun activities, while you get some well-deserved couple time.
If your family loves the great outdoors…
There are so many options for families who love the feeling of roughing it. If your kids are TV lovers or social media fanatics, camping is a great way to mandate some quality family time. Not ready to be completely off the grid? Renting a cottage makes you feel like you're out in the bush without sacrificing hot showers and a working stove.
If your family loves spontaneous trips with lots of freedom…
Road trips let you change the itinerary at the drop of a hat. Feel like hitting a waterpark on the way to your next stop? Why not?! Just make sure to plan plenty of stops to avoid the dreaded "are we there yet?" from the backseat.
No matter the vacation, family time is always a good idea if you're prepared. Bring along your favourite Bayer® products to keep you going through whatever the summer throws your way!
Mom's summer travel survival kit from Bayer®:
ALEVE ®for up to 12-hour pain relief
Allergy Medicine- AERIUS® and Claritin® for allergy symptom relief of up to 24 hours
Coppertone® sunscreen to help keep your skin protected from sunburn
Scholl's® so you can stay on your feet longer
Midol® to provide relief of cramps and muscle aches that come with your menstrual cycle
Daily Vitamins- One A Day®, and FLINSTONES™ to help make sure you get all the nutrients you need
To be sure these products are suitable for you, always read and follow the label. *No purchase entry option also available. See contest rules for details.
What are your family summer vacation ideas?

Enter to win a Bayer Prize Pack!
Contest is open to residents of Canada 18+ and closes on July 31, 2016. Good luck!
Disclosure: I received compensation for this post. As always, all opinions are my own.