Men are notoriously impossible to shop for, and I know I am not alone in being frustrated when it comes time to find the perfect gift for him. If the man in your life is celebrating his birthday soon and you want to make this year's gift a standout – we have some fun surprises that will be favourites for years to come.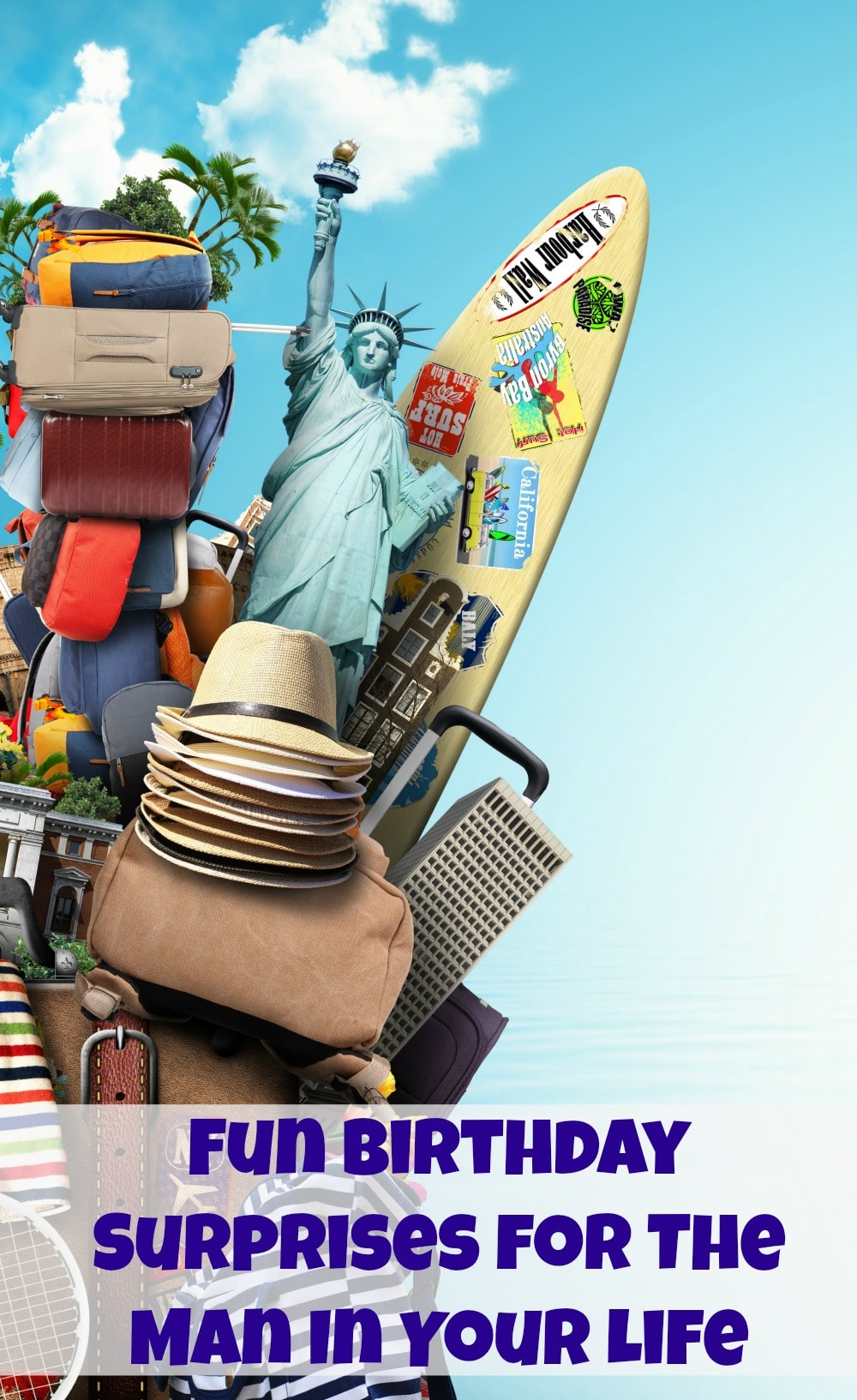 Fun Birthday Surprises for The Man In Your Life
A Day of Pampering
We all deserve to relax every once in a while, and your guy wants to kick up his feet up on his birthday. Who says men don't deserve a bit of pampering? If your guy is the active sort and often has you rubbing out the aching muscles in his back, you can't go wrong with a full body sports massage. Hint: For some guys, the addition of "sports" makes the aspect of a massage a little more appealing. If you don't have room in the budget to spring for a professional massage, become his masseuse for the evening. When he gets home from work, have the bedroom transformed into the ideal spa, with aromatherapy candles, his favorite relaxing tunes, and massage oils.
Break up the Work Day Monotony
If your guy has to work on his birthday, make sure going into the office is fun with some work-related surprises. Send cookies to his office for a sweet surprise in the middle of a long work day that he can share with his coworkers or employees (or keep to himself, hey, it's his birthday after all). Show up with his favorite lunch in the middle of the day, or send it through a service like Grubhub if you can't get there yourself. Slip some sweet notes into his suit pocket, and send a fun text each hour telling him something you love about him. Little efforts like this are sure to make him feel cherished on his special day and he'll be more than ready to celebrate by the time he gets home at the end of the day.
3. Take Him to a Show
Make a memory that both of you can cherish by grabbing some tickets to a local event that you know he'll enjoy. Whether it's a musical or a sports game, you can find the tickets you need on VividSeats.com and make sure it's a night to remember. If you can keep it a secret, save the tickets until the night of, and instead of driving to a restaurant for reservations as planned, show up at the venue and watch his jaw drop in surprise.
4. Whisk Him Away
Sweep your guy off his sweet on a romantic weekend getaway for his birthday. Plan to find a sitter for the kids, pack his bags, and wait for him to get home on Friday night before telling him of your plans. Tell him to set aside the weekend so you don't have any conflicting plans in place, but don't tell him where you're going or what the plan is. He'll love that you took the time to orchestrate a detailed plan for his birthday and get to kick back while getting whisked away to a fun, relaxing vacation. Even if you just book a romantic suite at a nearby hotel, the fun change in scenery is sure to add some romance to the occasion and give you both a great break from the real world. Check out some of our favourite hotels.
5. Travel Without Leaving Your Home
If travel isn't in your budget this year try buying him a trip 'around the world' with his favourite wines or beers. Grab a variety of world favourites and a map and chart a course of world discovery one beverage at a time! Pair your drinks with some fun snacks – these Bacon Wrapped Steak Skewers are sure to be a hit!
If you are looking for Fun Birthday Surprises for The Man In Your Life – let him know how much you love him and make the celebration one to remember with any of these fun surprises.