With Deadpool now out for home viewing we have created our own Deadpool Review. Whether you love to laugh, enjoy a little raunchy humour or are looking for a movie you and your spouse will enjoy – Deadpool is a fun film that stays true to it's comic book roots.
Hold onto your chimichangas, folks. From the studio that brought you all 3 Taken films comes DEADPOOL, the block-busting, fourth-wall-breaking masterpiece about Marvel Comics' sexiest anti-hero: me! Go deep inside (I love that) my origin story…typical stuff…rogue experiment, accelerated healing powers, horrible disfigurement, red spandex, imminent revenge. Directed by overpaid tool Tim Miller, and starring God's perfect idiot Ryan Reynolds, Ed Skrein, Morena Baccarin, T.J. Miller and Gina Carano, DEADPOOL is a giddy slice of awesomeness packed with more twists than my enemies' intestines and more action than prom night. Amazeballs!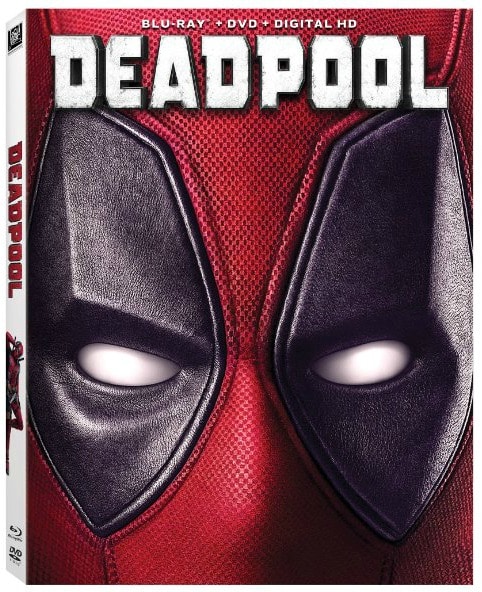 Special Features:
Deleted/Extended Scenes
Gag Reel
From Comics to Screen…to Screen
Audio Commentaries
Deadpool's Fun Sack
Galleries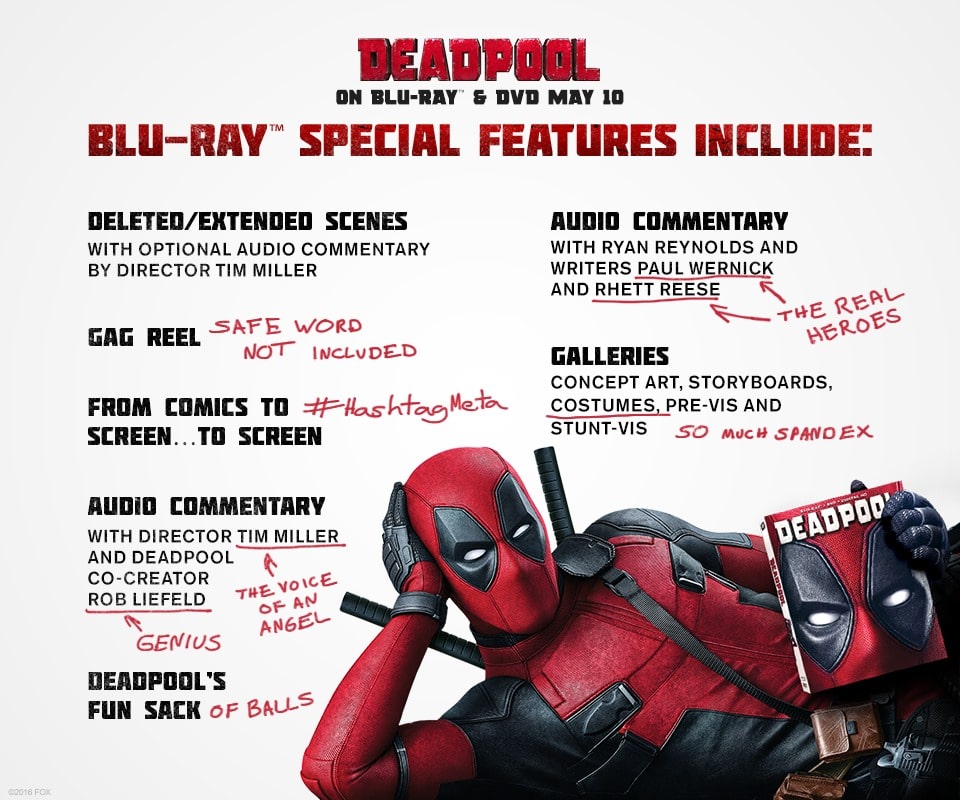 Our Deadpool Review
Keep the kids eyes off this one! Deadpool is hilarious but definitely a date-night movie and not a candidate for family movie night. Whether you are a lover of superhero films or not Deadpool is funny, witty, and downright hilarious. Ryan Reynolds is perfect for the role adding his own unique sense of humour. While the villain is a weaker role it does not take away from the plot line. The film is violent and does show some gory scenes that did make me hide my eyes. Then again, I'm more squeamish than most! Don't forget to watch right until the end of the credits – there's a surprise scene waiting for you. Overall, it's a fun movie you can watch again and again but remember – that R rating is definitely there for a reason!
Check out Deadpool on Twitter, Facebook and [easyazon_link identifier="B01BLS9E2Y" locale="US" tag="famfooandtr06-20″]Amazon[/easyazon_link]
Disclosure: I was provided a copy of Deadpool to facilitate my review. As always, all opinions are my own.