Looking for a recipe to spice up your Cinco de Mayo?
This recipe is sure to please your guests for a party or a quiet meal at home.
Plus, these Lentil Tacos are gluten-free and vegetarian so they appeal to a number of different dietary restrictions.
We love Mexican recipes and look forward to celebrating summer and all things nachos and salsa!
Currently, we are munching on Que Pasa Tortilla Chips and Que Pasa Medium Salsa.
Want to make your own Tortilla Chips? Try our recipe for AirFryer Corn Tortilla Chips = yummy!
I love that they are organic products and made in a traditional manner so that the flavors and ingredients are the best. Thanks to Que Pasa we are sharing this delicious recipe for Lentil Tacos. Yum!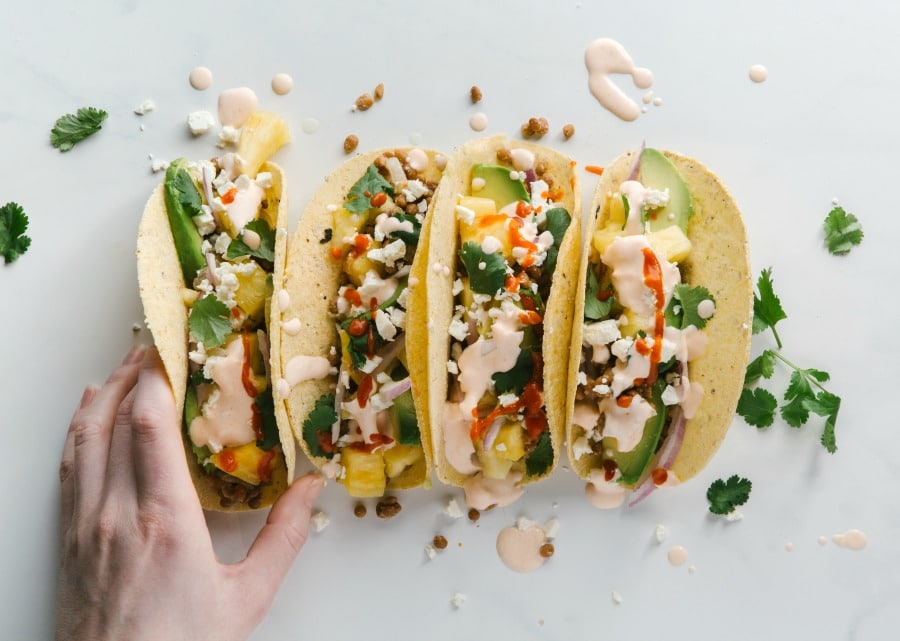 Ingredients
·         Que pasa corn tortillas (or flour tortillas of your choice)
·         1 Tbsp coconut oil
·         1 yellow onion, minced
·         1 can brown lentils, drained
·         1 small jar green chile enchilada sauce (or try this Roasted Tomatillo Salsa)
·         ½ tsp onion powder
·         sea salt
·         2 limes
·         Feta cheese (optional)
Spicy Sriracha Cream Sauce:
·         ½ cup plain yogurt (dairy or alternative) or sour cream
·         Sriracha to taste – depends on how spicy you like it!
·         Juice of 1 lime
Finishing Fixings:
·         Pineapple tidbits – left fresh or grilled
·         Red onion, thinly sliced
·         Cilantro, chopped
Directions
1.      Add coconut oil to a medium-size frying pan over medium heat. Saute minced onions until translucent and add the whole can (drain first!) of brown lentils. Saute for 2 minutes more and add green chile enchilada sauce, sea salt and onion powder.
2.      Prep the spicy sriracha sauce sauce by combining yogurt (or sour cream) in a small bowl with lime juice and sriracha, stirring well to combine.
3.      Build your tacos by first heating your tortillas, adding lentil mixture followed by pineapple, red onion, cilantro, and spicy sriracha sauce.