Sponsored by CIBC.
Purchasing foreign currency is one of the parts of travel so many people dread. It involves standing in line at the bank, ordering foreign currency or hoping they have enough in stock, figuring out exchange rates and trying to decide if it's better to just pay for everything on credit rather than dealing with foreign currency. It's a hassle and often a time-consuming and expensive one.
In a few days my boys and I take off to Florida to visit my parents and while I am in the midst of doing laundry, packing, getting the dog to the kennel and the cat's needs sorted out, purchasing the foreign currency we will need is the last item on my list. This year we are making it fast and easy by ordering our foreign cash online with CIBC. I love that it is fast, secure and easy to use. Exactly what this single mama is looking for! To make it even easier you can pick up your cash at the branch, through home delivery and at Toronto Pearson Airport.
Did you know that CIBC Foreign Cash Online™ is a one-stop shop for foreign exchange? CIBC has made it more convenient than ever to purchase foreign currency with the innovative and secure service. When you use CIBC Foreign Cash Online™ you can order cash for up to 75 foreign currencies representing more than 90 currencies, online 24/7 and within 2-3 business days. The best part is that your money can be delivered almost anywhere in Canada directly to your home for free*, or you can pick it up at any CIBC branch. Neither of those options work? You can also pick up your foreign currency at Toronto Pearson International Airport (T1 International Departures) post security. How easy is that?
Fast, Easy and Secure Foreign Currency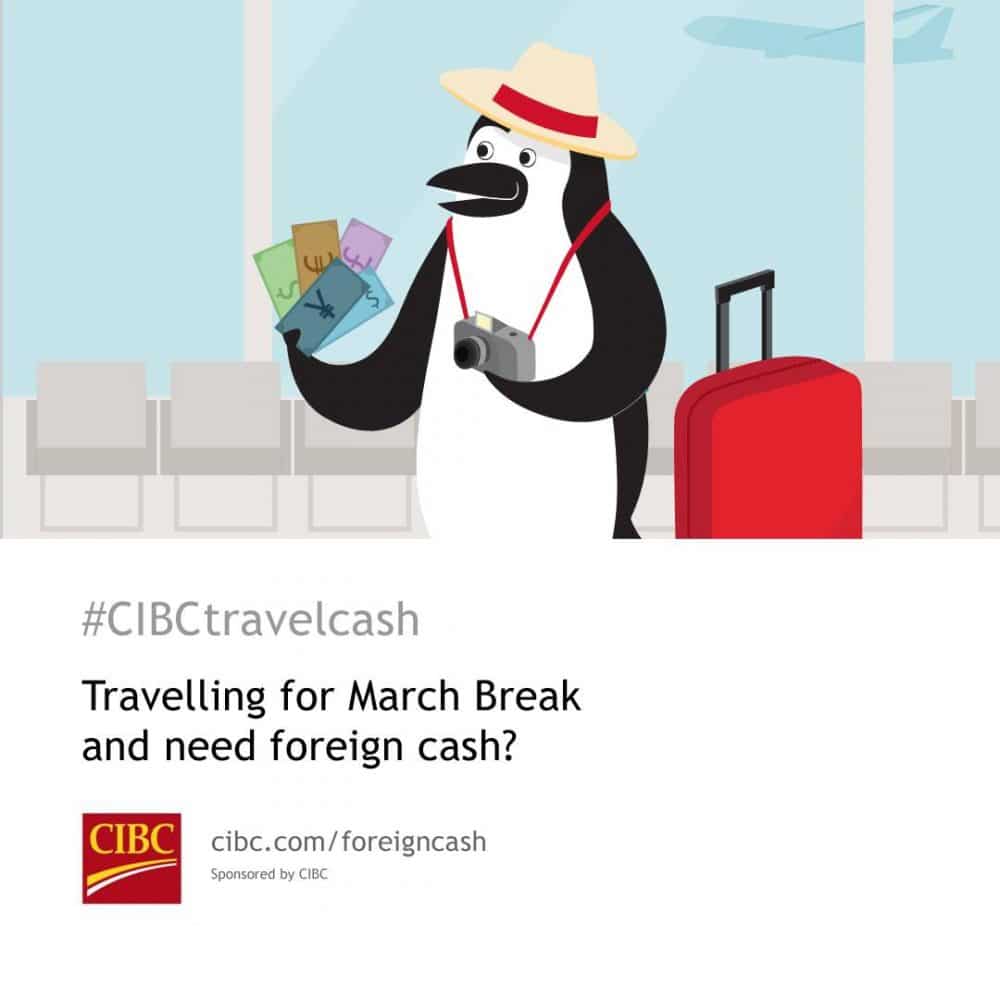 CIBC clients can use the Foreign Cash Online services through Online Banking. Just click "Order Foreign Cash" from the left hand navigation pane. Just follow the steps and your cash will be on it's way.
Non-CIBC clients can also order Foreign Cash Online which offers all of the options CIBC clients have access to.
Both clients and non-clients can access the service via: Foreign Cash Online
CIBC Foreign Cash Online™ enables you to purchase the foreign currency and have it delivered to the most convenient place to pick up your cash. Fast, easy and secure CIBC Foreign Cash Online™ is the best option for my foreign currency needs. No more line ups, no more waiting. Just plan ahead and the cash is ready! One more travel hassle simplified.
* Home delivery only available in Canada. A Foreign Exchange transaction counts towards your allowable transaction limit, bank account transaction fees may apply.
Let's continue the conversation on Twitter!
Tweet using hashtag #CIBCtravelcash and tell us if you've used this service before or how you plan to use it for your next travel adventure.  

 

On

March 15

, we will be showing a token of our appreciation to some of our readers.