Have you tried smoothie bowls yet? If you haven't now is the time to start. They are a healthy, nutritious and filling way to enjoy all the goodness of a smoothie topped with your favourite nuts, seeds, granola and assorted toppings. We have a fantastic recipe for a Coconut Chia Tropical Smoothie Bowl from our friends at Nature's Path.
Coconut Chia Tropical Smoothie Bowl Recipe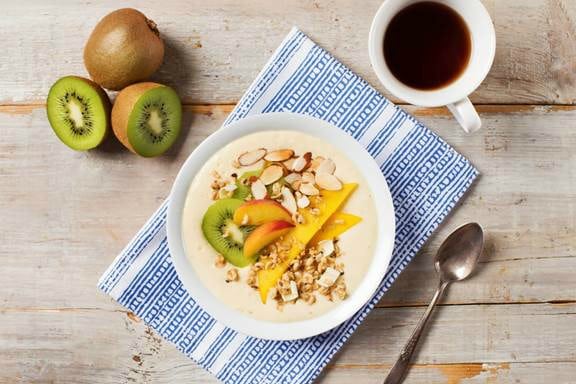 Tropical flavours mixed with crunchy coconut and chia granola bring instant sunshine to your morning routine. Find this recipe and more in Nature's Path 7 Days of Healthy Recipes & Lifestyle Tips Ebook!
Makes: 4 servings
Ingredients:
2 cups dairy-free vanilla yogurt
2 frozen bananas, cut into pieces
1/2 cup frozen peach chunks
1/2 cup frozen mango chunks
Toppings:
1 cup Nature's Path Flax Chia Plus® Coconut Chia Granola
1 kiwi, peeled and sliced
1/2 cup peach slices
1/2 cup mango slices
1/2 cup toasted sliced almonds
Directions:
In blender, combine yogurt, bananas, peach and mango chunks; blend on high until smooth. Toppings: Divide yogurt mixture among 4 bowls and top with granola, kiwi, peaches, mango and almonds as desired. Tip: Keep peeled and cut-up bananas in the freezer for easy prep of morning smoothies.
Nature's Path #OnMyPath Giveaway
Assortment Nature's Path delicious organic & non-GMO granolas including Nature's Path Coconut Chia Granola made with wholesome clusters whole-grain rolled oats, omega-rich chia seeds, and coconut flakes. Plus each serving is naturally packed with 6 grams of plant protein and 5 grams of fibre!
· Free product vouchers
· Nature's Path premium, eco-friendly water bottle
· Printed copy of the new Nature's Path 7 Days of Healthy Recipes & Lifestyle Tips Ebook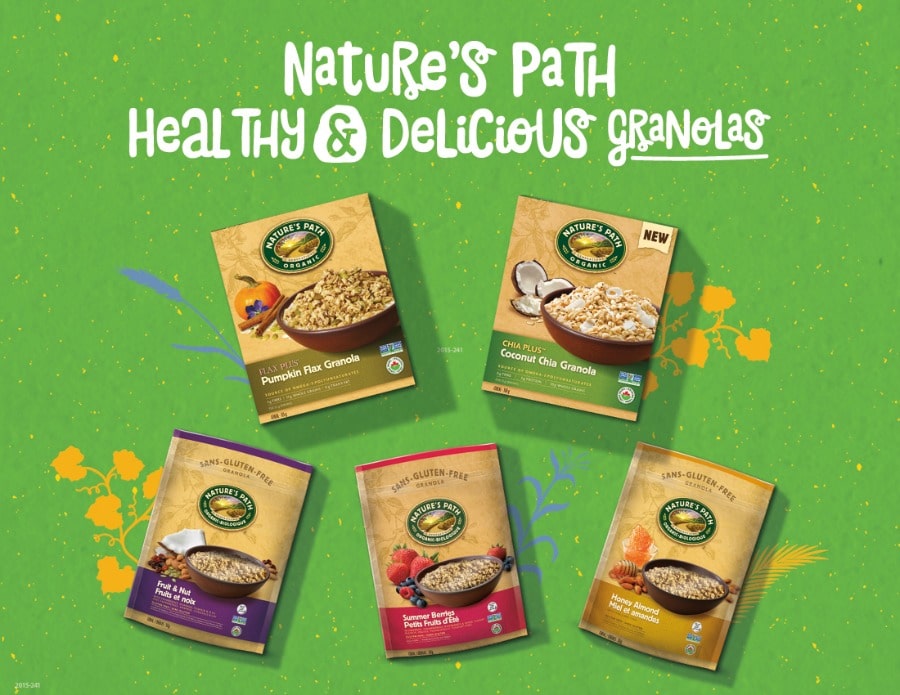 PLUS there is a grand prize open to everyone: WIN ORGANIC GRANOLA FOR A YEAR* 
o   How to enter: Getting back on a healthy path? Running your first marathon? Trying a plant-based diet? We want to know! Tell us what's on your path for 2016 by posting on Facebook, Twitter or Instagram using both hashtags: #OnMyPath and #GranolaForAYear.
o   Please feel free to enter yourself and tell your community about this opportunity as well.
o   Prize includes everything you need to get back on a healthy path including:
Nature's Path granola and organic breakfast foods for a year
DIY Vegan, by Nicole Axworthy & Lisa Pitman – recipe book including more than 100 ways to create an awesome plant-based pantry
Un-Junk Your Diet by Desiree Nielsen, R.D. – how to shop, cook and eat to feel better forever
Grand prize valued at $300
Prize will ship on or after

March 1, 2016

Grand prize contest closes

February 28, 2016
*This prize is open to all blogs participating and their audiences. There will be one grand prize total. Nature's Path will select and notify one winner.