Baby it's cold outside! What better month to hibernate than February and luckily Netflix has some amazing content coming so you can cuddle up this February with Netflix. Family titles including Fuller House, Home, Turbo Fast Season 3 and Care Bears & Cousins there is sure to be something your family will enjoy. Pop some popcorn, grab a blanket and enjoy some family time this February with Netflix.
Ready for something different from what the kids are watching? Did you know that people are now choosing their romantic partners based on what shows they like? While this data was collected from Milliennals I can say that as a single-parent out in the dating world I do take Netflix into account when looking. Because if you aren't hooked to the shows on "My List" it's time you started!
Here's some fun dating data (and new lingo) from Netflix:
Showgoggles. It's a thing. More than a quarter of respondents (56%) admit to finding someone more attractive based on the shows and movies they watched. According to our survey, the most attractive genre of shows and movies in a potential partner are action thrillers (56%), documentaries (53%) and dramas (53%).
A Modern Showmance. Show-compatibility is important in relationships. In fact, 42% have or would ask someone out based solely on show-compatibility, and 73% of members have actually agreed to go on a date because the person had similar tastes in show and movies.
Staying in is the New Date Night.  Six in ten (58%) respondents in a relationship say they prefer to stay in and watch Netflix for date night. Most (77%) say they watch Netflix together because they like spending time together without leaving the house, while seven in ten (68%)  say shows are more fun when watched together, and 58% enjoy having someone to talk with about the show – the ultimate bonding experience!  
Would you Binge for Love?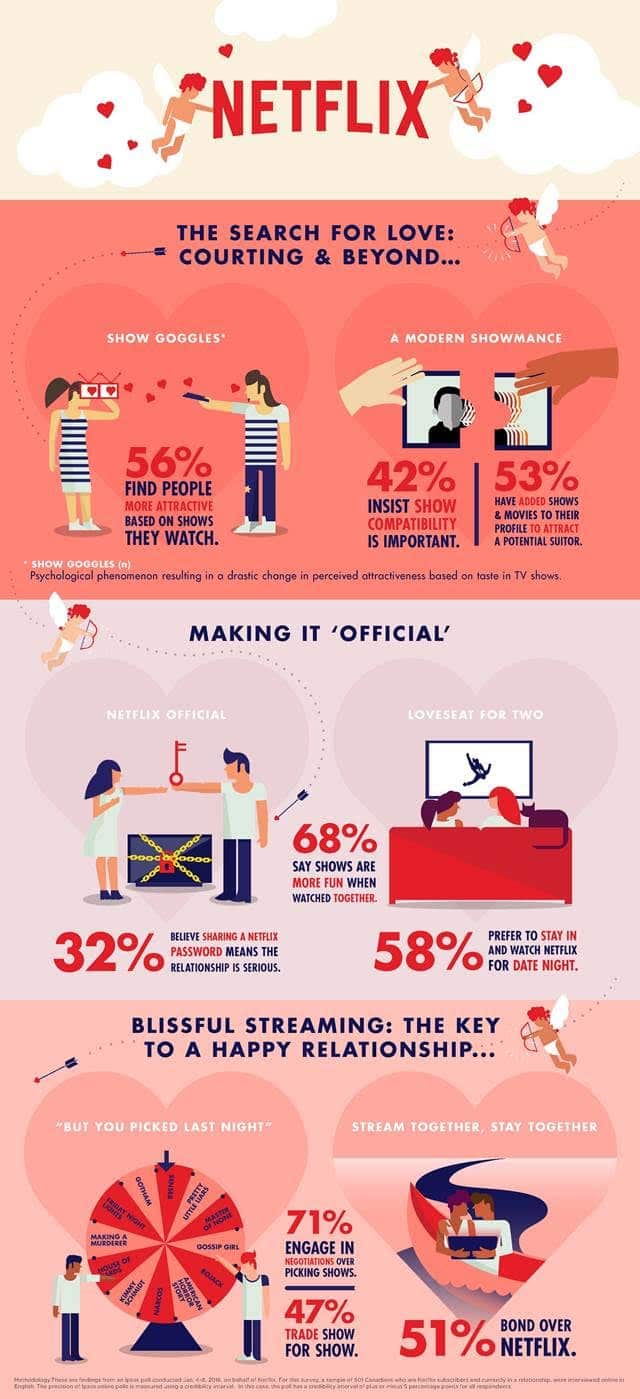 Happy Watching!
Disclosure: As a member of the Netflix Canada Stream Team I receive perks in exchange for my participation. All opinions and show preferences are my own.