Indoor grilling has gained popularity over the last 20 years, and the T-Fal OptiGrill®l has become a great addition to many kitchens. High quality, a name you trust and a durable counter top grill make healthy meals easier for everyone. We love that it is easy to use, cooks high quality meals fast and it's easy to clean. We have tested the grill on lots of recipes but our favourite is this 'copycat' recipe from a local restaurant for Brie and Prosciutto Panini.
Brie and Prosciutto Panini
Ingredients:
1/2 inch thick slice of Brie long enough to fit your sandwich
2 slices of prosciutto
2 slices of rye bread
1 tbsp jam (I used strawberry)
1 tbsp butter
Directions:
Preheat grill for sandwich.
Butter the outside of the bread. Place one slice of brie on bread (unbuttered side) then a slice of prosciutto, spread a thin layer of jam, then a slice of brie, then prosciutto and finally the top slice of bread.
Place on the OptiGrill® and close the lid.  Grill for 2-3 minutes or until brie is melted and bread is toasted. Serve with additional jam if desired.
Grilled sandwich perfection!
The T-Fal OptiGrill® is a great choice for the family that has limited space but wants to have access to a tool that has multiple functions. This indoor grill is a simple counter top appliance that fits easily between your toaster and canisters.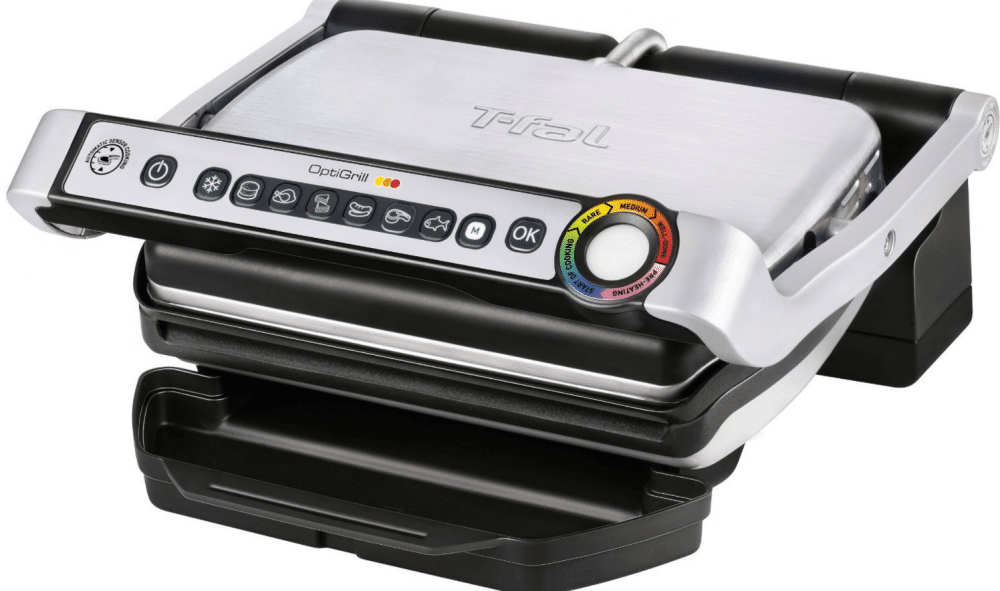 TFal OptiGrill® includes 6 pre-set cooking temperatures and options:
Red Meat
Poultry
Burgers
Pork/Sausage/Lamb
Fish/Seafood
Sandwich
It also includes a manual function for you to easily adjust temperatures as needed. As you can tell, it's not just for burgers and steaks. You can cook everything from your favorite stuffed burger to grilled shrimp or a terrific grilled cheese sandwich. The T-Fal OptiGrill® will quickly replace many other options in your kitchen as the go-to method of cooking your family meals. Whether you make the Brie and Prosciutto Panini or create your own favourite we think you'll love the OptiGrill®.
More great options with the T-Fal OptiGrill®:
Color coding helps monitor cooking process
Compact size fits easily in cabinets or on top of kitchen counters
Non-stick coated plates make clean up easy
Floating hinge is great for larger pieces of meat or thick sandwiches
Detachable plates make clean up simple (dishwasher safe)
Extra large drip pan keeps messes at bay
Revitalize your menu plan by including great grilled options even when the weather outside isn't easy to grill in. This T-Fal OptiGrill® is a high quality and high performance option that is versatile for various foods your family loves. Not only is it compact enough to easily fit into a cabinet, it is still large enough to cook for a family of 4-6 people. This is a great addition to any kitchen.
Disclosure: We were supplied with a TFal OptiGrill® to facilitate this review. As always, all opinions are my own.