Our recipe for Green & Black's Salted Chocolate Chunk Cookies are the perfect combination of a crispy cookie with sea salt and dark chocolate chunks. If you've never tried Green & Black's Organic Chocolate you must.  Smooth, rich and delicious it absolutely melts in your mouth.  Plus, it's fair trade so you can feel good that your chocolate is ethically source. I am madly in love with their Butterscotch and Almond bars for eating and love either 70% Dark for baking.
Challenged with creating a recipe with Green & Black's I wanted to create a recipe that was as easy as it was delicious.  This recipe is fool proof and creates a perfectly beautiful round cookie that will be loved by cookie lovers of all ages. The best part about making these Salted Chocolate Chunk Cookies is nibbling on the chocolate while you prepare!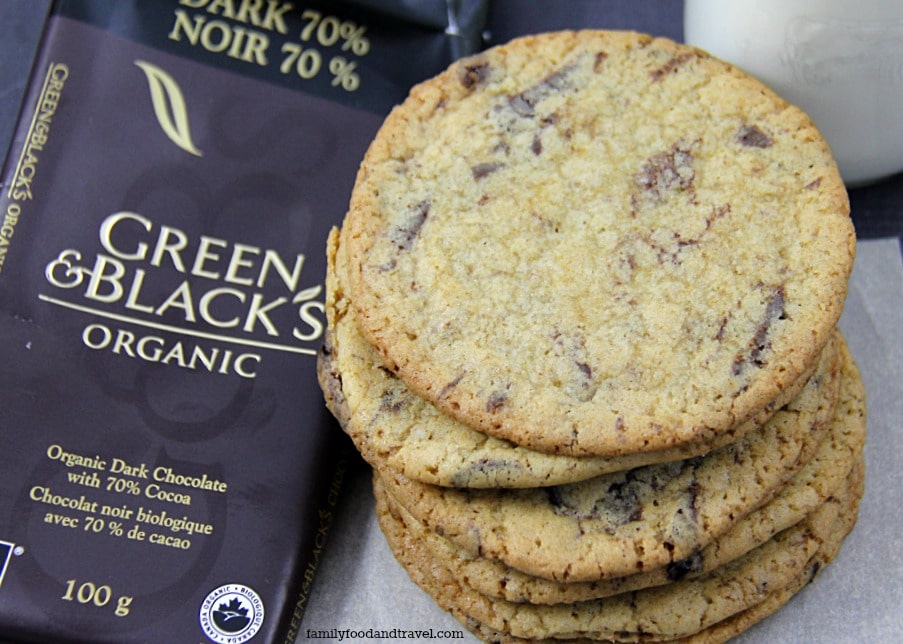 Salted Chocolate Chunk Cookies
Ingredients:
1.5 cups all-purpose flour
1 tsp baking powder
1/2 tsp salt
1/4 tsp baking soda
1/2 cup butter
3/4 cup brown sugar
1/2 cup white sugar
1/4 cup icing sugar (powdered sugar)
2 large egg yolks
1 large egg
1 tsp vanilla extract
1 Green & Black's Dark 70% Chocolate bar chopped
Sea Salt to finish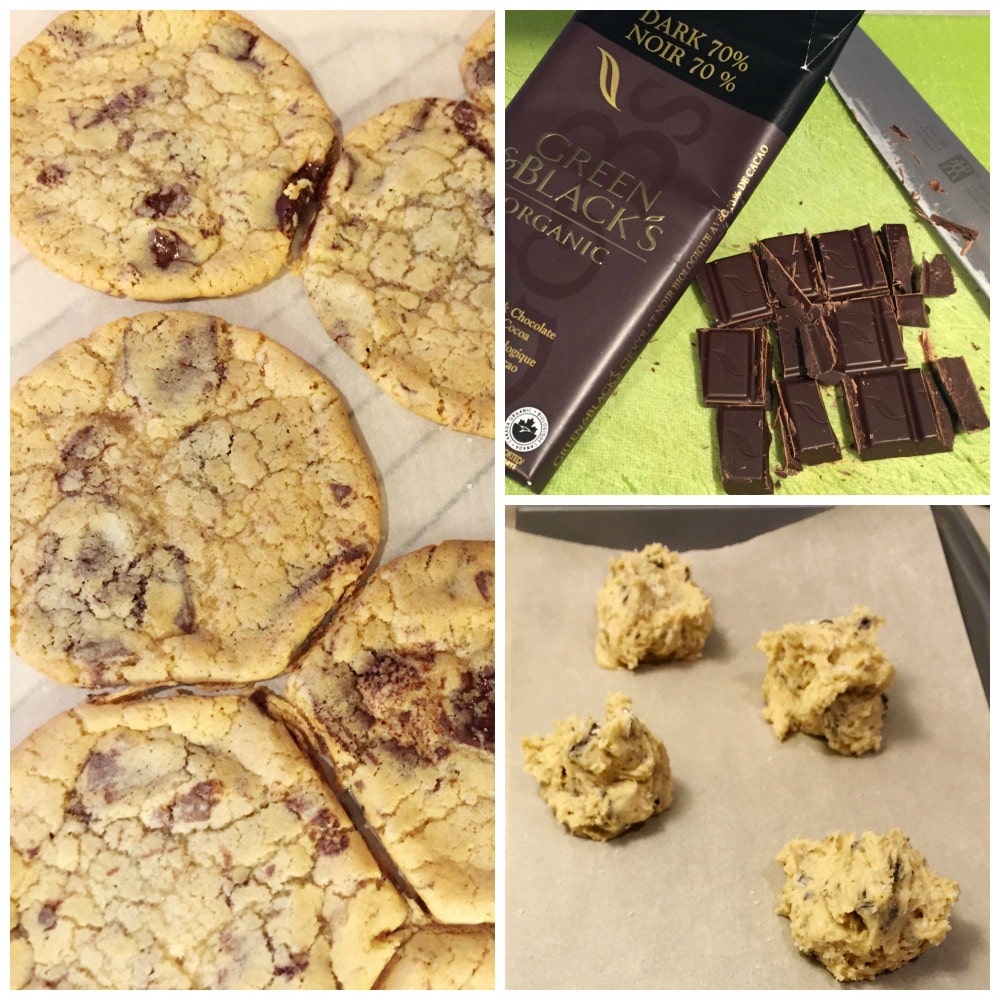 Directions:
Preheat oven to 375C.
In a bowl combine flour, baking powder, baking soda, and salt and set aside.
In a stand mixer mix butter, brown sugar, white sugar and icing sugar until fully mixed and fluffy. Add eggs and vanilla and mix until fully combined.
Add in dry mixture in batches reducing to low.  Fold in chocolate with a spatula.
Using a tablespoon, spoon cookie mixture onto parchment lined baking sheets. Sprinkle with sea salt.
Bake cookies until golden brown on edges (approximately 10-12 minutes). They will be very soft but will become firm when cooled.
Cool on baking sheets for a few minutes then transfer to wire racks (I transferred the whole sheet of parchment paper over to avoid crushing the edges of the soft cookies).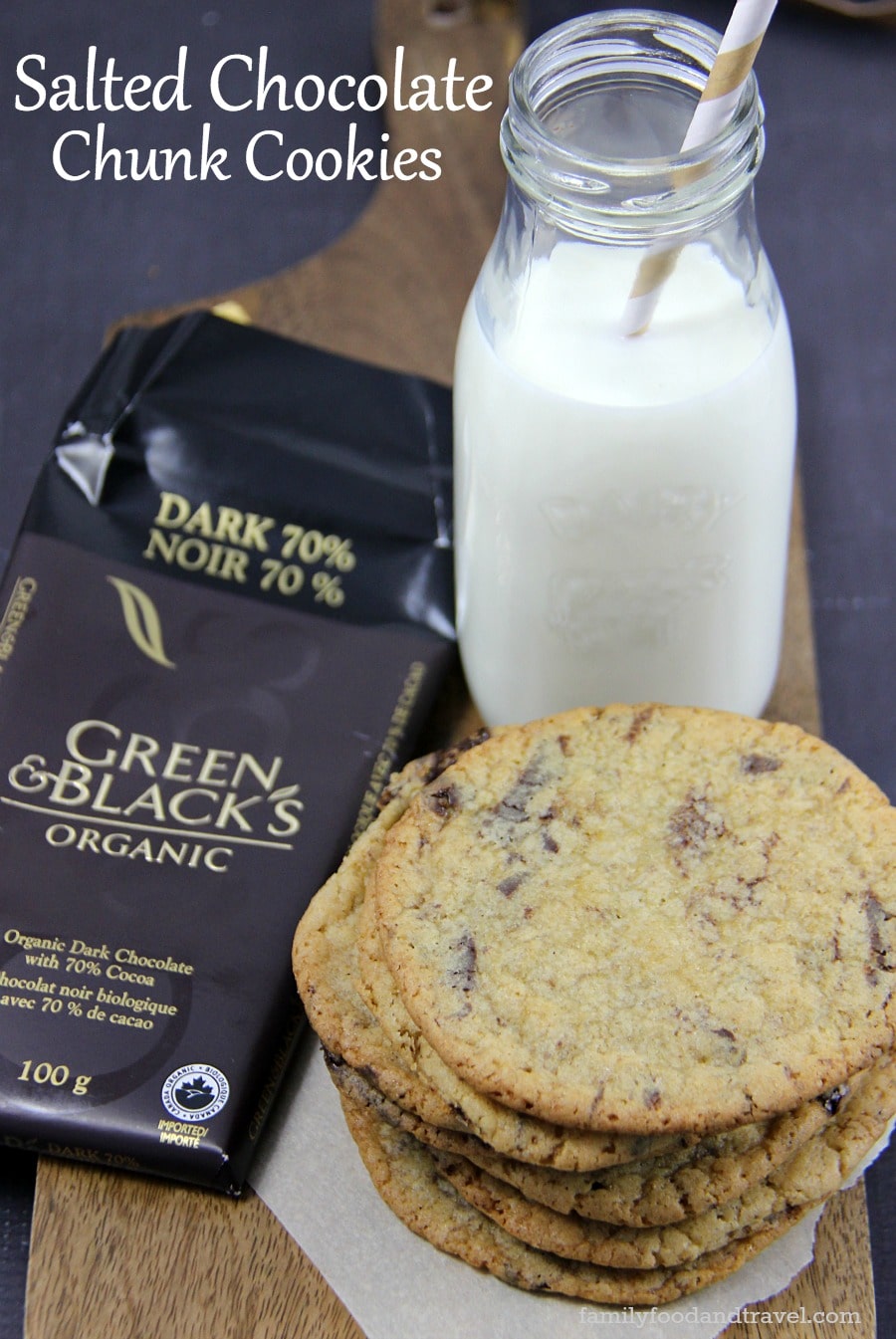 You will love the texture of these crispy and chewy cookies.  Save this recipe as I know it will quickly become a family favourite.
Check out their Facebook page and follow for great recipes and chocolate loving tips!
Disclosure: I was compensated in chocolate for this post. I am a very happy girl.  As always, all opinions are my own.