A delicious and easy to make Black Forest Stuffed French Toast made withPC® The Decadent Chocolate Cherry Loaf- perfect for a holiday brunch. This recipe is decadent but not too sweet making it the perfect compliment to savoury brunch or breakfast items. Be sure to make lots as your guests will be coming back for seconds!
Black Forest Stuffed French Toast
Serves: 4
Prep time: 20 minutes
Cook time: 10 minutes
Ingredients: 
8 slices PC® The Decadent Chocolate Cherry Loaf
 1 cup (250 mL) PC® Black Label Ontario Montmorency Sour Cherry Fruit Spread
1 large egg
 1 tbsp (15 mL) granulated sugar
1/2 cup (125 mL) 2% milk
2 tbsp (25 mL) PC® Black Label Normandy Style Unsalted Cultured Butter
1/4 cup (50 mL) very cold 35% whipping cream
2 tbsp (25 mL) icing sugar
Directions: 
Place four slices of bread on work surface; divide 3/4 cup (175 mL) of the cherry spread among the four slices, spooning an equal amount onto the centre of each slice. Sandwich with remaining bread slices.
Whisk together egg and granulated sugar in wide shallow bowl until frothy. Whisk in milk until combined.
Melt butter in large frying pan over medium heat. Dip one sandwich in egg mixture, carefully turning to soak; transfer to hot pan. Repeat with remaining sandwiches; discard any remaining egg mixture. Cook for 3 to 4 minutes. Using metal spatula, carefully turn over and cook for another 3 to 4 minutes or until bread is golden and crisp at edges; transfer to cutting board.
Meanwhile, using electric hand mixer, whip cream with sugar for 2 minutes or until soft peaks form.
Cut French toast in half diagonally; arrange two halves on each of four plates. Spoon 1 tbsp (15 mL)of remaining cherry spread into the centre of each plate; top each with a generous dollop of whipped cream. Sprinkle with chocolate shavings, if desired. Serve immediately.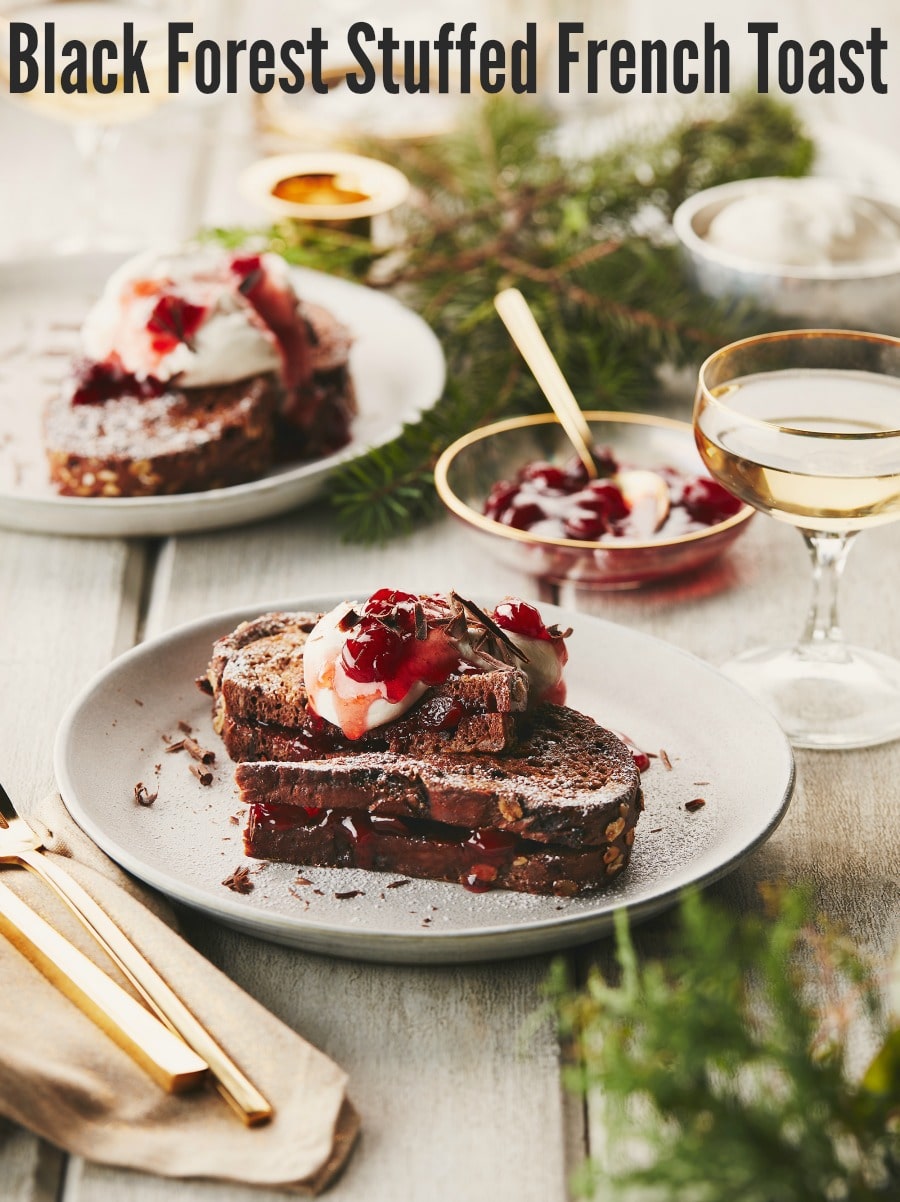 Enter to win a $100 President's Choice Gift Card
Contest open to residents of Canada 18+ ending on December 19 at 11:59pm EST.
Disclosure: This recipe and photos are the property of President's Choice (PC®) and is used with their permission.