A few weeks ago I wrote about my love for CBC's This Life and it's relatable characters and storyline. I instantly fell in love with the main character, Natalie Lawson (played by Torri Higginson) and her busy life as a single mom.
The acting, the sets, the filming and the storyline all combine together to make a remarkable show that I want to keep watching. In a year when I have had my own personal challenges it has been so powerful to watch a show that connects to those feelings of conflict and sadness and fear that I feel.  Whether you are experiencing those same feelings of if you love a great storyline, this is the show for you. On Monday, the Season One Finale airs – tune into CBC on Monday December 14 and catch all the action for yourself!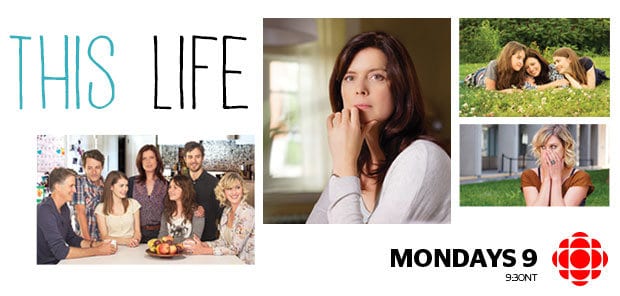 Set in contemporary Montreal, This Life is a funny, honest, heartfelt series about a regular family whose world turns upside down overnight. Like its French-language counterpart, Nouvelle adresse, this 10-part series is a family saga focusing on Natalie Lawson, a lifestyle columnist and single mother in her early forties whose terminal cancer diagnosis sends her on a quest to help her three teenage children get ready for the future, while trying her best to live in the now.

Natalie's diagnosis is a life-changer for everyone she loves. Faced with the uncertainty of life, each Lawson does their best to embrace the absurdity of the journey, while confronting the drama that comes with all of their choices, big and small. To get through all this Natalie leans on her two brothers, her sister and her parents, a close-knit, charmingly imperfect clan who each have their own unpredictable personal and professional hills to climb. Through a mix of drama and humour, THIS LIFE explores the many ups and downs of life in a touching, relatable and deeply human story that is positioned to resonate with Canadians across the country.
If you've been following along with the show you know that a number of pivotal parts of the story are coming together.  Will the trial happen? Will family secrets be revealed? How will Natalie make the decisions she needs to about her treatment, her kids and ultimately her life. While I won't give away all the secrets I will share that the season finale answered many questions but left just enough unanswered to keep me anxiously awaiting Season 2!
Check out this see where Natalie confronts her ex:
Check out the series now
and share This Life with your friends – they will be so glad you did!  Then, tell us – what is your favourite storyline in This Life?
See you on Monday – can't wait to chat about the show after!