Toys and products that inspire creativity are truly my favourite. I love pretend play items and gifts that encourage kids to draw, create and imagine. When asked to review some of the hot products from Crayola we were really excited to see what they had imagined for kids this year. With lots more items to choose from we were excited to pick out our choices for amazing Crayola holiday gift ideas.
7 Amazing Crayola Holiday Gift Ideas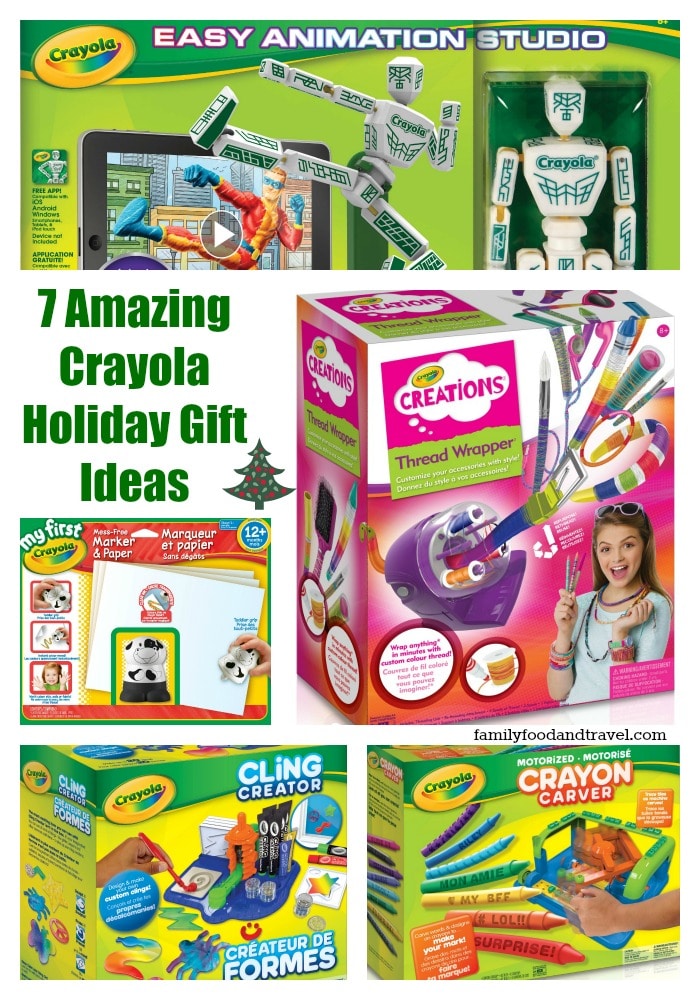 Crayola has been a standard in quality kids art products for well over 100 years. The result is that this year we are happy to feature Crayola products as part of our holiday gift guide suggestions. Check out our thoughts on some awesome new and quality products this year – there is something for everyone on your list!
Crayola Crayon Carver: What would you think about having your own custom crayon? With this Crayola Crayon Carver, you can personalize a crayon with any message you want. A name, team name, holiday word and more. This is not only fun for kids, but a cool way for parents to create a unique crayon gift for their kids friends this year!
Crayola Thread Wrapper: Thread wrapping is really hot with the tween age group. From wrapping thread in various colors around your pens, pencils and crayons to creating a fun thread wrapped bracelet or headband this is an amazing kit to get your kids started!
Crayola Cling Creator: Have you ever purchased window clings for the holidays? Now your kids can create their very own fun and unique window clings. Imagination, a few simple steps and about 15 minutes creates an amazing window cling that is truly unique to your child.
Crayola Easy Animation: For the kid who is always wanting to create their own movies, stop-motion videos or even has an interest in learning graphic design for animation, this is an amazing choice. This easy to use program allows your kids to create a character, upload it and then use this simple tool to manually animate it. A great choice for kids of all ages.
Crayola Color Wonder Light Up Stamper: If you have kids that love to use stamps, but you hate the mess, this is the latest amazing invention in the Color Wonder part of Crayola. These light up stamps are ton of fun for kids to use, and they only work on Color Wonder paper. That's a win-win for any parent!
Crayola My First Mess Free Marker & Paper: For your younger artists, this is a great way to give them a fun tool to color with, without the fear. This marker is designed just for their smaller hands to handle, and of course the awesome Crayola paper makes this a mess free art tool that you can let them feel free to use.
Crayola Coloring & Activity Book Skylanders: If you have a Skylanders fan in your house, this is a must buy. Skylanders is still so hot with the kids this year, and this activity book is chock full of great pages, puzzles and games any kid will love.
This list of amazing Crayola holiday gift ideas is a great place to start looking for any kid on your list this year!
Check these items out along with other great gift ideas in our 2015 Holiday Gift Guide