Making your own homemade Apple Spice Sugar Scrub is an easy way to drastically cut costs while still having products you love and your body will love too.
A hot bath or shower on a cold day with a special personal care product is such a wonderful indulgence that doesn't need to cost a fortune.
For years I would buy a brand name brown sugar body scrub that I absolutely loved but once I had kids it was out of my budget.
This Apple Spice Sugar Scrub has the most spectacular smell and texture that leaves skin exfoliated and smooth.
The apple spice scent is stronger during use and fades to a subtle sweetness afterward. While I love the smell of spiced apple I don't want to walk around smelling like apple cider.
This scrub is the perfect balance of scent to even the most sensitive of noses.
Make Your  Own Apple Spice Sugar Scrub
Apple Spice Sugar Scrub Ingredients:
2 cups dark brown sugar
1/2 cup coconut oil
2 Tablespoons apple pie spice
1 teaspoon cinnamon
2 teaspoons pure vanilla extract
1 teaspoon vitamin E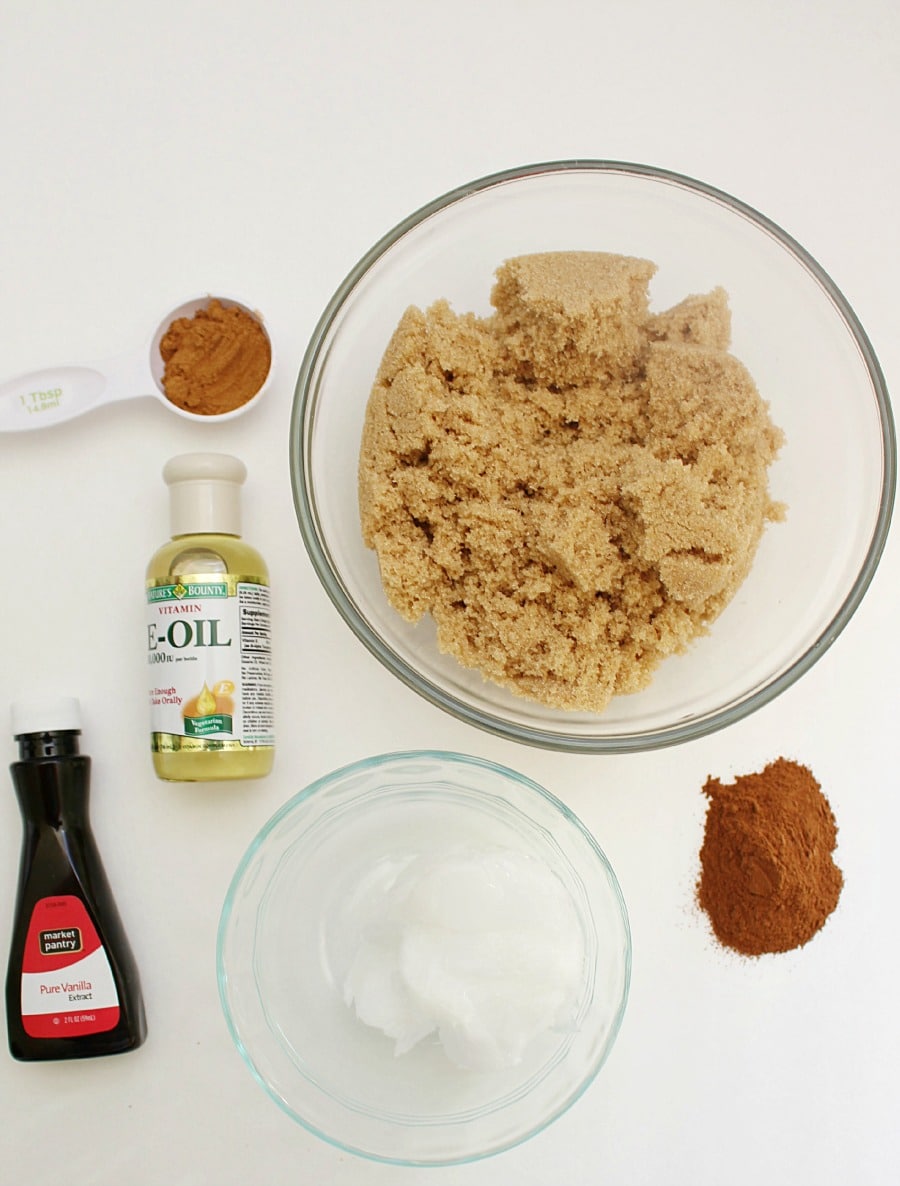 Apple Spice Sugar Scrub Directions to Make: 
1.  In a medium mixing bowl, add the coconut oil and brown sugar. Stir and break up pieces with a fork until well mixed.
2.   Add the spices, vanilla and vitamin E.  Mix again until well incorporated. (Enjoy the aroma!)
3.   Transfer to an airtight jar.
Apple Spice Sugar Scrub Directions to Use:
1. Wet body in the shower.
2.  Generously apply sugar scrub to body.
3.   Rinse thoroughly.
4.   Pat dry with a towel.
I would recommend doubling or tripling the batch so that you can package it in small mason jars as gifts.
Whether it's your kid's bus driver, a teacher, daycare provider, doctor, friend or family member the Apple Spice Sugar Scrub is the perfect gift to give.
Print off a little label with the directions to use and tie with a ribbon.

The best part of this Apple Spice Sugar Scrub is it's an easy DIY personal care product that also makes a great gift to a hostess, friend or caregiver. Everyone can use a reminder to take some extra time taking care of themselves.
In the mood for apples? Try some of our favorite recipes to Squash and Apple Soup, Easy Baked Apples, and Sweet & Savoury Apple Recipes.