The popularity of our Orange Crush Cupcakes and Cherry Coke Cupcakes has led us to create a recipe for Rootbeer Cupcakes that is easy to make, delicious and sure to be a hit with any rootbeer fans in your house. Serve with rootbeer floats for the ultimate rootbeer loving experience. The great thing about these cupcakes is they have a hint of rootbeer taste but even those who aren't a fan of rootbeer will like them. Moist and delicious you will make this recipe again and again. Perfect for a party, a family dinner or just because!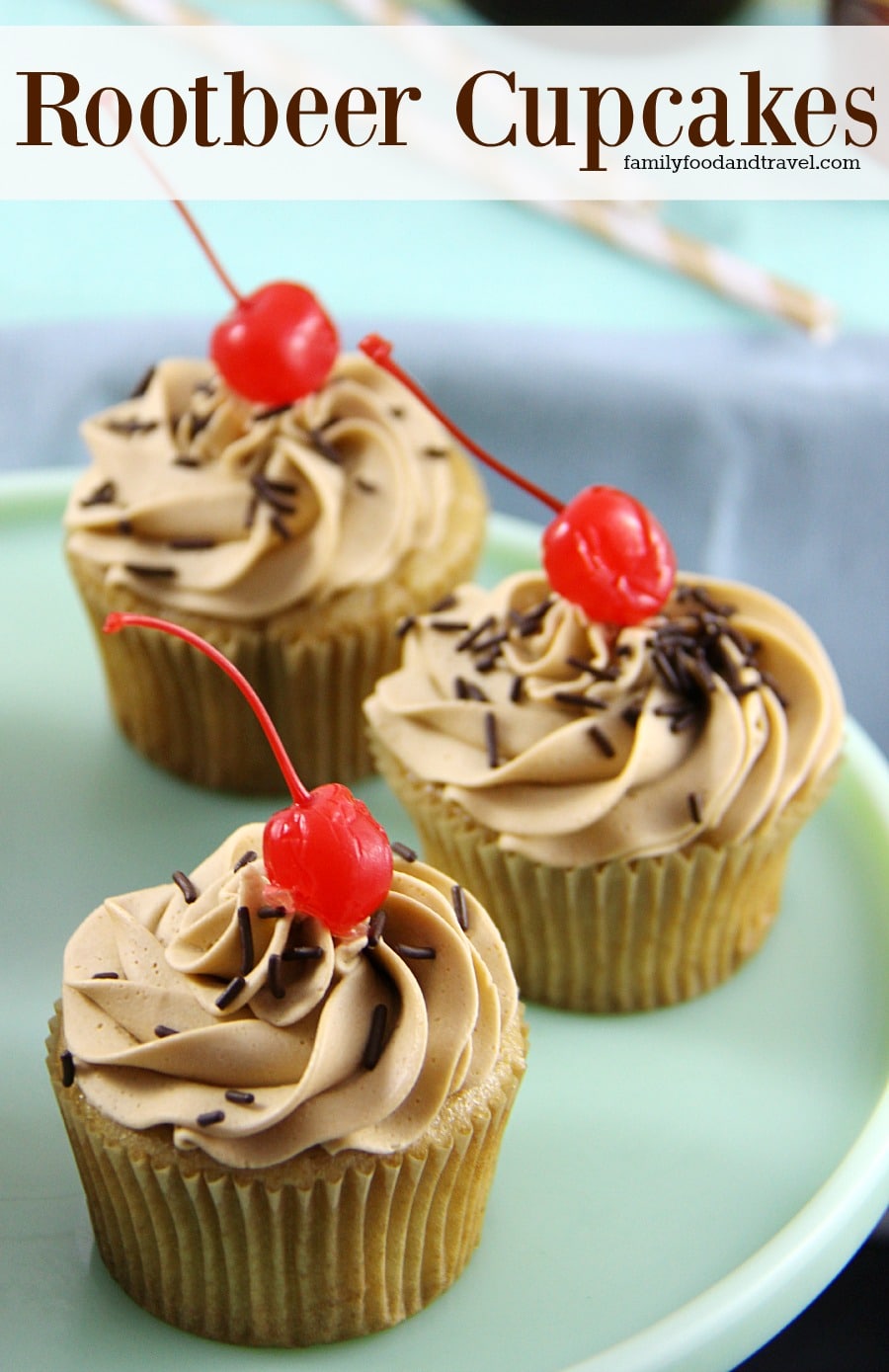 Rootbeer Cupcakes
Ingredients:
1 can of your favourite Root Beer (approximately 1.5 cups)
1 box of white or [easyazon_link identifier="B006STRTCE" locale="US" tag="famfooandtr00-20″]french vanilla cake mix[/easyazon_link] 1/4 cup [easyazon_link identifier="B007F1LZJM" locale="US" tag="famfooandtr00-20″]vegetable oil[/easyazon_link] 2 eggs
Directions:
Place all ingredients in a large bowl and beat until smooth. Bake at 350C for 15-18 minutes or until a toothpick comes out clean.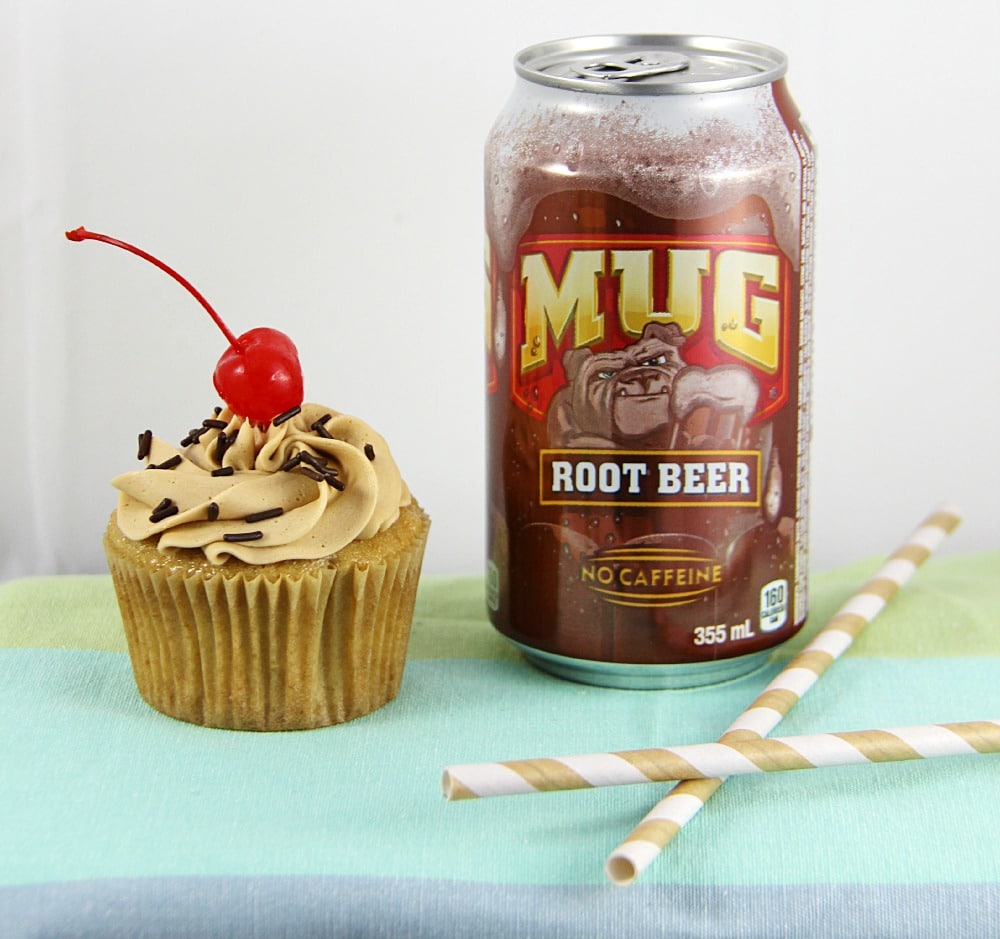 Root Beer Frosting
Ingredients:
3 cups icing sugar (powdered sugar)
6 tbsp root beer
1 tbsp vanilla
1 cup softened butter
optional – Wilson paste brown
Directions: 
In a stand mixer whip together sugar, butter and vanilla. Beat until mixed through. Add root beer and brown colouring and beat until mixed and fluffy. Pour into a piping bag and decorate your cupcakes. Top with sprinkles, a cheery and/or root beer drizzle.
Root Beer Drizzle (optional)
Ingredients: 
2 cups rootbeer
1/2 cup sugar
Directions:
In a small saucepan whisk together rootbeer and sugar and allow to come to a boil over medium heat. Continue to whisk and lightly boil for 10-15  minutes or until the mixture begins to condense and become thicker. Allow to cool slightly and drizzle over the top of cupcakes.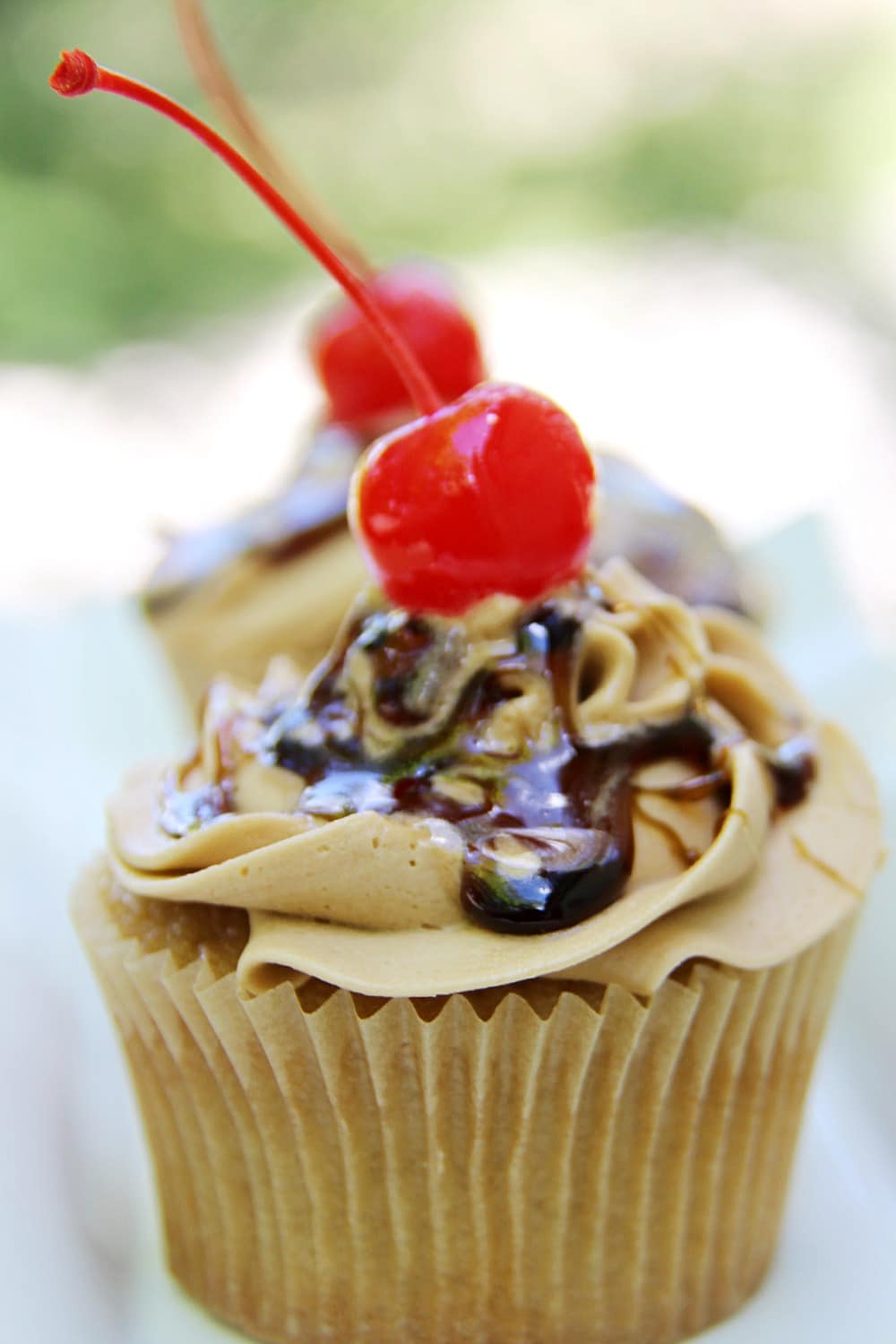 If you have a rootbeer lover in your life these cupcakes are the ultimate treat. With delicious flavour that is not overpowering it's truly the perfect treat.
Looking for other soda inspired treats. Check out our Cherry Coke Cupcakes